"AI is the future of Google," Google's Thunder Pichai CEO talks about the reason for steering to "AI First" in an interview


Google's leader Thunder Pichai has revealed that in the interview with The Verge, "AI is the future of Google," emphasizing AI technology. Pichai CEO says Google's direction to change from search service and Android to "AI First".

Sundar Pichai says the future of Google is AI. But can he fix the algorithm? - The Verge
https://www.theverge.com/2017/10/4/16405174/ceo-sundar-pichai-interview-google-ai-artificial-intelligence-interface

In 2015Alphabet establishedThunder Pichaai, who became a subsidiary of Google as a result of becoming a subsidiary along with it, now is clear that Google's goal is "AI First" and that the policy is changing as "AI is the future of Google" I am doing it.

Even though AI is the most important technology, there are problems with the use of AI. For example, the problem of fake news is an urgent issue to be solved for Google providing search services and news articles services, and an attempt to eliminate erroneous information by using AI and select only high quality items It is done.

The interview by The Verge, which was also cast about the question "How can we solve the fake news problem?", By chanceGun shooting incident in Las VegasWas done just before the occurrence. Unfortunately, it has become clear that Google has failed to block fake news that deliberately spread the wrong information in this shooting incident.

However, CEO Pichai said in an interview, "As time goes by, we think we will be able to better solve these problems, in other words, we feel that we have a big responsibility." .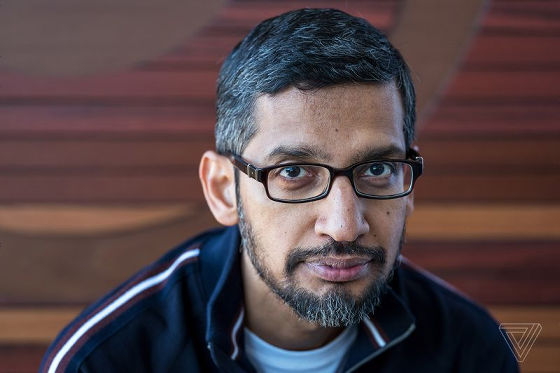 Interviewer felt to Pichai CEO that something like unparalleled obsession with AI. Even though the top of the general corporation is interested in AI, it is regarded as a "buzzword". However, Pichai CEO not only integrates AI into every product of Google, more than that the product itself is inspired by AI, in other words making products that can not be established without AI The Verge sees it seems to be.

A variety of new products were announced by Google on October 4, 2017, but the camera "Google Clips" that judges what AI should take and spontaneously shoots out exactly what Pichai CEO thinks It can be said that it is an embodied product.

Camera that AI takes pictures by automatically judging the shutter opportunity of family and pets "Google Clips" - GIGAZINE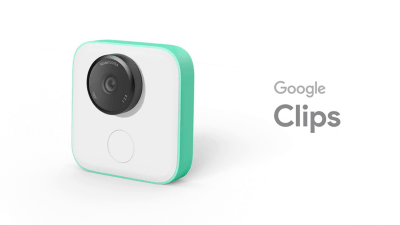 The technical point to note about Google Clips is that the shooting data is placed locally (within the terminal). In other words, it does not send data to the cloud. Many AI services, including Google, are premised on data processing in the cloud whereas many Google products like Google Clips are starting to do AI processing locally. "The hybrid approach combining cloud and local AI processing has a decisive meaning - Google invests in both approaches, depending on the context (context or context), depending on the type of data handled , It makes sense to use both approaches differently, "Pichai said.

Google, a company that created software and provided services, has changed to a company that makes and sells hardware products such as smartphones, notebook PCs, and AI speakers. AI is an indispensable existence for that Google. "It is really difficult to expand the future of computing unless we can think of hardware and AI together," Pichai said. AI is more fundamentally more than a single function, It is positioned as a function changing function.

We already use AI's technology for Google Maps parking lot search function, but we are thinking that we want to drop AI technology not only online but also on terminals that we use on a daily basis. And Pichai CEO thinks that AI will change the user interface as the representative of the terminal that is used on a daily basis is "smart phone". "Multitouch (essential for smartphone operation) was a great advance, but we believe that Google will interact with the device in a more sensuous way than a conversation.Using voice and visual It is important for us, "Pichai said.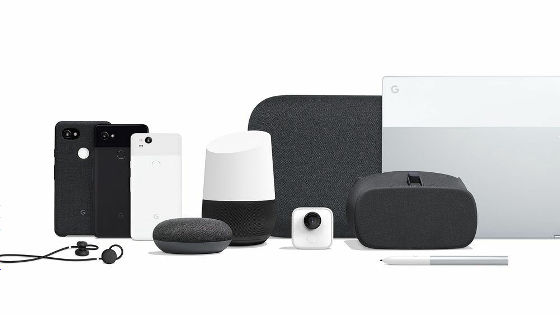 Also, Pichai CEO says that there is a problem of "privacy" as an example of an interface that AI changes. Suspicion about "how much do you know about the user" is great against Google, which provides search services, lets everything in the cloud and collects user's voice data, and the privacy setting is unknown The voice of the user is persistent. Pichai CEO thinks that AI can solve this privacy problem as well. "The fact that AI can better understand the context means that we can understand what is sensitive to the user.The information for finding a restaurant with a friend and the information on health are totally different treatments I should do it. "

There is definitely a growing number of hardware products we are working on and there is no doubt that it is ambitious to expand into the hardware field, but it is still smaller than online business such as search service, so it is big in Google's financial affairs I can not see when it will become influential. However, as companies that are trying to integrate hardware and AI to create new services are limited to only a few huge companies such as Google, it is increasingly important to see how Google will develop AI It is likely to continue collecting.