Dinner of Yoshinoya with a full volume with beef cattle dinner limited menu "Okoshi beef Calvi set meal" & "Cattle set meal" has been eaten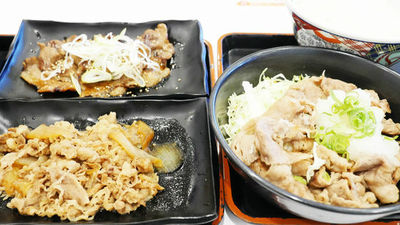 At Yoshinoya at 15 o'clock to 24 o'clock limited sale 'dinner' menu the first collaboration of cow Calvi with the grated freshly squeezed from September 23 (Saturday)Grated beef Calbee set meal"Beef dish and beef Calvi can not eat beef mania can eat at once"Cattle set mealNewly appeared. I went to eat to see what kind of taste the new menu was announced for autumn production of appetite.

(PDF)Notice of Yoshinoya's "Dinner" release - First release "Grated beef Calbee set meal" "Cattle cat food set" released ~

Dinner | Official Yoshinoya website
https://www.yoshinoya.com/menu/dinnerset/

Arrived at Yoshinoya.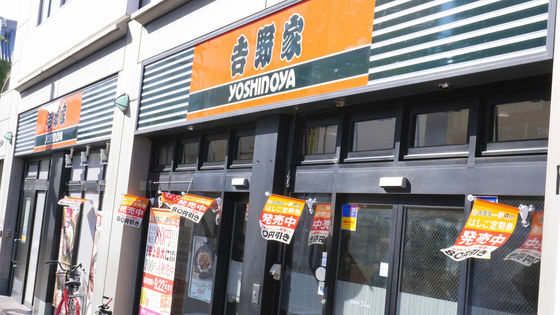 A picture of a new menu was displayed at the shop front. Yoshinoya's "dinner" is a new style of selling from 15 o'clock to 24 o'clock limited, and the menu provided as "dinner" can not take out like a beef bowl.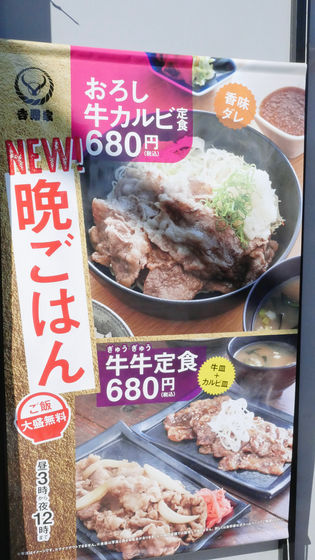 I will order "Grated Calf Curry Set" and "Cattle Cat Set" immediately. "Dinner" menu is "Good for dinner free of charge" dinner "good, you can eat firmly deliciously", this time I tried rolling up the "Grated beef Calvi set meal" for rice. First of all, "Grated calf rib meal" arrived in about 10 minutes after ordering. Vegetable full bow beef Calvi plenty of vegetables are added and it looks nice and the nutrition balance looks good. Grass Macaroni and minced green onion are on bow Calvi, and in addition to Oshika and Miso soup flavored saga will follow the set.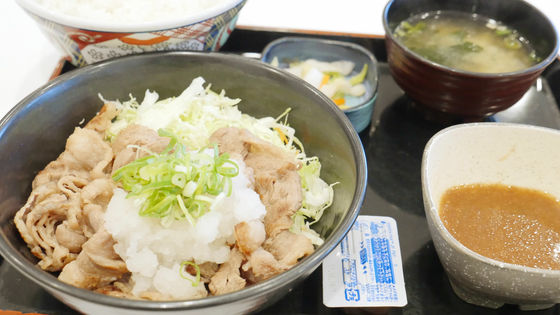 "Grated calf Calbi set meal" was able to choose dressing for garnished vegetables, so this time we chose soy sauce dressing.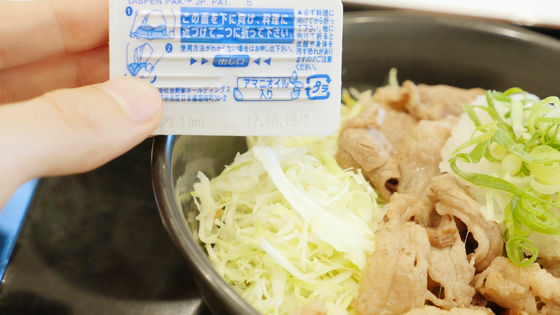 If you eat it with vegetables attached with soy sauce dressing, it is perfect for chopstick breakage with shakyaki texture. Soy sauce dressing has a sour taste, it has a refreshing taste.



The main beef Calvi had the water of Daikonasechi firmly cut and there was no worry that the cow Calvi would be watery.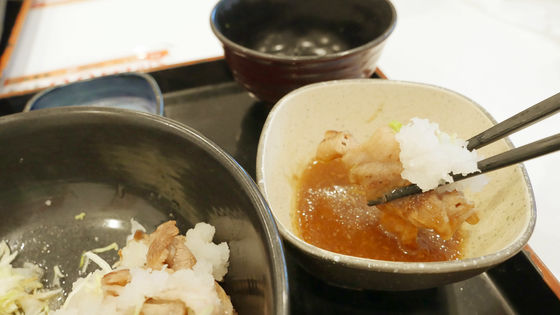 Firmly thick meat and flavorful saga match exquisitely, perfect for dinner you want to eat rice. Flavor Daire has an unpleasant sour taste, refreshing taste refreshingly. Because it contains crushed sesame, you can enjoy the taste of sesame. Both soy sauce dressing on vegetables and sage sauce for meat both tasted sour, so we felt that people who are not good at sour things should refrain. On the other hand, I recommend it to those who want to eat rice with refreshing acidity.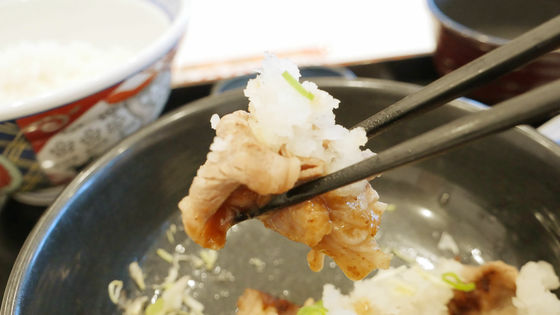 "Cattle cat food" was offered in about 15 minutes after ordering. This "cattle set meal" is a lavish set meal that makes you feel guilty that you can eat standard beef dish and grilled beef carve dish at the same time. Beef dish and bow beef dish are lined with tray on top of narrowing and overwhelmed by the amount of beef. There is no Oshika, but red ginger is put on garnish's garnish.



First of all we will eat from a familiar cow dish. I feel a sense of security somewhat on the slightly sweetness and the texture of an onion stewed firmly.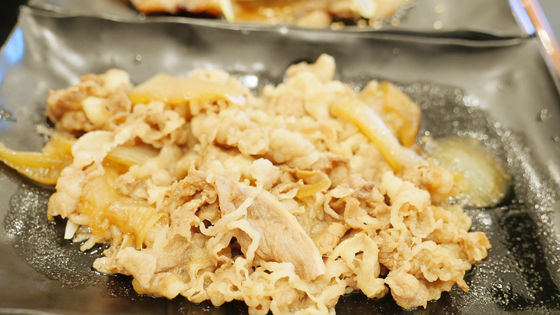 When you put on a red ginger, it has a slightly impactful taste that is a bit different. I also want to eat more and more rice here.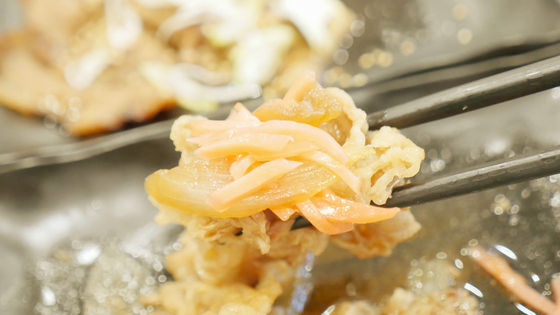 After tasting the cow dish, the next is a grilled carved dish with grilled meat. Beef Calbi are firmly burned, and if you eat it is a delicious flavor and grilled meaty stuff is not said to be umami.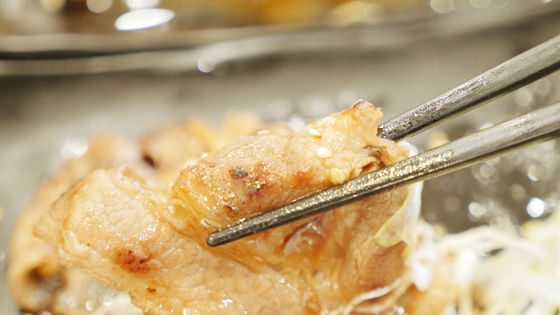 Chilli sauce arrived at "cattle set meal". I will apply this chili sauce to the grilled beef Calbi as you like.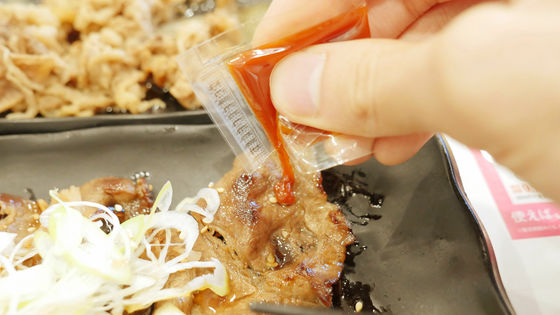 When chilli sauce is put on, chilli's spicyness is felt in the back of sweet spicy roast sauce, and compatibility with rice is preeminent.



This "cattle set meal" that you can enjoy various flavors at the same time is recommended to eat both alternately rather than to flush one dish at a stretch. It is the perfect set menu for when you want to eat rice dishes. In addition, "Grated calf galbi set meal" is 969 Kcal at 680 yen including tax, "Cattle set meal" is also 680 yen including tax, it is 1134 Kcal. Both generations are free. "Dinner" Because the menu is only available, the offer time is from 15 o'clock to 24 o'clock and it is not sold at some stores, so be careful. You can check non-selling stores at the time of article creation in the following list.

(PDF)"Grated beef Calbi set meal" "Cattle cat food set" Store not on sale