Everyone can easily make a teriyaki of chicken with plenty of shakijaki onion Mitsukan "CUPCOOK Chicken Trying noodles" cooked reviews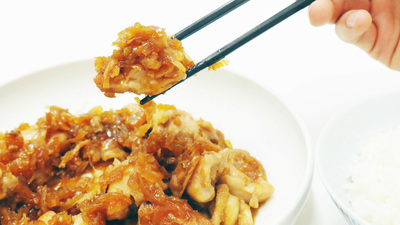 If you make served chicken teriyaki seriously it will take extra time and effort, but you can quickly and easily create classic dishes at home with "just getting out of the cup"CUPCOOK chicken fried noodlesIn fact it cooked how easy it would be to make it.

Three new category brands "CUPCOOK (Cup Cook) ™" newly appeared! │ Mitsukan Group Corporate Website
http://www.mizkan.co.jp/company/newsrelease/2017news/170706-01.html

The background of the package was green in "Pork ginger noodle", orange in "Pork Kimchi fried sauce", but in "Chicken Trying noodle" I imagined Teriyaki's shining, bright yellow It is getting. The necessary ingredients are only 250 grams of cut chicken thigh meat, and it is simple enough to worry as "Is this really enough?"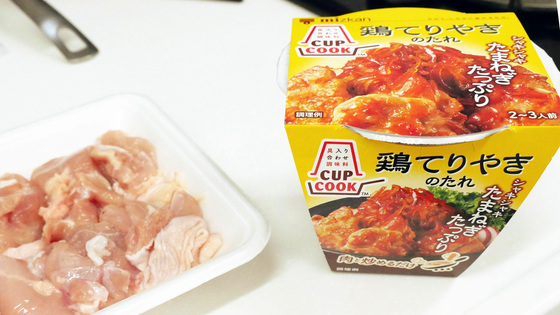 "CUPCOOK" series contains ingredients combined with ingredients such as cup jelly, but it is slightly taller than general cup jelly. This is a result of improvement made by Mitsukan's development department taking into consideration ease of holding. The content is 210 g, there is nothing to be too heavy even if you hold it with one hand.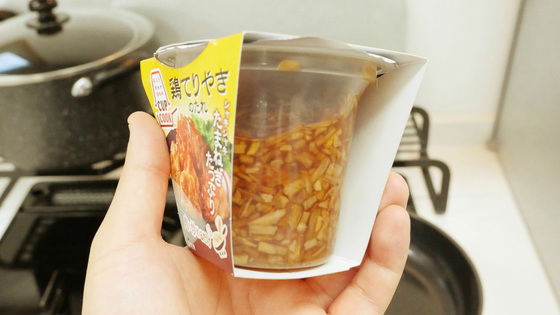 I started cooking. First of all, baked chicken thigh meat down with high fire, and lid.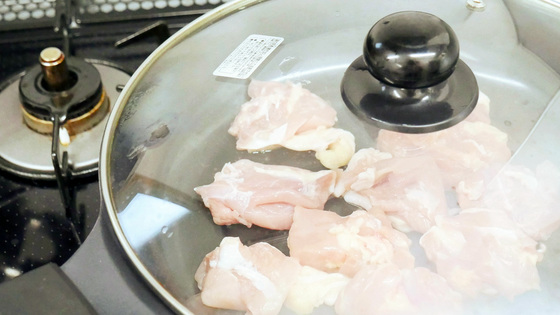 If it gets a good baking color weakens the fire and turns the chicken over.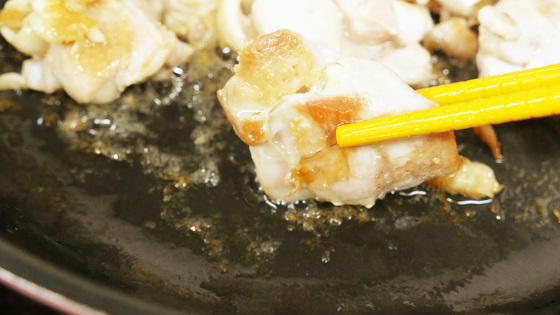 I will prepare for "CUPCOOK" while baking the meat. Since it is a specification that can be used immediately with simple packaging that just removes the lid from the paper package and removes the lid, you will not feel stressed by handy time.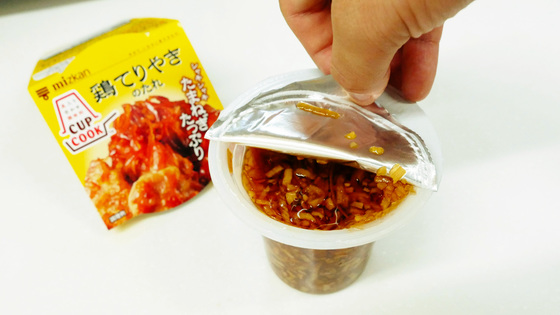 Squeezing the contents with a spoon is like this. You can see that the chopped onions are plentifully in the bottom of the cup. Although sweet and sour scent like apple is produced, this is because raw material contains brewed vinegar, which is unique to Mitsukan who is also a well-established vinegar manufacturer.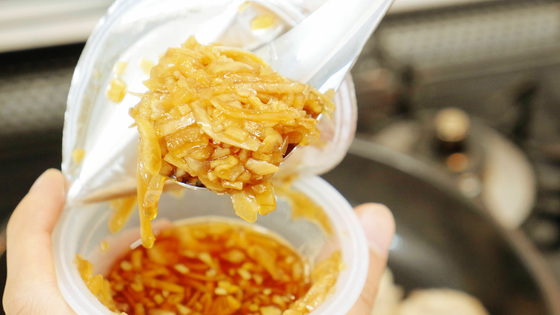 Pour the contents of the cup promptly. Because ingredients tend to remain on the bottom of the container, it is possible to use up when you scratch the sticks stuck to the bottom while looking with the eyes.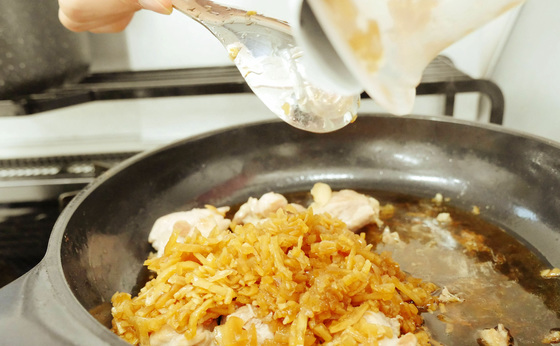 Fry for medium heat and fry till juice disappears 5 minutes. A slightly sweet scent of Teriyaki is put into the kitchen, stimulating appetite.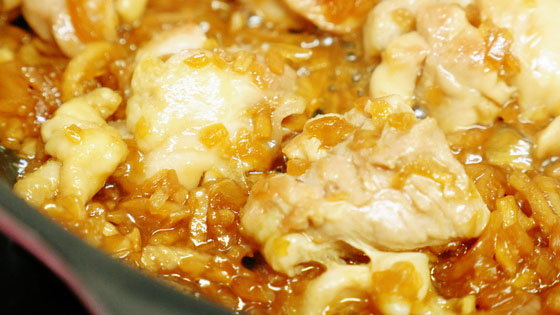 Serve on a plate and ready quickly. The time taken from the start of cooking to completion is only about 15 minutes including preparation. Also accompanied by white rice, it is a real meal.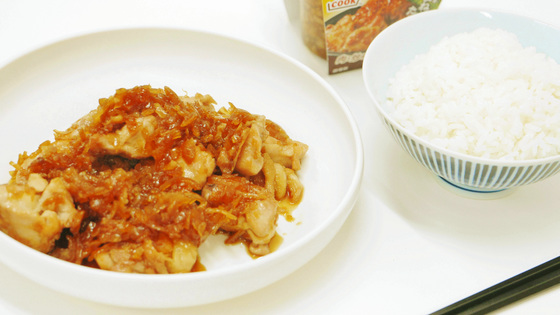 First of all, the strong feeling of impression is the onion texture, shakiyaki and gaudy chewiness. Will it be pretty sweet if this contains only onions? While I was cooking, I was worried, but there was something that the sourness of vinegar was better than usual, there was not such a thing at all. The taste is rather an orthodox Teriyaki rather than an impression of stir-sweet vinegar, and from the editorial staff who tasted it together, the opinion that "Teriyaki with plenty of this onion plenty is fresh" from the editorial staff "from sweet and sour to somehow".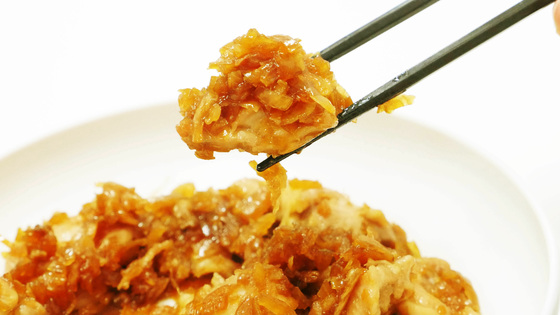 As a result of actually using, it is very convenient to cook easily in a short time. Because I do not use kitchen knife and bowls, I am glad that when preparing rice by sewing between busy times it is less preparation and clean-up. The expiration date is about 1 year, so you can keep it as long as you can, so you can buy it, even for students and social workers who are unfamiliar with cooking living alone benefit "CUPCOOK chicken lollies noodle" is 324 yen including tax, its value There is.

The other two items of "CUPCOOK" series are reviewed by the following article.

A review made by "CUPCOOK pig ginger gourd breakfast" which ginger is still or even goes into this sort of fiery ginger paste finished with haste - GIGAZINE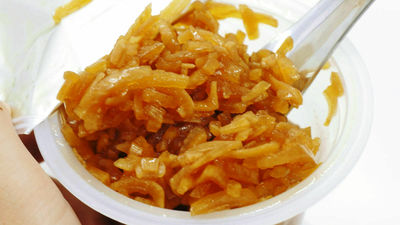 Explosive rice going forward Pig kimchi stir-frying completed in less than 10 minutes I tried using "CUPCOOK sweet kimchi stir-fried sauce" - GIGAZINE