I tried using 'CUPCOOK keema curry' that anyone can easily make keema curry by frying for only 5 minutes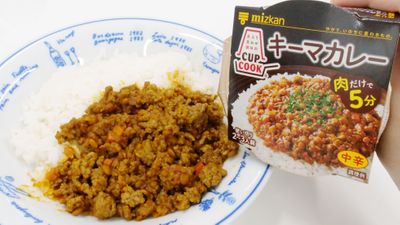 If you intend to make curry properly, the process of frying ingredients and the process of simmering will require 30 minutes, and it will take time and effort accordingly. However, I decided to make it with chiken curry because it would be possible to make keima curry in just 5 minutes if only minced meat was prepared if the mixed seasoning " CUPCOOK keema curry " containing mikkan is included.

CUPCOOK│Mitsukan Group Products / Menu Site

http://www.mizkan.co.jp/cupcook/
This is 'CUPCOOK Keema Curry'.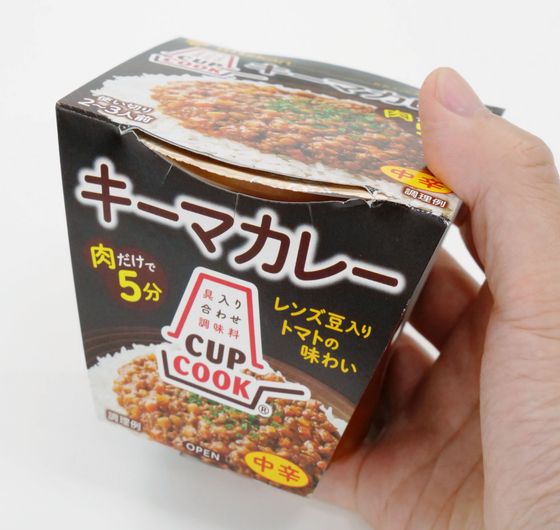 As you look at the display of raw materials, tomato paste (made in Portugal), carrots, lentils, dried onions. In addition to raw materials like keema curry, such as curry powder, it contains 'brewed vinegar' that makes use of the strength of the well-established brewing vinegar maker Mikan.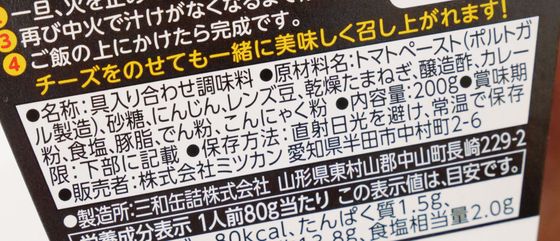 Calories are 80kcal per 80g per serving, but the content is 200g, so the total is 200kcal. In addition, this calorie notation does not include the calories of other materials such as minced meat.




The container looks like this. Although the time taken is not so long, it seems that Mikankan's development department is particular about ease of holding.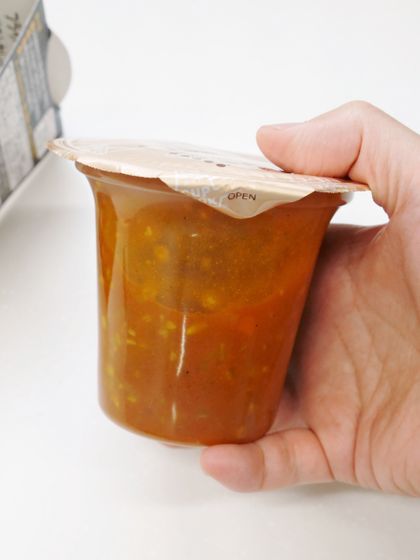 Seasoning with plenty of ingredients enough to be seen on the surface.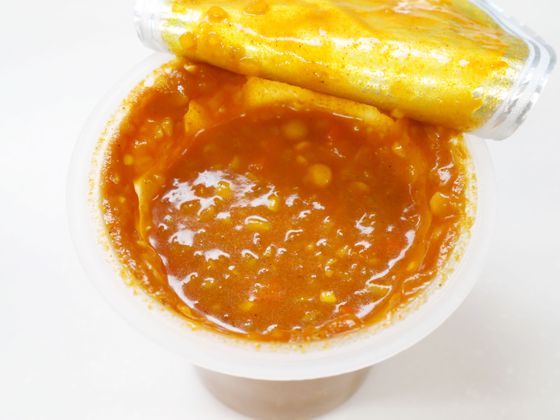 Ingredients are carrots, lentils and onions. The sauce gives you a taste of appetizing tomato and a slight vinegar.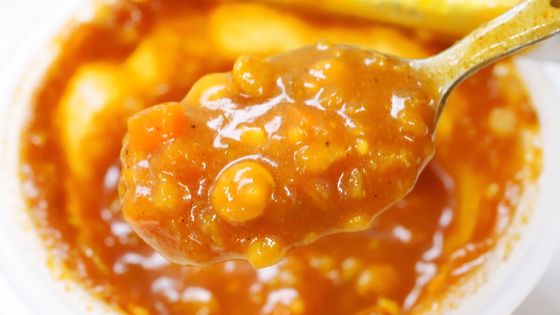 I will actually make a keema curry. The ingredients needed are only mince and super simple.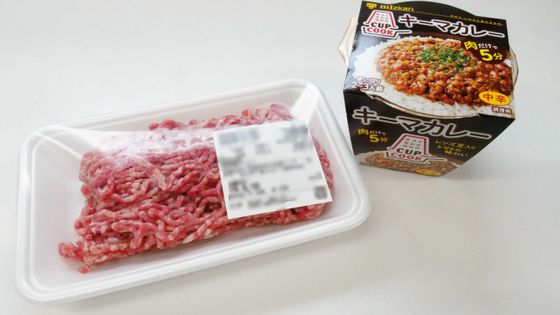 Cooking starts. At first we put minced meat in the pan.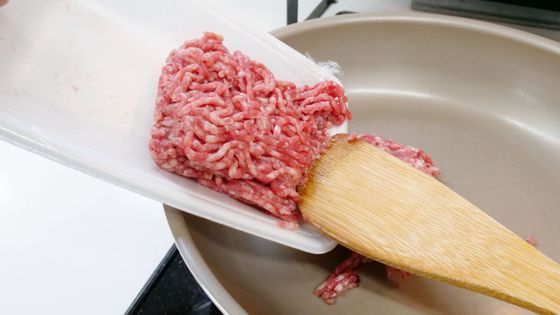 I will give up until the color changes in the middle heat.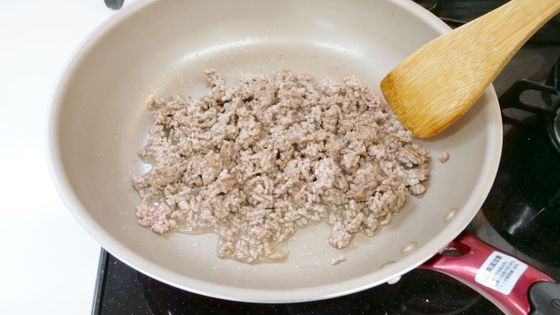 Turn off the fire and put in CUPCOOK keema curry next.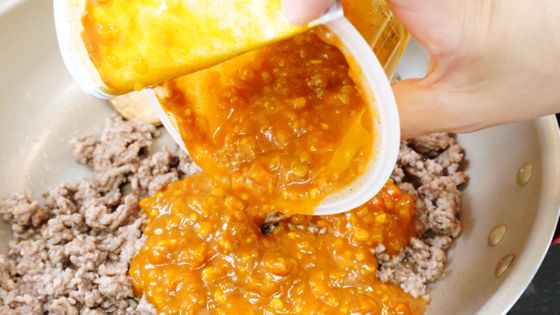 CUPCOOK Keema Curry can not leave all the contents just by tilting it high viscosity, so I scoop it out with a spoon etc.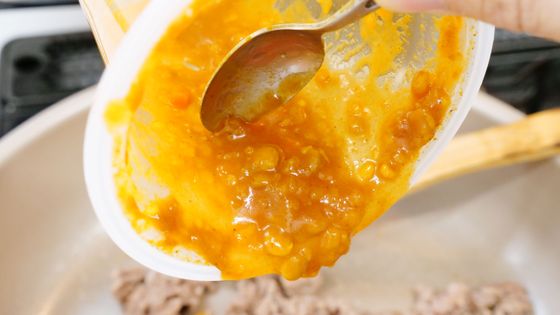 Over medium heat again, stir fry until the juice is gone.



It is completed when the juice disappears. The cooking time was over 5 minutes.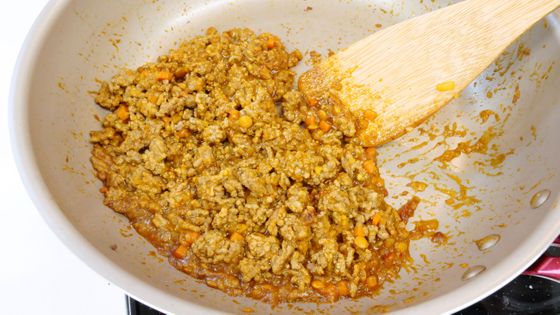 The completed keema curry is for adults if it is for two people, but it may be the amount that adult men want one more item.



The smell of tomato and vinegar comes along with the smell of curry.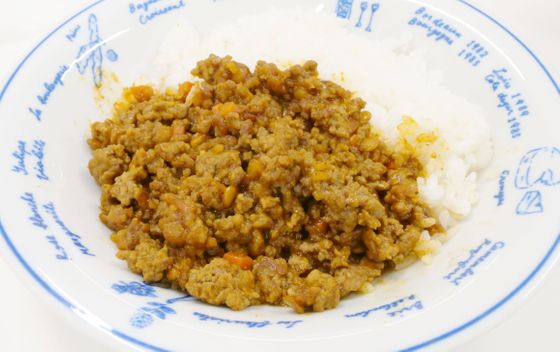 The base of the taste is tomato rather than curry, and the sweet and sour taste is combined with the strong taste of minced meat that occupies most of the ingredients, and the curry-like hotness comes from behind it. The smell and taste of the tomato are so strong that it is better to call it 'Tomato Keema Curry', and some may feel that 'Kima Curry' is different from what I thought. 'This is ant' is finished in the taste. There was also an opinion, 'Because it is a taste that not only adults but also elementary and junior high school students would like it, it may be a good idea when mothers cook rice for children.'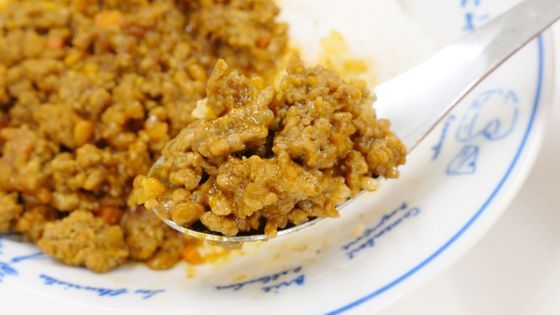 'CUPCOOK Keema Curry' can be purchased for 324 yen including tax at retail stores such as supermarkets. At the time of writing, 4 sets were sold for 1296 yen including tax at Amazon.co.jp.


Amazon | Mitsukan CUPCOOK Kiema Curry 200g x 4 pieces | Mizkan |