The last development of iOS software development is leaked and the new functions of "iPhone X" are clarified one by one, the 6 core A11 Fusion chip is installed and "Face ID" of face authentication function etc. adopted etc.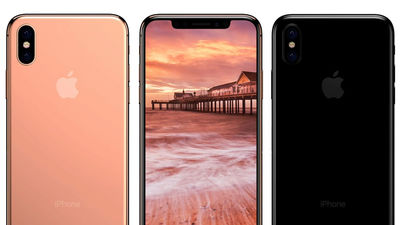 It will be the final version in software development of the next version of iOS "iOS 11" to be released shortlyGMThe version is leaked and the details on several new functions that are expected to be equipped with the next iPhone are clarified.

More revelations from Apple's GM leak show off Face ID, wireless charging, and more - The Verge
https://www.theverge.com/2017/9/10/16284604/apple-iphonex-revelations-gm-leak-face-id-wireless-charging-rumors

iPhone X: Six core A11 Fusion chip, wireless charging hints, Apple Pay + Face ID details, more | 9to5Mac
https://9to5mac.com/2017/09/10/iphone-x-processor-wireless-charging-more/

◆ Name of the new iPhone
Although it is a new iPhone that has been called with various tentative names so far, it is the iOS developer'sSteven Troughton-SmithAnalyzed the GM version of iOS 11, I found that it seems that the successor model of iPhone 7/7 Plus will be "iPhone 8/8 Plus", the completely new model will be "iPhone X" from the code .

iPhone 8
iPhone 8 Plus
iPhone Xpic.twitter.com/OVLfhLxTdT

- Steve T - S (@ stroughtonsmith)September 9, 2017

◆ Face ID
When adopted by the next iPhone3D face authentication machine that was being rumoredIt seems to be implemented on iOS 11 under the name "Face ID". Brazilian iOS developerGuiherme RamboAnalyzed the GM version of iOS 11, Face ID can be used not only to unlock iPhone but also to purchase content on iTunes and the App Store, exactly what inherits the function of Touch ID as it is It will be. In addition, Safari which is a genuine Apple Web browser seems to be able to use Face ID when automatically inputting.

You can check how face authentication is actually performed with Face ID in the following movie.

Authenticating with FaceID looks like this (timing not correct because it's just the UI, not actual auth)pic.twitter.com/kvNUARDQBJ

- Guilherme Rambo (@ _ inside)September 9, 2017

Furthermore, when registering a face to use Face ID, it is as follows. It seems that it is necessary to register by moving the face to the left and right.

Face ID enrollment process (with layout issues on first page)pic.twitter.com/KczOHEy9ir

- Guilherme Rambo (@ _ inside)September 9, 2017

Also,Jeffrey GrossmanAlso from the analysis result of the code, "Face ID can be used with Apple Pay, it can be used on iPad and iPod touch" It seems that "Face ID will be authenticated automatically, but when paying for Apple Pay etc. It is necessary to press the button on the side of the main body twice when using it. "

And it's showing that face ID repeated automatically but you double click the side button to confirm paymentpic.twitter.com/NcN0u9KKTt

- Jeffrey Grossman (@ Jeffrey 903)September 10, 2017

In Brazil, Apple Pay's service has not started, so we can not verify the relationship between Apple Pay and Face ID.

The lack of Apple Pay in the face ID preferences is probably because it is not available in Brazil and I 'm using a Brazilian Apple ID

- Guilherme Rambo (@ _ inside)September 9, 2017

◆ Wireless charging
Regarding the wireless charging function of the next iPhone that has been rumored frequently until now, Rambo is tracking down that one model of the new iPhone seems to be equipped with a wireless charging function.

ChargingViewService confirms wireless charging. It will even show some 3D animations when charging (not present in GM tho)pic.twitter.com/JLBd4HQLpS

- Guilherme Rambo (@ _ inside)September 10, 2017

◆ Camera
Be another developerFilipe EspósitoSays iPhone 8 and iPhone X will support shooting of 60 FPS 4K movies and 240 FPS 1080p movies. Although the installation of a high-function camera was thought to be only iPhone X, it seems that it can be used in the same manner on iPhone 8 as well. Also, on iOS 11, "PortraitRight" function will be implemented, this feature is also available on both iPhone 8 and iPhone X. The Portrait Light function has settings "Contour Light", "Natural Light", "Stage Light", "Stage Light Mono" and "Studio Light", which are related to flashing and lighting specialized for portrait shooting It is believed to be.

4K 60fps and 1080p 240fps strings are also inside a generic "d2x" file. Probably will be available on iPhone 8 and X as well.pic.twitter.com/0p8CEOlBnM

- Filipe Espósito  (@filipekids)September 10, 2017

◆ A11 chip
According to Smith, the "A11 Fusion chip", which is supposed to be installed by the next iPhone, consists of two high-performance cores "Monsoon" and four low power consumption cores "Mistral", which can be handled independently It is possible to do.

Just to clarify on the A11: it's two high-power Monsoon cores and four low-power Mistral cores, all independently addressable. No Fusion

- Steve T - S (@ stroughtonsmith)September 10, 2017

The A10 Fusion chip on iPhone 7/7 Plus has two high-performance cores and two low-power cores, and the A10X chip on iPad Pro has three highs It has a performance core and three low power consumption cores. That's why 9to 5 Mac, which reports Apple-related news, "is that the new iPhone 8 and iPhone 8 Plus, iPhone X will be the most powerful iOS device in the history of Apple.Of course the noteworthy point is that the performance is part Although it depends on the clock speed of the processor, it is dramatic leap in that point as well ".