Does the display of iPhone 12 Pro Max support 120Hz high refresh rate?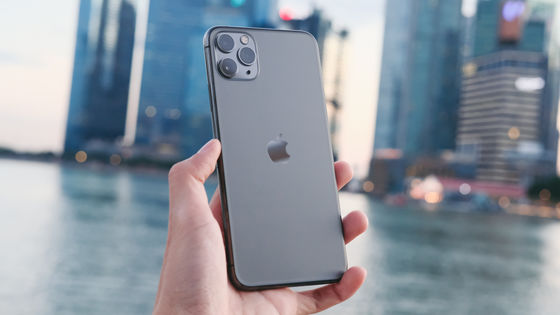 The iPhone 12 Pro Max, which is positioned as a high-end model of the new iPhone whose
release time has been delayed
compared to the usual year due to the influence of the new coronavirus, has been reported that the display may support a high refresh rate of 120 Hz.
Rumors: Images claim to show iPhone 12 Pro Max camera features, 120hz display settings, notch size-9to5Mac
https://9to5mac.com/2020/08/25/iphone-12-pro-motion-camera-features-more/
Technology analyst
Jon Prosser
has released some of the screenshots taken with his own product verification test (PVT) model of the iPhone 12 Pro Max.
Camera and display settings for current PVT model of 6.7" iPhone 12 Pro Max

Want video too? pic.twitter.com/fnJk2LELgv

— Jon Prosser (@jon_prosser) August 25, 2020


One of the screenshots shared by Prosser is the following, which is a screenshot of the setting screen related to the display. You can enable options for high refresh rates, or enable options for adaptive refresh rates. Although detailed numbers are not written on the setting screen, it is possible to enable the refresh rate of 120 Hz with the first option, and by enabling the second option adaptive refresh rate, the display It seems that the refresh rate can be automatically adjusted between 120Hz and 60Hz according to the content displayed above.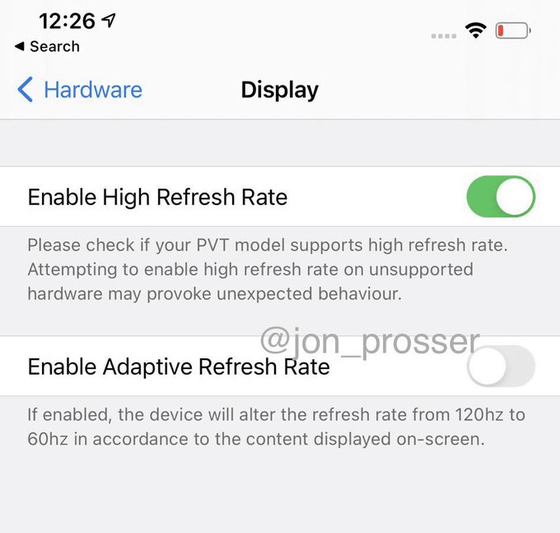 The screenshot below shows the camera settings screen. The iPhone 12 Pro Max seems to be equipped with a LiDAR scanner like the iPad Pro, and it seems that it can improve the image quality. You can see that there are also options that will allow you to perform autofocus and subject detection using LiDAR when shooting movies and shooting in 'night mode' specialized for night shooting. Other movie shooting options include options for shooting 4K movies at 120fps and 240fps, more advanced noise reduction, and extended night mode.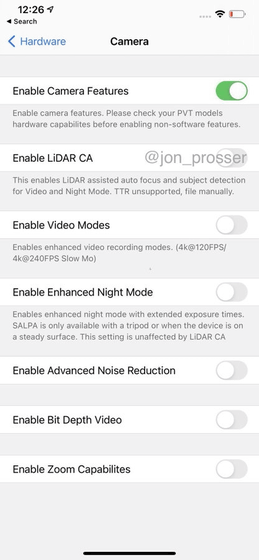 It's important to remember that Apple media said, 'These screenshots were taken with the PVT model of the iPhone 12 Pro Max. That is, before Apple released the official version of the iPhone 12 Pro Max. It also means that some features may be dropped, and the screenshots show that not all iPhone 12 series may have these features.' ..

Also, it is said that there are both iPhone 12 Pro PVT models that support 120 Hz refresh rate and those that do not support it, so it is controversial whether the display of iPhone 12 Pro supports 120 Hz. It is said to be the target.

In addition, a Twitter account called EverythingApplePro publishes a picture of the actual PVT model of iPhone 12 Pro Max, and shares the picture of the notch part at the top of the display. The size of the notch remains unchanged from iPhone 11 Pro Max.

Actual iPhone 12 Pro Max (PVT) notch shot with 120Hz settings. Same notch size, slightly more room for'AM /PM' badge because of 6.7-in screen, battery icon is a bit different. Thanks to @MaxWinebach pic.twitter. com/Hq7yBNnXUV

— EverythingApplePro (@EveryApplePro) August 25, 2020


The difference from the existing iPhone that can be seen in the photos posted by EverythingApplePro is that 'AM' is displayed on the clock part to the left of the notch. EverythingApplePro claims that the fact that it can be described as 'AM' is due to the evolution to a 6.7-inch large display.

In addition, 9to5Mac wrote, 'The interesting thing is that in the screenshot shared by Prosser, there is no display such as 'AM' or 'PM' in the status bar part.'