Retina display model of 4K resolution will appear on 21.5 inch iMac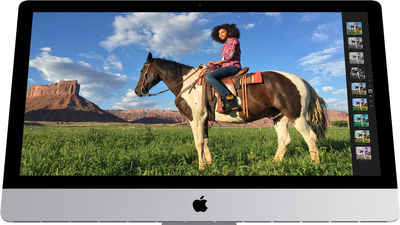 AppleIMac adopting 27-inch Retina display of 5K resolution (5120 × 2880)Although it sold, it became clear that a model with a 21.5 inch Retina display of 4 K resolution (4096 × 2304) is newly added.

Apple planning to bring 4K screen to 21.5-inch iMac in October | 9to5Mac
http://9to5mac.com/2015/09/03/4k-imac-october-november/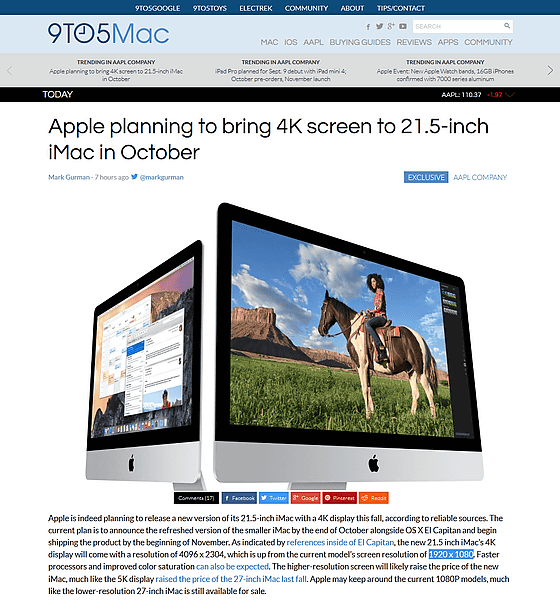 According to information obtained from 9to 5Mac reliable sources, Apple plans to announce the iMac of the 21.5-inch 4K Retina display model along with OS X El Capitan at the end of October 2015. The resolution is 4096 × 2304 pixels, and the current model has a resolution of 1920 × 1080 pixels21.5 inch iMacWe will upgrade significantly from.

Although it can not be used to display the editing screen while displaying the 4K movie at full size like the 27-inch 5K model iMac, it is not a problem if only playing the 4K movie, so depending on how it is used, it costs less than the 5K model High resolution iMac is likely to be the best choice. In addition, it is said that we will continue to sell the current model iMac, so in the future we will be able to select models with low resolution and high resolution in both 21.5 inch and 27 inch models.



The 21.5-inch Retina 4K display model iMac is scheduled to begin shipping from the beginning of November.