Amazon planned to establish "second headquarters" in the United States, accepting candidacy from multiple million cities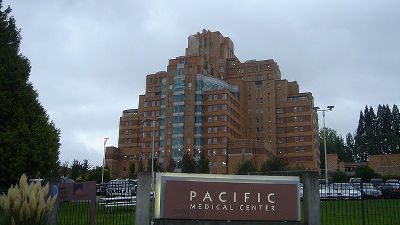 ByJeff Dlouhy

Amazon, which has established an immovable position in online retail, is the second company in the United States "HQ 2We announced plans to establish a candidate from each city accepting candidacy.

Amazon to Build Second HQ in North America
https://www.amazon.com/gp/browse.html/?node=17044620011

Amazon's new headquarters in in search of a city - CBS News
https://www.cbsnews.com/news/amazons-new-headquarters-is-searching-for-a-city-and-workers/

Amazon HQ 2: Location choices for Amazon's new second headquarters - CBS News
https://www.cbsnews.com/news/amazon-hq2-cities-location-choices-new-second-headquarters/

Amazon has set up a special page on the site and announces the construction of HQ 2. In construction of HQ 2, Amazon expects to have a construction budget of 5 billion dollars (about 530 billion yen) in the next ten to 15 years, and 50,000 regular employees with annual income over 10 million yen will be hired, and related business We are forecasting that it will bring tens of thousands of employment and many economic benefits.

Amazon to Build Second HQ in North America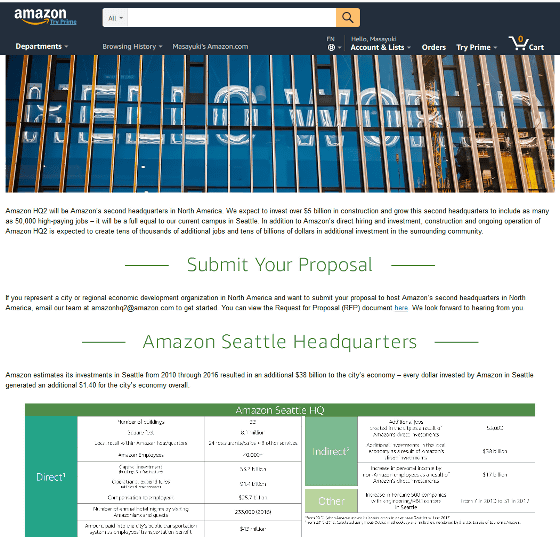 It is said that Seattle with Amazon's headquarters has more employment and economic effects than Amazon. There are 33 buildings as Amazon buildings, with over 40,000 employment, investment of 3.7 billion dollars (about 400 billion yen) for buildings and infrastructure, consumption of 1.4 billion dollars (about 150 billion yen) Hotel demand, which arises when 233,000 people visit the Amazon headquarters annually, is cited as a direct factor.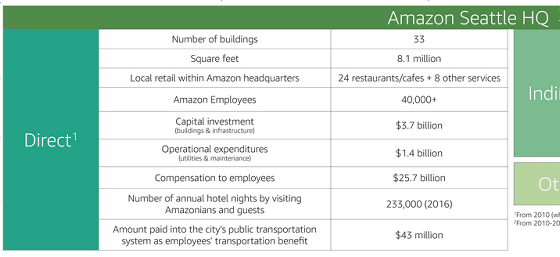 In addition, Amazon investment sparked 53,000 employment, resulting in indirect investment of 38 billion dollars (about 4 trillion yen) and wage increase of 17 billion dollars (about 1.84 trillion yen) I am doing it. In addition, among companies listed in "Fortune 500" ranking of excellent companies, the number of companies with R & D departments in Seattle has increased from seven companies to 31 companies in 2010 to 2016 Thing.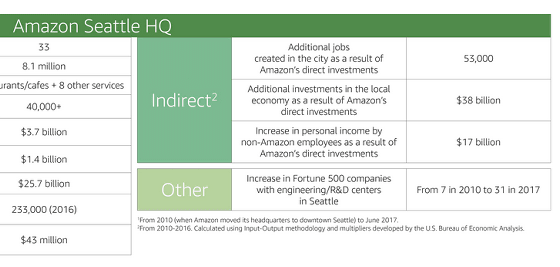 For cities that are candidates for HQ 2, Amazon emphasizes the following points(PDF)Announcementdoing.

· Be a large city with a population size of 1 million people
· Be stable and have an environment to accept business
· Having urban areas or suburbs that attract people with technical talent and make them feel like working
· Regarding ambient and creative local community about land acquisition and accommodation to residence

Although it is not essential, it is considered desirable to satisfy the following requirements.

· Can base based on city type or commercial area
· Be able to do layout similar to Amazon's Seattle head office
· There must be places on which land development is a prerequisite. Enabling productive response to real estate discussions by authorities and local communities without compromising the progress on the time axis desired by Amazon

Also, when many people work, it seems that candidate areas will be required to enhance public transportation. And above all, I expect that many excellent talents are gathered on Amazon, and in that sense also emphasize the area where the ratio of college graduates is high. Cities with a population of 1 million or more are counted in 55 cities in the U.S. However, when filtering in cities where the ratio of university graduates exceeds 1/3, they are narrowed down to 26 cities including New York, Los Angeles, Chicago, Philadelphia, Atlanta It is said that it will be.

Amazon aims to start operation in HQ 2 within 2018.