Violent titles are excluded even if e sports goes to Olympic games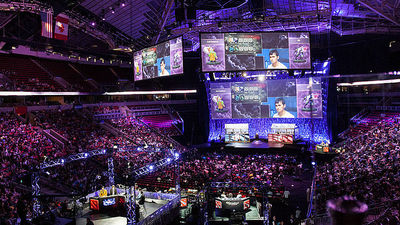 BySam Churchill

Capture competition in computer games and video games as sports competition "E SportsIn recent yearsIt is becoming a threat to professional sports industry such as American football and basketballIt is also said,The world biggest e-sports world event of the world with a total prize sum of about 2 billion yenIs held overseas, even in JapanOne of the largest e-sports event in Japan that leads to world competition with a prize of 100 million yenIt is showing excitement that it was held. There is a possibility that e sports like that will be selected as the event of the Olympic Games, but there seems to be one big problem there.

Violent video games have 'no place at the Olympics', but e-sports are still in the running | South China Morning Post
http://www.scmp.com/news/china/society/article/2108501/violent-video-games-have-no-place-olympics-e-sports-are-still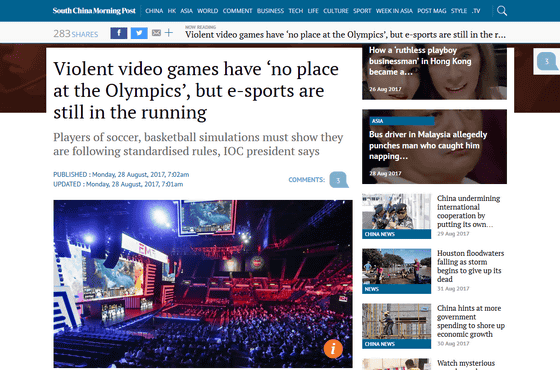 If esports come to the Olympics, do not expect to see 'violent' titles - Polygon
https://www.polygon.com/2017/8/30/16228134/olympics-esports-violent-video-games

The 2024 Olympic Games, which will be held next summer in the 2020 Tokyo Olympic Games, will be held in Paris, the capital of France. At the Paris Olympic Games, the same 28 official games as the Tokyo Olympic are scheduled to be held, but in addition, sports that are rooted in the host country of the Olympic Games and sports that are popular in many countries are experimentally implemented as Olympic games To "Additional event"Addition of e-sports is being considered.

At the Paris Olympics in 2024, "e sports" is officially mentioned, the committee mentioned the possibility of adding events - GIGAZINE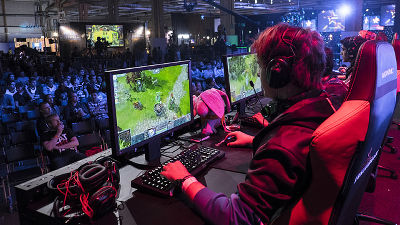 However, organize the Olympic sports and various international sports control bodies participating in the OlympicsInternational Olympic Committee(IOC) president Thomas Bach said, "If e sports was chosen as a Paris Olympic competition, it would not include particularly popular game titles," said Thomas Bach,South China Morning PostI talk in an interview with.

Bach said in his sports and the Olympics, "We want to promote the peace of people in non-discrimination and non-violence.This philosophy is based on a video that includes violence, explosion, killing, etc. We do not agree with the game, so we have to clearly draw a line, "he says, and games that contain violent depictions are not suitable for being played as an Olympic games. In other words, the e-sports tournament is held at FPSCounter-StrikeYaOverwatch, Moreover of the real-time strategy gameDota 2YaLeague of LegendsIt is highly likely that games that are popular such as such are considered unsuitable for being played at the Olympic Games.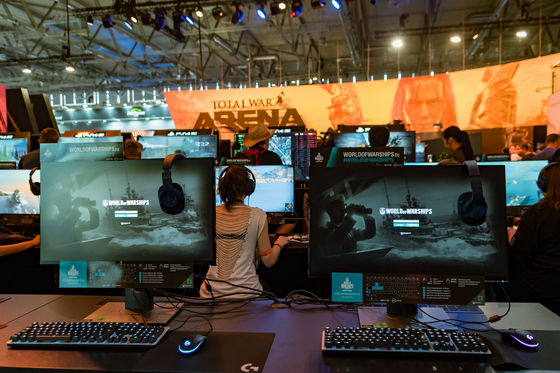 ByDronepicr

Then, what kind of thing is suitable for being played at the Olympic Games? "We are strongly interested in playing soccer games and playing other sports games. What I want is that the players of such games (sports games) show off performance that is comparable to actual sports, and the fans who saw them are finally interested in sports in the real world If it does, we will be even more happy, "Bach said.

It is a game brand specializing in sportsEA SportsHas sports game series such as FIFA and NBA 2K which are worldwide hits but they are not on the top 10 of the number of viewers on Twitch of the game live broadcasting service, Polygon of game related media point out that there is a discrepancy between popular titles and titles suitable for playing at the Olympic Games.

Also, if a sports game is to be played at the Olympic Games as an e-sports, the question of who will see the sports being done in the game rather than the actual sports in the same tournament Also emerges. Although the Olympic Games is a stage where the value and philosophy of sports itself can be widely disseminated, advertisers are paid generously to the broadcast rights of the Olympic Games because the content of the Olympic Games is huge publicity with hundreds of billions of yen scale It is attractive as a place of advertisement. If you think so, you need to choose a game to be competed based on the part "Who will see the e-sports being held at the Olympics?"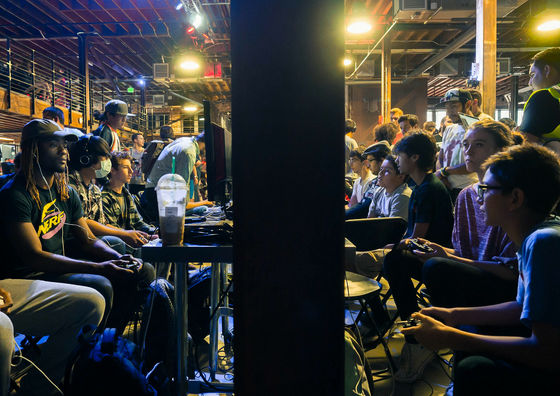 ByTobechi Ugwumba

In addition, Bach president should work together to make e sports an additional event of the Olympic Games,International Athletics Federation(IAAF) andInternational Swimming FederationIt is also a problem that there are no worldwide regulatory agencies like FINA. Regarding this, Polygon wrote, "The indication that there are no global regulatory agencies is more troubling than complaints that the game is violent."

Nonetheless, the movement of trying to incorporate the eSports, which is extremely popular among young people, as a competition by the IOC, which is actively involved in the inclusion of young people, is definitely ongoing. In fact, Jack Ma, Chairman of Alibaba, who met with Bach President, said, "We are planning to cooperate with the IOC to digitize the Olympic Games." This is a countermeasure to the TV separation that goes among young people, and it is aimed at incorporating e sports that is compatible with the digital platform.
in Game, Posted by logu_ii