Apple held a new product announcement event on September 12, 2017, "iPhone 8" and Apple Watch Series 3 for LTE appearing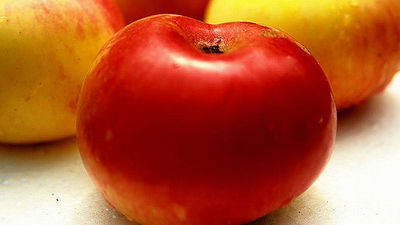 ByVivek raj

Apple plans to release three models of "iPhone 10th Anniversary" in 2017It has been rumored that it is rumored to be, but the new iPhone announcement event was held on Tuesday, September 12, 2017, the Wall Street Journal reported.

Apple to Hold Product Launch Event on Sept. 12 - WSJ
https://www.wsj.com/articles/apple-to-hold-product-launch-event-on-sept-12-1503928157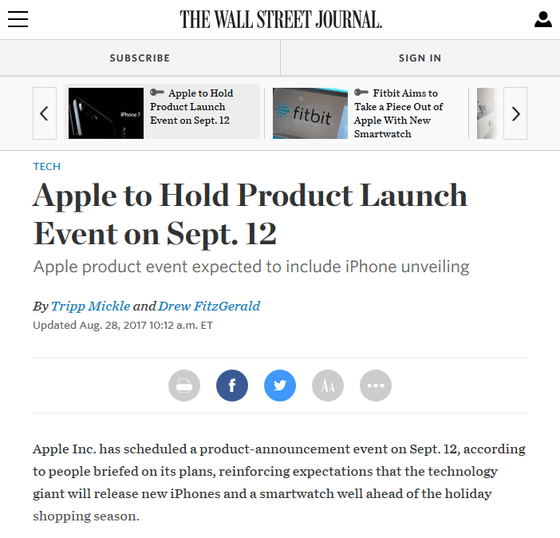 Apple to hold product launch event on Sept. 12; iPhone unveiling expected: Dow Jones, citing sources
https://www.cnbc.com/2017/08/28/apple-to-hold-product-launch-event-on-sept-12-iphone-unveiling-expected-dow-jones-citing-sources.html

WSJ: Apple to unveil iPhone 8 & Apple Watch Series 3 with LTE on September 12
http://www.idownloadblog.com/2017/08/28/wsj-apple-september-12-event/

Apple has not officially announced, but according to the Wall Street Journal, three events of "iPhone 7s", "iPhone 7s Plus", and "iPhone 8" planned for the 10th anniversary of the iPhone will be announced at the event.

For iPhone 8, it is four color expansion? There are also rumors that it is.

With iPhone 8 color development of 4 colors, a terminal with a mirror finish appearance as a new color? - GIGAZINE



Also, there is a story that the price is over $ 1000 (about 109,000 yen).

Reason why the next iPhone of the 10th anniversary will become "luxury iPhone" exceeding $ 1000 - GIGAZINE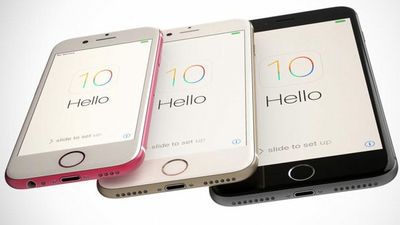 Besides this, a new 4K compatible Apple TV set-top box (STB) and LTE-compatible Apple Watch Series 3 will also be released.

For "iPhone 8", announcement is also simultaneous with "iPhone 7s" and "iPhone 7s Plus"Possibility that the release date is postponed until late 2017Has been pointed out.

As for names, we anticipate "iPhone Edition" and "iPhone X" in addition to "iPhone 8", but the official name is still unknown yet.