Xstation game machine for geek that integrated PS4 and Xbox One into one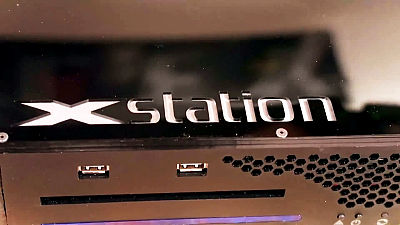 Geek machine that made "Xbox One S" a laptop in the past and made it portableXBOX ONE S Laptop"PS4 and Xbox One integrated notebook PC game machine"PLAYBOX"And so onEdward ZarickIn response to the voice that "I want you to make a console without display" because "PLAYBOX with display is too big", "Xstation"We made a game machine called. The game machine of Xbox One and PS 4 is integrated into one housing, and the game machine can be switched with one button.

XSTATION - The XBOX ONE / PS 4 Combo Console |
http://www.edsjunk.net/wordpress/xstation-the-xbox-one-ps4-combo-console/

This is "Xstation" which integrated Xbox One and PS4 two game consoles into one housing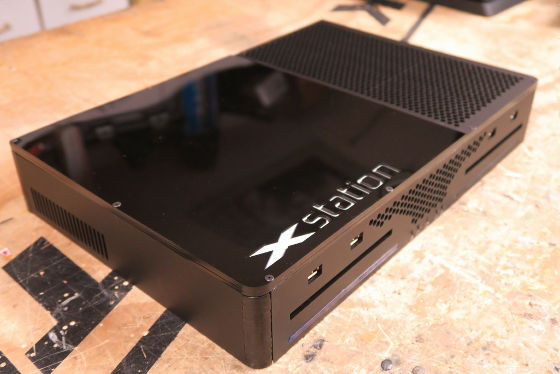 There are two disk slots on the left and right on the front of the main unit.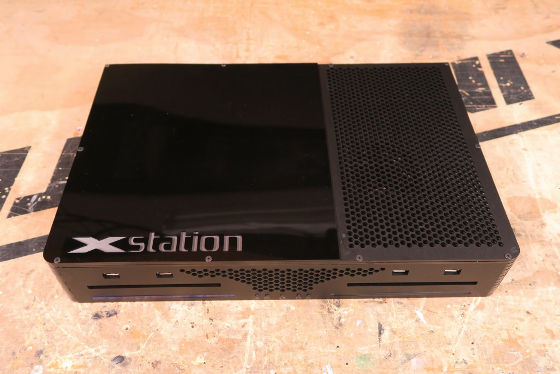 Power supply port and HDMI port on the back.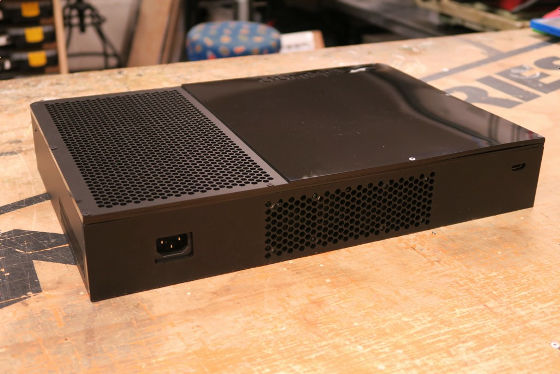 Although the specific size was not described on the website, it is about the same size as the first generation Xbox One. I am integrating two game consoles, but he seems to be aware that "it is not too bigger than Xbox One S".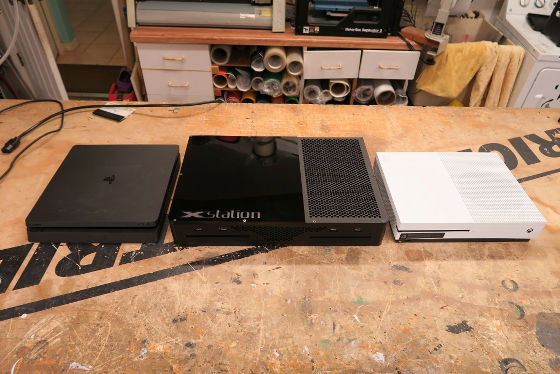 Furthermore, each game is played by each controller.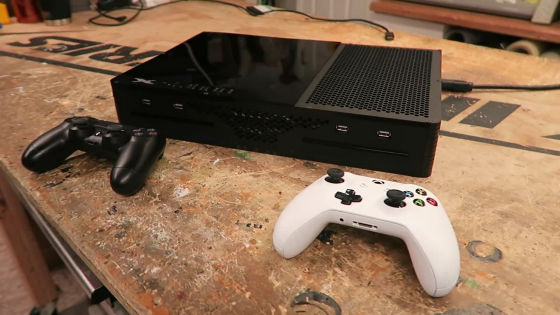 You can see how actually you are running Xbox One from the following movies.

Xstation - The XBOX ONE / PS4 Combo Console! - YouTube


The man in the image isEdward ZarickMr.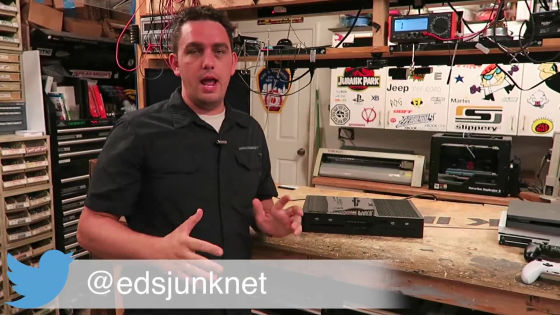 Zarick in the pastA notebook PC game machine "PSYBOX" integrated PS4 and Xbox OneThe person who made the. When I made PLAYBOX, there was a voice saying "It is too big to carry" and I heard the opinion that "Using a PS4 and Xbox One to create a display without a display?", This time I came to making Xstation It is said that.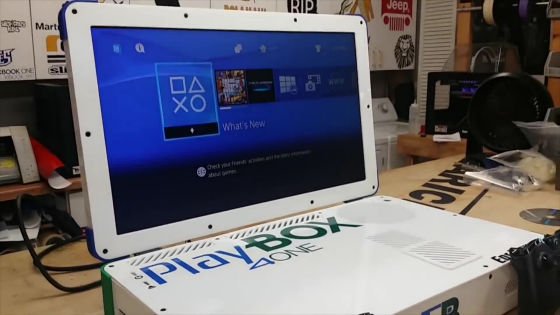 So I will actually start Xstation.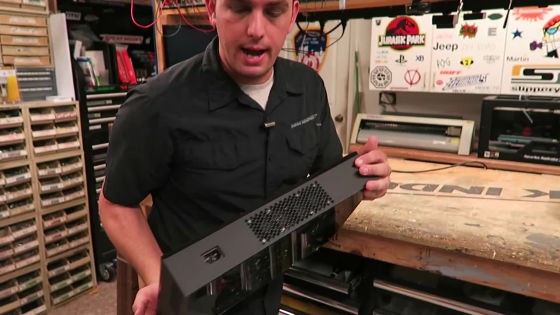 Connecting to an outlet ... ...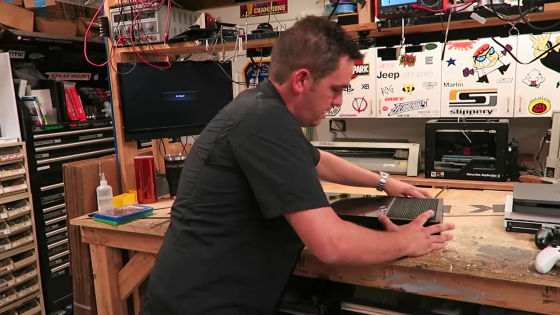 The LED light under the disk slot lights up. The Xstation is equipped with Arduino, which controls the LED lights.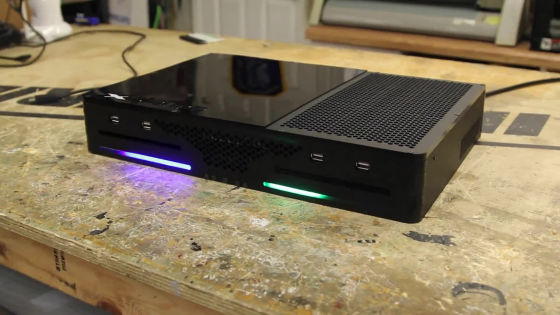 And finally the green LED light indicating that Xbox One is running is lit.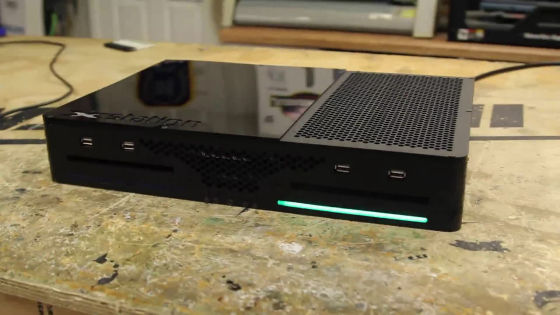 Push the button on the front of the main unit, in the middle.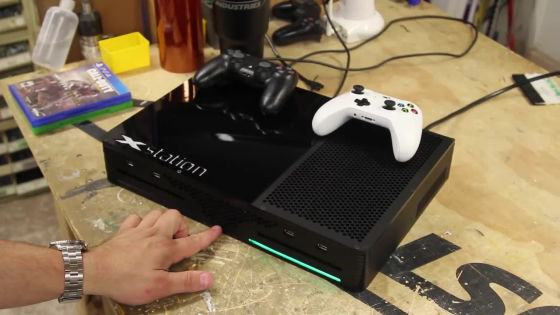 Then the blue LED light indicating that PS4 is running is lit this time. It is possible to switch between two game machines with one button. There is only one game machine that can be activated at a time.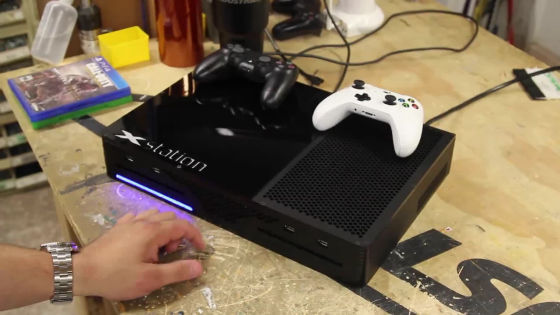 Looking at the arrangement of the buttons on the front of the main body is like this. From the left, the PS4 Disk Eject Button, PS4 Power Button, Switch Button, Xbox One Power Button, Xbox One Disk Eject Button are lining up.



A few seconds after the green LED lights up, the Xbox One logo is displayed on the display behind the Xstation.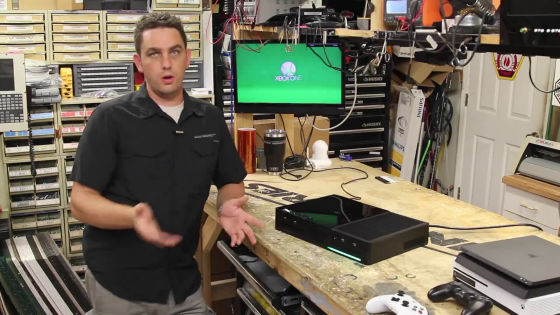 Try inserting the game disc of Xbox One.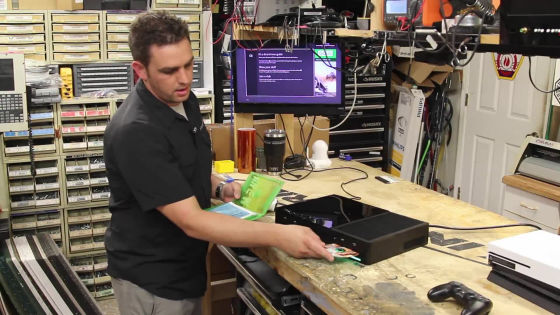 The game is loaded properly, and screen operation is possible. The operation of each game machine controller is performed.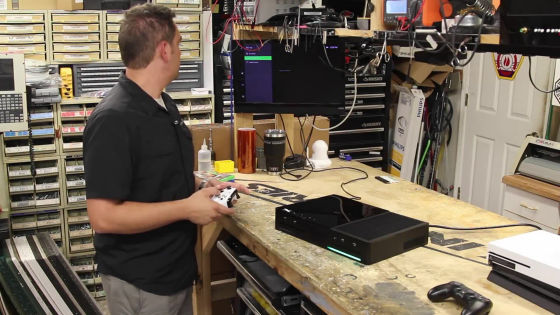 Switch to PS4 this time ...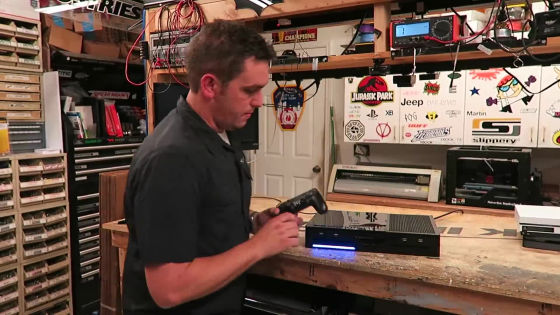 Insert the disc.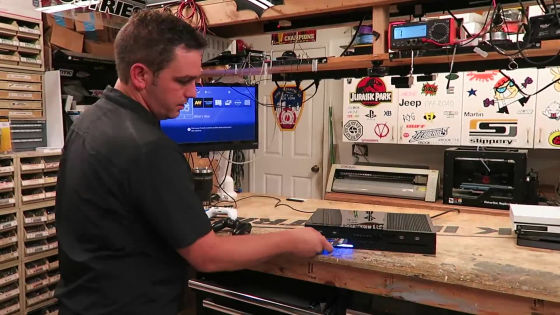 The game was loaded properly here.