Women are watching pornography from smartphones at a higher rate than men, according to a survey of popular adult sites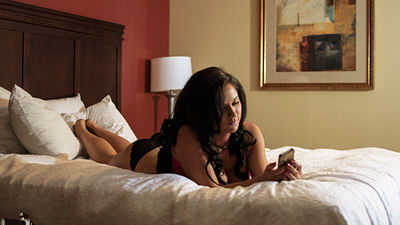 By
Joey Newcombe
Since March 8 was
International Women's Day
, the research and analysis department of the popular adult site Pornhub has published the results of traffic analysis focusing on women. It has become clear that the percentage of women who watch pornography videos on smartphones tends to be higher than men.
Women and Tech-Pornhub Insights
http://www.pornhub.com/insights/women-and-tech
Looking at the traffic classified by gender into mobile devices that watch porn videos from 2013 to 2017, compared with around 69% of men using mobile devices as of 2017, approximately 80% of women using mobile devices Has reached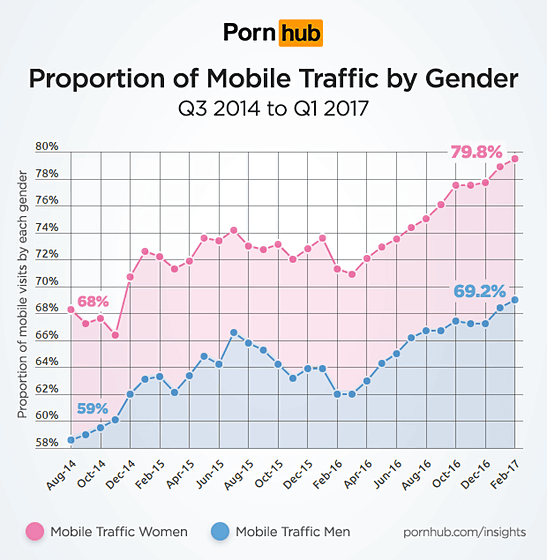 If you classify female traffic by device, you can see that 71% use a smartphone. Including 8% of tablet users on mobile devices is around 80%, and 21% of PC users seem to be a minority. Comparing this traffic with men, women who use PC when watching pornography are 34% less than men, but the percentage of smartphones and tablets seems to be higher than men.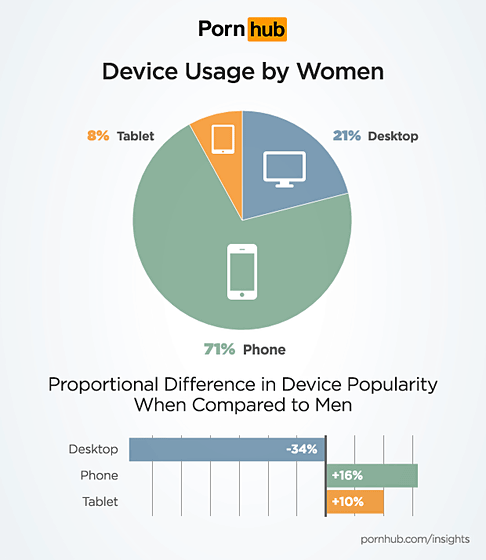 By classifying women's traffic by age, you may find bias in the devices you use. 78% of people aged 18 to 34 use a smartphone on a device that sees pornography, and as they get older, PC and tablet usage tends to rise. The percentage of PC users reaches 49% and about half when they become 65 years of age or older, but compared with men, about 30% fewer people watch pornography on PC as a whole, still women who use smartphones all ages Many patterns.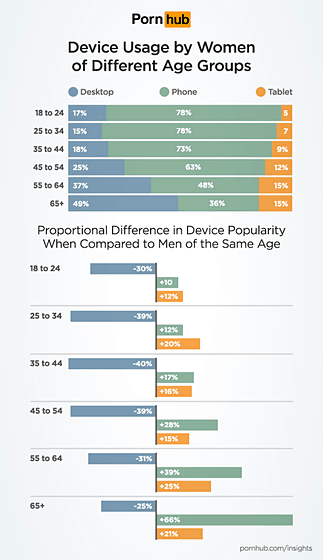 Among female PC users, Windows users account for 84% and the majority. With 12% macOS, only 2% Linux and 1% Chrome OS, women use macOS 8% more often than men, 14% more Linux and 33% more Chrome OS You can see that it has an interesting tendency.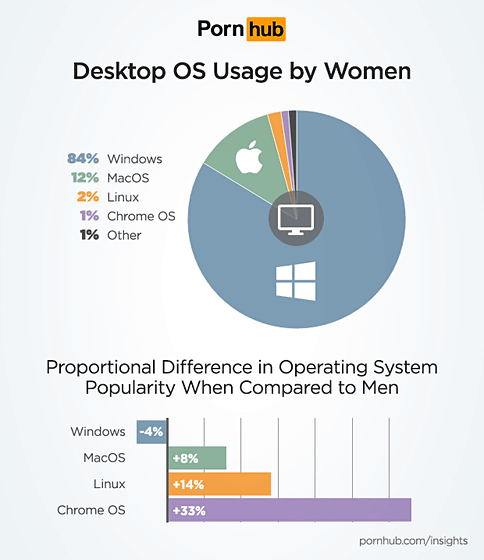 Among female mobile users, iOS users account for 45%, and 53% of Android users are slightly higher. There are fewer iOS users than Android users, but women seem to use 5% more iOS devices than men.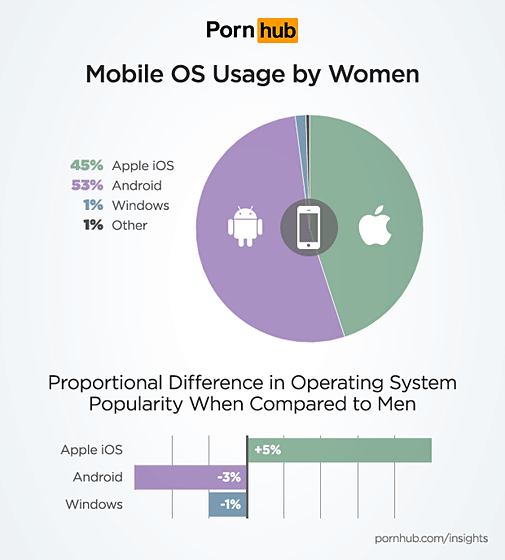 In the breakdown of browsers used by female PC users, Chrome, which accounts for 53%, is overwhelming. 15% Firefox in second, followed by 12% Internet Explorer in third. This also tends to differ by gender, and women do not use Internet Explorer, Firefox, or Edge compared to men, but more often use Safari, Opera, or Chrome.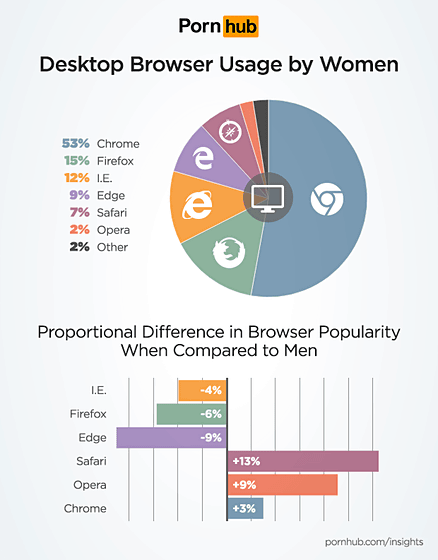 When you look at the browser of the mobile device which women often use, it is 54% Chrome which is many after all, but it is 34% Safari 2nd place, it seems that it depends on the OS which you use. Women who use Internet Explorer are 21% fewer than men.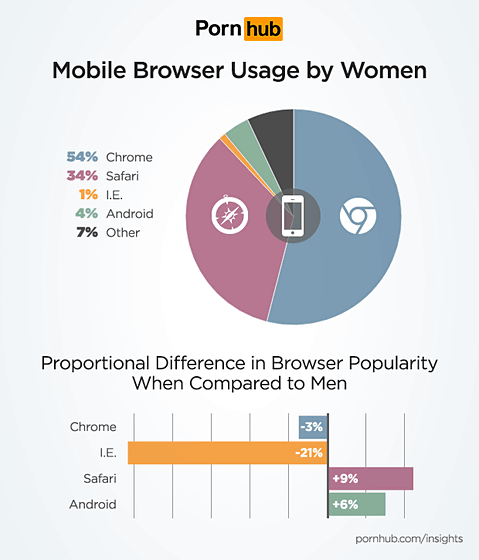 The last is a country ranking with a high proportion of women who use pornographic women's mobile devices, first in 91% of South Africa, second in 89% of America, and third in 86% United Kingdom. Japan ranks 23rd, and 71% of Japanese women who see porn seem to use mobile devices.