A super popular adult site publishes a statistical report that summarizes the whole year, total viewing time is equivalent to 5246 century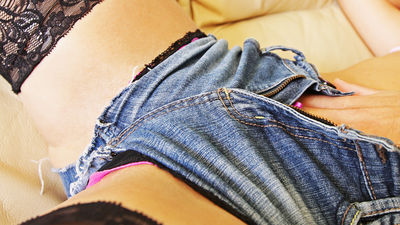 Byo-wagen

A popular adult site 'Pornhub' has released a statistical report that summarizes the total transfer volume, total viewing time, popular search word etc in 2016. Looking at the statistical report, you can see that the trends of users with different ages, countries, and regions are available.

Pornhub's 2016 Year in Review - Pornhub Insights
http://www.pornhub.com/insights/2016-year-in-review

The total transfer volume of Pornhub in 2016 is 3110 PB (3.1 billion gigabytes), which is equivalent to 99 GB / sec and 6 TB / minute.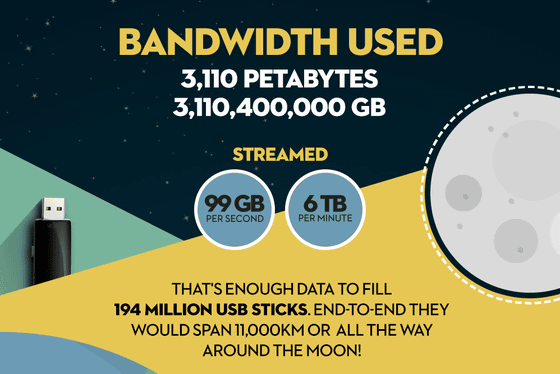 The total number of movies watched in the year of 2016 is 91.9 billion 8022 25 thousand, and everyone on the earth watched 12.5 movies. Also, the number of visits in 2016 was 23 billion, resulting in approximately 64 million people per day, 729 per second.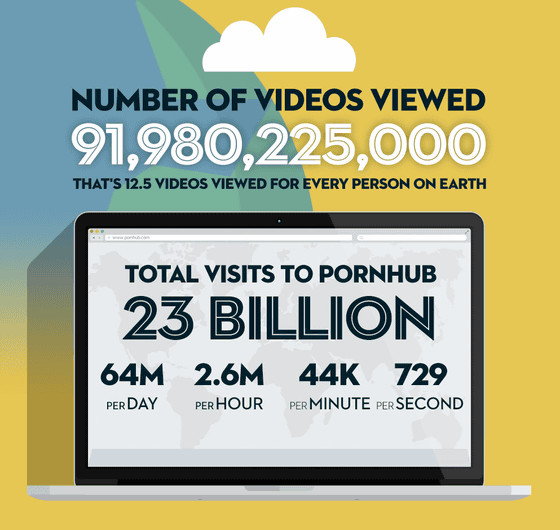 The total viewing time of the movie is 4,599 million hours, which is equivalent to the 5246 century.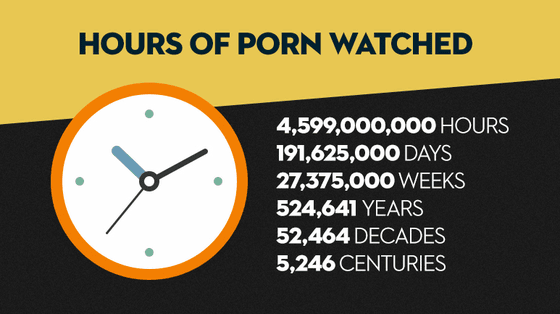 In the top 20.1 countries where traffic was high, the results were in the United States in Dantos, 2nd in the UK, 3rd in Canada, 4th in India and 5th in Japan.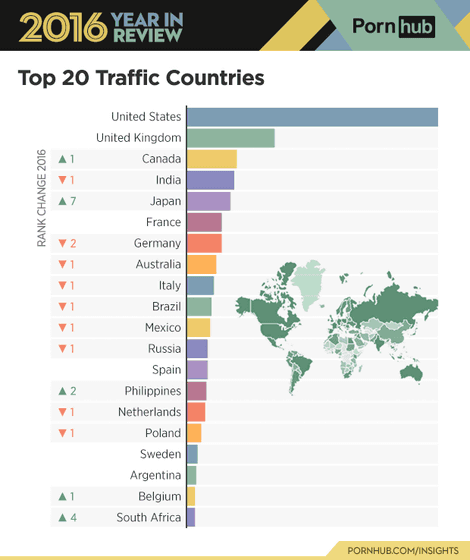 The most searched word is "lesbian (lesbian)" in 1st place, "step mom" in 2nd place, "MILF (milf)" 3rd place is "teen (10s)", 5th place is "Step sister". "Japanese" is ranked 10th.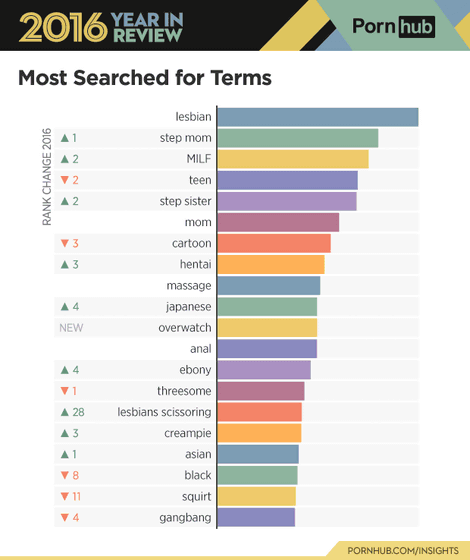 The most American users searched for "step mom" and "lesbian". Top three of popular categories are "Lesbian", "Ebony (black people)" "Teen". Also, the top 3 actresses are "Kim Kardashian (model)" "Mia Califa" "Lisa An".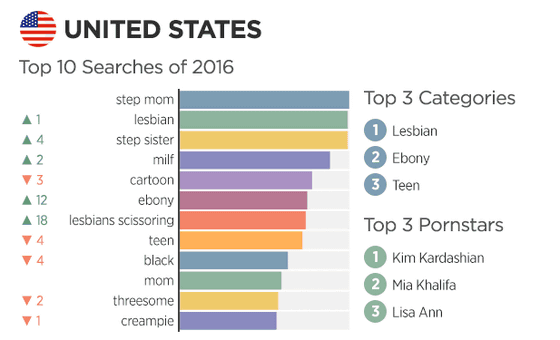 "Japanese" ranked first in terms of the ranking of words most searched by Japanese users. In addition, "japanese teen" "japanese amateur (Japanese amateur)" "japanese wife (Japanese married wife)" "japan" Continues. Top three of the popular categories were "Hentai (Anime)" "Teen" "Amateur". Also, the popular actress top 3 has resulted "Uehara Ai" "Hatano Yui" "Asami Yuma".



Searching for Italian users The top 10 notes to be noticed is "footjob (Foot Job)" who came in third. Football popular nationality may be related to the fact that "footjob" which is hardly seen in other country rankings went into 3rd place.



In Russia, the top of the search word was "game overwatch" what. Pornhub has many adult movies related to games such as those using cosplay and game models, and it seems that Overwatch movies were popular in Russia. Furthermore, the popular category top 3 is "Anal (Anal)", 2nd place "Teen", 3rd place "Mature (milf)".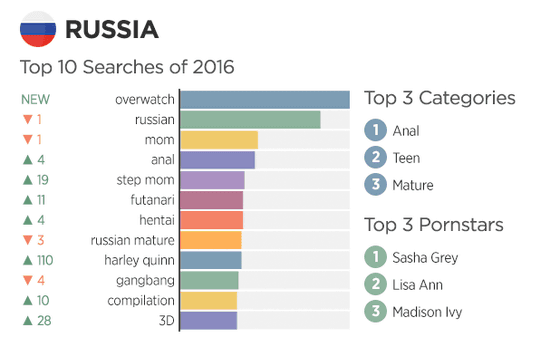 Even in Brazil, "overwatch" is ranked 1st in the popular search word as in Russia. Also, it is noteworthy that "pokemon" is in 4th place.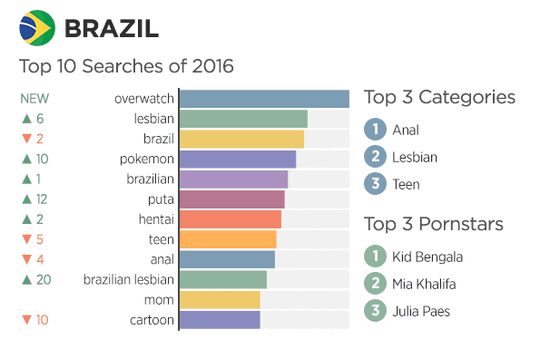 The following bar graph shows rankings of the most popular categories of Pornhub. First place is "Lesbian", second place is "Teen (18+)". Also followed by words such as "Ebony" "MILF" "Anal" "Big Dick" (big cock).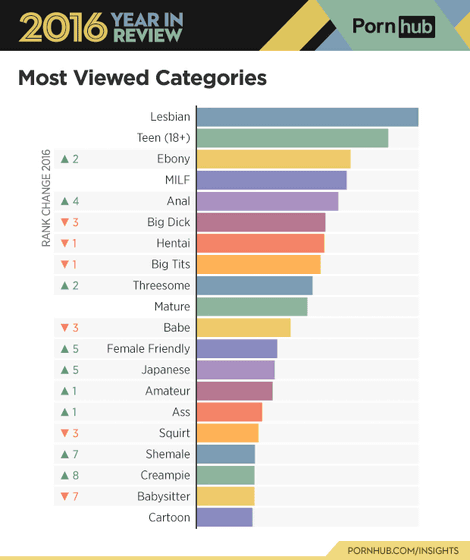 A world map expressing the most popular categories in each country color-coded. In North America "Lesbian", European countries except UK and Russia "Anal" popularity is getting higher. "Hentai" is popular in countries such as Japan, China and Korea. It is an interesting point that differences in popular categories will appear depending on each region.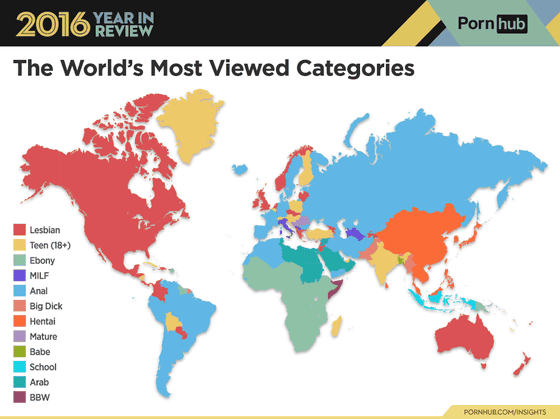 The percentage of visitors by age is 31% for "18 to 24", 29% for "25 to 34", 17% for "35 to 44", 11% for "45 to 54", 7% for "55 to 64" %, "65+" is 4%.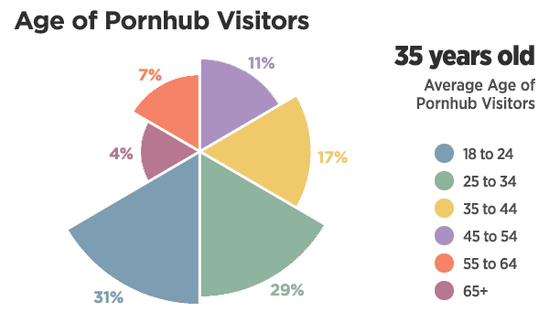 The most searched by users of 18 to 24 years old was "Lesbian"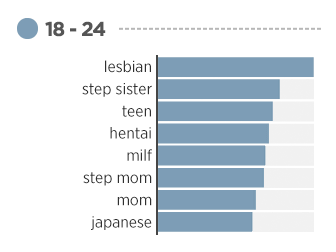 The most searched by users of 25 to 34 years old was "japanese"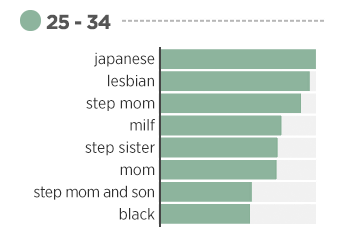 The most searched by users of 35 to 44 years old was "japanese"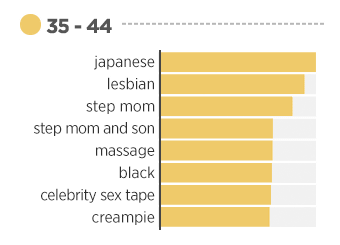 The most searched by users aged 45 to 54 is "milf"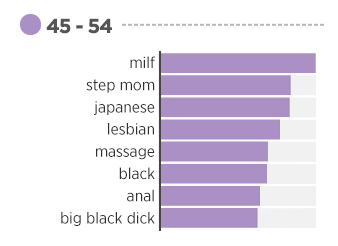 The 55-54 year old most searched for "milf".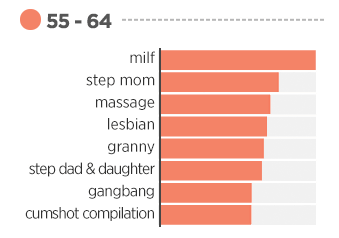 Users who are 65 years old or older most searched for "milf" as well as groups between 45 and 54 years old, 55 to 64 years old. Looking at popular search words by age, popularity such as "japanese" and "lesbian" is conspicuous in the generation under 44 years old, but "milf" seems to be overwhelming popularity when it is over the age of 45 years. In addition, "granny (grandmother)" who was not ranked at all at the age of 54 years old ranked fifth in 55 to 64 years, ranked second in 65 years old, and as older age older The popularity of women seems to be getting higher.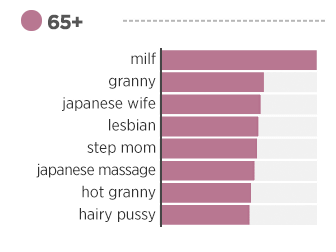 The time period during which the user was viewing the adult movie is as follows. It is a golden time for watching adult movies from 22 o'clock to around 1 o'clock.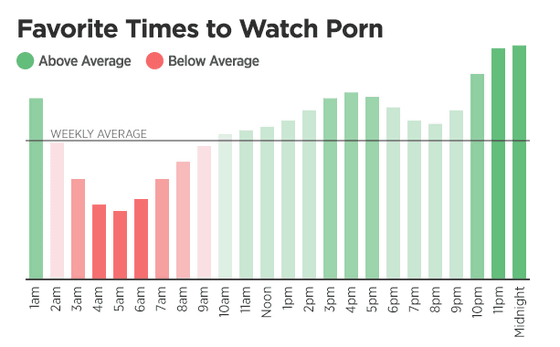 There are many users of Pornhub as well as men. Women account for 26% of all visitors, the reasons are not clear, but countries in the Caribbean such as Jamaica and the Bahamas have more than 40% of female users. In Japan, male users are 81% and female users are 19%.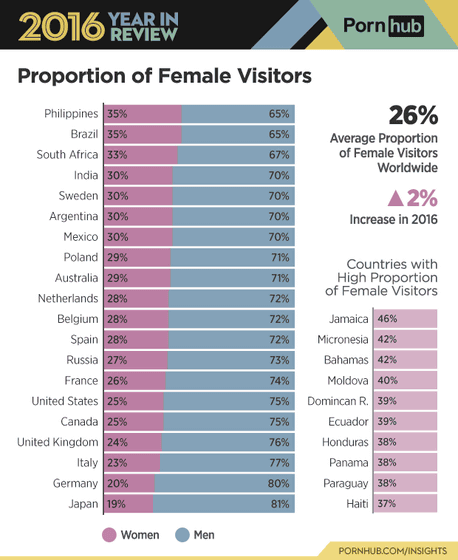 Ranking of popular search words by gender. Women's most popular is "lesbian", the second place includes homosexual related words like "lesbian scissoring", but "threesome (3P)" and "big If black dick (black cock of black) is in 3rd and 4th place, it seems that many users who are not homosexuals also appear.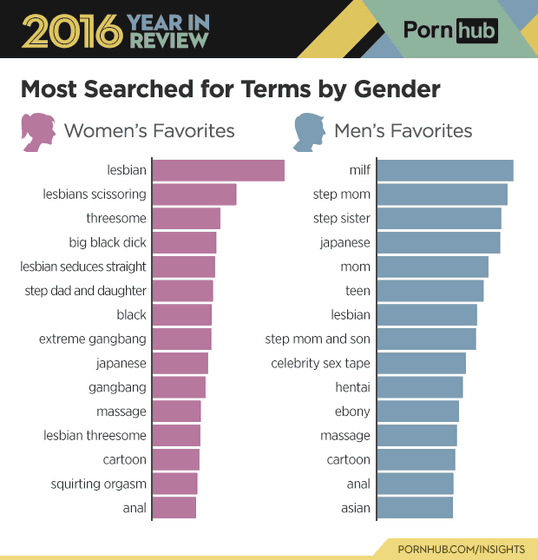 When classifying traffic by device, 61% is the most from smartphones, followed by 28% on desktops and 11% on tablets.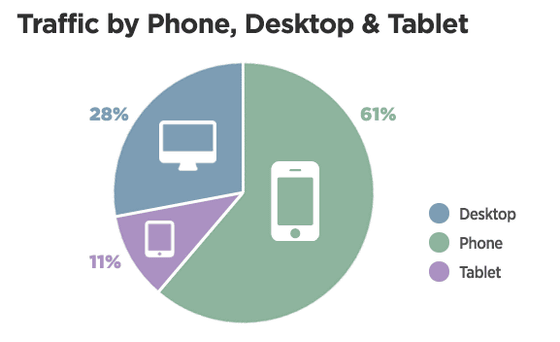 It should be noted that, from the polling day before and after the American presidential election that Mr. Donald Trump has won, seems to have more and more people to find the name of Trump's family in Pornhub. The most searched is the second daughter of Mr. Trump in the "Tiffany Trump", "Merania Trump" subsequent to his wife, was followed by "Ivanka Trump" of the eldest daughter.