The way and viewing tendency when gamers see porn sites are revealed naked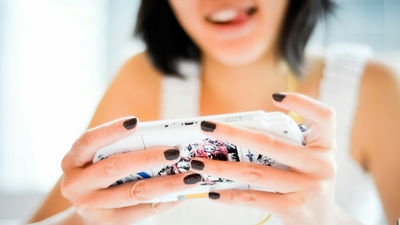 ByAwee_19

When a site developer who wonders that the game related community of pornographic site is actively analyzing analyzes the access to the site, the proportion of using game consoles such as Wii, Xbox, PlayStation etc. to browse pornographic website It seems that it turned out that it is increasing year by year. It became clear that usage and staying time of pornographic site are different depending on the model, and tendency of each game console is analyzed in detail in detail.

How Gamers Get Down With YouPorn - YouPorn World
http://www.youporn.com/world/gamers-consoles-searches/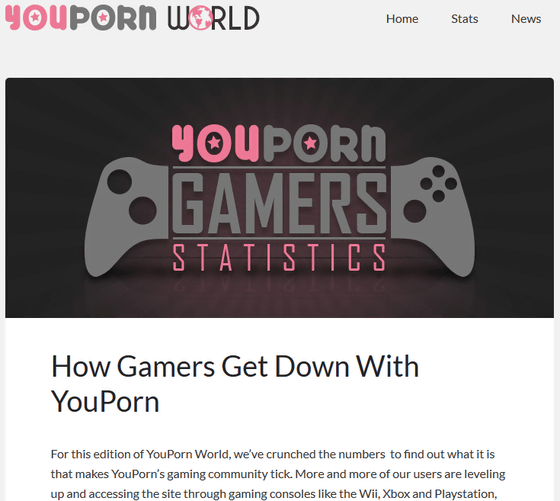 Analyzing the number of users accessing to your site via the game console, YouPorn on pornographic site revealed that 51% of people using PlayStation, 39% of Xbox, 10% of Wii It is said that it became.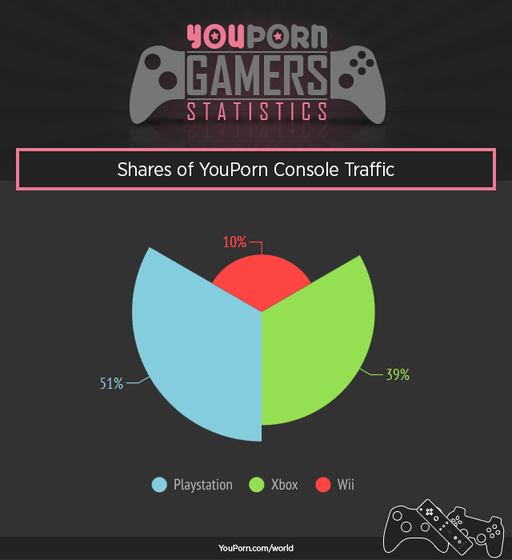 It seems that features of YouPorn are characterized by each game console. For example, the search word of the Xbox user is overwhelmingly "lesbian" overwhelmingly, and "teen" "mom" "milf (Milf: Mother I'd like Shortened to fuck) "ranked in. Search words 5th and under are "hentai", "step sister" (grandchild), "govbang" (gangbang) "pov" first person viewpoint "Gloryhole(A hole in a wall such as a public toilet) "" bbw (fat woman: shortening of Big Beautiful Woman) ".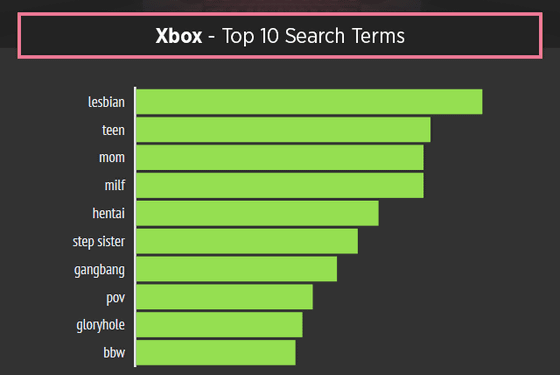 In PlayStation, the word related to "mother" such as "mom", "milf" "step mom", etc. is characterized by being ranked in the high rank. In addition, the seventh place "squirt", the eighth "anal", and the tenth "ebony" are not much searched in Xbox and Wii, but the search ranking of PlayStation YouPorn comments that what is in the top is noteworthy.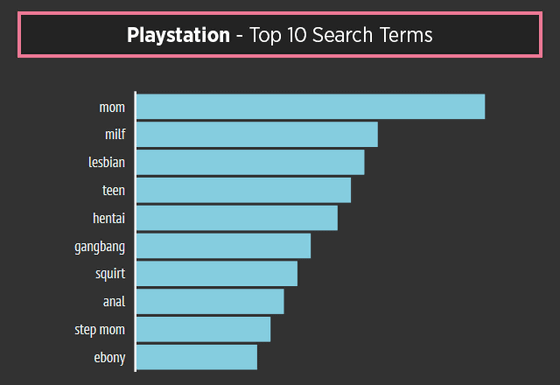 Looking at the Wii search ranking, the first place "hentai" is full of buttocks, followed by "lesbian" "Japanese (Japanese)" "teen" "anime". "Shemale" at 10th means "Shemale".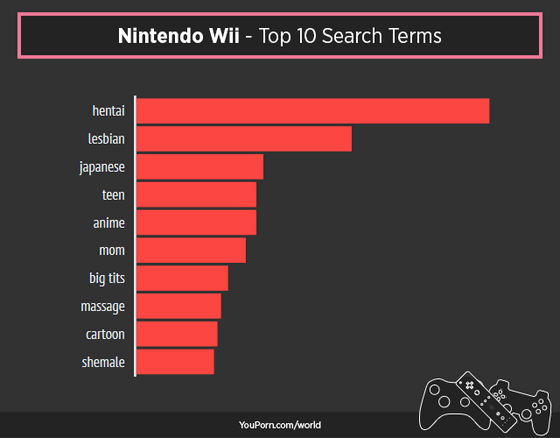 Next, if you examine the words that are searched more frequently than other models at each game console,HaloIn Wii, "The Legend of Zelda"Pokemon"Each game console's unique game software name ranks high. Also, in Xbox, search words related to "body liquid", search words related to "elderly women" in PlayStation, "cartoon play" "cosplay" in Wii and search words related to cosplay are high proportions.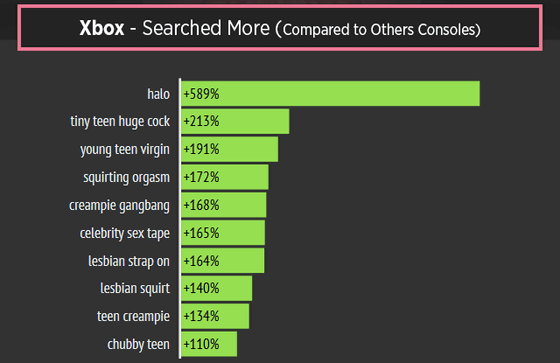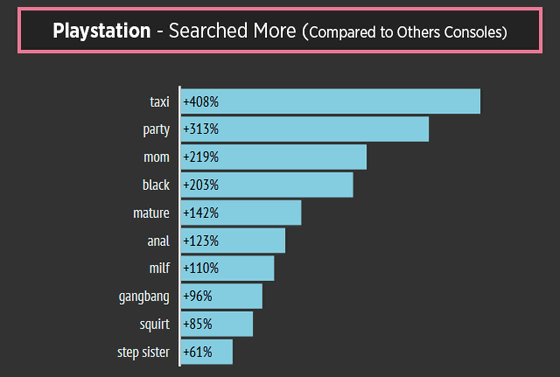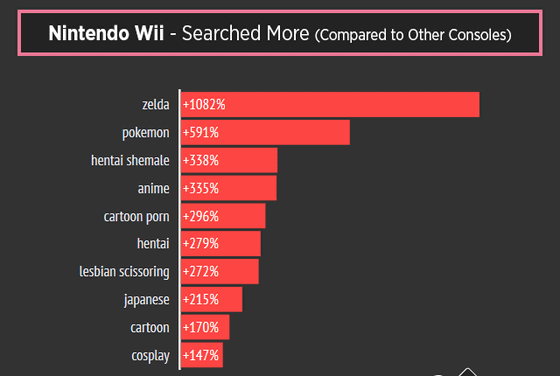 Looking at the ratio of men and women who are accessing YouPorn from the game console, men account for over 90% of the total, but Wii users are 11% female, compared to other models slightly more female It turns out that the proportion is high. The number of accesses to YouPorn as a whole is 74% for men and 26% for women.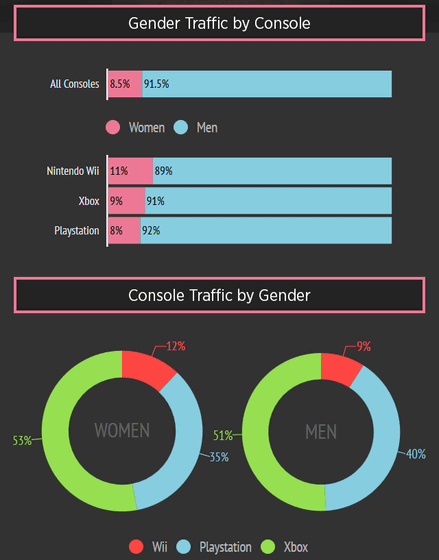 The category that is most often viewed is "Solo Male" (one male) is ranked second in the rankings, because there are many female users in the Wii. On Xbox, "DP (2 people: Double Person omitted)" "Squirting" "Big Butt" (big ass) "PlayStation" Latina (Ladies in Latin America) "" Casting (Nampa) "" Mature " Ranked in the top.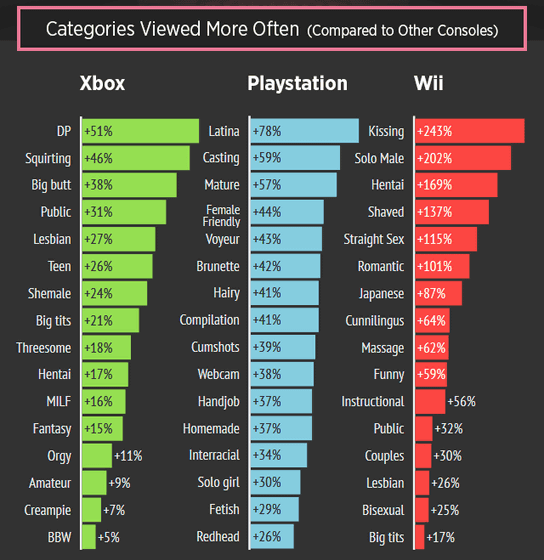 Looking at the staying time for each game console and the number of page views per game, the staying time is the longest at 9 minutes 39 seconds on PlayStation, followed by 9 minutes 1 second by Xbox and 8 minutes 23 seconds at Wii It is. As for the number of page views per time, Wii is 7.92 pages the most, and Wii users can see that they are looking around a lot of pages in a short time.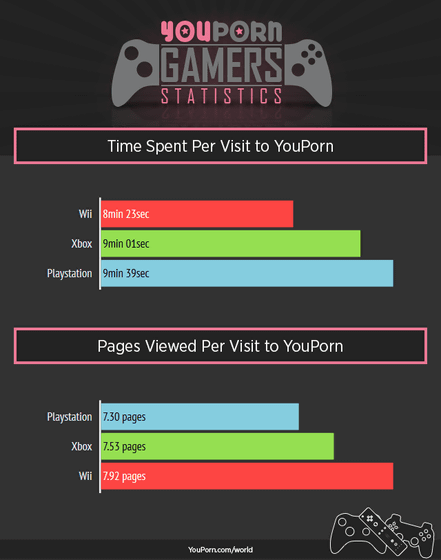 The following map shows the most accessible game consoles in each country by color, it shows that there are many PlayStation in Europe and the United States and Wii in Asia. Regions with the highest percentage of Xbox are limited to only a few countries such as the United States and the UK, but because of the large population of games, YouPorn users via Xbox account for about 40% of the total.