Ultra-popular adult site released a statistical report summarizing 2017, also fetish Japanese users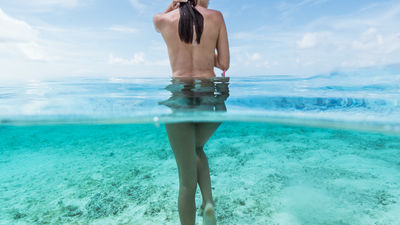 by
Mickael Gresset
The popular adult site '
Took
', which is popular among adults and men all over the world, has released a statistical report summarizing user usage information in 2017.
Similar reports
were released in 2016, but also in 2017 various other unexpected things such as "28.5 billion visitors a year," "3DCG like Japanese users," "Japanese people are popular with gays," etc. The data is clear.
2017 Year in Review-Pornhub Insights
https://www.pornhub.com/insights/2017-year-in-review
29.5 billion users visited Pornhub in 2017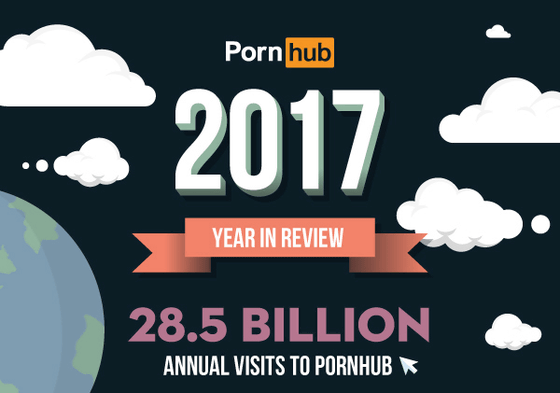 The average number of visitors per day is 81 million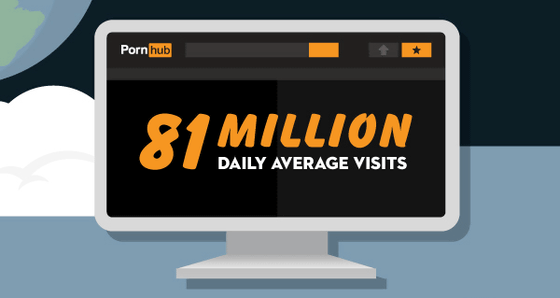 The number of searches per year is 25 billion, which is close to the number of visitors. In addition, 25 billion searches per year means 50,000 searches per minute and 800 searches per second.




The number of movies uploaded to Pornhub is 4,052,543. The total movie uploaded time is 59,5482 hours. This is 24,811 days, and it will take 68 years to play it all.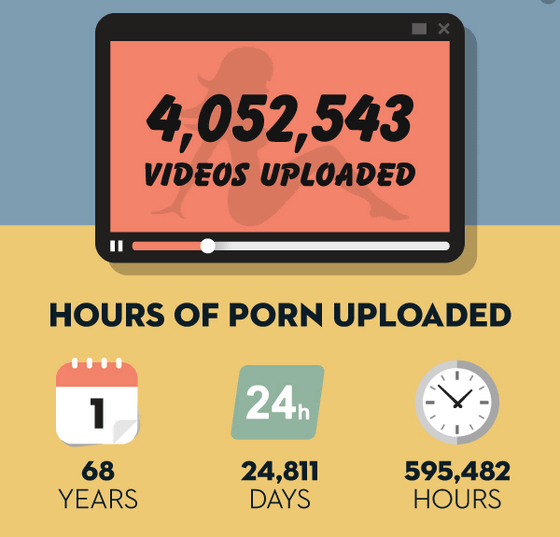 Data traffic on Pornhub is 3732 petabytes. This translates to 10,225,205 GB per day, 4200,050 GB per hour, 7101 GB per minute, and 118 GB per second. This amount of data is enough to fill the storage of all iPhones in the world.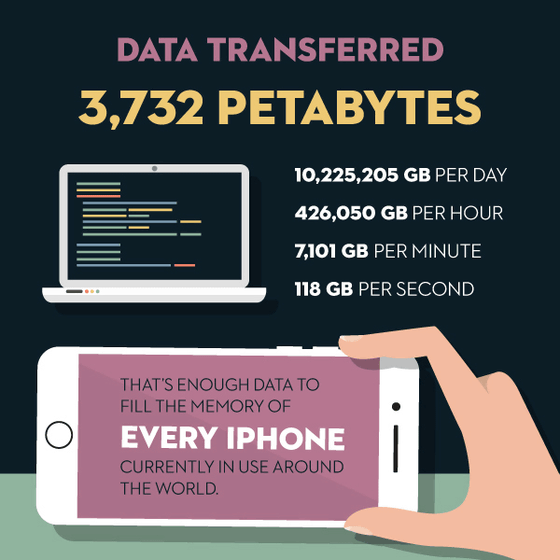 In addition, the number of "Like" sent to the movie on Pornhub in 2017 is 120 million times. I think it is small considering the number of users.




Here are the top 25 most used search words in 2017: It is characteristic that 'VR' is put in the 16th place.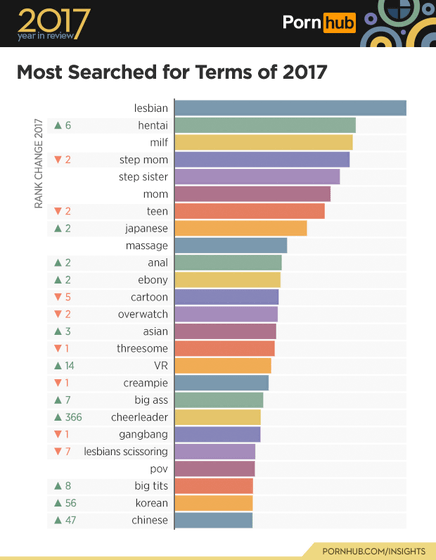 The top 10 search words are: In addition, Japanese notation mainly follows the category notation of Pornhub Japanese edition.

1st place: lesbian
2nd place: hentai (Hentai: mainly Japanese-made adult animation)
Third place:
milf
(middle-aged women)
4th place:
step mom (mother-in-law)
5th place:
step sister
6th place:
mom (mother)
7th:
teen (teens)
8th:
japanese (Japanese)
9th:
massage
10th:
anal
The following infographic shows the search word trend for 2017. Words that seem to be unrelated to seemingly adult content such as 'rick and morty (
Rick and Morty
)', 'twitch streamers (Twitch distributors)' and 'fidget spinners (hand spinners)' are sometimes found.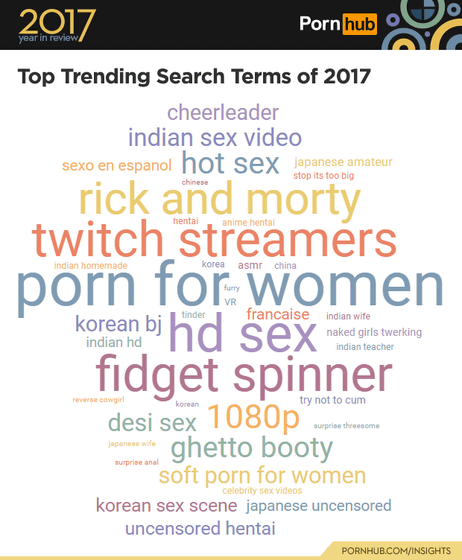 The following are the 20 most searched sexy actresses.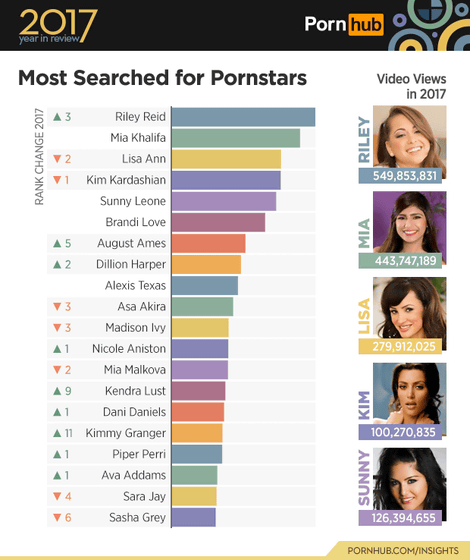 Here are the top 15 most searched sexy actors. The number in front of the name is the rank of the mixed sex ranking, and the most sought-after sexy actor 'Jordi El Nino Plla' is ranked 33rd overall.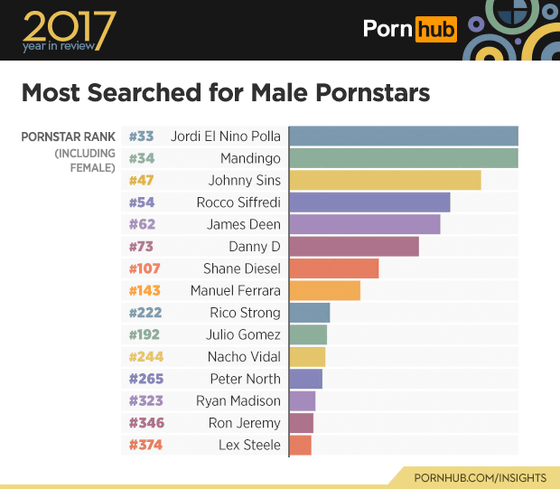 The top 20 countries with high traffic, ie Pornhub users, are: The top 20 countries ranked 80% of the total, with the United States in particular having the most traffic. The 1st place is the United States, the 2nd place is the United Kingdom, the 3rd place is India, the 4th place is Japan, and the 5th place is Canada. There are quite a few Pornhub users in Japan. In addition, Pornhub's emerging countries, which particularly increased Pornhub users in 2017, are 6 countries: Ethiopia, Sri Lanka, Libya, Korea, Pakistan, and Singapore.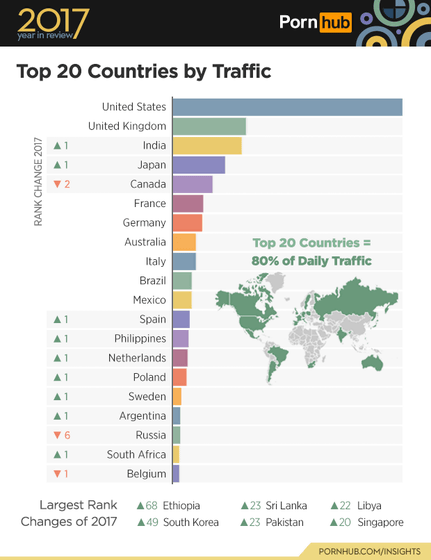 The figure below shows the 'time spent when a user visited Pornhub once' for each country. The average stay time is 9 minutes 59 seconds, and the longest stay time is 13 minutes 28 seconds in the Philippines. The shortest is Russia's 7 minutes and 41 seconds, and Japan is the next short 7 minutes and 50 seconds.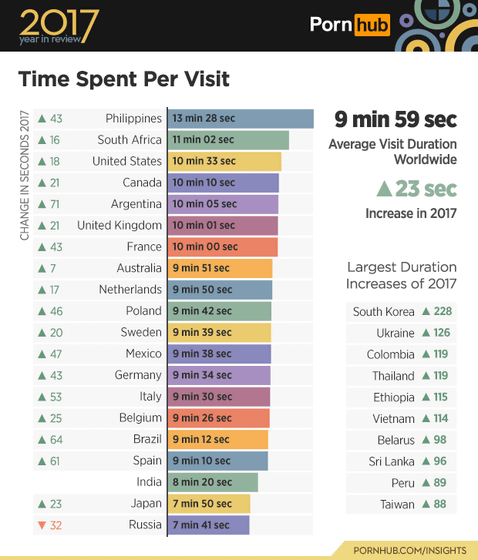 The chart below shows the time when the Pornhub user visits the site. It seems that it is less than the average number of users from 3 am to 9 am. The number of users is the highest at midnight. Sunday is the largest number of users divided by day of the week, and the smallest is Friday.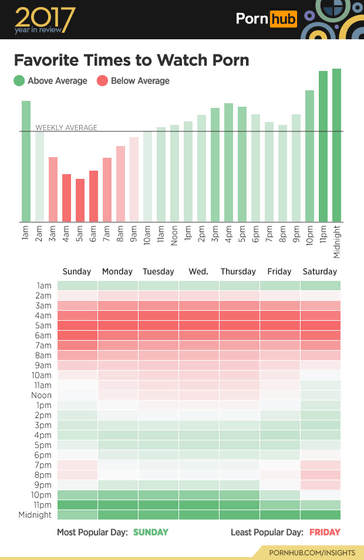 There is also a summary of information about Pornhub users in Japan.



The following are the top 12 words used by Japanese Pornhub users when searching: Although it is 'hentai (Hentai)' ranked second in the world rankings, it will drop to seventh if you narrow it down to only Japanese users. What is characteristic is that 3DCG and VR contents such as 'MMD', 'VR', '3D' and '3D hentai' are required. In Japan, 'MMD' ranked third, '3D hentai' ranked eighth, and '3D' ranked ninth are not included in the search word frequently in other countries, and 'VR' ranked sixth also in most countries It has not been included in the frequent words.

First place: japanese (Japanese)
2nd place: japanese amateur (Japanese amateur)
3rd place:
mmd
4th place:
japanese wife (Japanese wife)
5th:
japanese teen (Japanese teens)
6th place:
VR
7th:
hentai (Hentai)
8th:
3D hentai (3D hentai)
9th:
3D
10th:
japanese school girl (Japanese female student)
11th:
japan (Japan)
12th:
chinese (Chinese)
The most viewed categories are: You can see that 'Lesbian', 'MILF', 'Hentai' and 'Japanese' are popular as search words and categories.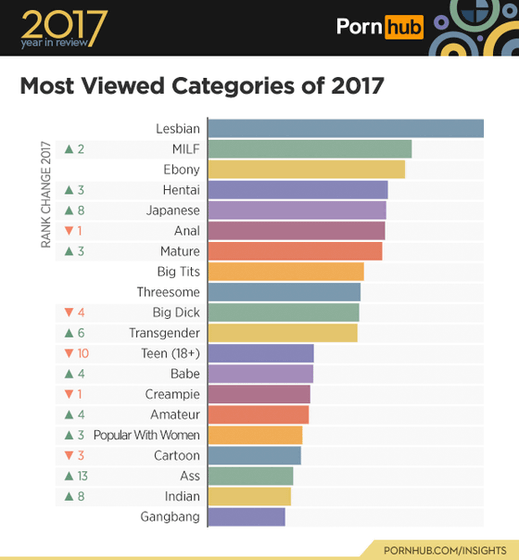 The categories that became particularly popular in 2017 are: Cuckold (Japanese), Japanese (Japanese), Indian (Indian), Cosplay (Cosplay), Korean (Korean), Transgender (Transformer) Gender) "
Creampie
(
Creampie
)" "
Gangbang
(Orgy Party)" "French (French)" "Cartoon (Anime)"
'Amateur (Amateur)' 'Japanese (Japanese)' 'Old / Young (yearly difference)' 'Mature (Mature woman)' 'Korean (Korean)' 'Casting (AV interview: introduction) category with long average viewing time The department has an interview) 'Fetish'
'
Red Head
(red hair)', '
POV
(subjective image)', 'Latina (latin)', 'Blonde', 'College', '
Double Penetration
' categories with short average viewing time 'Cosplay (Cosplay)'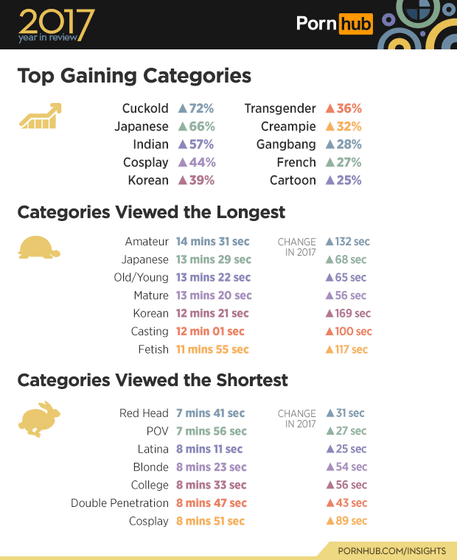 The most popular categories by country are: Many of the Americas are stained red, which indicates that 'Lesbian' is popular. Countries painted in orange including Japan are 'Hentai' countries.



By analyzing the Gay page for Pornhub, it is possible to figure out what kind of gay adult content is popular.

Below are the top 15 search words popular among gay content. The most popular is 'Japanese (Japanese)'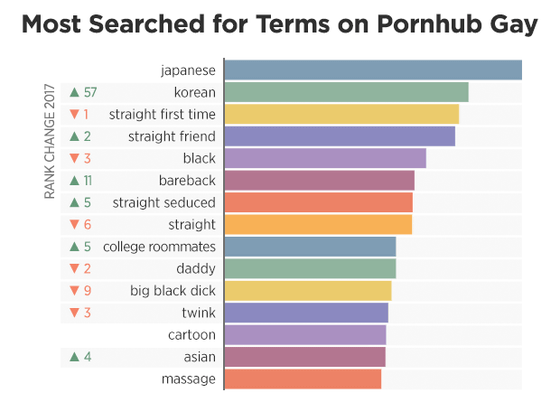 The search words that were particularly hot among gay men in 2017 are: 'police patrol', 'is that your boner', 'hot guys having sex', 'bro is your dick, 'sexo en espanol (Spanish sex)', 'korea (Korea)', 'overwatch (overwatch),' 'blowjob under table,' 'femboy,' 'solo male moaning (Bad man's complaint)




The most viewed gay categories are 'Black', 'Straight Guys', 'Daddy', ' Bareback ', ' Big Condom', ' Big Dick ', ' Rough Sex (violent sex), '' Twink ( Twinkle : young male body hair and beard is thin slim) ',' Japanese (Japanese) ',' group (population), '' Interracial (interracial) '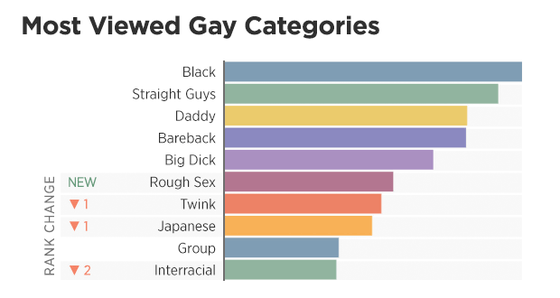 The most sought-after gay sexy actors are: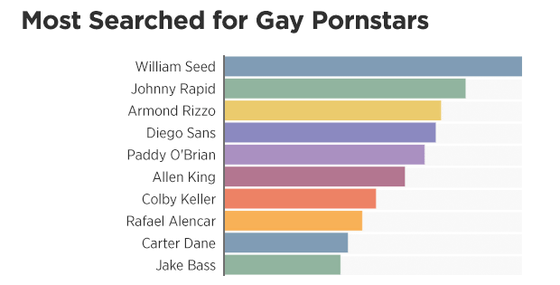 The difference between popular search words for men and women is as follows.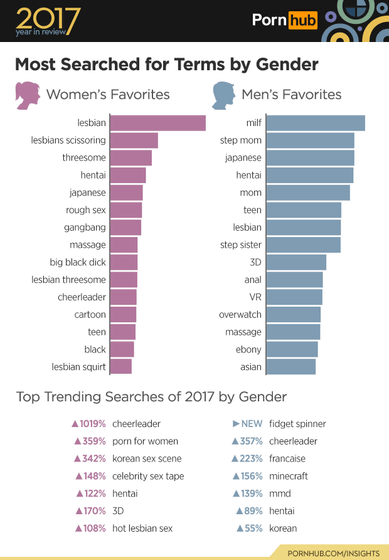 The differences between popular categories of men and women are as follows. Especially in the 'Pussy Licking' category, women watch 393% more videos than men.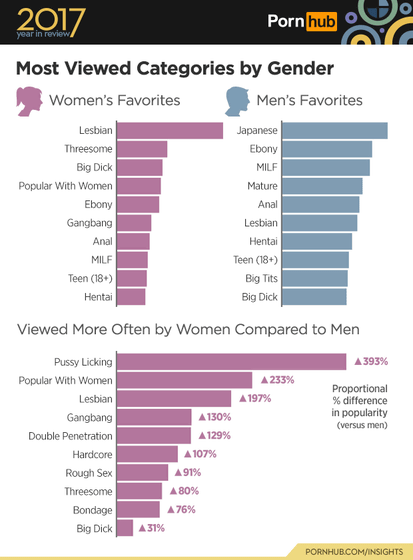 The gender ratio of Pornhub users by country is as follows. The overall average is 26%, but there are only 19% female users in Japan.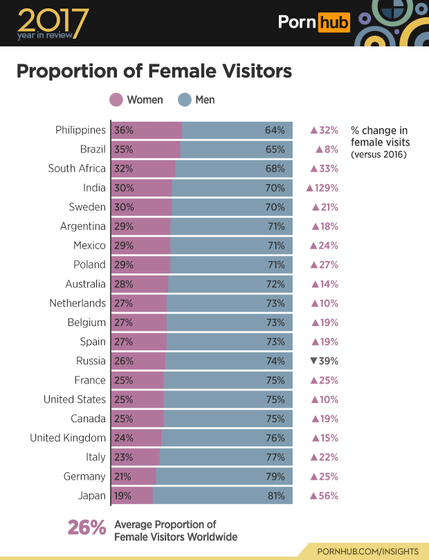 This is what it looks like when you chart the age group of Pornhub users. The largest number is 32% for the 25 to 34-year-old, next 29% for the 18-24-year-old and 17% for the 35-44-year-old. Users aged 65 and over also have 4% or more.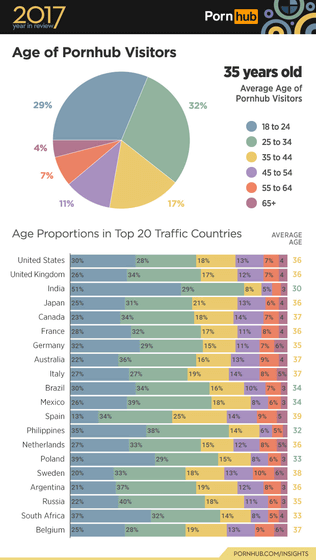 The following is a list of popular search words by age group.



67% of smartphones used by Pornhub users are smartphones, 24% are PCs, and 9% are tablets. PC users are down 4% year on year, tablet users are down 1%, smartphone users are up only 5%.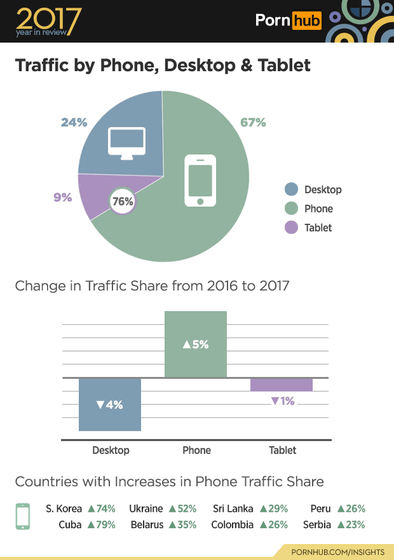 The operating system used by PC users is 80% Windows, 15% macOS, Linux 3%, others 2%.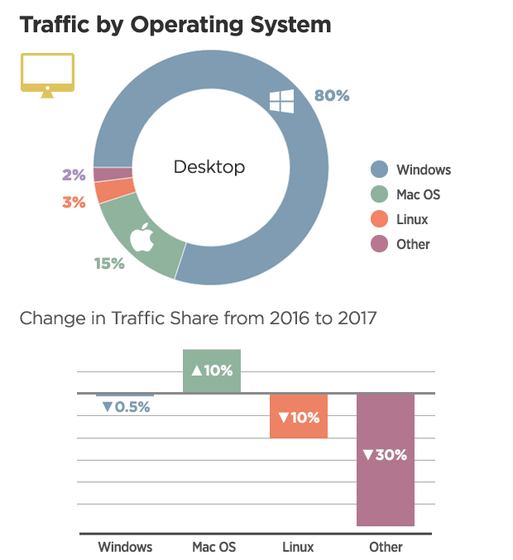 Smartphone users have a good situation saying that Android (50%) and iOS (47%) are divided into two.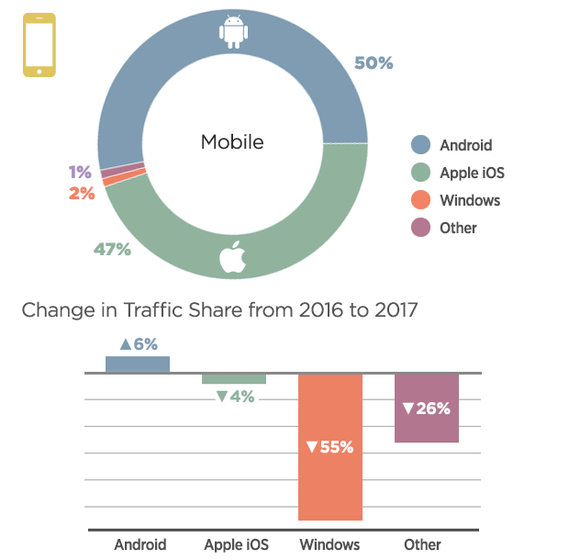 The most popular browsers used on PCs are Chrome with 53%, followed by Internet Explorer (11%), Firefox (11%), Safari (8%) and Edge (8%).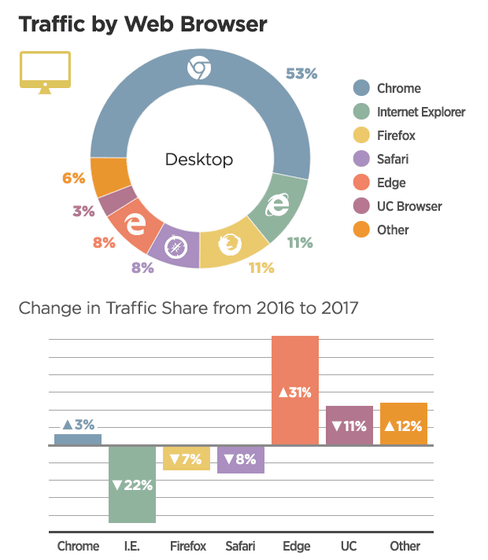 Chrome (41%) and Safari (41%) outperform as mobile browsers, but access from "
UC browser
" has increased by 146% from 2016 to 2017, and it is rapidly You can see that it is getting popular.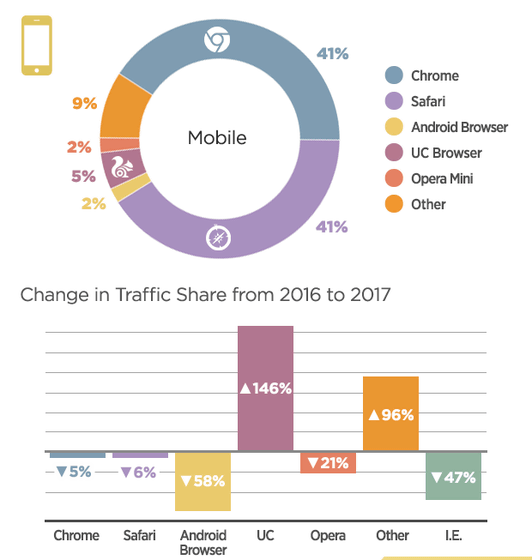 Some users access the Pornhub from the game console. Of these, 56% are PlayStation users and 32% are Xbox users. It seems that some users access portable game consoles such as PS Vita and Nintendo 3DS, especially 3DS traffic has increased by 110% in a year.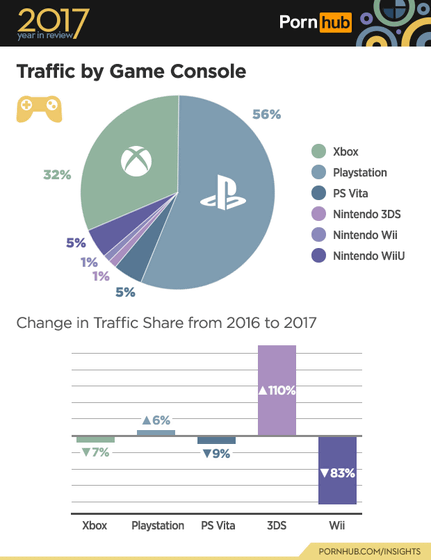 DC Comics '
Harley Quinn
' is the most popular movie and movie character searched on Pornhub. The top 13 most popular characters in Pornhub are mostly DC comics and Marvel works and characters, but the only one is '
Ray
' ranked 10th from the Star Wars series.


The game characters searched by Pornhub are as follows. Character names of works such as Overwatch, Pokemon, Tomb Raider, Legend of Zelda, Mortal Combat etc. are lined up.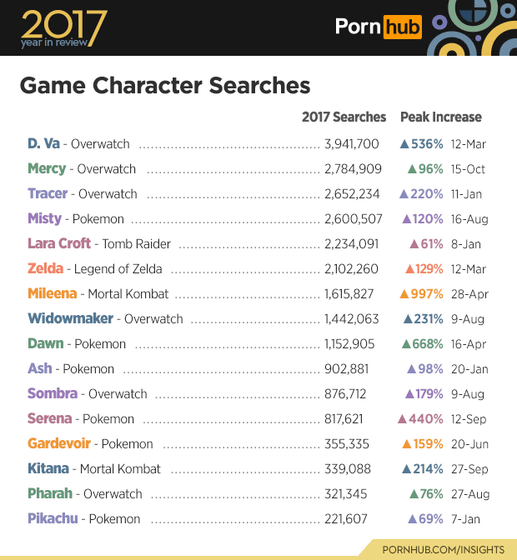 in Note, Posted by logu_ii