Pornhub publishes 'Traffic Analysis Report', the results such as 'Android users prefer Japanese content' are fully understood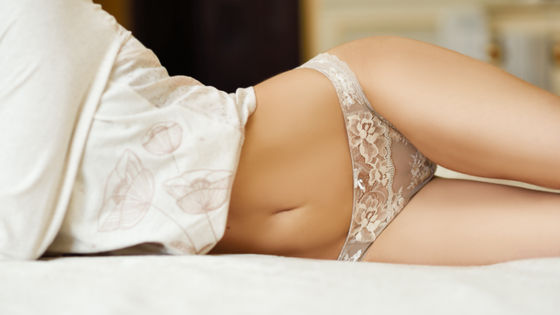 Pornhub, an adult site visited by 130 million people every day, has released the 2020 Traffic Analysis Report. It details how users around the world use Pornhub to access Pornhub.

The Pornhub Tech Review – Pornhub Insights

https://www.pornhub.com/insights/tech-review
◆ Search results for each OS
Below is a ranking of the words searched on Pornhub for each Android / iOS. The number written next to the word is 'the number of searches compared to other OSs', for example, the number '+ 112%' written in 'Japan', which is the first place on Android. Means that 'Android searches 112% more than iOS'. The Android rankings are 'Japan', 'pokemon', '
giantess
', '3d', and 'furry', and Android users prefer adult content related to Japan. It seems. On the other hand, in the case of iOS, the first place is 'car sex'. The second and lower ranks were 'fat ass', 'fingering', 'vibrator', and 'college'. You can see that Android users and iOS users have no common tastes.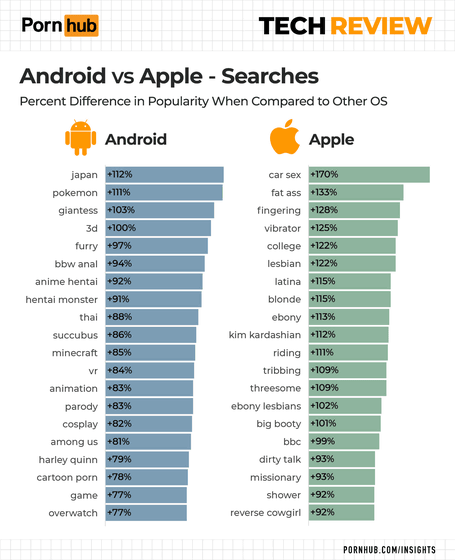 Similarly, below is a ranking comparing the categories preferred by Android and iOS users. Android users especially liked 'Uncensored Hentai' over iOS users. Hentai is used overseas as a word meaning 'adult animation', and from there it may also be used for 'pornography based on anime, manga, games, etc.' Second place and below are 'Virtual Reality', 'Small Tits', 'Cosplay', and 'Webcam'. The iOS rankings were 'Lesbian', 'Ass', 'Popular w / Woman', 'Latina', and 'Solo Male'.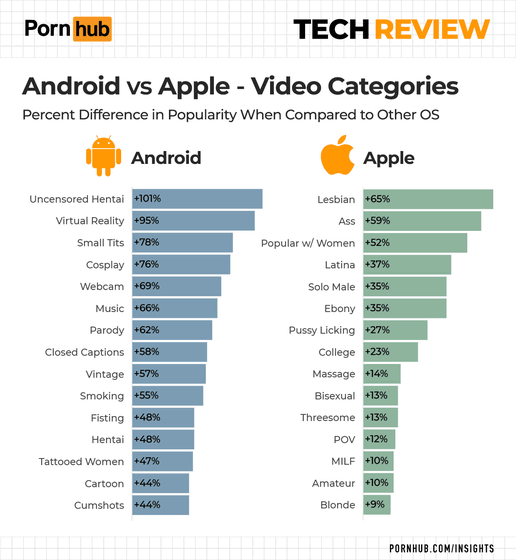 The result of comparing Windows and macOS is as follows. On Windows, '
Cartoon
' was number one, and on macOS, 'Popular w / Woman' was number one.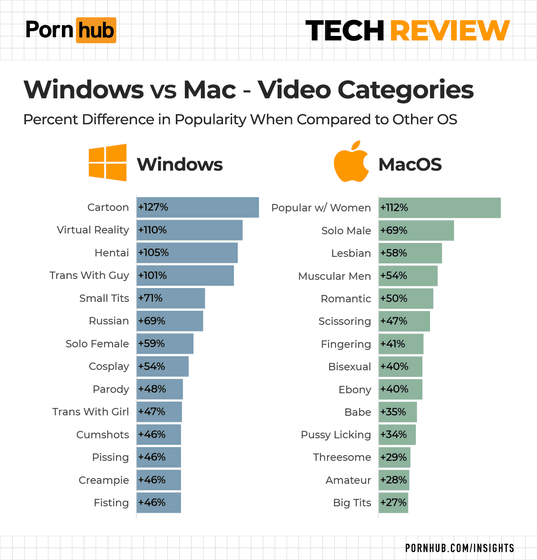 ◆ Device
Below is a breakdown of the devices used by users who visited Pornhub in 2020. 80% used smartphones, 15% used PCs, and 4% used tablets. Access on smartphones increased by 4.7% compared to the previous year, but PCs decreased by 5% and tablets decreased by 29%.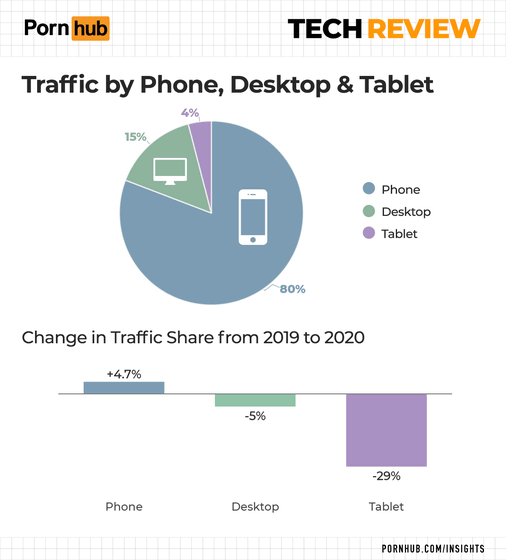 By country, mobile traffic was even higher in some countries. Of the traffic from the United States, smartphones accounted for 83%, PCs accounted for 13%, and in the Philippines, smartphones accounted for 93%. On the other hand, in Japan, access from smartphones is 73%, and access from PCs is 20%, so the smartphone usage rate is rather low. The countries with the highest access from PCs were Germany (26%), Russia (25%) and the Netherlands (24%).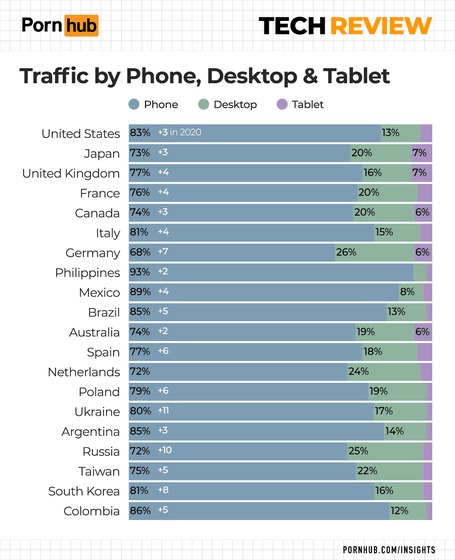 Analyzing Pornhub access also reveals which Android or iOS dominates around the world. The following is a world map in which iOS devices are painted green and Android devices are painted blue. In North America, Australia, the United Kingdom, Scandinavia, and Japan, iOS devices occupy the majority, but more than half have Android devices in the majority.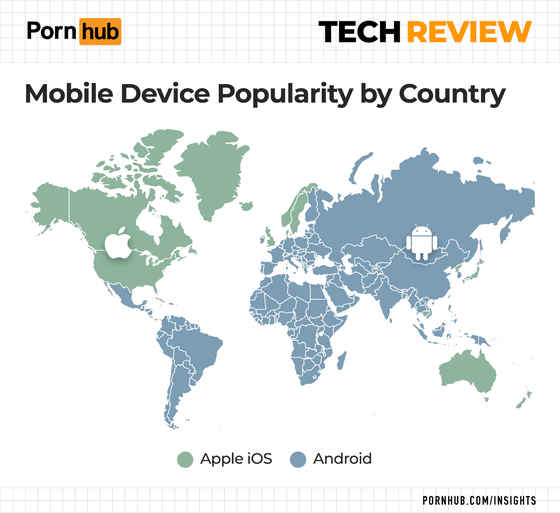 ◆ Web browser
Regarding smartphone browsers, Chrome, which is often specified as the default for Android devices, and Safari, which is the default browser for iOS devices, have split the power. However, compared to the previous year, Chrome's share increased by 5.4%, while Safari's share decreased by 1.1%.
Opera Mini
showed a remarkable increase of about 1.3 times compared to the previous year, but it is pointed out that the growth seems to be excessive because the original share itself is low, with an increase of 0.8% when viewed on a traffic basis. increase.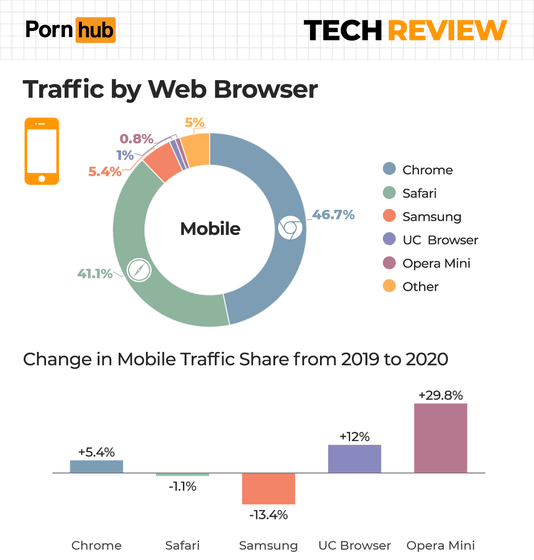 On the other hand, the share of browsers on PC is as follows. More than half, 53.2%, was Google's web browser, Chrome. Safari won second place in 2020 at 18.4%, which is about double the previous year. The sharp increase in market share is due to the significant increase in the number of users of Apple PCs.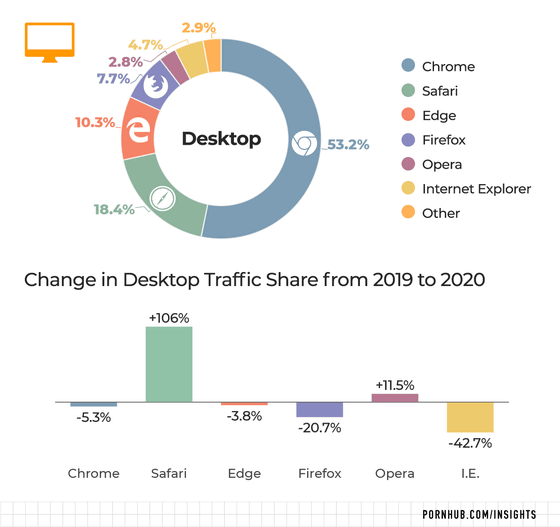 ◆ OS
As for the OS of smartphones, Android was 52.9%, iOS was 46.8%, and other OSs were 0.3%. However, looking at the growth from the previous year, Android increased by 14% and iOS decreased by 11%, showing a clear distinction between light and dark.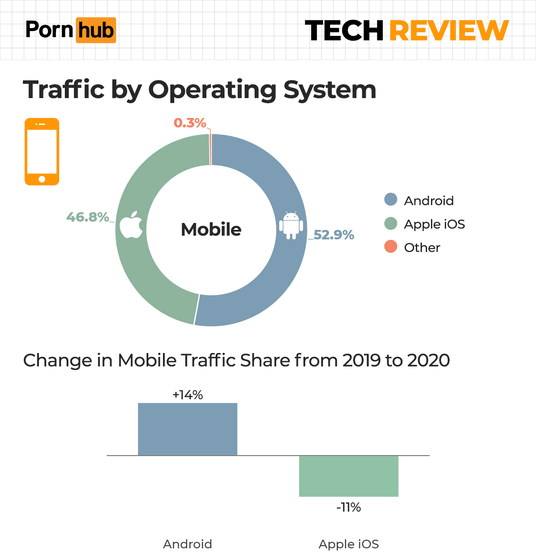 On the other hand, as for PC, Windows remains strong at 66.6%. However, macOS, which is in second place, showed a phenomenal growth of about 1.5 times compared to the previous year, reaching a share of 26.1%. In 2019, Windows was 76% and macOS was 16%, so it is clear that 'macOS ate the share of Windows'.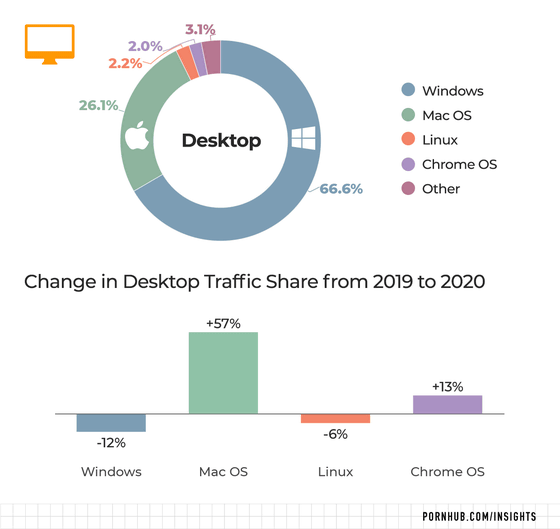 ◆ Mobile OS version
The following is the case when viewed with the mobile OS version. The access of Android 11 released in July 2020 is 1.3%, and it is clear that the Android OS has not been updated. On the other hand, in the case of iOS, 73% used iOS 14, which was released in September 2020.