I interviewed James Dyson and asked about technology and human resources developed by technology companies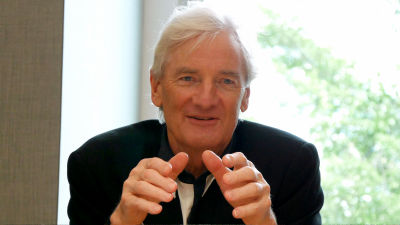 Dyson continues to surprise the world with a completely different new technology such as a cyclone vacuum cleaner that does not reduce suction power and a fan without blades, and extends the research base in the UK "Singapore · Technology CenterWe have opened. Together with the opening event of the Singapore Technology Center, we talked to James Dyson, who is the founder of Dyson and still an active developer, about Dyson's future plan.

About Dyson Dyson | Dyson official website
http://www.dyson.co.jp/community/about-dyson.aspx

Q:
Is Dyson a "company of technology"?

James Dyson (hereinafter referred to as "Dyson"):
Yes. We have been developing technology (technology) since the early days. Technology is the most important thing. Over the years I have nurtured certain technologies. For example, there is a robotics vision system. And there is technology of electric motor (digital motor). This is the technology of ultra-high rotation motor. I think Dyson is a technology company. We use technology to improve product performance.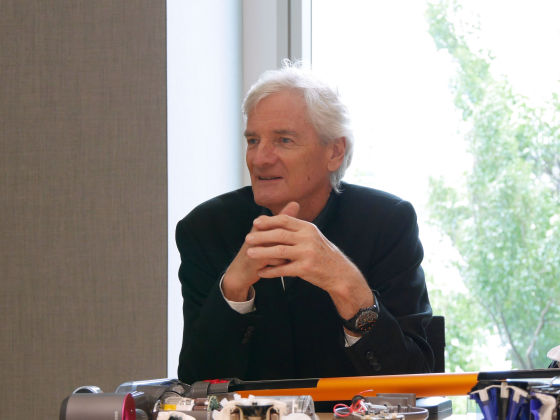 Q:
Dyson is making motors, we also develop sensors and AI. Combining these technologies seems to be able to develop "automatic driving car", but what do you imagine as a revolutionary new product to make next?

Dyson:
I can not answer specific products, but let me talk a bit about technology. in America"All solid battery"We are developing technology. Using carbon nanotube "Super capacitor (electric double layer capacitor)"In the UK. I can not tell you how to use these for products.

Q:
Is it to cause a battery revolution?

Dyson:
I agree. I hope so.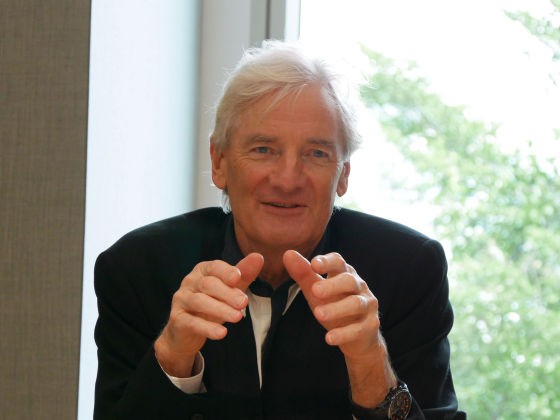 Q:
What role will the Singapore Technology Center play in the future as Dyson develops as a technology company?

Scott · Magwire:
I will respond to the Singapore Technology Center.

Scott Magwire of Global Engineering Director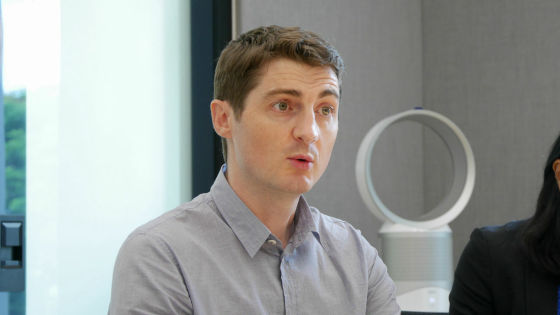 We have been expanding the possibilities of Singapore over the years. That is the possibility of engineering. We have launched many products using software technology. Among them, I realized that in Singapore there is a foundation of young engineers with high abilities. So we began to gradually transfer the technology developed at Malmesbury headquarters to Singapore. We began joint development with Malmesbury and Singapore code developers. A very good example,Robot vacuum cleaner with 360 degree field of viewis.

By being able to develop by a technician on a 24-hour basis, we can do technology development more quickly. Combining technologies such as Dyson Digital Motor, Sensor, Vision System, Battery, Software Algorithm, Connected Device (IoT), etc. will form future Dyson products.

Q:
Dyson has production bases in Malaysia, the Philippines, and Singapore. President Trump is trying to restore the manufacturing industry to the United States with American first principle, is there any influence? Is there any countermeasure that I am thinking?

Dyson:
America is a country of free trade (free trade). It depends on free trade. President Trump will also follow the rules of WTO. It is skeptical as to whether President Trump will choose an excessive change. Of course, the continuation of free trade is also one of the problems of Brexit (British EU withdrawal problem) and I think that it is important to prevent the creation of free trade barriers with other European countries.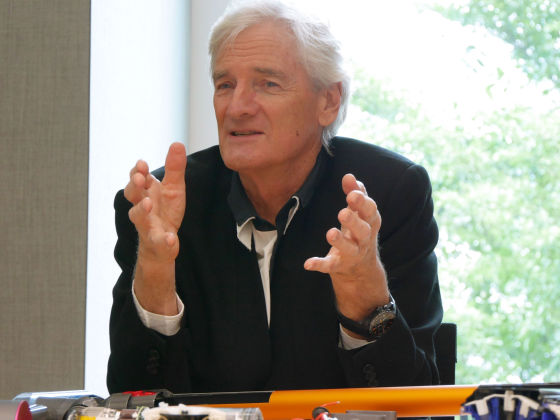 Q:
Does Brexit have an impact on the UK headquarters?

Dyson:
No. On the contrary it can be a chance. There are more important countries outside of Europe in trading. Europe accounts for only 15% of the world market. In other words, 85% of the total is done outside Europe. Of course, the UK has the opportunity to negotiate free trade with countries other than the EU.

Q:
What about human resources? Is there enough number of engineers in the UK?

Dyson:
Engineers are not enough. That is not limited to Britain, it is so in any country. There was never enough that it was enough.

Q:
Are not you worried that Brexit has a negative impact?

Dyson:
I think only positive influence, I think that there is no negative impact.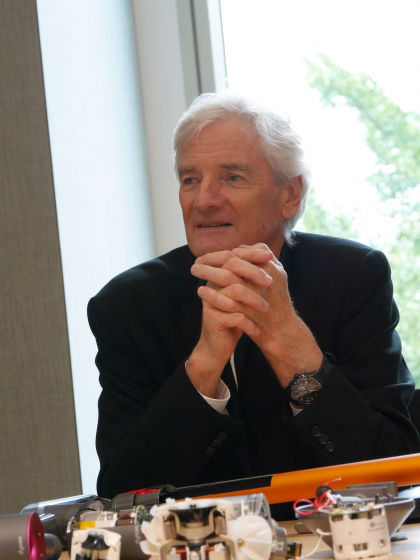 Q:
Why do you insist on manufacturing at Dyson? Do you have ideas to use partners like smartphone EMS Foxconn?

Dyson:
That is a very good question. Dyson packs a lot of technology and innovation into the product. Therefore, we manufacture it ourselves.

Even if we borrow their buildings (equipment) and human resources when using sub-constructors (subcontractors), we will design the production line. And we invest in facilities. It is necessary to control by Dyson himself. Because the product we are making is different from any other product. It is totally different, it is completely new. We need to control high quality.

It was working in the factoryHirata (Hirata Kiko)Did you see the machine? That robot is a system made by Hirata. It is a wonderful Japanese company. It is important for Dyson to directly access Hirata and develop the system.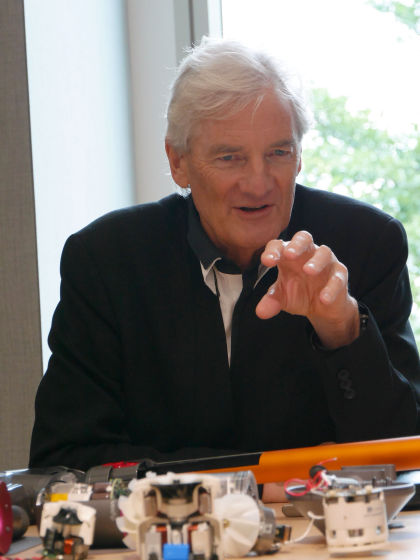 Q:
Is the manufacturing method Dyson's core value?

Dyson:
That's right.

Q:
Are you planning to make a research and development base in Japan?

Dyson:
I still manufacture a lot of components in Japan. For example, Hirata produces a production line in Japan. Dyson has small engineers and R & amp; D departments in Japan, too. There is every possibility if it is a future story.

Q:
"There are plans to increase the number of products in a few years". Please tell me the reason for this.

Dyson:
I can not answer about this. I'm sorry.

Q:
How do you think about engineering education?

Dyson:
As I said earlier, lack of engineers is a big problem. Developed countries became enriched with engineering and manufacturing industries. I can not turn my eyes off from the problem of lack of engineers.

The Dyson Foundation teaches about technology design. I tell you how interesting and creative the technology is. Usually, although it is a male student, there are girls students while it is less. Lack of engineers is a serious problem in the UK. there"Dyson Institute of Techonology"Was established. I think that it is a very interesting attempt to nurture the world's top level engineers.



I think engineers and scientists are one of the most wonderful jobs in the world. Of course, I will also study academically in Dyson Institute of Techonology, but also develop new technologies and develop new products. In addition, we invite wonderful scientists from all over the world to be lecturers so that we can have a hands-on experience. Besides being free for 4 years of tuition fee, you will get a job after graduation. I think that it will be an interesting challenge against England's lack of engineers.

Q:
Thank you for today.

"Dyson is a technology company" Mr. Dyson's title is "chief engineer" rather than CEO (chief executive officer). Mr. Dyson will work with young engineers as a technician on active barbary, and it seems that innovative products will be born in R & D bases in the UK and Singapore in the future.