Plan to redesign the design of Windows 10 "Project NEON"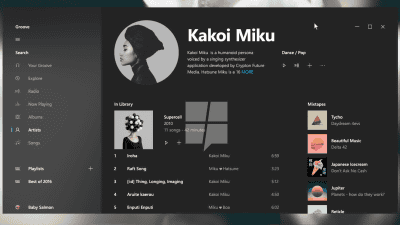 Microsoft is planning to unify the design including Windows 10 UI and animation in the second half of 2017. New design appearing as early as 2017 "Project NEONInformation on information about leaked little by little.

Microsoft just gave us a sneak peek at Windows 10's upcoming 'Project NEON' design language | Windows Central
http://www.windowscentral.com/microsoft-just-gave-us-sneak-peek-windows-10s-upcoming-project-neon-design-language

Exclusive: This is Project NEON, the upcoming incremental upgrade for Windows 10's design - MSPoweruser
https://mspoweruser.com/project-neon-windows-10-first-look/

The UI design of Windows changed greatly due to the introduction of Modern UI which arranges the card icon on the tile in Windows 8 / 8.1. After that, according to the new design concept called "Microsoft Design Language 2 (MDL 2)", Windows 10 UI is designed, such as restoring the start button reflecting the voice of the user desiring the old UI.

However, in the current Windows 10 series according to MDL 2, there are problems with the details of the design. Specifically, it is said that there is a problem in "animation" "simplicity" "consistency", it is planned to brush up the design focusing on these parts, Windows Central will change this design About the plan I report that it is in progress with the codename "Project NEON".

The following screen is a leakage image of the music application that reflects the design of "Project NEON" presented by MSPoweruser. According to Windows Central, Project NEON will be reflected not only on the desktop version of Windows 10 but also on the design of Windows 10 Mobile and Xbox.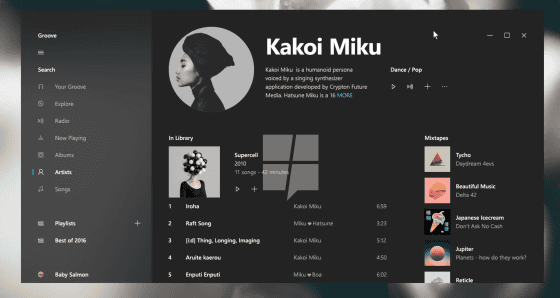 Windows Central anticipates that Project NEON has made improvements with animation and application transition, aiming to make it feel "OS and application are linked together". Also, in the latest Windows 10 build, "Connected Animations" which makes the artist's profile image smaller according to the scroll is adopted, but MSPoweruser points out the possibility that this suggests the design concept of Project NEON I will.



Although the design added at Project NEON is not such a large one as to change the UI itself, it will be a design concept that leads to all designs. Although it is thought that there is an aim to improve beauty and UX, it is Project NEON, but 3D or Microsoft's AR (MR) headset "HololensIt is also pointed out that it focuses on "

Microsoft is expected to clarify details at the developer conference to be held in May 2017 of Project NEON and is expected to incorporate the design of Project NEON into a major update "Redstone 3" scheduled in the second half of 2017 .