I tried using brand clothes purchase service of fashion mail order "ZOZOTOWN"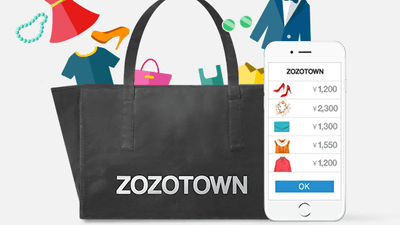 Speaking of ZOZOTOWN, it is the largest fashion mail order site in Japan that officially handles 4412 brand items. In such ZOZOTOWN, you not only purchase clothes of your favorite brand, but also have you buy used brand clothes that you no longer wear "Brand clothes purchase serviceThere is also a service called. Because it is a perfect service for those who do not have clothes that are no longer clothes or clothing shops that will buy in neighborhoods, try using how it takes time to actually use Saw.

Brand clothing purchase service - ZOZOTOWN
http://sell.zozo.jp/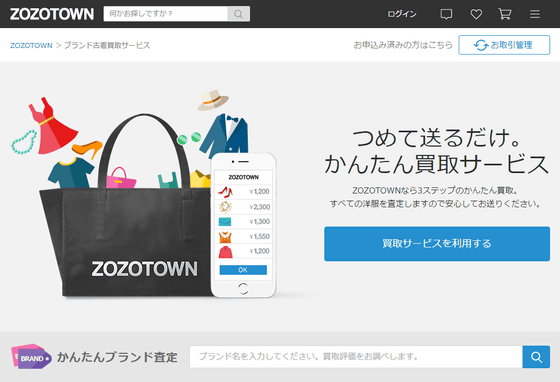 To use the purchase service of ZOZOTOWN, please access the above URL and click "Use purchase service".




Then click 'Submit a purchase kit'.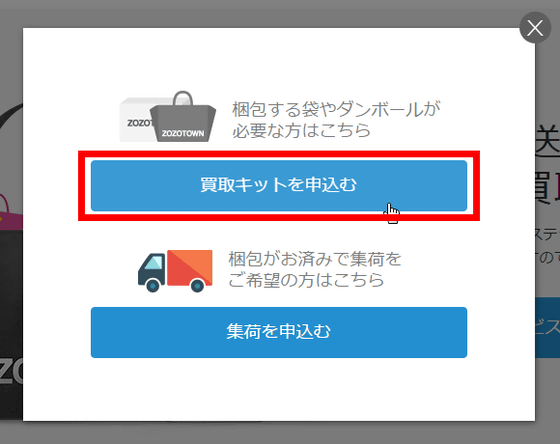 Then, you will be asked to register as a new member for applying for ZOZO ID or applying for purchase. ZOZOTOWN user is OK if you apply with ZOZO ID.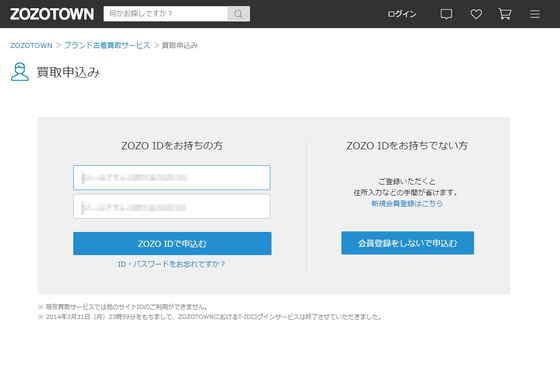 Then the following screen will be displayed. Here you will see your own address and contact information registered in the ZOZO ID ......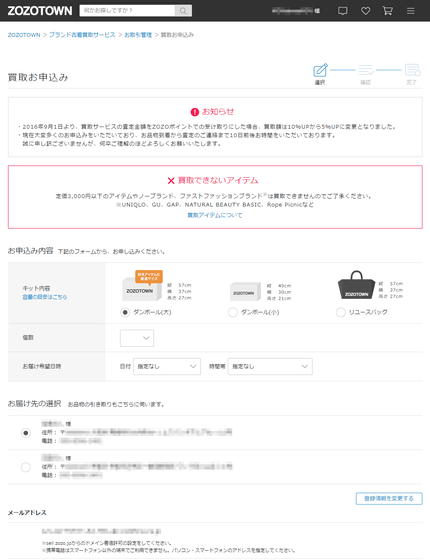 Based on the score and size of the clothes you want to buy, choose the kit that packs those clothes. This time I made one corrugated cardboard (large) of length 57 cm × width 37 cm × height 27 cm.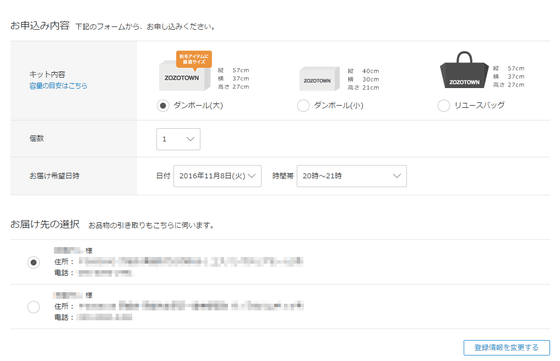 If the contents of the application and the addressee of the kit are correct, click on "Accept and confirm the contents".




As the confirmation screen is displayed, please confirm the details of application again and click "confirm".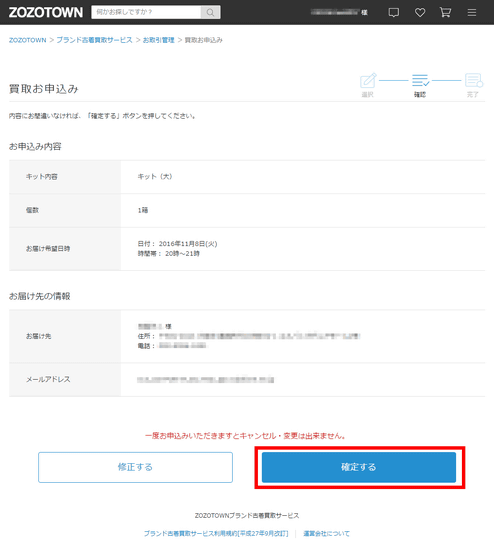 Your application will be completed. The purchase kit will arrive in a few days from application. When you click "to transaction management" ... ...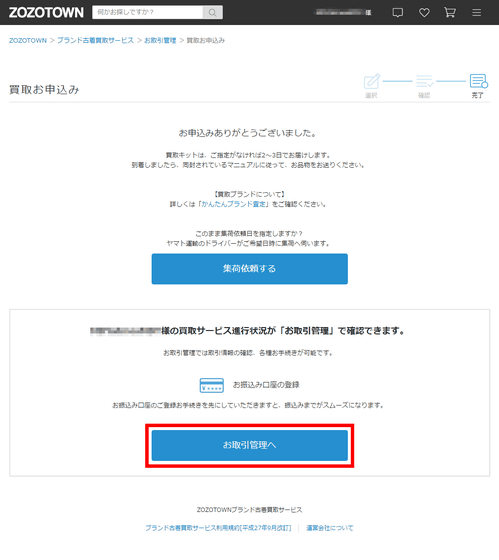 Transaction management pageI can fly to you.



And two days after applying the purchase kit from the website actually, a huge cardboard like the following arrived at hand on hand. This is a purchase kit, and if you ship the clothes you want to sell in this and ship it OK.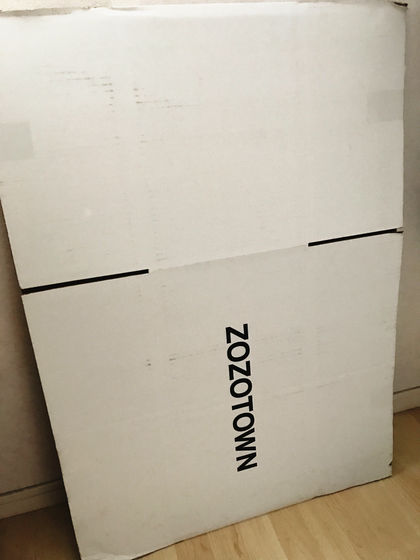 In addition to cardboard, purchase kit contains paper for closing corrugated cardboard from the left, leaflet of purchase service, notes on purchase service and brand that can not be purchased.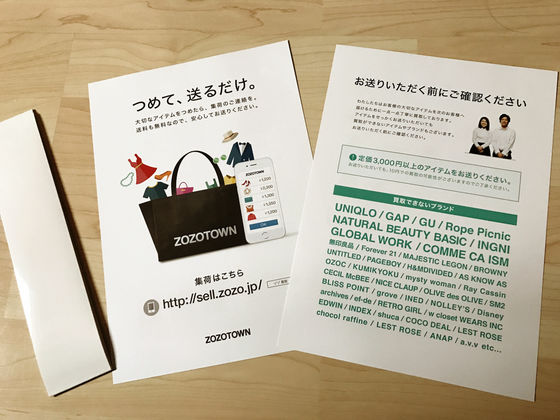 When the purchase kit arrives, assemble a corrugated cardboard, and fill the clothes you want to sell in it.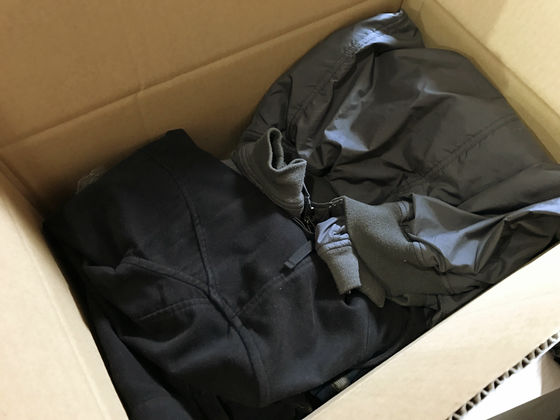 Finally close the cardboard with the attached tape OK.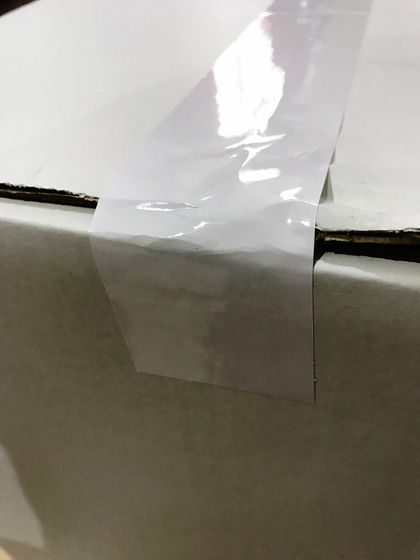 Once you are ready for shippingTransaction management pageSkip to "Pickup Request" and click.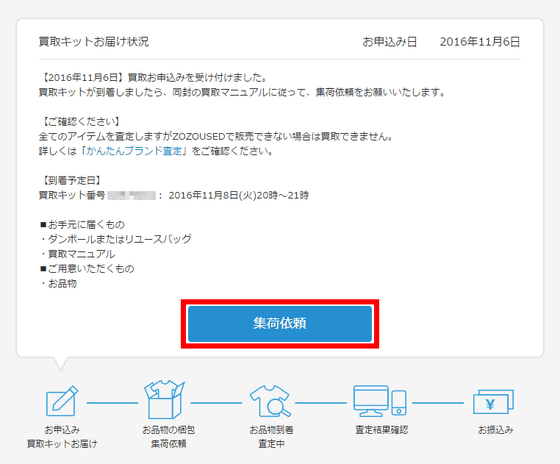 Select "pickup wish date", "desired time zone", "number of luggage", select the address of pickup destination.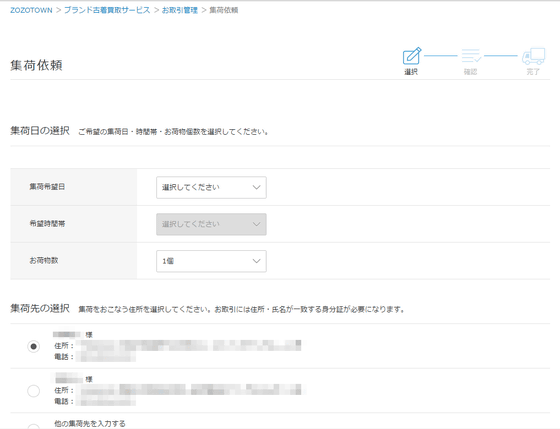 Finally click "confirm".




With this, the pickup request is completed, and the shipping company comes to pick up the baggage at the specified date and time, so it is OK just to pass the purchase kit. I do not have anything to say "write an address etc. in a slip to send to ZOZOTOWN", so it's very good.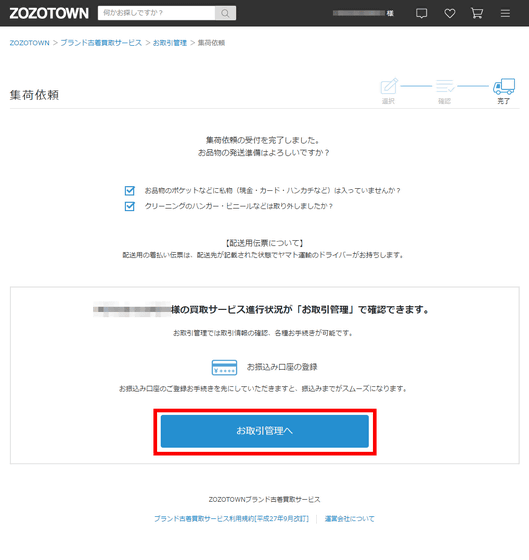 Once you pick up the cargo againTransaction management pageAnd click on the red frame part displayed as "transfer account: not registered".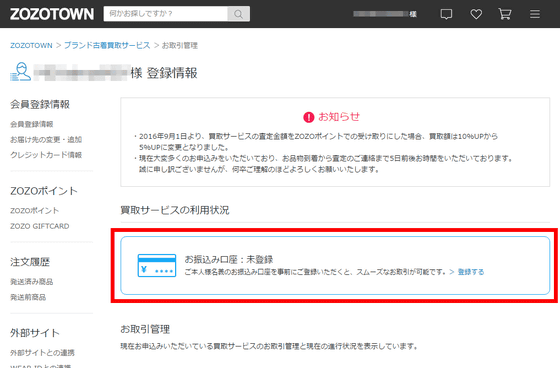 Here, we will register an account to receive the purchase price. Please input necessary information from above and click "confirm".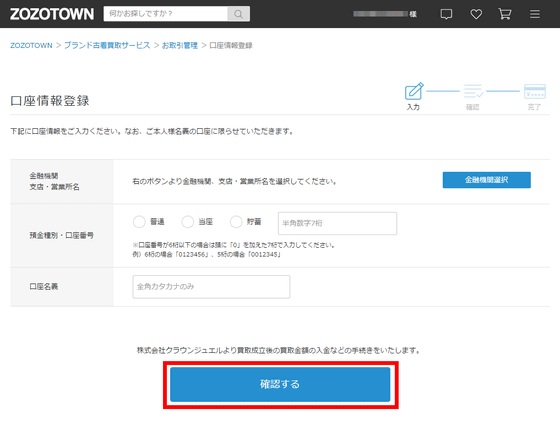 Make sure the registration information is correct, and click "confirm" if it is correct. Your account registration is now complete.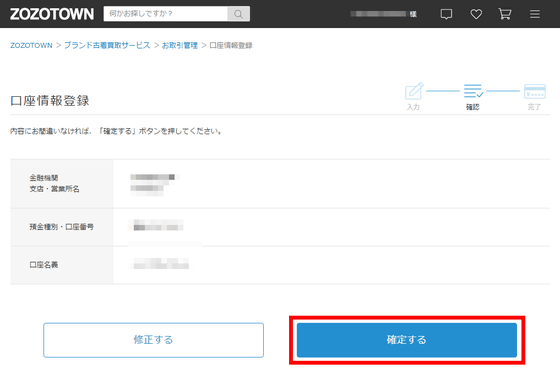 Then wait until the purchase assessment is over OK. The situation of purchase assessment isTransaction management pagePlease click "Go to dealings management" as it is displayed.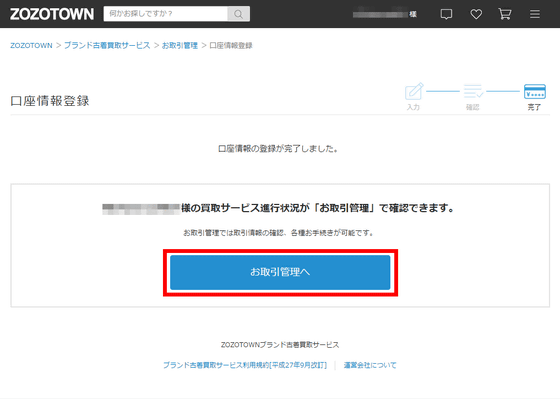 Transaction management pageThe situation of purchase is displayed sequentially in 'dealings management', and it is like this at the stage of requesting collection of cargo. The purchase application was made on November 6, and pickup was done on November 9.



And the collected pick up kit reached the ZOZOTOWN side on November 11. The scheduled completion date of the assessment is indicated as November 19.



Assessment is completed on November 19th. Approximation amount can now be known in about two weeks from application. Click "Assessment result".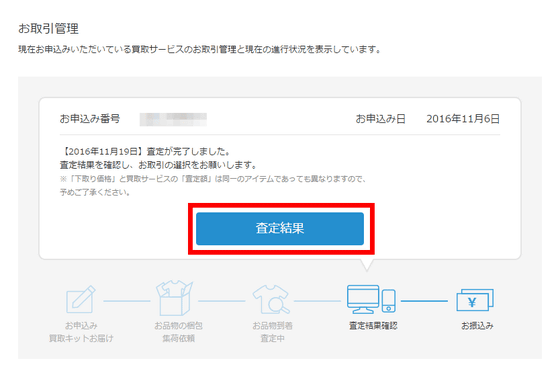 Then, a screen will be displayed explaining the reason for the appraised value of the clothes packed in the purchase kit and the reason for the assessed amount.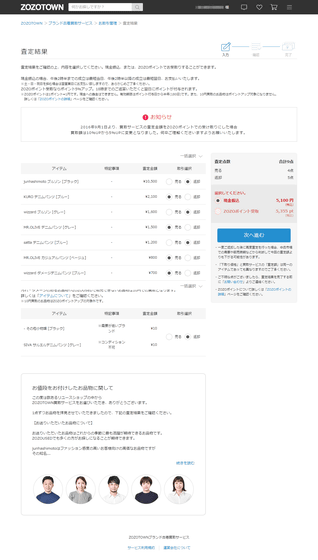 For each item you can choose the assessed amount and whether you want to sell items or return them.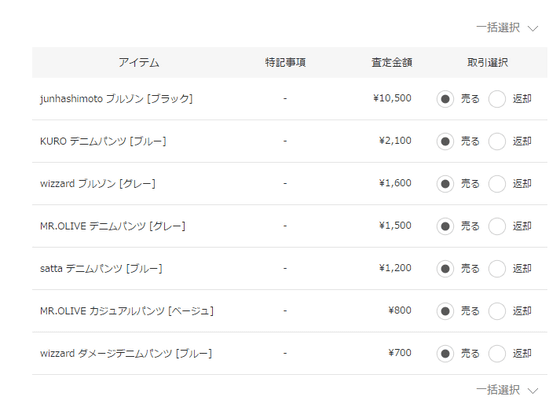 Also, carry out items such as dirty / damaged items and mail order / purchase of brand old clothesZOZOUSEDThose that can not be sold at 10 yen will be purchased.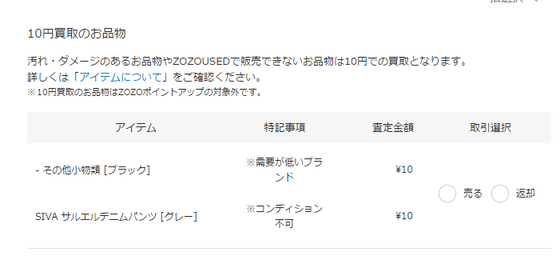 Choose whether you want to sell or return for each item and click "Next".



Click on "Confirm deal" if you are satisfied with the displayed transaction details.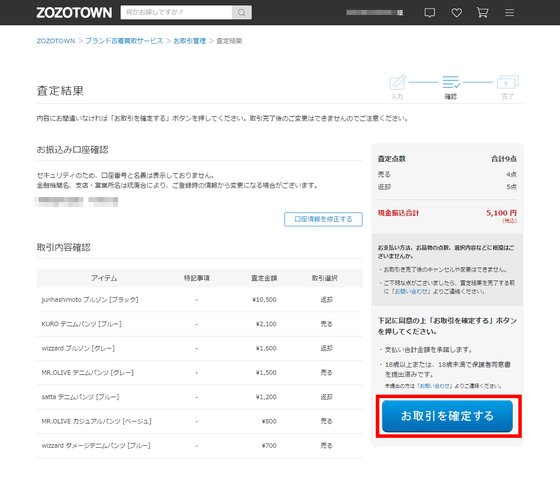 Then purchase is complete. From the transfer of purchase price in less than one month from application, it is complete until the return of some items.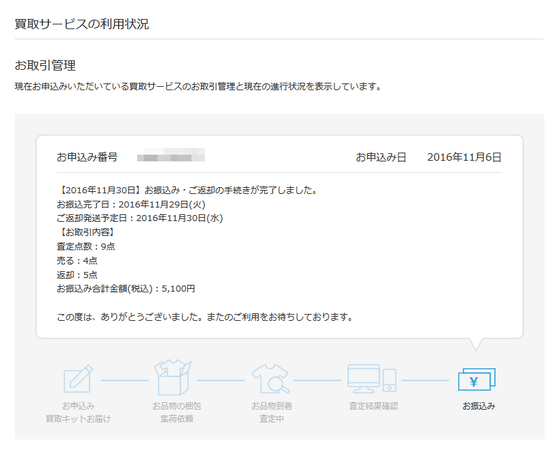 Although I think that it does not seem to change so much when it sells at clothing shops and the like as it is actually used, "There is no need to go to the actual store", "I will stop buying it after all" can be easily hesitated "I felt the advantage of being able to purchase even those who do not have clothing shops nearby." There is no sense of speed like purchase at a real store, but people who do not have time to go to a real store or who do not have such a store that will purchase in the first place may not have a loss even once using it Hmm.

In addition, items that can not be purchased, expensive purchase brands, points for upgrading the assessment amount, etc. are written on the following page, so it is good to read before actually using the service.

About purchased items | Brand clothes purchase service - ZOZOTOWN
http://sell.zozo.jp/item/#point