A program that allows you to exchange the battery of "iPhone 6s" for free, a confirmation method of the terminal to be exchanged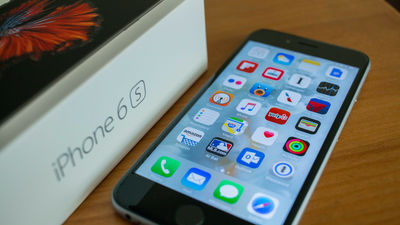 ByLWYang

It was reported that some iPhone 6s shut down unexpectedly despite the batteries remaining. As a result of investigation by Apple, it turned out that there was no safety concern that the terminal suddenly shut down, but a program to replace the battery with one that does not shut down has started, and from September to October 2015 , IPhone 6s whose serial number is within a specific range can be exchanged for a new battery at no charge.

A Message from Apple about iPhone and Unexpected Shutdowns
https://support.apple.com/zh-cn/HT207414

According to the notice that Apple posted on the Chinese version support site, the cause of the "sudden shutdown problem" occurring in part of the iPhone 6s is "because the battery component net has been exposed to the outside for a long time before assembling the pack" about. As a result, the battery being replaced deteriorates faster than the normal battery, and the terminal suddenly shuts down. Note that the terminal suddenly shuts down, there is no problem with safety.

IPhone seems to be designed to shut down automatically when placed in a specific environment such as extremely low temperature place. Apple explains that this is a function to protect electronic equipment inside the terminal from a low voltage condition.

For the iPhone 6s that is manufactured between September 2015 and October 2015 and whose serial number is within a specific range, the battery is subject to be replaced. You can check if your iPhone 6s is a replacement target from the following page.

Program for iPhone 6s suddenly shut down problem - Apple support
https://www.apple.com/jp/support/iphone6s-unexpectedshutdown/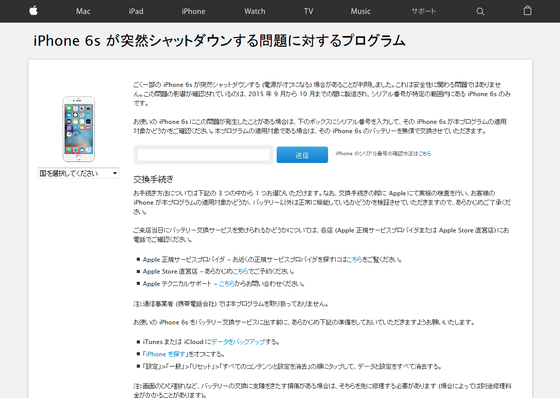 The confirmation method is easy, first tap in the order of "setting" → "general" → "information" on your iPhone 6s to display the serial number of the terminal.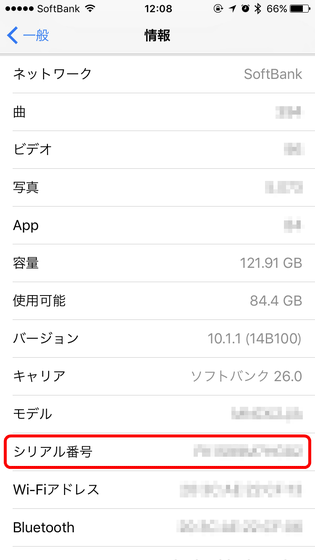 Enter the confirmed serial number in the text box and click "Send".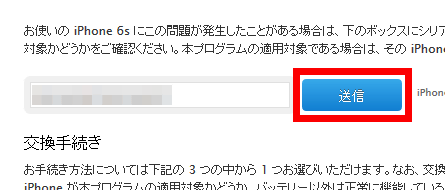 If it is an object to be exchanged, the following message will be displayed on the screen, so if you follow the prescribed procedure when you replace it is OK.




Care must be exercised because telephones such as NTT docomo, au, SoftBank, etc. can not exchange with only an Apple authorized service provider or an Apple Store retail store that can exchange the battery at no cost using the battery exchange program. Also,Apple technical supportYou can also exchange with. In addition, at the time of replacement, Apple inspects the actual machine and verifies whether the non-battery is functioning normally. If it is damaged, such as cracking of the screen, which interferes with the replacement of the battery, repair it first There is a possibility that there is a possibility that a repair fee may be charged separately depending on circumstances.

· Continued
This program feels like when you replace the battery with "program for sudden shutdown of iPhone 6s" that you can exchange iPhone 6s battery for free at a fee like this - GIGAZINE