Apple announces 'Repair service program for iPhone 12 and iPhone 12 Pro sound problems' that allows iPhone 12 to be repaired free of charge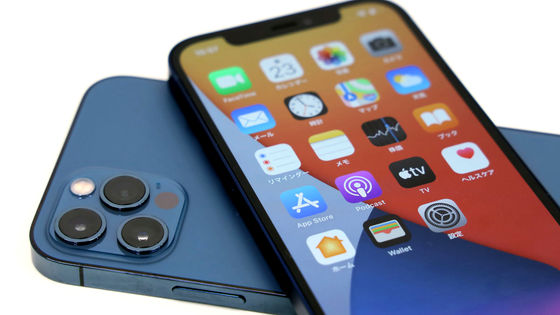 To address the 'no sound problem' that Apple reported from some iPhone 12 and iPhone 12 Pro users due to a receiver module failure, ' Repair for iPhone 12 and iPhone 12 Pro sound problems' Service Program 'was announced. If you have an iPhone 12 / iPhone 12 Pro and there is no sound from the receiver when you make or receive a call, you may be eligible for this program.

Repair Service Program for IPhone 12 and iPhone 12 Pro Sound Problems-Apple Support

https://support.apple.com/ja-jp/iphone-12-and-iphone-12-pro-service-program-for-no-sound-issues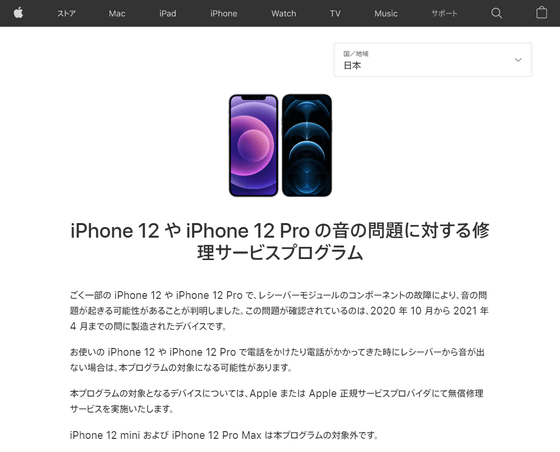 The 'Repair Service Program for Sound Problems on iPhone 12 and iPhone 12 Pro' announced on August 27, 2021 is a repair program to address the problem of not hearing sound from the receiver on the top of the main unit. Problems have been reported for iPhone 12 and iPhone 12 Pro manufactured between October 2020 and April 2021, and iPhone 12 mini and iPhone 12 Pro Max are not covered by the repair program.
In this kind of repair program by Apple, it is often the case that the serial number of the terminal is entered to check whether it is the target of the program, but in this program, whether it is the target of repair is judged by the actual machine inspection at Apple. That is. To sign up for the program, you'll need to bring it to an
Apple Authorized Service Provider
or an Apple Store retail store
or have it delivered for repair.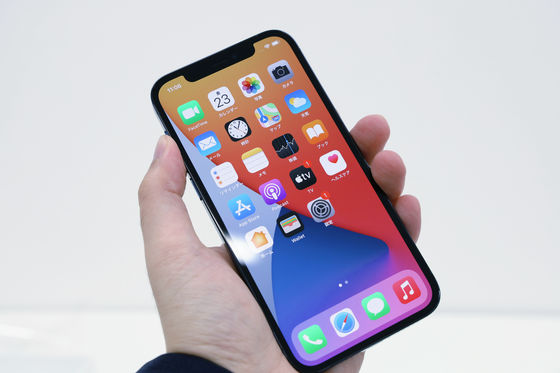 Apple recommends backing up your iPhone before sending it for repair through the above program. In addition, it is noted that if there is damage that interferes with repair such as cracks on the screen, it may be necessary to repair it first, so a separate repair fee may be charged.

In addition, the repair program is only available in the country and region where the product was first purchased, and the program applies for two years from the launch date of the eligible iPhone 12 and iPhone 12 Pro.

According to Apple-related media 9to5Mac , this program will be the first repair program for the iPhone 12 series.