I heard thoroughly how to make "GANTZ: O" for digital frontier Part 8 Composite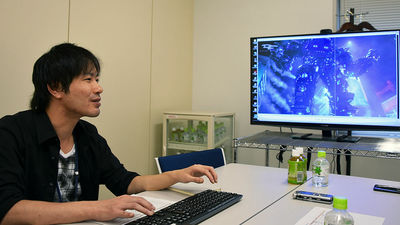 CG Production CompanyDigital FrontierTo the people of each section of the movie "GANTZ: O"How to make a digging root digging interview project is finally the last section,"Composite"is. Lastly, I asked Mr. Saito Kazuyoshi of CG Supervisor what kind of work is being done to make a picture to put it out to the world.

Production manager Toshi Funahashi (hereinafter Funabashi):
At the end, it's time to go through lighting after a brief journey.

CG Production Department CG Supervisor Kazuyoshi Saito (Saito):
That's right. As the last step in the department as the department, wearing animations with characters, backgrounds and motion capture, attaching a camera and attaching facials ...... all together as one part with lighting on top of it I do rendering it, putting out the material, and from there it is a 2D based composite.

Director Yasushi Kawamura (Kawamura):
It is where the heavy dangerous data gather at the end.

Saito:
I agree.

GIGAZINE (hereinafter, G):
Heavy gloom data (lol)

Kawamura:
Moreover, since it is the final finish, I think there is considerable pressure. Besides, in most cases, the schedule pushes the press, so the nerve wears off.

Saito:
There is another color grading in POSPRO after this, but basically the director will be the most severely touched because the picture which I went up composing will be the final picture that will appear in the world .

Kawamura:
When I saw "Your name is", Makoto Shinkai also appeared at the end of "shooting" of the staff roll. I am doing composite (filming), so I should have put a name in it.

G:
I see.

Funabashi:
However, this time the name is one person per person. I understand it when I look at the end roll, but there are quite a few people, and when it comes to departments that worked inside the company, the number will swell up to 3 times.

Kawamura:
Because there are also people who work for me.

Funabashi:
For example, Genji who came out as "background" was in charge of the leader of the composite in some cases. There are also people doing in three departments.

Kawamura:
In his case he is a background professional, but the composites are pretty good. There are many people in digital frontier who have about 2 professional genres.

Saito:
Basically, we are in the division of labor, but it is a feeling that there is a staff who can continue working in duplication even if it enters the next stage, and can work anywhere.

G:
I see.

Saito:
What you see is Composite's "breakdown".

G:
it's amazing.

Kawamura:
Since there was a question saying "How is Robo 's gigantic feeling out there", I decompose the process of overlapping materials, how I am doing.

Saito:
Just here is the shot I was personally responsible for.

G:
Wow ... wow ... ....

Kawamura:
First of all, the original material is a picture like "Robo is standing" like this. What was saying "It is really real" when in the background is light behind this, the light spreads out a lot, and the characters are omitted, but it looks like this. There is background material, Robo is placed, Pushto and smoke come out from that Robo, the production of light enters from the top of the person, helicopter enters ... ... Here we are daring lens distortion. Right now, the lens does not distort so much, but it is a distortion of "dare".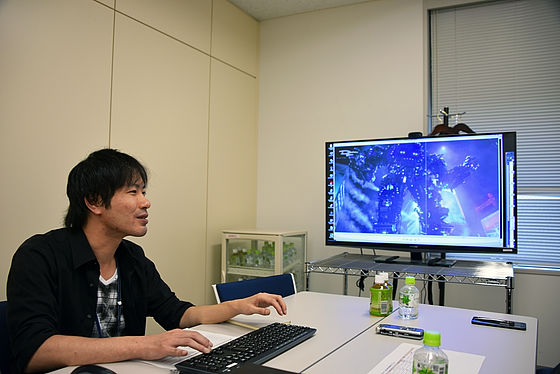 Saito:
If you really make it with CG, it will be finished hard, so I will put that kind of place.

G:
The impression of looking into the lens with the lens is this effect.

Saito:
If you make it without doing anything with CG, there is absolutely no such thing, it becomes a painting that made it "pure all straight"!

G:
I see. The source of light was explained in an interview with the director.

Kawamura:
That's right.

G:
When you do this kind of material repeatedly, I feel that Robo gradually looks bigger.

Saito:
When it is daytime or evening, I can make a huge feeling, such as the size of the space and air feeling, the contrast going down, but this time it is night so the sky is black so there is also the intention of the director that I'd like to finish it dark In contrast processing can not express huge feeling so much, in order to cover that, I put fog (smoke) etc. firmly over the whole shot and directed a huge feeling.

G:
When fog enters and light hits strongly, a huge feeling comes out.

Kawamura:
Since this video is published as OK, I'll hand it over with you.

G:
Thankfully, I explained in words at the time of the director's interview, but that you can post it in the picture ...... By all means, how would you like everyone to experience how a huge feeling is born?

That is why the video we have offered is Kore. Reika and Mr. Suzuki understand how the scene looking up at the robot that disappeared from the stealth showed up.

CGMAKING_GANTZ: O_04 - YouTube


Kawamura:
Since it will become a picture which is CG unless there is this feeling, we have introduced various things in full. Speaking of what I have not put in, I think it is about rain. If it is raining with this, for example, the light of the helicopter will be in the far side and it will be shiny and I think that it will be surprised again as "Wow".

Funabashi:
By the way, in the event that the rain increased with this, there was a story "900 shots" with the effect before, but it seems that there will be more elements there.

G:
Wow ... That's why, "This is inconvenient, let's stop rain," you said.

Kawamura:
As expected, "What are you talking about"! (Laugh)

Saito:
Despite the rain that is falling down, as the rain comes down, the movements of the ground getting wet and the water flowing come out, so it will become a considerably difficult level of CG technology.

G:
I see. Even so, although it did not rain this time, the place in this Ebashi at night is still a part that can not be changed. Although it may not be necessary to consider it to the last if it is a manga, if it becomes CG, the difficult point grows at once.

Saito:
Another thing, the writing and the composites are deeply involved in depth.

Kawamura:
It is creation of images.

Saito:
That's right.

G:
It is such overlap.

CGMAKING_GANTZ: O_05 - YouTube


Saito:
The person who was a little earlier was the construction of the overall scene such as the feeling of the air, but this is the form which I tried to decompose slightly based on the lighting of the character. Basically, this is the first look, but first of all, something that is said to be such concept art, color key, first wake up the picture and fit it. This is the state where nothing is said to be called Diffie. Add the light from the left to this and add the holding light from the other side. The elements of the wide angle light ride in reflection and so on, the light of the gun and the monitor are added, so the reflection from there is added, and this will become a final picture plane by slightly twinkling as a character in the comp.

G:
There are light sources in everywhere. Although it is natural because it is certainly because it is in town.

Saito:
Basically the background is also writing the same way. If it is daytime lunch or something like a sun's one-shot picture, it is the theme of this theme to reproduce that there are lots of illumination in the night and there are various light elements in various places did.

G:
While I was watching a movie, the inside was shining all over, but I thought that everything was reflected properly.

Saito:
Lighting and compositing are also closely involved, and it is said that these elements of light are separately added as a material one by one, and they change their strength and color on the composite somewhat into the final picture Composite work will be done.

G:
It is extremely detailed, or the quality goes up. What kind of order is issued from the director in such a scene?

Kawamura:
One is how the charm of a character is appearing, the angle of the light on the director and such a directing part, and the other is "it is not real". "Please make it more real". In some cases, it does not match the environment. After that, since the charm of a picture increases by always having warm color and cold color, I was asked how much it is in proportion, I had this done without permission, but as the angle of the light moved by moving Because it changes, I emphasize it more.

Saito:
In lighting, for example, basic lighting has been done by putting lights on the background, such as illumination or wherever they are. Speaking in the ordinary real world, if you put a character directly in the light environment there, you will be able to create a familiar picture simply, but if that is the case the character does not stand up. It is the most difficult place to make familiar pictures even while drawing in the director's intention there.

G:
Hmm, it is the actual lighting of a live-action movie.

Kawamura:
This time it is difficult to pick up the expression of a person in the scene of the night, so it is natural that it is a live-action photograph but it is a place to dare to hit the face lightly. There are shots that are doing such directing, but the scene has been a night all the time, so doing it makes me lie. Since a horror element is also a work, when thinking about how natural it is to light the face on the face, I thought at a very early stage to hit the light of the gun monitor.

G:
There was a story saying that the monitor was attached to the back side in that the design of the gun was changed this time, I thought that "such a change," it was this kind of thing.

Kawamura:
That's right. The science fiction movies wearing space suit have somehow looked bright inside the space suit. If it is, if you do not show your face it will make it difficult to see the expression and the degree of empathy goes down, so I dare dare to light from inside. It's the same. If you do not have this light, you can see it by material, but it is quite dark.

Saito:
Well, it looks something like this. This picture has only been available since 2016, but in the first place the concept was drawn by saying "I aim at such a picture" in the first place already.

Kawamura:
It is around June.

Saito:
The first image was settled at an early stage.

Kawamura:
It can not be helped without lighting the face.

Saito:
However, this is really a picture only, CG can not do as much as you like, or if you write it as you like it will be stinky and it will not be a real picture. So, to some extent, it is basic theory to simulate the real world light on a physical basis, to reproduce the light attenuation occurring in the real world as it is, to write and render. However, in the case of paintings, simple ideals were drawn without taking into account such things. I think that it is a difficult part of lighting work to reproduce this in a form not contrary to physics, so as not to become stinky.

G:
It's getting stuck to how much balance to take.

Kawamura:
If it is a picture, I will accept anything but anything, when I try to do the lighting exactly in CG, it is often "This is something is not real".

Saito:
I guess.

Kawamura:
He was judged properly as to where he was going, and while doing discussions such as "Mr. Kawamura, this is a picture, this is better".

Saito:
After that I was thinking about the system as a whole about composites and lighting, so in the lighting it is about this, if it is this it will be possible to make the material here to be a picture aimed at the composite ... ... You can also make a judge in a realistic place.

G:
...... Now, I was groaned showing only one scene, but this is going to be done throughout the whole movie. Regardless of the scene at night, it is almost a night scene anyway, so it's only a hard part. I did not think that this was the case.

Saito:
It might be a good idea to see this, in this concept ... ....

Kawamura:
It is a color key.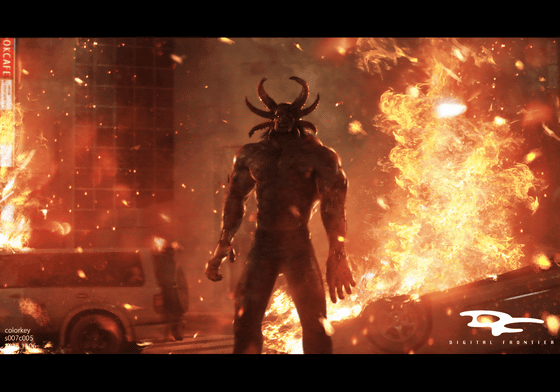 Funabashi:
GANTZ being held in Shinjuku: O_VRI think it was seen partly, but basically there is one in one scene. How many are there in all?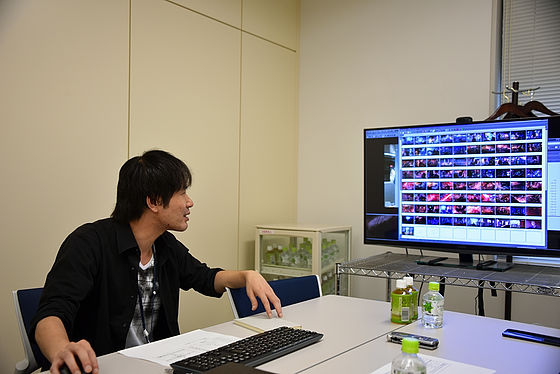 Kawamura:
...... I do not remember (laugh)

Saito:
In all ... I guess there are about 180 pieces. I decided this early in June and I feel that writing and compositing will proceed accordingly.

G:
I see.

Kawamura:
Since the intensity and color of light have their own meanings, we will decide it.

Saito:
I think that it is almost finished in this street.

Kawamura:
This is the flow of the movie, color script is a script of color, but it seems to be able to see the story with color. The composition of the movie is composed of 3 acts, making the story to be understood by the change of color, Actor 3 usually has a pink part because there are many cases where the main character falls in a dilemma, it becomes reddish As planned, we are planning the flow of the whole picture. Just because it's night, I do not want to look cool, but this scene has such a meaning, so it's a plan like this because I use blue here because I use blue here. I think about making the picture in advance by reason.

Saito:
It is a feeling that we built up the system so that it can be aimed digitally on the composite.

G:
It's amazing, you see it, it's obvious.

Kawamura:
Hollywood or Disney Pixar is doing this as usual. Of course, we are thinking about it, but thinking about this kind of things has been tough. Then, as you are approaching the schedule, in the second half, it is dangerous to say that Breble ... ... so it is decided that about the direction of important pictures about "1 year ago" is roughly like this.



G:
That is amazing.

Saito:
It is really easy to write if you have this. However, it was still a difficult place to bridge the difference between physical base and the difference.

G:
It is like this in a picture, is not it?

Saito:
I think that I was able to do it well this time because I will raise it not only to lighting but also to a state that it can be aimed on inclusive of neither composite nor just including it.

G:
It is a masterpiece.

Kawamura:
It's unexpectedly reasonable, so I do not have any difficulties, but I do have plenty of work for everyone else (laugh). In other words, if it blurs here, it means that everyone will be bothered by everyone else, so how much will not be blurred, and that is why we decide firstly for it.

Saito:
Actually this is the Composite's work screen, each one has such a layer, it has become a considerably vast workspace. That's easy to understand ... this is it.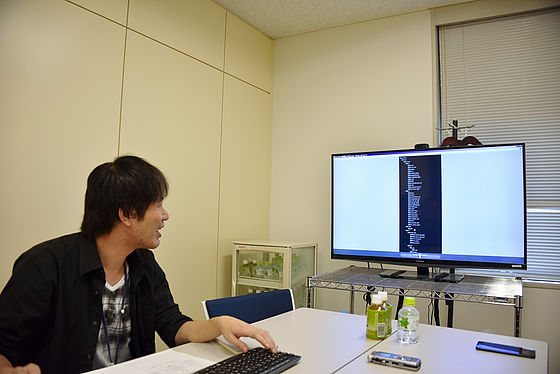 G:
What is this? (Lol)

Saito:
It is called Composition of After Effects, but this is one piece, and the layers are lined up in this way. This number is actually only this, it is quite a composition.

G:
I am afraid of forgetting work.

Kawamura:
I saw it when I first saw it, too. I do the guideline comp first, but when I gave this data, "How can I do this?"

Saito:
"In line with this, I ask you to make a picture in this."

Kawamura:
As I was told, "If you do not do it, everyone can not automate and it will be a big deal", so I frantically understood this.

G:
This is amazing.

Saito:
This is also raw material that BG rendered. A little bit of BG, adding smoke, there are flares and blurry. With that, the background can be bassed, made colorful in the material of the character 's base writing, composing the backgrounds and characters, composing the backgrounds and grading, etc., daring with noise and finishing to a natural picture I will. I will do it in this amount. It is a form of doing color correction for each piece of material.

Funabashi:
Although it is still a quiet scene here, it will be more serious if it is a fierce scene.

Saito:
If there are plenty, the material is 300 pieces, it is not quite.

G:
There are so many things, it works well.

Kawamura:
Probably I do not play anymore Composite (laugh)

Saito:
After Effects has a function called RAM preview, but basically it can not be done (laugh). "Let's draw a picture, basically make a point here and here and here, I will try rendering for the time being." Then, look at the completed picture and decide where to fix it.

By the way, Mr. Saito's working screen in After Effects seems to be like this.



G:
Looking at these kind of things, Intel or anyone can do it, so it feels like making a faster CPU.

Funabashi:
And I want you to make it cheaper ... ....

G:
Really, it is cheap and fast. Resources are not enough.

Saito:
It is not enough.

Kawamura:
Yet, in the streets 4K or 8K, it is a story that is finally exciting, but saying VR or something ... ... then it will not catch up with more and more.

Saito:
I think that I already heard the story of the effect, but the effect here is also a cache and various capacity eating department. I had a unique server with only the effect alone, and I fully utilized it.

Funabashi:
There are 120 TB in the server, so it's still in the state of individuals as it does not fit all the way.

G:
It is totally fighting against the amount of data. It is hard to say that I can not translate it all.

Saito:
This time it is about how much if it is total capacity.

Funabashi:
It is about 200 TB, is not it? The effect is about 120 TB.

G:
You can see Peta the next time.

Saito:
I think there are more to match up to version differences. Even this is throwing away the old one, so when the total capacity ... ....

Kawamura:
I have heard of Hollywood saying that I am going to Peta a long time ago.

Saito:
I know.

G:
Uh, this is awkward.

Saito:
Although it is a tuna, when I made "APPLESEED" in my house, I introduced a 1 TB server for the first time. From that point on, it has become a ridiculous era in the blink of an eye.

G:
GIGAZINE was also born in 2000, at that time still floppy disk was also active, so 1 GB was quite a capacity. That's why GIGAZINE (gigajin), but when I realize it, Giga has become a small unit (lol)

Kawamura:
Is it petajin now? (Laugh)

G:
As the unit gets bigger and bigger, my sense will go wrong. It has to be multiplied every year and increase it (laugh)

Kawamura:
now,It seems that it is becoming suspicious to keep Moore's Lawis not it.

G:
It is said that it may collapse. There was a story saying that even with the motion capture just before, there was a talk that it raises more accuracy, but raising the accuracy further leads to an increase in the data, and it seems that it may be said that "Composite can not render anymore" To do.

Saito:
Now, there are times when I write out a sequential number of one material containing materials called various elements, but if I try to do something more advanced then it is necessary to have deep composite information, say deep composites I can do it. It has information on the depth of the Z axis in pixel units, but if you add that information, it will be like 1 GB per sheet.

Funabashi:
As this movie lasts about 90 minutes, it converts it by 1 / 24th of a second in 1 / 24th of a second, 24GB in 1 second, 1440GB in 1 minute, it takes 90 minutes ...

G:
It is more than that on the actual work site, this is ... it is dangerous.

Kawamura:
It is dangerous that I can only say "dangerous" anymore. Vocabulary skills are gone (lol)

G:
Moreover, it is the final stage of work to do this work.

Saito:
Yes, it is the back.

G:
Still, there is something the director tells us to check ... ....

Kawamura:
I said pretty well.

G:
Hardy ... .... By the way, where is it that made this work better than I imagined?

Saito:
Personally, until now my movie is called 16 bit, when it turns black with white and black, it completely disappears and it does not have any more brightness, completely white is the value of MAX It was a composite at. With that, we can hold down the capacity to a certain extent and the speed of the composite is fast, but this time we were thoroughly composing at 32 bit with the number one or more always being kept at once prepared to make the composite heavily heavy . Besides that, regardless of any of the projects that have been done so far, with a reasonable number of people based on that, by finishing the quality at a constant level throughout the whole work, a tool for automation and efficiency I made the most emphasis on creating workflows and thinking about workflow. There is also a difference in power in the designer, but it does not matter if it appears in the first picture eventually, so I devote the most time to building a system that can deliver consistent quality regardless of what person is in charge. did.

G:
I see, it helped firmly on this work. Also, please let me know if you want to say this.

Saito:
Although I think that it was able to have a personally balanced and confident work, in the future, I will raise the level further while adding the rain which was said earlier, so that anyone can see it in particular I think that I would like to increase the quality of CG as a whole in shape. ...... Also, I want my budget up!

G:
That is important! Thank you very much.

· Continued
This is the end of the interview with each section of the digital frontier, but at last the director Yasushi Kawamura talked about "GANTZ: O".

That listened to the thoroughly how to make "GANTZ: O" for digital frontier 9, Directed by Yasushi Kawamura - GIGAZINE