Interview with Mr. Oku Hiroya, the original author of "GANTZ: O" making a work aiming for "a little mysterious" Juvenile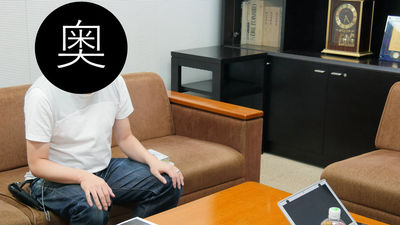 On October 14, 2016 the movie "GANTZ: O"Will be made public. The original is a popular manga of Oku Hirona "GANTZ". So far, it has been made into a TV animation and live action movie, but this time it was produced as a CG animation movie.

To this time, in conjunction with the movie release, to the place where the original author, Mr. Hiroya Oku, started making a work as a cartoonist originally, how to see the work "GANTZ: O" I have heard the story thoroughly.

GANTZ: O | Gantz: Official Website
http://gantzo.jp/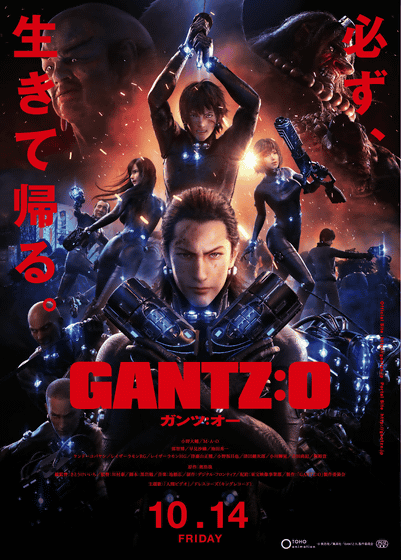 Oku Hiroya (@ hiroya_oku) | Twitter
https://twitter.com/hiroya_oku

GIGAZINE (hereinafter, G):
Thank you. Professor Oku is about Shueisha 's "Fantasy Comic Grand Prize: Professor Oku Hiroya interview"In my interview," I was constantly aiming at a cartoonist from quite a bit of age, I decided to be a manga artist for about four years at elementary school ", I wonder what this trigger is After examining it, the interview conducted in asianbeat in 2006Draw as if to solve cartoon / game formulas ~ GANTZ author Oku Hironari ~In "In the fourth grade of elementary school teacher Tezuka's"VampireI decided to become a manga artist "and found the answer. What made "vampire" to make it resolve so far?

Hiroya Oku (hereinafter, back):
Professor Tezuka appears in this work.

G:
Yes, it comes out from the beginning.

Back:
Mr. Tezuka has made a few of the leading character 's tops, driving a car, and is doing a little bit of activity. Looking at it, "Wow, Tezuka Osamu is cool! You can come out and play an active part .... You can make yourself cool" I thought that manga artists are a nice occupation! , I started thinking about how to become a cartoonist. After all practicing by not being able to draw a picture, doing the practice of writing the story all the time ... ....

G:
Certainly, Mr. Tezuka came out from the beginning, and I was thinking that "The first person is almost the main character", but I was reading that relationship.

Next question is.Interview at the 24th Evening Newcomer Award when he served as the Special Jury ChairpersonSo, Truffaut interviewed Hitchcock "Film art"As a comment when reading at the age of 20" "It is written in the first sentence that" change the item by hand using wisdom so as not to let the eye of the audience even one second from the screen " There was a part convinced that it answered "It came in and suddenly" and "I see, I am making it so that the reader's attention is properly drawn". In the case of "GANTZ", in order to "change the item by hand using wisdom so as not to let the eye of the audience even one second from the screen", how to make readers consciously during the series Was it?

Back:
I gained inspiration from how to make this hitchcock, and not only for "GANTZ" but also for the time being. After all, being human-eyed is attracted to what I have not seen, it will be anxious. For example, putting scenes that have never been seen, grotesque scenes, erotic scenes, studying mystery, putting elements such as romantic love, and even in a gentle scene will bring out various kinds of emotions in the conversation I am still working together to make it so that I do not get bored. Even when I was drawing "GANTZ", after all I thought that it was "cool here", the content of the conversation was interesting, and the star was a mystery, but something laughing, scary and laughing, others were parodies and so on I am planning to make something to entertain and make something that keeps seeing the screen all the time.



G:
I see. I started to read just after "01 ZERO ONE" in front of "GANTZ", then back to "funny" from there and read it, and then read it when "GANTZ" began ... .... So, when "GANTZ" started, I thought that it was like a further development that added surreal of "fun" and SF action feeling of "01 ZERO ONE". However, in an interview with the fantasy comic grand prize, I was surprised with the answer "It is a high school age at the moment when I came up with settings." Have you thought about deployment itself to some extent from that time?

Back:
I agree. I was thinking that she could be a hero and she would be a target mission.

G:
That means that the expansion of the opening stage was already considered to some extent.

Back:
I came up with a story "alien worker" stating that the alien is lurking in this world and going to kill aliens all together. I liked too much about the "Hissatsu" series so much that I wanted to do such things with science fiction. The idea continued warming all the time, after "01 ZERO ONE" failed, it was "GANTZ" that I asked "Please let me draw the free one more time" and asked for it. I was very happy because it was successful. If I had failed with that, I guess I was drawing another one (laugh)

G:
At that time, I read the interview that there was a jinx that SF is not good in magazines, but how did you persuade the editor to draw "GANTZ"?

Back:
Since "Hizari" became a hit, it was in a mode that allowed Mr. Editor to draw free manga, "It is useless because I do not accept science fiction because it does not accept SF" has been said for a while "01 ZERO ONE It has made me draw. As it failed, I thought that it might be said "No, it's useless", but if you say "Please let me try SF again", it's like "I wonder ... ..." like a reaction. However, when I draw a name for one episode and send it by fax, I returned with a single word "Is not it good?", So I drew it quite lively with the feeling that "I will let you go by now."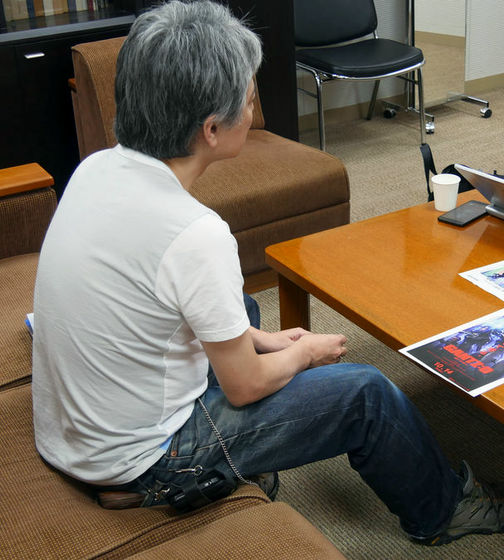 G:
Method

Back:
When I was about Buddha statue, I did not draw Mr. Egyang until she still came out, but Editor says "This is already finished with this Buddhist image", so I said "No, I still draw it" But when I said to the editor, "When it is the final round after the last catastropion," I told the editor, "There is nothing to say about it" There was such an exchange (laugh)

G:
When I began serializing GANTZ, where did you know that "This is a living response?"

Back:
When it is "01 ZERO ONE", the number of copies issued is very small, it is not a censoring but it stopped saying "I quit" because I can not do it in such a number of copies. When I started GANTZ, it was the way of selling "I can do it at all" from the first volume, so continuing, it has become the longest series in life history.

G:
That is amazing, I felt a response as the selling method was completely different. According to the previous story, I thought about setting up and deploying to a certain extent from the beginning, but I think that I have no choice but to think about setting up and deploying after the middle, but what kind of schedule does the weekly series do Is it? I was wondering how I could get out such a tremendous quality in a short time as I was reading.

Back:
Because it is 3DCG, it can not be made suddenly even if it says "Since this comes out" the previous week. As I've been thinking all the time in my head, I told the staff that "This will come out" about a month ago, the staff will start making backgrounds and put it out when done I was repeating that.

G:
I see. ...... for the Hatena diaryEntry on 4th June 2010"There seems to be someone who thinks I have only drawn a face in recent editorial Young Jump Editorial Department, so it seems that Gantz suit also has 3D data, so it is said that I have drawn by myself so far I'm trying to prove that "the image is posted and I was very surprised that" I am drawing so much!

Back:
That's right. After all it is my hand painting because nobody can make a robot with the technology of our staff. In Osaka edition, a powerful suit called hard suits comes out, but that is all painted by hand.

G:
When I was also reading, I thought "This is awesome CG" clearly, but when I saw the manuscript, I was surprised that "That is drawing with this hand!"

Back:
Even though I draw it all by hand, there are parts that are supposedly doing with CG after all. I was told that "All Buddha statues are CG?", "I drew it all with my hands ..." but the place where I thought it was CG was painful but it came true.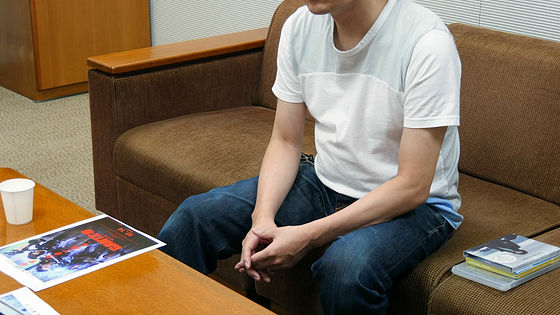 G:
In terms of how to draw, "Oku Hiroya's "Inarashiki" feature, Yamamoto Naoki × Oku Hiroya's master's discourse (3/4)"All the lines of a person are hand-drawn, first draw hand-drawn on paper, scan it, align with the background drawn in 3D, add shadows to it and make it match the person and the background, and finally I printed out on the manuscript and I was adding another hand to it. "I was surprised very much, but did not this technique come from the beginning, have it reached this technique after trial and error? .

Back:
I agree. It is a method we have been doing since the time of "01 ZERO ONE".

G:
Usually there is an image that it is aiming at efficiency improvement or expressive improvement as saying using CG, but this seems to be a hand-crafting method, as a result of pursuing both, it became like this Is that ...?

Back:
When you first thought about drawing "01 ZERO ONE", "01 ZERO ONE" is the future world so show the setting picture of the future world that I draw for all the staff who draws the background, draw the future world I thought that perhaps there was no sense of unity in getting it. Even if I draw and draw the picture I draw, the impression of the future will change by the person who draws. Just about the time I was doing 3DCG as a hobby, I thought that if you take a line with 3DCG and turn it into a cartoon touch to make sense of unity, I should be able to do it. "If you make 3D with everyone and use that data, you will get a sense of unity." So, I started hiring a staff who can do 3D for this purpose, but then the number of staff that I can paint by hand drawn will be decreased, and people who can only 3D can be left. So, we are the only people who can not draw pictures.

G:
I am a CG assistant rather than a manga assistant. How many people are there now?

Back:
It is six people now.

G:
It is pretty! If it is not enough, can not you rotate at that speed?

Back:
That's right. Cost is also very costly. I am doing it because there are lots of staff, but everyone is doing it while saying Hehyhi.

G:
I saw it in an evening interview that SF experience like GANTZ is "Doraemon". What sort of SF element of Doraemon's story sounded strongly to my heart?

Back:
It is the place of "Doraemon", which is anything but SF. There are all kinds of weapons, weapons of various ideas come out, and the skills that the stars are going to do are to do various attacks and various designs come out. "Doraemon" rather rather than casual SF thinks I cherish mysterious ideas and ideas, but at the same time, I aimed at a place that seems to be "ah, funny". In genre it is not "hard SF" but "A little Mushi (SF)It is a feeling that I aimed for Juvenile.

G:
Oh, I see. It is such a thing when it is told. It looks really hard as the picture is real ... ....

Back:
It's not like a hard sci-fi progressive guy, but because it's an alien technology it's anything,Inu Yakushi"It is also true, but I am doing every day as I want to make it a comic like to enjoy the fun of" Doraemon "like ideas.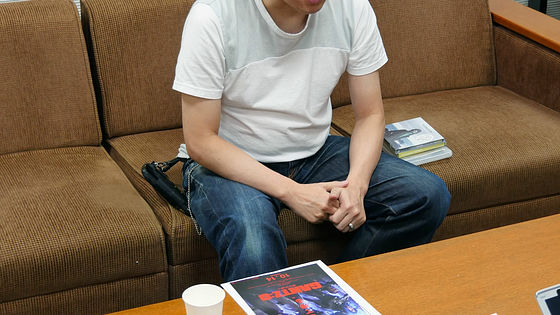 G:
Sure it is amazing. "This is going to happen!", So I can not predict the next development at all. In "Evening 2014 2nd issue" "Ichi Yashimi" preliminary notice ", former assistant Kazuyoshi Takeda"Encounter with Professor Oku"In the middle of that, after the explanation that" love for big tits is a different dimension from love for my wife ", Professor Oku says," The attraction as an object is heavy and heavy There is a line that says that it is a fluid movement. Wondering if the female characters of GANTZ are busty, they are conscious of the readers, or are they simply coming up with the power to draw manga, or both, who are drawing big boobs?

Back:
There is a thing that simply draws big tits, though it looks good, but sometimes I like to draw as a solid when I draw a picture. While imagining the cubes in my head, I want to get as much three-dimensional as possible. Manga is rather stereoscopic rather than ... ... For example, it is impossible for strokes of the bones of Atom.

G:
How do you compare it and hairstyle of Sune herself who bothered me with many people?

Back:
Yes Yes. Instead, it is a feeling that while turning around in the head while floating in the head as a cube, turning in the head. That's why "I want to draw from various angles" is a solid desire within me. I also like figures and solids, so when drawing a big breasts I can draw a solid feeling. There are also such things, because it draws a large angle, when you are moving you want to give a feeling of being shaken, or to draw it so softly, that kind of greed will come out, it's also hair and clothes wrinkles, As one of them, there is a thing to draw a big breast.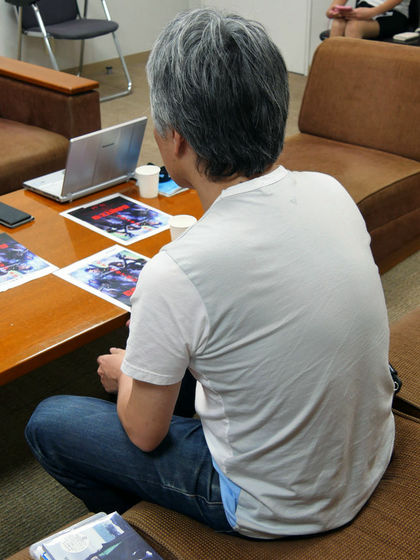 G:
I see. Reika's big tits are shaking with a tremendous motion capture in this movie, but what kind of impression do you have?

Back:
It was already an ideal.

G:
Ideal (haha) That is the image you are supposed to have.

Back:
It is a feeling that "This is ideal!"

G:
So, that movement is right!

Back:
Already a big right answer.

G:
(Laugh) GANTZ's character design was reading from a beautiful girl to a real uncle a lot, reading while thinking that it was "pretty reality-like, reality exist", but when reading the past interview "There was a lot of consciousness that the hero must be beautiful if I thought about making a selling work, there was a place that was bound by it." "If the cute girl or a cool boy is not drawn, the reader will not read There was an answer that I am still afraid. As long as you are reading "Inarashiki" in the series, the hero is nothing like a boy in the first place, so is that kind of feeling already gone?

Back:
Although I still think so as a feeling, this "Dog Yasuki" is a project that I started by saying "Please do it freely" there. Although the popularity will fall by that amount, I would like to do it freely, because Grandpa is the protagonist because I want to draw a manga unique to me, so I have given up from the beginning that there is no choice but to do it anymore. However, I think that I am able to pay to a certain extent or because I am not in deficit, I think that I am very grateful.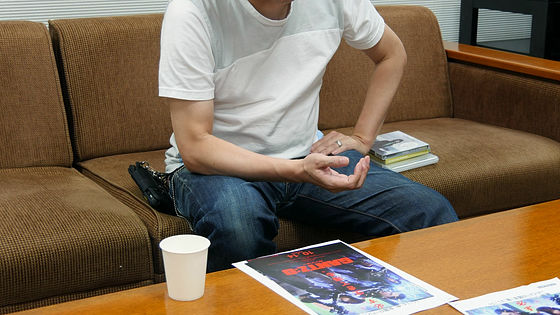 G:
I wonder if the era has changed or whether it is actually okay if it is not a beauty form ....

Back:
I do not understand, I think whether I was just lucky (laugh)

G:
Although it seems that the reader is drawn considerably with conscious of the reader when reading a work, there is no reason to actually meet with all the readers, and in fact the hobby preferences are different each other in their own way Are you assuming a reader?

Back:
It seems that there is rarely "the assumption of the reader". Rather than being conscious of the reader, I think that it is not only me but almost all the cartoonists as a theory, but even if it is set as "even a high school student", the face is absolutely painted as a beauty form Is not it? So, as a manga artist I think that it is about a part of "I can not eat it".

G:
It is similar to "common sense".

Back:
I agree. However, looking back at my case, I have not thought about 'for the people', but what I want to see, I have not seen before, I am very pleased if I am a reader Because it depicts what it is, the supposed reader is me.

G:
It is fun to see themselves.

Back:
I'm going to draw something that I think is interesting all along.

G:
Even when "GANTZ" did you read back after drawing it?

Back:
As for "GANTZ" I had forgotten about Osaka edition for a moment, so I saw "GANTZ: O" this time and thought that "Osaka edits are like this" like this. So once I read it again I found it different from the movie, "That is not wrong ... such a character has appeared" (laugh)

G:
Personally, I saw "GANTZ: O" and I felt "I want you to make it with this quality until the final chapter." As the original author, did the works that I had created move away from my hand, did you have a better point than you thought in advance?

Back:
"GANTZ: O" was a work that was truly blessed with creators, I was surprised that I can do something more high-quality than I imagined. At the same time, I also thought that there was only me, a cartoonist who could make such a thing, how lucky she was.

G:
In what scene did you feel about 'high quality beyond what you imagined'?

Back:
Everything is so, for example, the action was surprised to be "this will happen when moving this way" and Kyou Yamazaki was surprised to be cute than I did. It is very attractive and I do not get tired of seeing it many times.

G:
Please let me know if you have any in mind in order to keep making your own favorite things.

Back:
It is "to love". Whatever you draw, for example, even a creature, you can not draw if you do not love it, and I think there are things that you can not draw unless you really love movies or cartoons. I have tremendous respect for creation itself and I am respectful of the history of movies, animation and manga that have been made so far. I think that it is precious in itself to do creation and it is a rewarding and rewarding life, so I think that loving is necessary to keep on creating.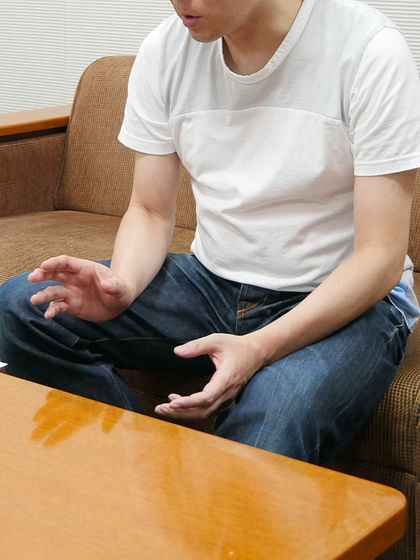 G:
Being beyond "like", to have a love enough to devote his life.

Back:
Well, I think that we need such affection.

G:
Is this what I thought from the beginning of creation, or did it come to believe that at some point somehow?

Back:
Although it was not so at the beginning, I came across Hollywood movies, especially "back to the future", and I was made astounded that "movies and stories can impress people so much" It was. I also want to acquire such a technique and start research, I know that it is more interesting and rewarding world as I devise, I am currently challenging my life with a progressive form. I am very happy in the moment now.

G:
I see. Thank you for today.

After this, I will also post interviews with Director Yasushi Kawamura, staff of Digital Frontier, and Sato Keiichi General Director who actually worked on "GANTZ: O" production, so please look forward to it.

movies"GANTZ: O"Is open to the public on October 14th (Friday).

· Continued
Interview with Director Yasushi Kawamura who completed "GANTZ: O" as an exquisite full CG animation movie with the first director - GIGAZINE