I interviewed Mr. Raikko Mamoru, a cartoonist who is the author of "Golden Gash !!"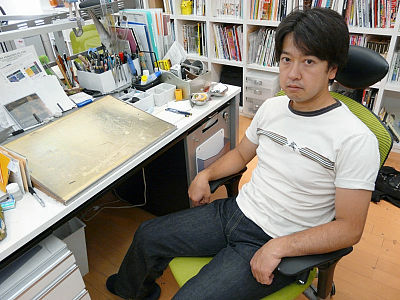 Serialized since 2001 in the Weekly Shonen Sunday, cumulative total of more than 22 million copies up to 32 volumes, popular cartoon became a movie of TV animation and the movie version, that is "A golden gash !!". And the creator of Mamoru Thunder, a manga artist who is the creator, raised an appeal to the Tokyo District Court for a payment of 3.3 million yen, etc. at the publisher Shogakkan on June 6, but Mr. Raikko Momono himself blog AboveFull complaint and statement of complaint, There was a miserable fact that had never been known to the public until now. In general coverage it has been told as if the cause was lost manuscripts, but the biggest point is this sentence in the statement.

"The things called editors and publishers too began to mock cartoonists."

As if to respond to that sorrowful content, various other cartoonists confess their own experiences on the net and express their thoughts. The Shogakkan was put in a dilemma, before the trial, in the name of the boy Sunday editorial department "To the readersIt is supposed to be posting the sentence.

So, I interviewed Mr. Thunder Thunder including various things this time. There are also situations of the workplace. Details are as below.
* Before reading, first read the full text of "statement" at the following address, which makes it easier to understand.

Appealed Shogakkan Co., Ltd. These days Makoto Raiko today. / Web blog



■ To the studio of Thunder Thunder
It is this that comes into your eyes as soon as you enter the studio from the entrance.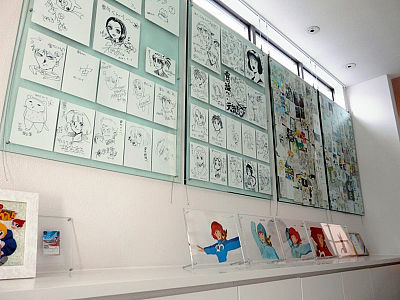 Many famous manga artists' colored paper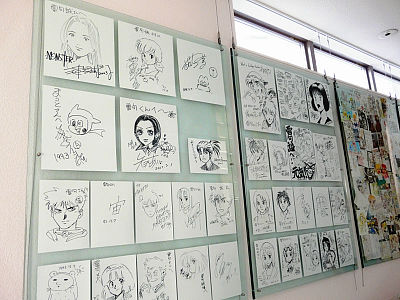 Here are a lot of fan letters.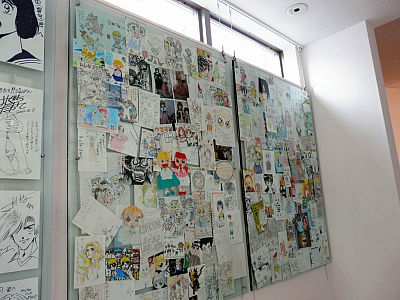 There are tremendous figures on the second floor.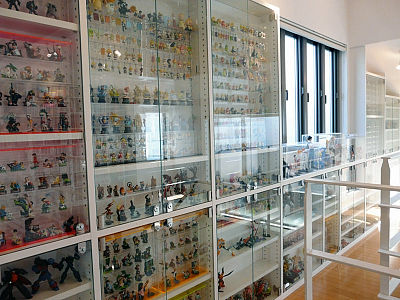 If you look closely it is full of familiar characters with Gash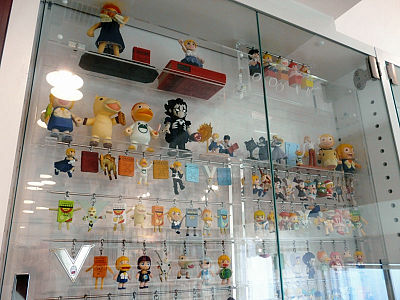 There are also big ones!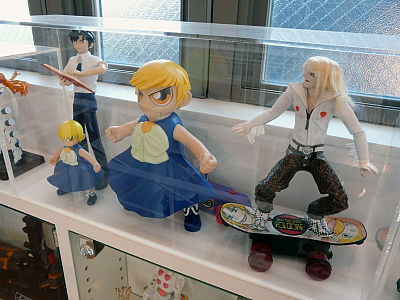 The collection of DVDs are also organized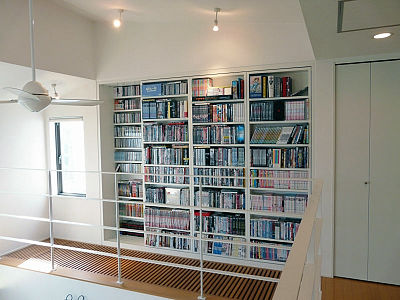 This is what the reader sent me.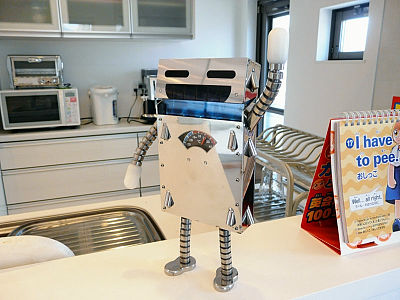 It has been carefully welded properly, it shows a high level of technical capability, it is amazing.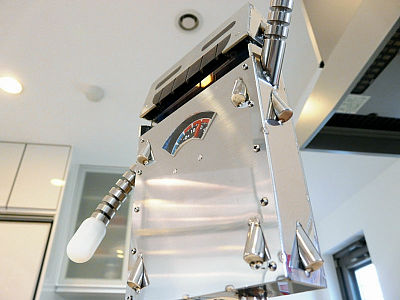 That's why I decided to start interviewing Mr. Thunder Thunder in a state of no excitement.

■ When did you start aiming to become a cartoonist since about the background until becoming a professional cartoonist?

Makoto Raiko (hereinafter referred to as thunder phrase):
I thought about becoming a cartoonist when I was in the second grade of junior high school. In the past I was drawing manga illustrations and being praised by everyone, so there were times when I got an award with proper pictures so I said "In the future I want to eat rice with painting "What. It is supposed to be such a thing as a junior high school student, and it is good to have such a designer, but still it is "painter or manga artist" that hesitated.

GIGAZINE (hereinafter abbreviated as G):
Oh.

Thunder phrase:
That's why I thought of a painter very much, but still it is probably Picasso 's abstract painting that is high at the highest peak of painting at that time. At that time I heard that classmates at middle school and "Do you understand Picasso's picture?" I answer almost "I do not know."

G:
(Lol)

Thunder phrase:
Compared to it, everyone has familiar with underlay, pencils, stationery and so on, and we all love them, so we all love "Oh, the picture that the public loves more than a picture that only some people do not understand" I thought that, it was a trigger. There were plenty of things to learn from there, and there were plenty of things to learn from, but the first step is to start with a picture that can be loved by many people as a trigger.

G:
What kind of manga were reading around then?

Thunder phrase:
It will be jumping system after all. Dragon ball or Kinnikuman. The most intense thing is Dragon Ball.

G:
It is a major title in those days. The influence around that is amazing.

Thunder phrase:
A friend also was doing a coffee shop, there were many manga magazines there, and Sunday began reading. At that time, "Together with you"And"GS Megane Paradise Great Operation !!Or in the so-called golden era, when there were lots of attractive comics. I read that and thought "Oh, let's bring it here."

G:
When will you bring in at the very beginning?

Thunder phrase:
High school is about a year or so. I had my school take a rest on weekdays and I went to Tokyo with a slow train using the money I had saved in my bytes. "I'm still there but I'm a high school student because I can draw it, so I'll look it up", so I thought that I was in charge from the very beginning, I thought "I did it" and went home.

G:
Is it feeling that little by little continues bringing in after several times from there too?

Thunder phrase:
It seems so.

G:
that is"Brown Rice Blade Raikan Hakko EditingIt is the part on the table.

Thunder phrase:
At first I used all what I could possibly have when I was in high school, well, it is terrible to see it now (lol)

G:
(Lol)

Thunder phrase:
I managed to debut at first with "BIRD MAN", and I was doing a lot of hardships from there afterwards.

G:
What was it like when you made your first debut? As a feeling or impression?

Thunder phrase:
True, it is such a feeling that "yay!" With this I got the first step. After debutting it thought that it was another step after the series, but then it seems that it took five years to serialize on a tough wall that everyone tastes.

G:
What was it like for the past five years?

Thunder phrase:
It's like being an assistant. I am able to make storytelling so far, but it is a character. It is a wall that can not draw attractive characters. From around the time it began, it came to get a fan letter by the end, and finally it was the front and back of "Brown Rice Blade" drawn by reading, and then the popularity became top of the rookie after that. VeteranRyoji MinagawaBecause the teacher was special issue special issue, Mr. Minagawa was ranked first in general popularity, but it worked okay with 2nd place beneath that ... but still it was long from there to serialization. There was also that the editor-in-chief of the time was a policy not to give the newcomer quite a chance. People who were editor in charge at that time when I took the series with gash, was told in the first impression that "Mr. Raikko Makoto is doing his best with the new guy, it is obviously funny", is not it?Sunday notebookThere is something, and when you look at it all are clearly stated when the series began. Looking at it, "Look from here for here, there are only a few serial series of newcomers, which is really funny, I wonder if it was the editor-in-chief policy". Nevertheless, it seemed that from the end I felt "I am not a skill of serializing" yet.

G:
So that means the ability to debut when newcomers are hard to debut?

Thunder phrase:
At that time I think that there was also a push of the person in charge, because it was a person who could do a very job. My mouth is a bit bad but it worked properly. I am thankful for that. I feel like I was able to do so thanks to that.

G:
I see. Also, I always thought mysteriously, but about the matter of "going to an assistant" that I came up with earlier, can anyone choose an assistant?

Thunder phrase:
In my time I took hope. Show me the table of contents of Sunday at the time of the meeting, with the feeling "Which teacher would you like from this?"

G:
Oh.

Thunder phrase:
"Of course there are places that are impossible", but I chose several people. At that time, "Together with the Tiger"Kazuro FujitaWhen I saw that I chose a teacher, "Oh, is that Mr. Fujita?" I was a little close with Mr. Fujita who was in charge at that time, so that "I will ask Fujita-san for a moment". After entering the trial once, "I have other children to try, so please wait a moment" and two weeks later I got a phone call and the assistant destination is like "Do what I do?" It is a feeling that it was decided.

■ How to do manga, style of work

First we had a tour of the studio which will be my work place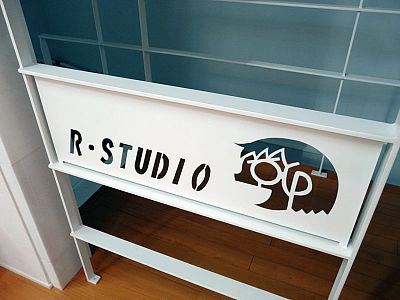 This is the workplace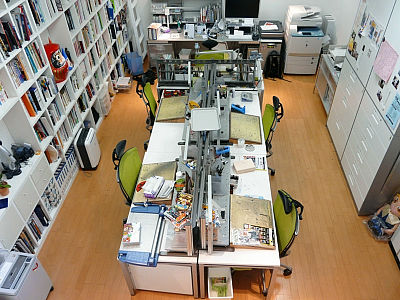 Bright and wide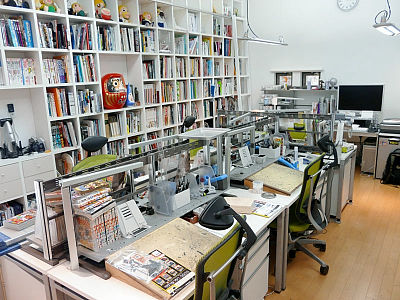 The ceiling of the workplace is higher than usual, and the one in front this is a colonnade like this. It seems that they are giving a feeling of openness because they often stay in the room when drawing manga.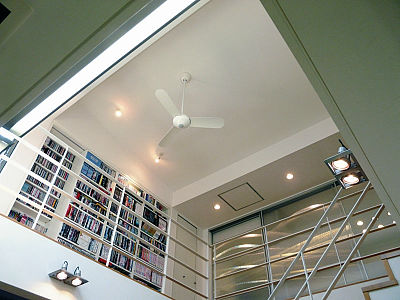 This is the work desk of Mr.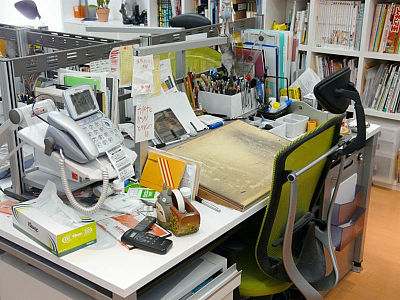 This is a shelf that contains tone. I searched for something of a good size, but he seems to have bought it specially.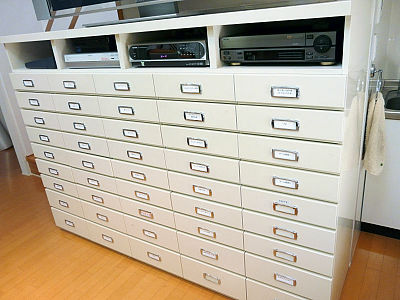 Sliding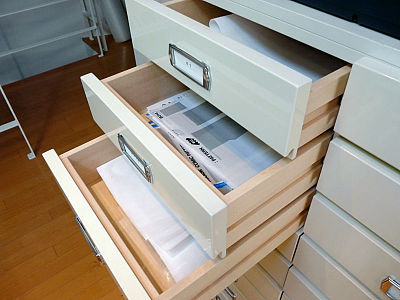 There is a big TV on the shelf!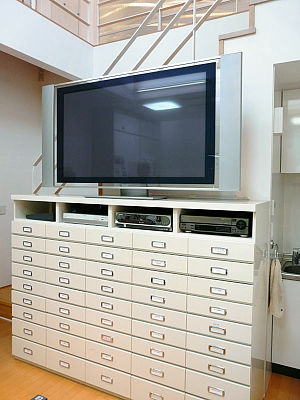 Bookshelf containing materials etc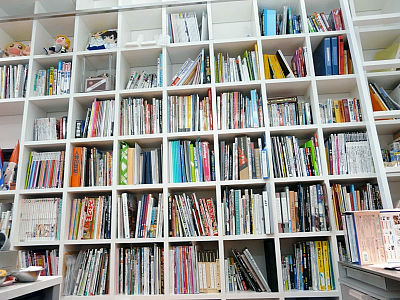 There is a shelf near the ceiling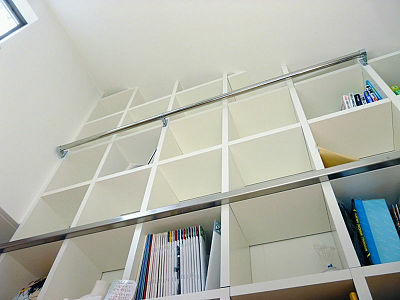 If you look closely, Dharma of movie hit prayer.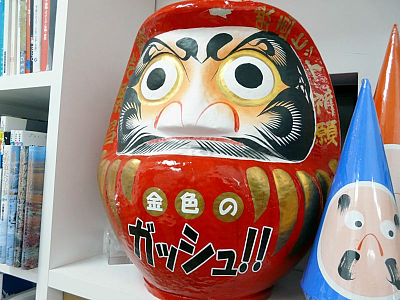 Scanner, copy machine, etc.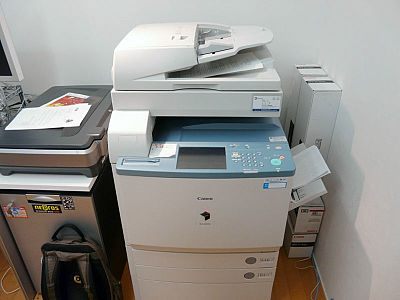 A personal computer used for work. It seems to be updating blogs from here as well.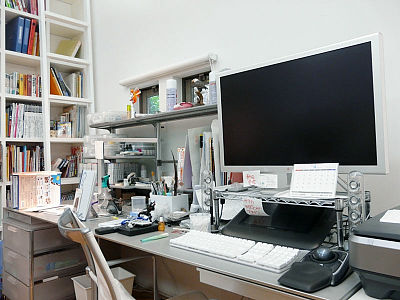 This is a workbench combined with the picture board. Since there was no good one on the base, there were not any good ones, so we specified the angle and cut the wood and made it. By attaching an angle, it is possible to keep the original and the line of sight parallel at a natural angle, reducing the burden on the body.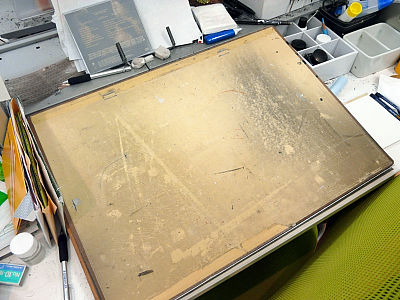 There is something like a small, elongated steel plate in the direction of the table, and it is a little above the drawing board. Therefore, here just one sheet of manuscript's paper caught and it does not fall down. There are various contrivances to draw manga everywhere.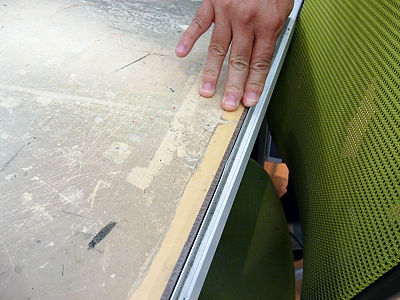 For sitting and working all the time, everyone uses something that the chair is better and the burden on the body is lighter.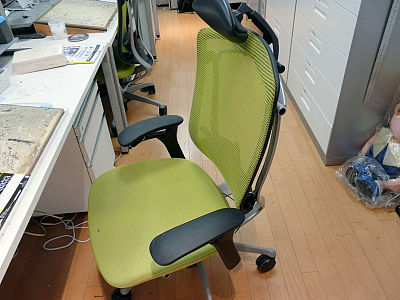 G:
In the case of "golden gash !!", could you tell me what kind of procedure you will go through until it is actually completed?

Thunder phrase:
First we will start with a meeting. Have the editor in charge listen to what I am thinking about, and there is a case where the editor says "I can go or not" or talk from the editor. It is like "I'm goin 'up like this?"

G:
Is it like a proposal?

Thunder phrase:
That's right. I will incorporate it as a really good opinion. In other words, it will not have to release your own story, so the lifespan as a writer will be long. However, like the editor in charge of the fourth generation who also wrote in the statement, there are times when it goes to the worse direction more and more as being pushed for a while. With such a feeling, while meeting at about 18 pages, roughly this time it finishes this time and decided with this feeling, afterwards holding a note with my family and starting from 7 o'clock or 8 o'clock in the evening until the next morning While eating about 2 meals in a casual way, if done successfully it will be completed in 2 days, when it is completed, it will be sent to the editorial department by fax, and if editor watches "OK", it will start drawing. I will send it until I get "OK" by fax again when I fix it. So we can create something like "name", so call the assistant and draw it on manga manuscript while watching the name.

G:
I see. As well as other storytellers' comic story, "Famous in my family ..." comes out, but why is it family-friendly?

Thunder phrase:
After all, because there is "Friedlink" (laugh)

G:
(Lol)

Thunder phrase:
There are many temptations when drawing at home. Because there is television, comics, computer, disinteresting or because there is something other than work, so it's supposed to make a break for a bit of break. Families can concentrate because there is only it. Also, it is quite a red one, but because there are people's eyes, what is it, if it's your own space it will be selfish with your own selfishness, but you can do well if there are people around you.

G:
Do you feel that there is moderate tension?

Thunder phrase:
That's right. Because of such reasons, I think that family stories are also loved by other cartoonists.

G:
I see, it is very convincing. Also, I had a story saying using the assistant earlier, but how many people do you use for maximum?

Thunder phrase:
Maximum of 5 people. About four people, when I was really busy I invited one help and I was doing it with five people. For most people, it's OK with four people.

G:
Which criterion would you choose for assistant?

Thunder phrase:
First of all it is human nature. I am happy to be able to greet us normally. Then it is not good skill or minimum work that you can not work, so let's do some finishing with a solid line, a concentration line, a white line, a tone or the like to see a certain speed. Because it will not be in time for weekly if you do it slowly with easy work. If you exceed a certain line you hire. Also, I can not use a picture of a rookie unless I repair it. This is the place like this, so I fixed it like this, it will be getting better and better as I fix various backgrounds and so on, but if there is not speed there, it will be difficult to raise. So it is important to some extent humanity and speed.

G:
Is there a day that you can rest for a week if it is a weekly publication?

Thunder phrase:
If the name goes well it will rest (laugh)

G:
In other words, I can rest if my name can be done quickly, and it gets tight if I can not do it.

Thunder phrase:
That's right. Names are all obvious after all. Drawing time hardly changes. Because it is decided on page 18, since there are about 4 assistants and it is well-balanced. If the picture becomes too much crowded, it will be possible to do a bit of pace distribution as a piece that draws a background there to some extent, so it can be a bit of a pace distribution ... but there are still times when it is easy and difficult. When there are a lot of characters, it will not end at all, as it is only Gash and Kiyomori when it is only daily scenes, there are times when it is really easy (lol)

■ Causes that resulted in this case

G:
Normally I can work smoothly as I was talking about until now, but when was Mr. Thunder Thunder when was it able to work well until about the time?

Thunder phrase:
I was on track until my 3rd responsible office. There were various kinds of statements written in the statement even if it was going well. My first responsible officer worked hard although my mouth was bad. I became the 2 nd senior official, and from around it was told that "he is a shit", "that man is a man he can do", but he said that he is still young then There are also, really the other party is non-cooperative ... When it is time for a meeting to feel like "a tone" it seems like "if you do it on your own?" Because I am young, I do not open my mind even though I think that I should make friends and talk to them a lot. There were occasions when I sometimes pushed with force. When such things are repeated and escalated, I finally get angry from here and start talking with a tense voice saying "Let's talk once" "No, that's you, I'm sorry, please spit it all out on the phone" When. When saying "Please come to my house because it's okay", "No please, please spit everything by phone, please tell me anyway." From there I became quite cooperative.

G:
Oh, I see. Then I said a little better.

Thunder phrase:
That's right. After all I have to hit my emotions .... Since it came to be a good idea from there, it seems that this kind of thing is something like "This editing can be done" as others said. Even when it became the 3rd generation, the late arrival became more and more regular, and one day, I said, "Please, come over for a moment". "Please let the assistants go over", I called in another room and scolded me, but after all I was licking and licking ....

G:
When being licked, you can understand by attitude or the like already?

Thunder phrase:
I do not hear it, it looks like "Yes yes it is." After all, it will not be healed even after late. When I yell at the bottom of my heart with the feeling like 'Why do this kind of thing' in a way that makes me really angry clearly, my complexion changes as I see it, and this is really bad, it is transmitted to the other party I guess. After that it corrects properly. Or, I do not know until I say it.

G:
Approximately, how long did you endure until Momonori Thunder got angry?

Thunder phrase:
How long ... I do not remember firmly, but from about half a year to about a year ....

G:
It is long.

Thunder phrase:
As I thought it would be tolerable or not, but when the second generation was animated, "Since I am a young buddy, I wonder if I am taking such a strange attitude only for myself, There is also a slight sense of crisis that 'I wonder if you are doing rudeness not just for yourself but also for people on anime company' in the same way ... ".

G:
Oh, I feel a sense of crisis that I am doing not only for myself but also for others.

Thunder phrase:
Because the habit of being late gradually came out around 3 months or around when it was the third generation.

G:
Were you firm on the first week or the second week?

Thunder phrase:
Yes, I was firm, at first. However, perhaps it might be that I was measured for myself as my first companion ... but it has changed gradually .... It also got mad firmly, and then apologized if it was late, "I am sorry",. Fourth generation ... Well, yeah, what you say, yeah, it was useless from the beginning ....

G:
Hahaha ....

Thunder phrase:
I also wrote it in the statement, but that person has been selling quarrels from the beginning to the end.

G:
It is rare, is not it an attitude to sell a fight from the beginning?

Thunder phrase:
After all it broke the hand bone with stress and we talked about it afterwards to discuss it thoroughly. Even so, immediately after that the intimidating attitude did not change, but from that point it gradually became good friends. In the fourth generation too, the last person can do it properly, or it became an editing that can do a solid work. But, the responsibility will be changed every time around that time.

G:
That is, when you are looking at the current flow. It is changing like an ordinary company personnel change, is not it, this. It is a feeling that it will suddenly change without any premonition when you change.

Thunder phrase:
That's right.

G:
Did you say that reason for replacement editing in charge?

Thunder phrase:
"It will be a bit of a change" or so. What I mean usually, I do think that it will be replaced if my business does not fit well, but I am finally getting along and it has changed since I finally got to work normally Is not it?

G:
It is still understood if it is going to change gradually, but it is getting better, but it is very difficult to understand that "to replace".

Thunder phrase:
This may be my own speculation, but in the end, the editor-in chief may want to let the work (manga artists) work a lot. I can sell magazines if I can color. I heard what you say properly, let me hear what you say, bringing out color, you can listen to the instructions properly Edit editing is probably a good editing for the editor. Still I will refuse myself if the schedule is tight. Conversely, even if it is tight, the other side will care about your body and think if you do it like "I can manage it, I think it is impossible". I do not say 100% as expected, but I think I will accept it with a probability of 70 to 80%. But there are occasions when it is troubling to push back with a horrible thing to say nothing at all. Third generation, fourth generation people have heard my schedule for some reasons since somehow changed ... I guess I could finally build up relationships so far and understand each other's feelings It will be replaced at times.

G:
It is a bud.

Thunder phrase:
Perhaps it may be transmitted as if "Raikkonishi is an angry manga artist". So it may be that the editor also comes to feel like I do not hear it saying that I do not do it firmly from the beginning, but do I need to sell a fight from the beginning ...? I was squatting when I was fifth generation (bitter smile)

G:
Hahaha ....

Thunder phrase:
Until the 4th generation, I was working from myself so that my job would go smoothly, such as "My hobbies are traveling" or somehow getting along as they get along well somehow, if the other side is in a bad mood, 5 At the time of generations, "Oh, already better, ...". If I could endure it for another year, I made walls like I feel like I can leave this editorial department. Regarding the last person in charge, I may have had something a little bad, but as a job I was doing seriously, as myself.

G:
When reading the statement, about the fifth generation 'Among them, when the conversation is over, the phone cuts it so that it hits the receiver so that you can understand it"Although there are such things as being educated at employees or" I can not do it "as learning or thinking that it is common sense in some sense ....

Thunder phrase:
It is a fine place to say so, sort of, if you sell a fight outright selling a fight, is it a problem, so I wonder if you do it in such a detailed place. As I was talking about this in a very small place, I did not say anything because I did not like being told like a stupid thing in a fine place, but as I already know the receiver Since it cuts with a catch, the last person pressed the button soon after the conversation was over. I mean to shut down the line all the time. It is already stress ... I think that I will stop getting angry now, no matter how much the other side is taking a strange attitude it is in vain to opponent. Every time I see a scratch on this hand, I try to keep a distance away so that I can not accumulate stress anyway.

G:
I was frustrated by stress too in the statement "I hit the desk exactly and the fist bone broke through my right hand skinAlthough there was a description like "I was describing the stories I've ever talked about, is Thunder Shigeru Tanaka who is saving a lot of stress ...? I feel like I have a long time to endure ....

Thunder phrase:
That's right, I am patient enough. When consulting with various people, it is said that "You can spit from around the usual days", but it is also said that it is "angry manga artist" or "scary cartoonist" .... Since after all is a rookie, since it is a newcomer of the first weekly serialization, after all, you probably have a desire to have to listen to what you tell themselves completely ... ne. As a matter of course ... Yeah, that was really funny ....

G:
When did you notice "Shogakkan lost manuscript" that is the issue of the trial this time? It is a feeling that I realized only when I was leaving Shogakkan when I was reading a complaint etc.

Thunder phrase:
That is my first time. Perhaps the editor would have noticed that "that manuscript should have been lost". After all, I was worried when I saw how to edit the fifth generation.

G:
What do you say you have become concerned about?

Thunder phrase:
If you point out the part that you misprinted, you are getting angry or taking such an attitude, or if you see a figure that tries to abandon your work if possible, you really become uneasy, are you managing well? When…. And, at the end of November 2007 when I passed the last manuscript on the end of the series at Sunday, please return all the manuscripts passed to it. Black and white manuscripts will return in about six months when comics come out. It surely returns regularly, is not it? However, since the color manuscript is advertisement and secondary use, tertiary use, it was deposited with people in Shogakkan. That's why all the color manuscripts were in Shogakkan Keita, not on hand. Then you get the worst expectation and "There are missing manuscripts", ... ....

G:
That is what it is written in the statement etc. But it is a funny story. I actually had experience in editing magazines, but when I handed out such manuscripts such as "picture", "illustration" etc. to the design office etc., it was scanned by the scanner and converted into data, It is what comes back. Even when doing secondary use or tertiary use, it should be normal to use the scanned data already. That's why it's normal to put back all the data in the printing laboratory at the shortest, as it is "to return it in half a year even if it is a monochrome manuscript." Even if you buy a document without returning it, there is a possibility that the data may be lost for some reason, so it is normal to keep the original manuscript carefully. With that, I think that the system of that Shogakukan is strange. Shogakkan as well as data should have it. That means that it is normal to return it at the stage of data conversion so ... It may be that ordinary manga industry does not return immediately, but other publications Well, I guess it will not be possible.
■ To what extent does editing in charge involve manga stories?

G:
It is told that truthfully on the Internet etc. "The editor in charge is making a story and putting out a draft and participating in the story", but such things are actually done normally Is it?

Thunder phrase:
I do not know if it is weekly Sunday. I have heard that magazines are involved. In your own time, you made it for me yourself. The first person in charge told me such things as "Do you want to release these kinds of characters next?" But that kind of story is about the same thing as a "seed" really. I left everything to myself, and I was thinking about the character of the character and the story on my own.

G:
Then there was something to come up with a story plan or something.

Thunder phrase:
Yes. There was something to say a little, reading the name. Also, that ... ... What did you read Gouch ...?

G:
I'm reading it all!

Thunder phrase:
Oh, thank you! ! So, was there a stone edition? Advice like that "Do not you put out little by little from now?" Is the first responsible official. At first I was thinking about "the battle of 1000 demons", but my responsible forced me to decide to "100". I do not know if I can do it, I feel like it. However, when it comes to "I want to prolong the story and prolong the story" when it comes to suddenly that "a demon of 1000 years ago is left" suddenly comes out, I do not keep hints for a while from now What? It was a person who could say that.

G:
It is a rather "idea" feeling.

Thunder phrase:
It seems so. Besides, it is still good, so you can do it properly. The idea came out properly until the 3rd generation. But, the story was all I thought.

G:
In a sense, it is an ideal relationship.

Thunder phrase:
But I do not know if I was ordered to postpone at the time of my 4th responsible office ....

G:
Oh, forcibly, I guess ...

Thunder phrase:
I declined not to use the idea of ​​prolonged though ... No matter how many times I simulated in the head, I did not use ah, that popularity would just fall.

G:
This is impossible.

Thunder phrase:
Well Oh well I usually go forward with a story like what I am doing, but it is a person who always comes with the feeling of pushing the idea over there ...

G:
Do you say something to say an idea just for prolongation?

Thunder phrase:
That's right. If you do not put in ideas, you will be in a bad mood .... So when I broke my hand and noticed various things afterwards, it was when Zeon came out, the word said in charge was "Zakuruga spells are hands out, is not it?" "No, Gush is out of the mouth and Zeon comes out of his hands, both Gasch and Zeon (Zakelga itself) are the same, because it is the same lightning-related spell.Zeelga If you are not saying that it is a spell with the same ranking "even if you read it" is not it! At that time, "Oh, yeah, I thought that this is why you struggled with strange ideas and had trouble without getting in touch."

G:
In other words, it is the moment that you know that the responsible editor has not read the manga of the manga artist in charge.

Thunder phrase:
There are various things ... ....

■ Editor of "Old" and Editor of "Now"

G:
From the assistant era, I think I've been watching various edits all the time, but when I compare edits from an era of the past with editors from the era of the current era, it seems that it has gradually deteriorated somewhat How is it? In which area do you feel a clear difference?

Thunder phrase:
Well, again, it is the fourth generation. I am manageable if I get late. But, "My fax at home is broken", "FAX is still broken" or obviously abandoned work ... I thought it was somewhat funny after all. When returning the manga manuscript I brought it properly by hand until the 3 rd generation. By not saying that you do not want to blame the shipping company when lost. I guess it is from the 4th generation ... Yeah, from the fifth generation, I definitely mailed it outright. I thought like "Is it really good, is this OK?". In other words, the editor never brings the manuscript directly by hand ceased to exist. That is deterioration. When I was fifth generation, I misunderstood the misprint, but I just thought that 'I can not use it ah'.

G:
In terms of mailing, it is not posting a route or such type of mailing, in short, is ordinary mail?

Thunder phrase:
It is takkyubin (home delivery service) as usual. It was Takkyubin after I knew that the manuscript was lost. Oh no more ... Oh, because I am already losing when I get angry .... Because I just lose myself because I get angry ....

■ What is going on about "right hand" where a bone has pierced through the skin after hitting a desk?

G:
Um, I read the statement, "I beat the desk exactly and my fist bone broke through my right hand skin", but is it okay now?

Thunder phrase:
The hand is okay! It is already okay, scars remain ....

This is the right hand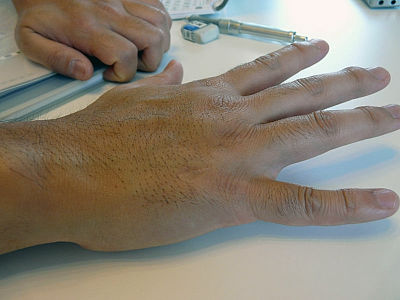 Expanding the scar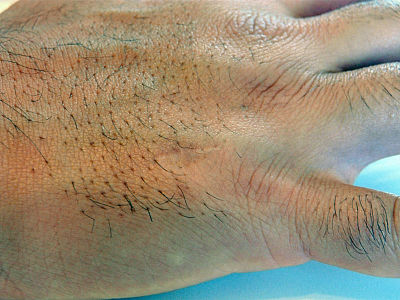 ■ Thunder Thunder's Thinking "Ideal Editor" Statue

G:
I've been watching many of those editors, unfortunately I changed a lot, but what kind of thing do you think is the "ideal editor" for cartoonists?

Thunder phrase:
Well, it is a person who will make a story together after all. I am happy that I love my manga. As long as I love my manga and reading it, after all I do not see any irrelevant idea. Ideas that you know to love, for example, it would be more interesting if this character does something like this. I am happy with the editor who has the idea to use the story. After all, the idea of ​​editing without love does not turn well if it thinks about it, and only stress accumulates even if making a work. Strictly speaking, furthermore, I would like you to do something like "I will go to the interview as this time is the stage this time," or "I will search useful literature and materials at this time." Or, the old editor was doing it ... right?

G:
I often hear it, that is.

Thunder phrase:
But now when I ask for such things, I will obviously have a bad face, so, my man-in-the-man comic artist already said "I will never ask you because I do not want to ask because I will ask you." That's it. After that, if you issue "repair", I want responsibility and I want a word like "Please contact me at any time". Because I do not want to make too much effort for editorial person too, FAX or something is flowing around time when editing properly happens. I do not put any phone calls that would start off at midnight.

G:
Well, the editor's person will not have any materials or anything ...?

Thunder phrase:
Well, you do not do it at all. In other words, in the words I told the first generation, "Because I think that only Gush will do without coverage." "That's what it is ... ..." I thought. I told you so in your nose. Although saying that person, when he was another manga, he went to the company of the ride coming out to the manga and interviewed, and that was well done. However, it was not done against Gouch ....

G:
Edited man who was in charge until now was not exclusive to "golden gash !!"?

Thunder phrase:
I had more than one from the first generation to the third generation. Fourth generation and fifth generation were exclusive. Also, I think that there are the same number of editorial members in the Sunday editorial department as the cartoonist serialized. If so, why let one editor in charge of multiple cartoonists, there are editors who can not use it. Editors who have no responsibility at all are truly comfortable. "Why do you have an editor who does not have a charge?" "No, he can not leave it because he is ridiculous and takes a rudely stubborn attitude."

G:
I think that it will be fired normally if it is useless ....

Thunder phrase:
Is not it ... why ... is there some reason?

G:
It is a bud.

Thunder phrase:
Also, since the person in charge of the first generation was too bad, I had consulted with the then editor in chief. Then "No, I think how much he is working, I really do not work at the current editorial department, I think how useful he is he is because he is doing his best, somehow, Please do it. "

G:
I see. I also mentioned it in the statement, but although my mouth is bad, I am doing my job properly.

Thunder phrase:
That's right. Even now it seems that there are really many editors who do not have a charge and can not have them.

G:
I know if it deals with multiple authors because there are not enough people in the editing, but for that reason ... It is a little to keep edits that are not usable ....

Thunder phrase:
The upper person was also really in trouble. I will not ask you what to say. When I say such a thing, it may be told that "No, it is not such a thing", but the cry of the then editor-in chief got stained ... really.

To Mamo of a cartoonist who is interested in commercial magazine debut

G:
As I mentioned earlier, since I had a series, editors took out the story or provided an idea, I heard about that, but this time as a manga artist who is interested in commercial magazine debut as a cartoonist, in the case of such a position How much advice do you have about the story from the editor?

Thunder phrase:
In my case it was two words, three words. Do not change this setting? And. Rather than saying out to the story, is not it that you do not know whether to read newcomers in magazines or not? That's why I try to make this character more attractive, or to have a weird habit. Sometimes I will tell you the equation. The equation is not very good, but for newcomers who can not talk at all, once it is good to let them remember the equation once. Here, like this, if there is an enemy here, if you stretch this hint before this, it will be one story.

G:
Oh, it sounds like I'm making a story.

Thunder phrase:
That's right. So, there is something like that to try a little bit, but you can not debut endlessly even if you do it. Manga with truly equations alone is boring. Is not it readable after reading it? It is becoming an individual talent to break down it. Giving light to the character, setting up a special trap, leaving the equation after each writer's talent.

G:
It is like a basic application.

Thunder phrase:
That's right. So it was common sense to make fun of any reckless opinion from the editor as a newcomer. Conversely, when saying the monthly serialization and also when talking about a conversation, when asked "Do you want to do next thing, Mr. Editor?" "Next, do not give a female doctor? Is it a so-called female doctor?" "... Yes" "Well, thank you!" This is said to be a "30-second meeting", which is very impressive. After all it is such a newcomer. After all, even after myself, even after being told what to say, I will bring them all by myself, so if you do not mind doing that, you are being repaired. Well then this time, I am going to startle with the editing, I feel like I'm like. Even at this stage there are many young children who screams, but for the moment I myself stepped hard at that stage and made something interesting and brought it.

■ To those who are now thinking "to be editing manga magazines!"

G:
Some people who join the publishing company like manga and there are some people who want to join in hoping to make good manga but please give advice to those people.

Thunder phrase:
Please love manga that I am in charge! If you read it firmly, the way you give advice will also appear naturally. On the contrary, if you do not read it, advice and how to go in unlikely direction. It is important to read various works, read various documents, knowledge as an editor, a box of knowledge, or expand the bottom, but if you have a charge, the manga artist Please read his work. I think that everything will start then.

■ "Lost manga manuscript" is not a special case of this time only

G:
If an editor loses manuscripts of a manga artist, if it is a general enterprise, it is the same as losing important things related to the company's own products, so it is sufficiently funny not only as an editor but also as a general citizen It is a level, is it such a thing in fact, is it common? Also, will you e-mail "I had such a thing (lost manuscript)" until now?

Thunder phrase:
Mail has come quite a lot from a manga artist who left Shogakkan.

G:
Is it the content that the manuscript was lost with similar contents?

Thunder phrase:
That's right. "I also understand the contents of the statement very well because I received the same kind of responses", "I also understand your feelings because I also experienced the same experience", and then "I do not have a whole story of the manuscript I was lost "or" I was lost manuscript "as well.

G:
Is not it one or two, is there more feeling coming?

Thunder phrase:
I agree. But ten is not come. I confess to my own confession. There are also veteran people, but many who are still crying are young newcomers.

G:
Try to read ...

Thunder phrase:
That's right. Or, I had a serial series, but I lost my manuscripts. Nevertheless I will not apologize, I will not compensate.

G:
It is a bit difficult to imagine ....

■ Feelings when I put out my manuscript on the net auction

G:
In this case I have heard that I bought it as a "charity auction" of the net auction in order to bring out the amount in case of appealing, but what kind of feeling did it actually appear in the auction? It costs me a price on my manuscript in front of me ....

Thunder phrase:
It's already hallucinating! Yeah! Besides, since all the auctions try to bid off at a low price, does not it rise quite well? As the deadline approaches, prices gradually come up and go up, but I'm not feeling anxious anymore, I thought "My picture is still around 5000 yen ...?", Yakimoki Yakimoki I was (laugh)

G:
It was a big concern (laugh)

Thunder phrase:
Because it is a charity, it does not become my own money, but after all it is that you can add a price to your picture! I did not want to taste if possible! (Bitter smile)

G:
I see, I see. (Laugh)

Thunder phrase:
I tried hard because I did not want to taste if possible! !

G:
Is it a complicated feeling around that?

Thunder phrase:
Well, it felt somewhat complicated.

G:
In the end it is a wake with a price properly, but how was your mood when you bid successfully at the end?

Thunder phrase:
I was relieved! When I put out the first picture, I was relieved about when it exceeded 200,000 yen.

G:
Is it the line that "I want you to exceed this line around!" In your mind?

Thunder phrase:
If you go beyond here it is OK. After all, when it was made a successful bid for 350,000 yen, "Oh, I'm happy!"

G:
That's why I went above the line I was thinking.

■ About the blog "Thunder phrase Makoto today these days."

G:
The blog currently open, "These days Makoto Raiko today.What was recently made, did you make it based on this trial?

Thunder phrase:
It was an auction premise, rather than a trial premise.

G:
It is a thing to prove that the net auction is on the premise and that you are the person you are listing properly.

Thunder phrase:
To do damages lawsuits is decided at the stage when price is given (from Shogakkan), and it considers quite a lot with Professor Ono of lawyer, after all, because the lawsuit is waiting after the auction, it is called web sunday , I thought myself that it would be slightly different to announce auction using Sunday's official website. So I started blogging soon and tried to announce auction information there. At that time, the number of accesses per day was about 1000. When I think about the first edition of 400,000 copies in my comics, it was a very small number of visitors, but I thought it was okay. And the result of the auction comes out, it is the feeling.

G:
I see. Although it was reported by each press to have filed a lawsuit, did the number of blog accesses rise?

Thunder phrase:
It increased considerably. Today, tens of thousands, perhaps between 30,000 and 40,000. When I became a topic I went 100 thousand.

G:
I see. Now it is changing every day with 30,000 to 40,000 access numbers.

Thunder phrase:
It seems so.

■ The idea of ​​trying to put an "agent" between editors

G:
Since manga artists and editors originally have different positions, it has long been the idea to put "agents (agents for various negotiations)" in between, how do you think about such ideas? What?

Thunder phrase:
I think that today's Japanese manga world is difficult if it is not quite a strong person. After all I do not know the actual skill unless I actually serialize it, and on the contrary it may start doing a job with a serial wave and do something like an agent should do a good job. But what is that, what kind of things can people do with manga knowledge and how much they manage manga? I think that there is a problem of how to examine the market price in such a way that the manuscript's manuscript fee is not told otherwise. However, I think that people will come out somewhere. Conversely, I came "I'm doing an agent, if you do not mind, please look into my work." He is a person who is negotiating agents, management and so on with novelists and designers and so on. As I expected, I am a little weak for that kind of things, so it's hard to put out my hands, but this time I was told to various people that the manuscript fee is too low. Since I had comics, I got royalties, but I think that it is better to raise the manuscript fee after all considering the newcomers.

G:
Maybe there may be things like agents in the future?

Thunder phrase:
I think that it will be in a flash if it gets fixed. Just think that it is difficult to establish it. Otherwise, I hope the publisher does not dislike it. It seems like a young buddy adds such an agent and it is cheeky "and it will end as it is dried ....

About next work

G:
Finally, can you give me a hint about next time?

Thunder phrase:
Actually I'd really like to make everything secret, but I guess it's like leaving the battle a bit. But, in a sense, it is a battle ... Well, it was a little "Rock soulIt is a feeling that it is included. Is not it a musical one, is it called a cry over a so-called hold down human, is it resistance, is ambiguous and I am sorry. I think that I do not feel that it is so brand new because it is quite out there as a genre, but I think that I want to do a bit well in Japan now, and several comic strips have already been taken out .

G:
Although it exists as a genre, does it feel like it?

Thunder phrase:
Yes Yes. However, as the character has already been decided and the moving character is already in my head, I am not as impatient as myself. There is something that this character can draw at any time. It might make all the pots depending on discussion, but I feel that what I want to draw is decided in such a form. I am thinking if I can go with this because the character is made.

G:
When can we make such a manga concept?

Thunder phrase:
It is when you are drawing manga. It comes to mind when I draw a picture of manga, when I am walking around the city, when I am walking, when I am on a bike, or when I suddenly happen. After that, I was watching TV programs, and in the scene of a TV that is not a scene of a gag, "I wonder if I will do something like this here". Even if you are living a normal life, watching TV or walking, it's fun to interpret it because the structure in your head is structured like a neta making or it is structured to catch it in an interesting wind eventually It is possible to go. Among them, if something that I thought as "I can go this way" remained strongly, I repeatedly rolled over the head with the feeling that I would repeatedly spread the world repeatedly, this character had always been I feel like I can move it, I can decide which story to go on.

G:
I have been going for boys' magazines up to now, but will there be anything to draw for the older age groups and adults in the future?

Thunder phrase:
There may be. I do not know if I can think of what I'm thinking next as a juvenile magazine. I wonder if it is rather close to a youth magazine. However, it seems that it will be fun even if children read it.

G:
I expected to have! Well then, thank you for this time.

At the end I was sent off with a smile.