"Gun dream LastOrder" due to dialogue expression restriction, transferred from Shueisha Ultra Jump to Kodansha Evening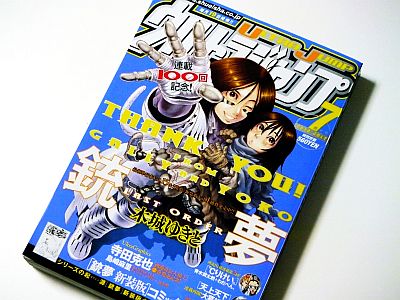 According to the story from the reader, according to the sequel position of "gun dream", Shueisha'sUltra JumpIn the series "Gun dream LastOrderThe possibility of transferring to the Kodansha Evening is emerging. Moreover, the cause is "Contents of the dialogue want to be corrected because there is a problem in part of the dialogue" about 1 volume of "gun dream / new version", "craziness"Because the word is reminiscent of schizophrenia, I want another word to be fixed". Other thanPsychoIt seems to be useless.

According to the official blog of Mr. Yuki Kijo, the author, as of June 14, "We are worried, we raised the 100th gun dream LO serial series earlier, Urujan will come on schedule. The cover is Garry & Yoko, but my heart is Zudaboro, contrary to glamorous on the page, there is no GLO for the 101st time, "the above image is the cover. In addition, the latest August 18 entry includes "If the final settlement plan does not go through, the gun dream LO will transfer to the evening and serialize it. About the next week, it seems that the results of the negotiations of Urdjan Editorial department and the Legal Department are about to appear, so the results are pendingIt seems that it has come to a considerably stagnant stage by saying that.

The reason for why this happened is as follows.
It is from here that the beginning of things became clear.

New · Kimagure Yukitabata: Report to readers (1)

The mail from the charge is as follows and it is said that the full text has been released because it is understood.


Dear Yukito Kijashiro

Good work.
I will send you the story you talked on yesterday.
We discussed in the editorial department about the total volume of 7 new volume editions.
Let me discuss about the following three places.

1: Complete version 1 / P.33 / Deckman's speech
"Was the criminal's woman a mad mutant (mutant)?"

2: complete version 4 / P.161 / speech of Zapan
"I murdered you and killed you ... I got crazy I turned into a monster
It's a dream to revenge everything ... "

3: Complete version 3 / P.324 / Hunter Warrior's speech
"Dead! Psycho"

The reasons for each and the proposal of paraphrasing are as follows.


1: "Insanity" is a mental disorder including schizophrenia (former schizophrenia)
It is a word that ties strongly. The "crazy" person is violent and dangerous
Because it is avoiding the present expression which is said to receive way of saying.

From legal affairs there was also a proposal to "remove one sentence of" crazy "
Because the nuance was changed at all, we negotiated another proposal.
"Woman of the criminal was a runaway mutation?"
"Is the woman from the criminal a mutation that lost insane?"
"Woman of the criminal was a mutation that became crazy?"

Considering the nuance of the speech here, "I ran out of control" "I lost my sanity"
I think that it is relatively close.


2: It is the same as the reason for "1".

The proposed consultation is as follows.
"I murdered you for mistake ... I lost sanity became a monster
It's a dream to revenge everything ... "
"I murdered you, I killed you ... I've become a monster,
It's a dream to revenge everything ... "
"I killed you by mistake ... I got strange I became a monster
It's a dream to revenge everything ... "

Considering the situation in which Zapan is placed, "losing ordinary" and "losing sanity"
I thought it was relatively close.


3: "psychopath" means "psychopathy", "empathy and association with others"
It is thought not to show at all, and manipulate others for himself,
Individuals who do antisocial behavior "and so on.

It is included in three major categories of mental disorders "mental illness" "mental disorder" "psychosis"
It is regarded as an unreasonable obstacle that neither medicinal therapy nor psychotherapy is accepted.
Therefore, the expression psychopath = a horrible existence that you do not know what to do
I think that should be avoided.

The proposed consultation is as follows.
"Dead! Hentai fucking"
"Dead! Kuzi"
"Die! You fucker"

Both are difficult paraphrasing nuances, but as suggestions
Please read it carefully.


I'm sorry to cause you trouble including the schedule.
Tonight we will contact you again.
Thank you.


Shueisha UJ editorial department Ryo Inoue
And the continuation will be made public, and the painful situation of the author will be written naked.

New · Kimagure Yukitabata: Report to readers (2)


However, a question arises.
Why "crazy" "madness" is O.K and "madness" is not good.
I bumped into question the question, I was told something confusingly but I did not understand well.
I do not care to write here because it seems to be too amusing.
The editor-in-chief is inevitable to clarify oneself that it is an incoherent explanation.

And the important point is that if I do not agree to modify these three lines of speech, it will stop publishing the new version by exercising the right of the publisher "issue right" It is thing.
Originally it stopped a little and we are discussing it over time, but this time we do not have that time.
It is said that it will be out of print unless you decide within 24 hours and do not complete it.

This time I am working on serializing work.
Moreover, in the series 100th series, I drew a UJ cover illustration and I can not rest absolutely.
But there is no time to think about it.

According to the result, I agreed to the correction of 3 serifs.
In exchange for the promise of "I will not add more fixes later on".
And I promised to raise the manuscript of the gun dream LO 100 th time up to the end of the deadline.
I raise the manuscript by the deadline, I keep promises, because it is my professional conscience that it is always professing.

However, even after agreeing to fix it continues day to day troubled, now I regret it ....
Whether the correction request should have been resolutely resolved again.
As a result, even if publication of a new version was discontinued, even though it would have dropped the gunmen LO 100 th eyes, he should have said so.
I prioritized to protect the due dates as a professional, but it was not as pure as an expressionist.
If I did not keep expressions of my work, who on earth could protect it?
.........
But, if you had made a choice to drop a new edition or gunmen LO 100th without agreeing to the revision, I think I regretted it.
In other words, whichever you chose, I was going to regret it.
.........

In conclusion, the word "insanity" this time and the word "madness" which was regarded as O. K are the difference of one character of kanji.
Is there a letter "departure" attached?
I asked for editing in charge by telephone.
"The fact that bringing out such a problem now at this timing is probably because you were also prepared to discontinue the publication of the new version in the worst case and to drop the gun dream LO 100 story?"
I answered YES in charge editing.
In other words, the question "Is there a departure or not?" And "The gun dream LO 100th anniversary and new edition version" are equivalent, same weight.
.........

I will go to Shueisha on 16th and talk to Shueisha.
As I do not have much to talk about, I will report here if there is any movement.
I wrote something like the following in the 100th comment of the serial series to be memorable in such a pinched state.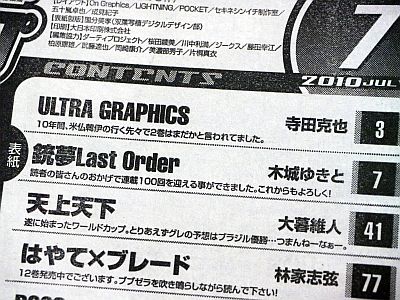 I am crying, considering the hard work of the author at this time.

And the next day on the 16th, on the 17th of June, I went to Shueisha on what I discussed on the blog, but the content was in a sense more shocking.

New · Kimagure Yukitabata: Report to the readers (3) and less


An apology by charge, UJ editor-in-chief and sub-versions, and "explanation" by two people in the Legal Department.
Everything is in accordance with the predicted scenario. It seems like a ceremony.

People in the Legal Department were eloquent indeed when speaking of the history of efforts to eliminate discriminatory terms by Shueisha (this was an interesting story with this ... unless it is an emergency like now).
However, it takes a logical contradiction to take concrete details of the revision of the specific gun dream new version.
I reproached by contradicting points of my opponent several times, but I do not think that the opponent was refereed.
Because this is not a fair discussion from the beginning.
"Conclusion" is already done, it is merely aligning appropriate reasons with it.
Shueisha absolutely does not change the "conclusion" and does not apologize that it was wrong.
And I have already lost.
It has been losing since it responded to the revision of the new version.
That's why all this is a farce. I knew it was a farce, and I knew him to go out with me.
I have to keep my opponent's face up.

At the meeting on 16th, we declared "I will not decide anything today, I will not promise anything," and decided.
So at the moment, I have not decided anything yet at Shueisha whether to keep working as it is or to take other options.
On the blog on June 10 that it is believed that Shueisha got a message from them about these matters, it says that it is exactly the way to exude the truth, which is very painful content.

New · Kimagure Yukitabata: I write a bitches because I regret and can not sleep.

A while ago I wrote something like criticizing Professor Sato of "Bra Yoro", but I will withdraw entirely.
Mr. Sato, you are right. A major publisher is shit.

I knocked down the writer believing with comrade from behind, he did something like stepping on his face with the foot.
I always fight back, but this time I did not have the option to counterattack with both limbs tied up.

Why. There is no need to take such treatment.
Since I entered my favorite game this month, I will raise the monthly series work and raise the cover page of the new version I raised the front cover and the manuscript and raised the cover of Urdan, I kept all deadlines.
Aiming for the commemoration of the 100th GLO in June.
So is this a present from the editorial department?
Is not it so much?
Why is the company's "holding"?
Or is it bad for me? I feel artistic on the goodness (badness) of this timing.
By the way, about Mr. Hidefumi Sato who is the author of "Say hello to Blackjack", there was the following fuss.

Sato Hidefumi, a publisher to the touch! "Bra Yoro" boycott cover illustration - daily Saizo

I wrote about this on April 26 like this.

New · Kimagure Yukitabata: Les etc.

But there is a place I can not agree with Mr. Sato 's argument.
The cover illustration of the comics comes back in the form of royalty even though it is free as mentioned above, and also the picture of the cover of the magazine (I do not know in the Shogakakan but in Urjan) it will be about 200,000 yen galleries I think that I can pay enough if I let you draw ....
* Posted on 28th: ​​If you think carefully, the cover illustrations of the Shogakkan's spirits and Superior will have been drawn by a dedicated illustrator. If so, there is no turning point for manga artists.

I can not sympathize to say that my own book is "another product of another company".
Legally it may be the argument of Dr. Sato's argument, but I think that my book's book is like my own son or daughter.
It is a combination of the author, the assistant, the editor, the work of the designer and the printing company, and of course it is "goods", but it was something I could not do with the power of myself, It is impossible to do with the power of.
Of course, I guess I'd rather say that Internet sales will replace that, of course.
I will not deny net sales, but if Professor Sato can eat it, it is a famous writer who issued a hit work under a major publisher.
(At least if I do the same, the company goes bankruptly.
A completely unknown newcomer debuts on the net, will it make me eat rice?
If you realized the system that many newcomer comicwomen can eat on the net, that is amazing.
However, as soon as my side became involved in trouble, it seems that now it is possible to understand why Mr. Hidefumi Sato who was the author of "Say hello to Blackjack" was wrathed is.

As if to catch up further as if by fans on the bulletin board of the author, instead of the former "gunshot" that was the object of this time's correction, instead of the Ultra Jump that has already been issued, "Gun Dream LastOrder" Volume 1 There is a dialogue "Insanity" on page, "Psycho brother" on page 175 of 2 volumes, is not it strange that the legal department of Shueisha says it? To the story. And this matter can not be handled well by the Ultra Jump Editorial Department, eventually the writer will get furious and on August 3 it will be published on the blog.

New · Kimagure Yukitabata: Report.


The reason why it took a long time until the meeting was a simple doubt in the gun dream BBS that pointed out
> "Insanity" on page 99 of LO 1 volume
> "Psycho Turo" on page 175 of 2 volumes
It seems that it was because we adjusted the matter that there was a line of saying that inside Shueisha company how to do it.

From the conclusion, this is "no problem".
I wonder why the gun dream LO is okay why gun dream new version was not good ...
Editor-in-chief of UJ was exhausting something excuses like unco, but I could not understand it at all.
I said "Please write the reason and send by e-mail", but I have not come yet.
I will stick here when mail arrives.

At the meeting place, I proposed a pledge with penalty to avoid similar troubles from me.
So, from the UJ side I tried to see if there was any idea for reconciliation but there was nothing.

※ below, cry of the heart ※
Although I said "I am sincerity ..." or something ... ... "sincerity" is a monk who lives in relationships in which trust and honor passed.
It will be sincerity sooner to trample trust and justice as garbage.
Really, incompetent gatherings.
Even if it is a problem of expression restriction, it is not streaky that the gunmen newly released edition and the gun dream LO are handled separately.
As for me, the gun dream LO 1, 2 volumes as well as the new edition version make it clearer who said "Please correct it, if it does not go out".
In that case, I will not be willing to respond to the modification, so it will automatically be out of print.
※ It was cry of my heart *

As for me at least I thought that I wanted to draw in Urdjan until ZOTT edition finished ...
My heart got cold. It may be no good.
I will gather and discuss again about two weeks later.
Actually the series after the 100th episode was interrupted and resumption was undecided and declared that "I raise the manuscript properly by the due date, I keep promises, my professional conscience that I always publicly advertise" It can be seen that the hard work and anger of the author who is doing have reached an indispensable level.

And why was not any problem with "Gun Dream Last Order" Volume 1 and Volume 2, but the excuse for the editorial department on August 5th on the double standard of whether it was a problem when the old "Gunm" new version was a problem It was published to.

New · Kimagure Yukitabata: Report 2


I heard from the editorial department of Urujan about the matter that the expression of the gun dream LO 1, 2 volume was passed through, so I will reprint it.
I am taking the consent to reprint here.
It's a bit long, as the contents are not touched.

◆◆◆◆◆◆◆◆◆◆◆◆◆◆◆◆◆◆◆◆◆

Dear Yukito Kijashiro


Good work.
"Gun Dream LO" 1/2 About the point pointed out,
I gathered the view of the editorial department so I will send it.


First of all, as Ultra Jump Editorial Department and Shueisha,
I am not doing word hunting.
So, the words "mad" and "psycho"
It is not to disable it.
In the context of the last, to want to think on a case by case basis.

Based on that, we examined the two points we pointed out.
From the conclusion, it seems like you are asking to change both points
It is judgment that it is not expression.

First point.
LO 1 vol. 99 pages
"Many adults who knew this got crazy ..."
About the expression.
this is,

Many adults get mad ...
Some people become mobs
Some suicide

It is an expression in which three elements are arranged in parallel.
I got crazy knowing that there was a chip instead of the brain.
As a result of crazy, it is not a phrase that converted into a mob or committed suicide,
I judged that there was no problem.

About another point.

LO 2 volume 175 pages
"A bad party ... a cheat master ... survive through a lot of pussy asses
I have built up my current position "
About the expression.

This is not a psycho - guy = murderous demon.
I am not even specifying the other party.

Dialogue asking for correction with the old gun dream "Dead! Psycho"
It is for a specific person called Zapan,
Moreover, Zapan in which mental abnormality has come has committed continuous killing.
People with mental disabilities = amplify the image of those who do not know what to do,
This expression, which can lead to prejudice consciousness for people with mental disorders,
I decided that I should avoid it.

Psychotherapy = expression of psychopath needs to pay close attention,
Regarding the representation of this context, it seems that it is not like asking for changes
I judged.


I will just inform you as soon as possible.
Regarding the items considered during discussion,
We will contact you as soon as possible.
Thank you.



Shueisha UJ editorial department Ryo Inoue

◆◆◆◆◆◆◆◆◆◆◆◆◆◆◆◆◆◆◆◆◆
It should be understood by those who have read the corresponding regulated scene of the former "gun dream" that it is no longer a meaningless understanding level excuse. Since it is necessary in most manga in the first place, it is such a line, so if there is "I would like to think on a case-by-case basis in the context of the last," there should not be any problem in particular. In short, the editorial department tried to finish with the salarymen 's guts because the legal department was saying messy, but I tried to do it, but the author who is the birthplace of manga was not supposed to understand such a thing is.

And on August 18th, the story about transfer was to be made public.

New · Kimagure Yukitabata: Report 3

I went to the Kodansha Evening editorial department on Tuesday 17th.

I talked to the Kodansha head office of Kokuguda for the first time at this moment with the Editor of Kodansha Evening who met several times before and met with the Evening Editor and talked about it.
It is a story about the possibility of transferring all of my gunmen LO and my work.
Although it is a big welcome as an evening, since there are also honors between publishers, it was that I wanted to discuss well with Shueisha and make the problem clearer.

And today (18th), we had a second discussion with Shueisha Urdjan Editorial department.
I withdrew three places which were regarded as problem expression of the gunmen new edition version, apologizing to the Legal Department to me, collecting the new version and returning the modified place to the original "as the final settlement proposal Did.
Urujan Editorial Office said, "I can not promise the result, but I will negotiate with the Legal Department."

If this final settlement goes through, Shueisha and more will be returned and the gunmen LO will resume serialization in Urdjan as before.
If the final settlement plan does not go through, the gun dream LO will transfer to the evening and serialize it.
As it seems that the result of negotiations between Urdan Editorial Department and Legal Department is about to come out next week, it is awaiting report.
It is a very worrisome point as to what kind of conclusion will come out as one fan who has been reading in the series since the first episode of "Gun Dream Last Older" Ultra Jump. Good luck.