"Astonishment of Suzumiya Haruhi" that had long been unknown, partly published in The June / June issue of April 30 release


"The amazement of Suzumiya Haruhi" which was scheduled to be released on June 1, 2007 was postponed due to "various circumstances", then no information was entered at all thereafter, was released on April 30 (Friday)The sneakersIt was revealed that it is scheduled to be partially published in the June 2010 issue.

About two and a half years after the announcement of postponement, various speculations were flying at a time, but finally it can be relieved ...... Maybe.

Details are as below.
Preorder Next issue The sneakers June issue April 30, 2010 (Fri) released Tanigawa Flow × Ito Noizi "Surprise of Suzumiya Haruhi" partly preceded publication. - Light Novel Weekly Report when I Feel

Light Novel Weekly NewsAccording to the sneaker 2010 April issue of the next issue announced in the April issue, "Haruhi Suzumiya Haruhi surprised" to be released in the June issue of a part of the previous issue seems to have been revealed.

"Astonishment of Suzumiya Haruhi" is Tanigawa's light novel "The Melancholy of Haruhi SuzumiyaVolume 10 of Vol. Although originally planned to be released on June 1, 2007,Postponement of release due to various circumstancesAnd it was missing as it was.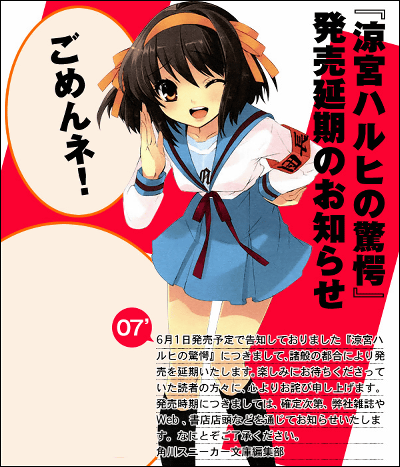 From April to July 2006 "The Melancholy of Haruhi Suzumiya"Was made into an animation and the production of the second period was announced after the end of the broadcast, there is an opinion that" It may be released simultaneously with the broadcasting of the second period "or" the Haruhi related game "Is not it actually written yet?", "I have already written but I am aware of the timing," as well as " There was a situation where fans could only watch over where they were going. This "astonishment" was released on April 1, 2007 "The split of the Haruhi Suzumiya"Since it is in a relationship like a top and bottom winding, we have been waiting for when it will be released, but it seems that it will finally be released.

By the way, "As for the release time of the bunko, the author and the editorial department are working intensely together so that it can be announced in the next issue." I hope it will be easy to decide the publication ... ....