I have heard thoroughly how to make "GANTZ: O" for digital frontier Part 1 · Character edition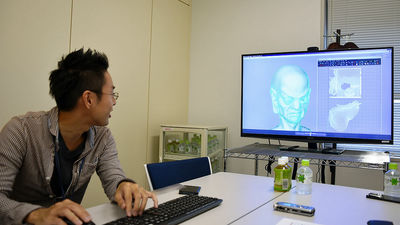 A movie released on Friday, October 14, 2016GANTZ: O"Was made as a full CG animation movie. He was responsible for the production of "Apple Seed", "EX MACHINA Exmakina", "Resident Evil Degeneration", "Biohazard Damnation", "Tekken Brad Bengence 3D" and many known full 3D CG worksDigital Frontieris.

Until now, in relation to "GANTZ: O", it is the original authorHiroya OkuMr.,Yasushi Kawamuradirected by,Sato KeiichiI asked the general manager about the story, but as a total finish, what kind of roles each section played in creating the "GANTZ: O" for the staff who worked on the actual production at the Digital Frontier , I listened to the details thoroughly.

First of allPart 1 · Character editionThat's the story of Naoko Ikeda who was in charge of character making.

Production Manager CG Production Department Toshi Funahashi (hereinafter Funabashi):
First of all, it is from the "Character" section. Basically, it is divided into a main character team, a youkai character team, and a team called a sub character team. Sub is thing about Mob Character etc in general, Mr. Ikeda was in charge of the leader of the youkai part.

GIGAZINE (hereinafter, G):
It is a guy coming out like that mountain.

CG Production Headquarters CG Department Character Artist Naoto Ikeda (Ikeda):
I agree. I am in charge of all youkai, and the most difficult thing is this girls giant.

G:
This is the most complicated and strange one.

Ikeda
This was really hard work.

Director Yasushi Kawamura (Kawamura):
I feel I did not mess up this.

G:
Do not mess up! Is it? When I was looking at the completed one, I was feeling despair correctly, "Wow!", But what was it supposed to do?

Ikeda
I did not fix it with this appearance from the beginning, but after I got through various upgrades from a bad state, I felt that I finally reached this state, the first version was even simpler.

G:
That's right!

Ikeda
Finally it finished in such a state.

Mr. Funabashi, Director Kawamura, Ms. Ikeda. I got an explanation while actually showing the screen like this at the work site.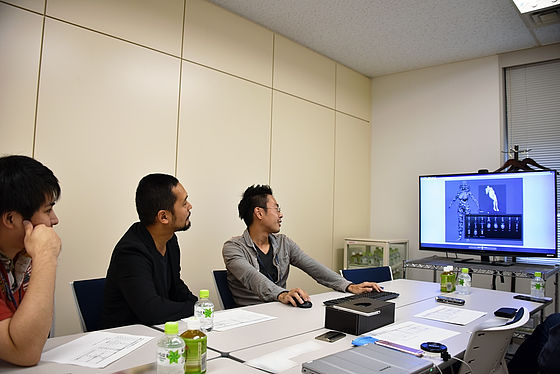 Kawamura:
Do not have the first state or something?

Ikeda
There is not it. No, I do not want to show it (lol)

G:
I do not want to show it! Is it? (Lol)

Ikeda
It's embarrassing. I used it to make thisZBrushis.

Funabashi:
This is funny!

Ikeda
There is a tool called Insert Multimesh in the function of ZBrush, register one body of various woman's body ... ... prepare parts of only this breast.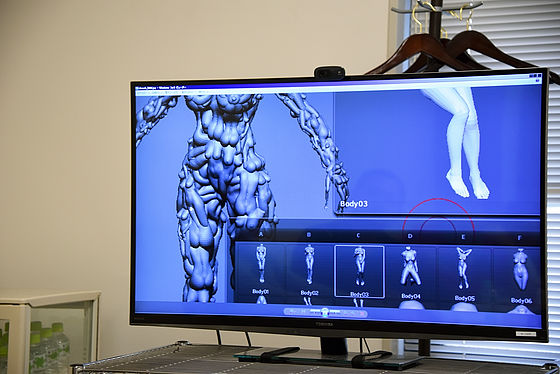 Kawamura:
It means that it will be it when you touch it.

G:
This was made with ZBrush!

Ikeda
That's right.

G:
I did not notice at all ... ....

Ikeda
There is something like a thin stick man in it, and if you drag it with Insert Multimesh 's tool on it, it will behave like a female growing.

G:
This is interesting if you are watching the working screen.

Ikeda
I carefully worked on balancing women's body while paying attention to the balance. Perhaps the most number in the digital and frontier history because there were about 2 million polygons in square poly.

G:
It is a translation to put a female body in the framework, but how long did it take in the period?

Ikeda
Besides this, I have jurisdiction over the entire youkai and I was doing nothing wholly concentrating on it, so the period itself is very long, but I do not know the exact time a bit .

Kawamura:
It is the woman who pulled to the very end. How long has it been OK since I started doing it for the first time.

Ikeda
I do not remember it for a moment, but how long will it be?

G:
If you can not remember with trauma ... ....

Ikeda
It may be that I do not want to remember (laugh)

G:
At this time it was a tough manager.

Kawamura:
This was quite a difficult job, I made it the most persistent.

G:
After all, is this because it is a point of view?

Kawamura:
Well, because "everyone else thinks that the woman does not come out".

G:
I thought from the original that "This is impossible".

Kawamura:
Actually, as I changed the production a little also with manga, I thought that I could not do it halfway.

G:
I see.

Ikeda
At first this pubic hair was growing purely.

Kawamura:
As I saw it strangely worse with different meanings, it became a story to stop it (lol)

G:
There were various versions until here.

Ikeda
That's right.

G:
Is there anything that you remembered for other versions that you no longer have?

Ikeda
In the end, it seems quite disgusting skin texture, it feels pale or has a low saturation, but there was a more healthy skin color version.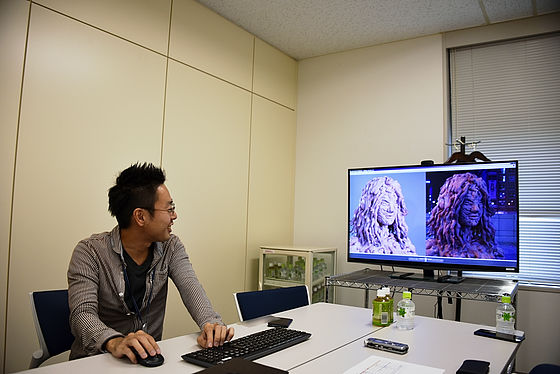 G:
What was the reason why that healthy version was not good?

Kawamura:
Because it was kinda kinda like Kinnikuman eraser.

G:
Oh, I see! (Lol)

Kawamura:
It looks like skinny Kinnikuman eraser is gathered. I thought that this is too difficult for me, is not it?

G:
In short, can not you fix?

Kawamura:
I also felt the image quite blurred.

G:
Does it actually look different from the image?

Kawamura:
I agree. It seems like it looks like a doll if it does not make you feel uncomfortable, or it is difficult to adjust the size.

G:
In the play, I could only see what it was moving, but when I saw it stopped it is very obscure.

Kawamura:
Yes Yes.

Ikeda
It is a feeling that one body is the number of polygons for one character, and that it is accumulated a lot and it is established as one character. It was serious ... ....

Kawamura:
He also loves GANTZ, the placement is roughly like looking at cartoons, looking at manga is "arranging properly" is arranged.

Ikeda
There are such frames perfectly.

G:
Oh, it is an amazing picture that seems to be full of mosaics even if it is publishable.

Ikeda
It is said that the part which is becoming an eye is also made up of human parts properly.

Kawamura:
Regarding such a design, I almost never ordered him.

Ikeda
I did it to like it.

G:
Still this is amazing .... It is a masterpiece. Is this what you could have brought to this kind of image while making it?

Ikeda
Well, since there are frames properly drawn in the original, if it is arranged, something that is almost as imaged is made.

G:
Actually making this, which part had the hardest part?

Ikeda
I fixed the shape quickly, so the most important part is the texture part. If you look as a single person you are doing a ridiculous color, partly it looks like a really sprained color, but does that mean it will work when you see it overall? If it is an ordinary human's feeling, in the case of a picture of drawing, it has become an impression that seems to quench the game by all means.

G:
Indeed, it is hard to adjust the neighborhood, and the impression changes at all with typical picture sketches and drawing pictures.

Ikeda
That's right.

G:
That is that the area is a little different from comics.

Kawamura:
Expression method is different.

G:
Because different ways of expressing are different, completely different problems come out.

Ikeda
Also, I was in charge of deformation of Nurarihyon. It is said that the eyeball gradually becomes tits.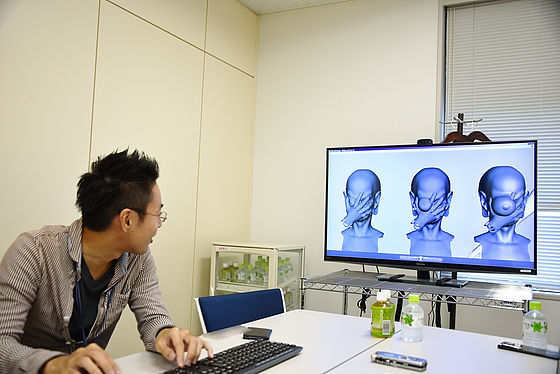 G:
Oh, there was a great scene.

Kawamura:
Is this really not an effect, deform and texture animation?

Ikeda
I agree. As for how to make, if you model phases of this eyeball slackening, if you connect this and animate it, you will feel the eyes all come out. Normally the eyeball inserts a sphere with a different model from the face of the character, but in this case it was necessary to come out as slurp, so model it as a shape connected together with the body, I did something I did not usually do like that. That is how we are making deformation.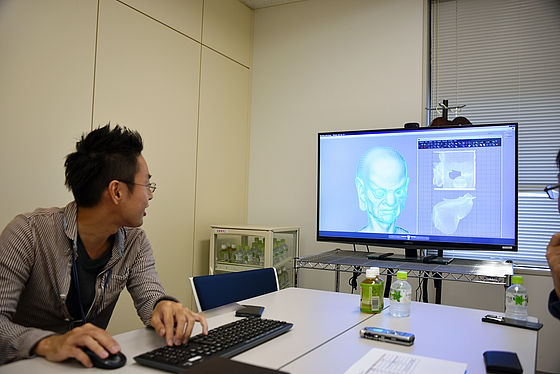 G:
It's not the eyeball because this guy is the last one.

Ikeda
As I draw a lot as a picture, I also take UV widely for boobs so that I can draw texture firmly.

G:
Indeed, you are thinking about things later.

Ikeda
Yes, I feel that I made a dedicated face.

G:
There is a feeling of boss character if it is customized dedicated model so much.

Ikeda
This is the texture of the scales animation, but the animation which scales gradually disappear with Bokoboko is reproduced by this texture, and this neighborhood is near the nipple at the top of the eyeball, but it spreads gradually from here Animation of the texture to go is applied. Not only this but also a more detailed animation that the eyeball boils is made with another texture, and we are making it that the eyeball gradually deforms with such a combination.

G:
Whose idea is that the eyeball deforms like this?

Ikeda
This is a director's idea.

Kawamura:
I remember saying something.

Ikeda
It was an original feeling that the meat snatched down and the breast fell downwards, but that was the order to add details by being unsatisfactory when it was imaged.

G:
How was it with receiving the order?

Ikeda
This was a convincing retakement.

G:
It is truly amazing to see it in this way.

Funabashi:
It was quite early, and it came out in about May. I do quite a lot of these variants in the second half of the battle, but I got them done with the characters.

Kawamura:
Ikeda liked GANTZ so much as I asked if I asked Order to modeler, so I asked, thinking "I can do it." I usually do not do it.

Ikeda
I agree.

Kawamura:
Usually it's an effect team or a shotwork team.

G:
I see.

Ikeda
I was doing and it was interesting.

G:
After all, do you have a challenge like this?

Ikeda
Yes. When I was not able to go well, I thought "I will do the effects and why should I do" (lol) I can tell you it's now, but it was fun.

G:
I see, it is regrettable that I can not really show this. Even so, it is amazing.

Kawamura:
There are lots of things you do not know unexpectedly, do you?

G:
This is the first time I'm told, "I see!

Funabashi:
There are places where the neck of the woman blows and plays, and so on. That is where the tip is coming out from Vero in the production, but I think that you will not notice when watching a movie normally.

G:
Indeed, this fine one is amazing.

Ikeda
Since images may not be used at all if they are only female, we have prepared stories that we can use.

G:
I appreciate it.

Ikeda
Because youkai are almost all characters wearing kimono, it is about modeling kimono. In the industry there is simulation software dedicated to making the classic "Marvelous Designer" clothing, but if you prepare such a paper pattern and give it up, it will become a kimono.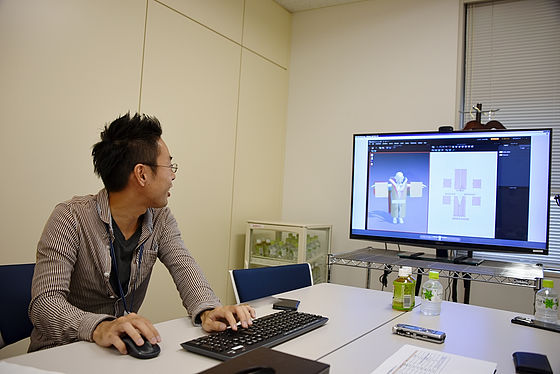 Kawamura:
It is a great era.

G:
When I saw this software I thought that it was "amazing!" I wonder if there is software like such a clothing designer.

Ikeda
By doing so, the simulation will become natural. Kimono is moving properly when it is positive. The kimono system is basically made based on simulation, and I also make this wrinkle properly by simulating it with a pattern paper, which is killed at the beginning as well. By doing so, it will be a natural movement when moving with shots.

G:
This was very funny. There were so many youkai this time, but what was Nurarihyon's female body as an exceptional thing, what was the hardest thing after that?

Ikeda
Well, it is not a translation I was in charge of, but in the company it was hard for him to call "Devil Nurarihyon". Damage was included, there were many destructions and it was serious. It was necessary to have lots of difference in destruction due to being shot by the bang bang at the end as saying that we had to make it gorgeous by saying it was rasubosu. Every time I was shot, I had to put as many as we wanted to switch to different assets.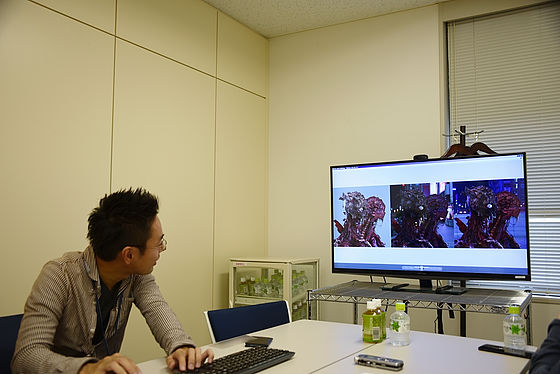 Funabashi:
The number of polygons seems to be a bit too.

Ikeda
It was awful.

G:
In the case of Kore, what is getting rid of what?

Funabashi:
It's heavy and rendering ... or.

Kawamura:
The back process is screaming.

Ikeda
Because there are many details, the amount of data will increase by that much. So, when making at the stage of character checking, even if there is no problem, rendering time increases when actually animating or simulating it.

Kawamura:
After that, it takes about 20 to 30 minutes to open the scene.

G:
Wow…….

Funabashi:
Although I had you talk about the youkai, the quantity itself is large, and of course the number of characters is decreasing more than the original work, but since there are more than 100 characters including youkai including a youkai, in such a quantity I think that the character team suffered so much.

Ikeda
There were also a lot of characters, and there were many numbers to be killed, so we had to make a difference that received the damage together.

Funabashi:
Killed and set.

G:
Haha (haha)

Ikeda
This is not too much in past projects, is not it? There were no projects in which the characters died so much in the past.

G:
Because there is no original that will kill Bang Bang like this in the first place. Well, this is fascinating and interesting.

Funabashi:
Though it is a man who dies with Pahn as it is watching in the movie and puts on in a moment.

G:
As a model I make so much kitchen, it is amazing. Indeed, do you make such many things so that the mental state is okay?

Ikeda
I am used to it. As a company is also "biohazard", there are many things to make such a groom.

G:
In other words, there is a place where things like the know-how that has been used are living.

Ikeda
I am alive. I have survived this time with the stock of the know-how of quite past projects.

G:
I see. How especially the know-how was useful, or what kind of part could you apply know-how?

Ikeda
There is something like a model library of such a glorious mess. Because it is a lot of movies that I made in the past, CG projects etc, and such things are gathering more and more.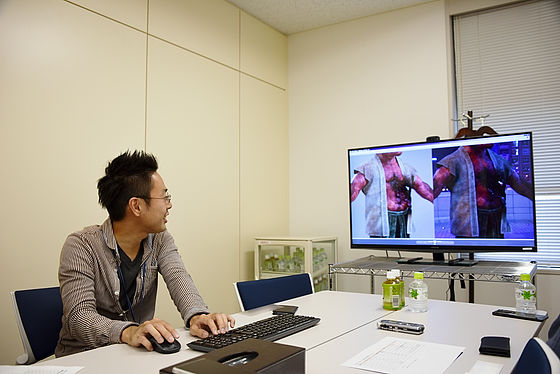 G:
That is amazing.

Ikeda
Creating it as a reference does not take so much time and it leads to a considerably shortened man-hour compared with making it new.

G:
It is a feeling that you are making good use of the past property.

Ikeda
That's right. The killing youkai can not be seen in a moment, but brainstorm models are made.

G:
Was the director still instructed that the director "can make it properly"?

Kawamura:
I have not said so much (laugh) Have you made a little bit too much? Well actually it does not take so much time.

Ikeda
That's right. Although it was serious, as I mentioned earlier, the library was fulfilling, so applying it could bring up the quantity in a short time.

G:
It is amazing that the library exists. If it were to be made for the first time there would not be such a thing. Conversely, "Because there is a library, is not it possible to think that you can do this around without taking so much time"?

Kawamura:
I thought for a moment but I feel like I made it properly than I thought.

Funabashi:
Damage system also eats up more effort than originally assumed. Even though I can do it quickly, I will make it properly.

G:
Indeed, it is such feeling, it is truly awesome, thank you.

· Continued
I have heard thoroughly how to make "GANTZ: O" for digital frontier Part 2 · Background version - GIGAZINE