I have heard thoroughly how to make "GANTZ: O" for digital frontier Part 7 · Effect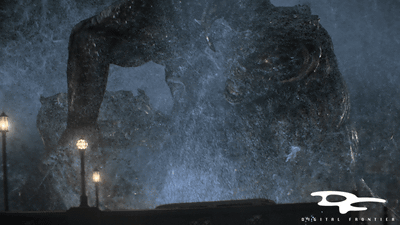 In the process of making CG movies, "effect" that puts water, light, smoke etc. is one excitement of the last stage. A movie released from October 14, 2016GANTZ: O"As the full story is a fierce action movie composed of night scenes, the amount of work done by the effect team is so great that the director worried about its jabberiness" Will it end? " In the case of the above scenes, the number of particles making up the effect actually exceeds 300 million. People inside talked to Mr. Takahiro Matsui of the effect room how we fought this situation.

Director Yasushi Kawamura (Kawamura):
The effect is the most troublesome because it will be a tough team to get excited at the very end of the project. This time it seemed to be the best.

GIGAZINE (hereinafter, G):
Is it a danger?

Kawamura:
I wonder if it is over (laugh)

Mr. Takahiro Matsui (Matsui), Director of Effects Office, CG Department, CG Production Headquarters:
Volume ... ... That's right.

Kawamura:
I was having fun playing the chest shaking a little while ago, but "This is awful ......".

G:
That is terrible.

Kawamura:
Although I will make a detailed story from Matsui, but if you say that it is now awful, it is an action movie, so if you are playing a battle, smoke and something will come out as well, because it is GANTZ, blood will come out and there are also lights , It can be said that there is no scene without an effect.

G:
As I was told, it was certainly not this time.

Matsui:
In terms of volume, 900 shots had effects as well.

G:
900 shots! Is it? Normally it is not so much.

Kawamura:
Overall, there are around 1350 shots in total. Even though I connect greatly except for small items, I make the screen of TV as well as what I made, but 1350 shots excluding those, Matsui will have 900 shots in it We supervised.

G:
That's terrible.

Kawamura:
So, the GANTZ room has no effect, so it is "a place for rest".

G:
I see!

Kawamura:
Since there is a part that it can not cheat on the contrary if there is no effect, it is not a place of rest for composites. It is about the GANTZ room that will become a place for relaxation as an effect.

Matsui:
There are 900 shots, but among them there are elements and there are many elements per shot, so there are over 1900 elements in terms of elements.

Kawamura:
Explosion, smoke, sparks, destruction, later something like rocks and rubble.

G:
Moreover, the fact that the work process is the last is the state where some deadline is already visible.

Kawamura:
Although all the deadlines have been set up from the beginning, since the schedule of the former is covered, the process in the back is more serious.

Matsui:
As the volume is like that, there are plenty of places to see, but today I would like to touch on the water of the Dotonbori River with Z gun that comes out as the most powerful weapon among them. Firstly, the picture in the original is the base. This is a manga, so it does not move. Although I think about how to go from here first, along with that, I am asking each artist to make an image board and what kind of image to proceed with. I was talking to the director based on the image board, for example, Z - Gun 's effect was the image that initially included lightning, but this was eventually taken. That means you want to make it simple.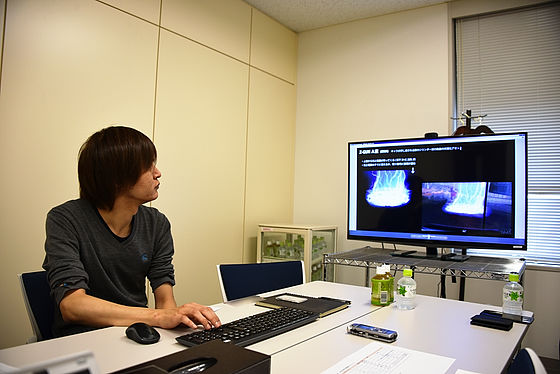 Kawamura:
Yes Yes. It is simple, but emphasizing "pressure" firmly, from what I do from here it is better to have things come with a bag for a moment.

G:
I see.

Matsui:
Still it is still flashy, but you can see it when you see the completed book, but basically it became the main expression of air distortion. When you see the video that connects the Z gun that comes out in the main part all the way ... ....

Kawamura:
It is a Z gun collection.

Matsui:
This effect was again the most reverberation.

Kawamura:
The reaction was amazing. Whether it is Oku sensei 's sort of sharing, the retweet was also the place where Z gun was the most.

G:
When I saw this, I felt that "When the original moves, this will be the case!"

Kawamura:
Even inside the company, other directors and CG producers were watching this and were surprised at "Oh, this is going on!"

G:
There was tremendous impact.

Kawamura:
Osaka edition, Z gun debuts, or Z gun comes out first.

Matsui:
First of all, this first shot is the guideline, the first shot taken.

G:
Is it this shot?

Matsui:
That's right.

Kawamura:
After all it is the same as the setup and decides the first mechanism and way of doing, but I will say it as a guide shot. So, after verifying and filling in every element, it is a trend that mass production can be done elsewhere.

G:
What is the reason for choosing this scene for the first time? I think that there are many other scenes using Z guns.

Kawamura:
Z scene is the first scene to come out, so I explain kindly here. So, if you can understand this properly and you can do well the other scenes are the most scenes in this scene. I certainly think that I told you to do it here.

Matsui:
Since it is a shot that comes out in the same production even in the original, it is a shot that the fans will be happy too.

G:
I saw it on the big screen screen and thought "Oh!".

Matsui:
It is the difference between the effect of that, the one of the current final and the picture of only the character and background. This is the state without effect.

The Z gun is used first, the net cut. It is like this before the effect enters.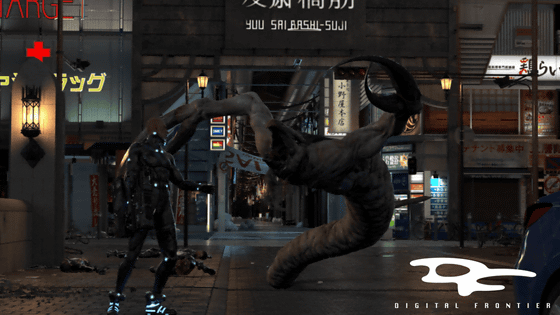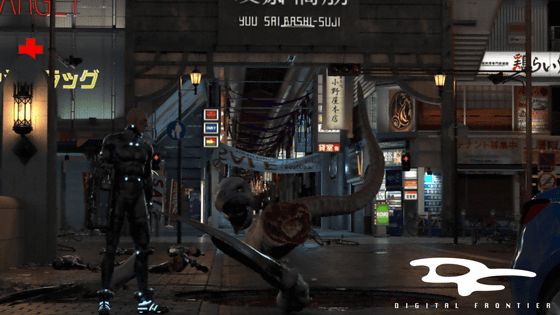 G:
Oh.

Kawamura:
It is not appetizing. I am talking about this Z gun only now, but the fire of the first writer is done properly with proper effect.

G:
It is true as you are told. The flame is shining properly.

Matsui:
It has become this feeling. I have been putting out various materials to make this distortion, I think that I can see it without looking at the material, but it is made of a combination of these materials.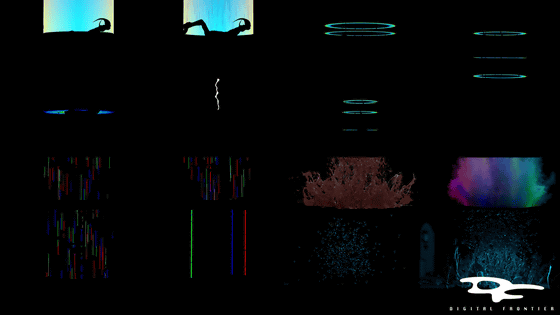 G:
No, this alone is amazing.

Matsui:
It's as simple as building, but it's an effect that makes various elements entangled in a complicated way.

G:
Is it a result of repetition of trial and error as to whether it would be the result if such an object is combined with an effect, is it an experience so far?

Matsui:
Of course there are experiences, but I did trial and error.

G:
When I used this Z-gun this time, which part did trial and error in the part called "Baby-chan! Bacha!"?

Matsui:
First of all it is "how to show tubular distortion". It's very simple, so it's difficult. Basically, it is the effect of "crushing by compression of air" with just a cylinder, so it was the most difficult how to see that kind of effect.

G:
I have not seen anything besides Z guns that expresses such a strange expression. Even when I saw it in cartoons, it was like "What happened to this !?"

Matsui:
It's a shot to show off carefully here, but basically it's already a world of several frames.

G:
If it is a manga, you can only move a piece, so you can understand even by doing "van!" In a moment, but I was surprised that "If you move this, it's like this!"

Matsui:
I think that there is a part where a line-like line can be seen, but I am pretty stuck there.

Kawamura:
What is behind is important, if you place a sign like that, the distortion of the air is easy to understand.

G:
You can see through.

Kawamura:
There is also a balance with the situation, I feel that I can not see anything if there is nothing behind.

G:
However, it does not make sense if you can see it as it is. I need a balance around that. I combine so many.

Matsui:
That's right. Perhaps I'm sure people do not know that there is such a material.

G:
The clumps of light muscle are amazing.

Matsui:
By changing the strength of distortion of each material with this, we change the range of distortion, making that cylinder.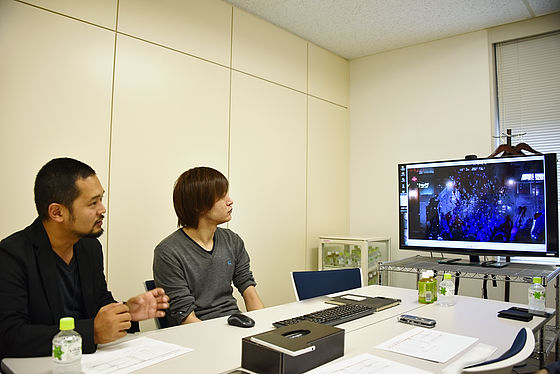 G:
First of all, make it right, then from there you feel like its application.

Matsui:
Well, afterwards we will adjust by shot-by-shot little by little.

G:
Looking at the materials separately in this way makes me feel like "Nagoya", but when I look at the completed one, it is strange that it seems like "When all that combination is done!

When the effect enters the same scene as before, the impression will change so much.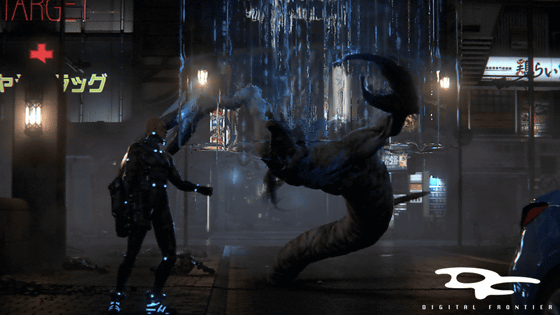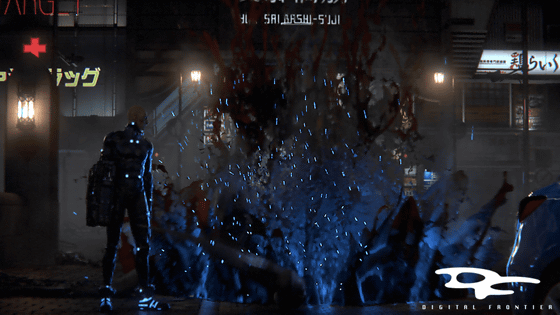 Matsui:
The material is very simple, though. Blood is another way. From the direction of the director the blood was said a lot at the beginning.

Kawamura:
This is an American drama "Under the DomeI showed it. There is a scene where the blood "goes out" and the dome can be done.

G:
It is a scene that the dome is made and it ends with "PART!"

Kawamura:
At the moment I saw that, "I thought this was GANTZ!" I showed it as "I have to show this." If I did not have such a sample easily, I just found it.

Matsui:
This is the blood working screen.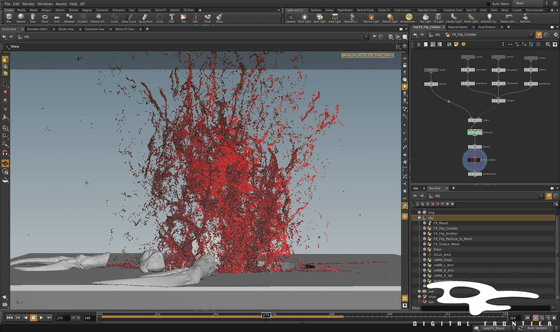 Kawamura:
Grains stick together.

Matsui:
I agree. It is a feeling that it becomes metaball and it is forming the object of blood.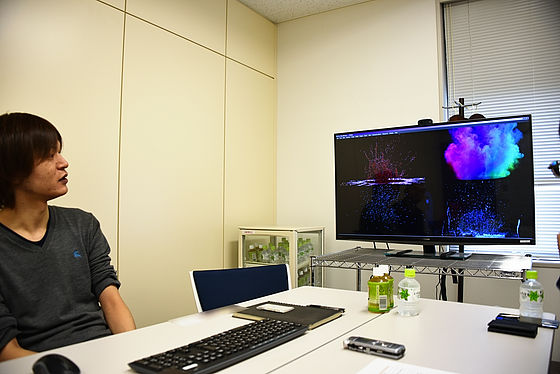 G:
It was such feeling, I thought that it was very raw.

Matsui:
At first it simulates with grains and blood is formed.

G:
I thought that it was an unusual expression of blood, but this is what I mean by that.

Kawamura:
In this shot, Z gun is one shot, but when the last Z gun is firing it is simple, but it is supposed to be hard for the number of materials to be shot.

Matsui:
Because there are as many of them.

G:
In the story, "Is it going to be a bit terrible feeling, is it in time for this?" In other words, does that mean that these kinds of papers have accumulated steadily?

Matsui:
I agree.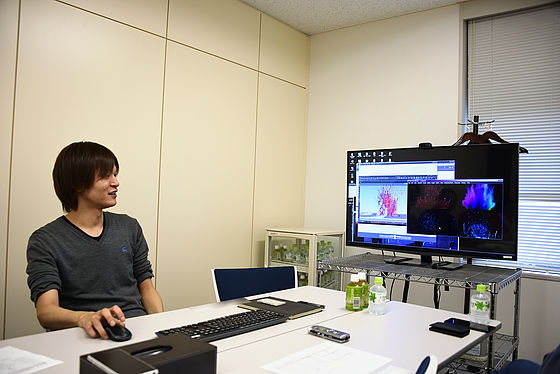 G:
This is a tough thing as a whole, but is still the early stage person.

Matsui:
In terms of difficulty, I made it over time in the first stage, but after only mass-producing it, there are 900 other effects, so it was a volumetric unprecedented volume.

Kawamura:
Even if I do it I do not feel like finishing, was a bit scary.

Matsui:
That's right. I manage the progress with a tool called shotgun in the company, so I get a percentage, but I will not increase it even if I end it.

Kawamura:
Even saying "I received 10 OK with today's supervision check", it is 10 elements out of 1,900 elements, so it says, "That one day has ended today but 1% has not increased". I thought that "I got a messed up today" is not increasing at all.

G:
It seems my mind breaks when such a condition continues ...

Production manager Toshi Funahashi (hereinafter Funabashi):
Now I told OK that Mr. Kawamura had 1350 shots, but just with animatics and animation only 2800 times OK, I got the same number of OKs in the simulation, 2000 effects if there are 2000 elements 2000 elements I will give an OK minute, so I have to say OK over 10000 times and it will not end. At that time, the director said "My habit is" OK "(laugh)

Kawamura:
Since it will not end unless OK is issued in the second half.

G:
Moreover, it is not possible to say that OK is given to Detallame saying that because it does not end without issuing OK, is not it?

Kawamura:
That's right.

G:
There are times when you can not get OK with the scene you made.

Matsui:
I agree.

G:
At that time, do you think that if you have a lot of work, "Kuu ...... Directed!"

Matsui:
Well ... it's a joke (laugh), Mr. Kawamura is the one who will properly look at the whole thing, so I never thought such a thing.

Mr. Funabashi, Director Kawamura, Mr. Matsui.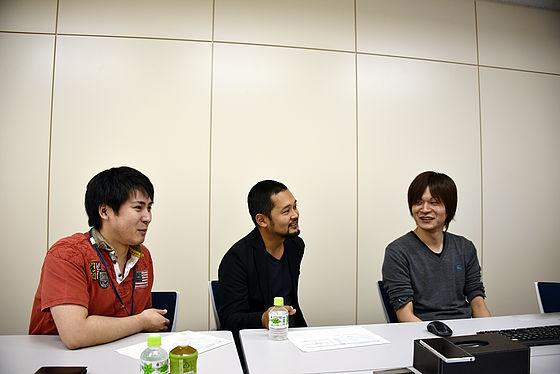 Funabashi:
On the contrary, Mr. Kawamura's place of being insisted is an important place, so it is a place that can not be missed out as an effect.

Matsui:
Since there is a place that I do not want to compromise as I thought, compromising the place I can not compromise, but I feel comfortable to proceed with the place I do not want by any means.

G:
As I said earlier, I do not push yourself but it seems to be unreasonable.

Kawamura:
Probably the thought is transmitted properly, it is a wonderful team.

G:
It is really amazing. To say it is doing things that are easy to do.

Matsui:
It is a scene of water, but this is the state of only the character and the background, there is nothing effect.



Matsui:
And this is the state with the effect in it.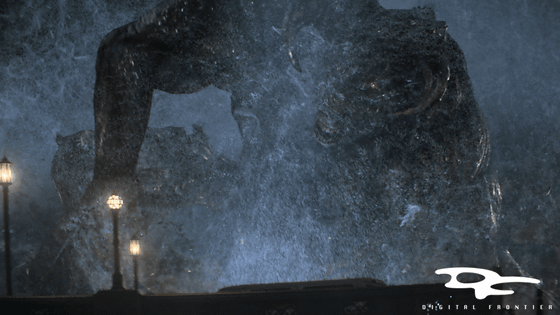 G:
When there is an effect, power is terrible and it is completely emergence of a big monster.

Kawamura:
The capacity of the effect was the biggest in this project.

G:
By the way how long was this at maximum?

Matsui:
It is about 3.5 TB to arrange all the elements.

G:
TB! Is it? It is not GB but TB.

Matsui:
I agree.

Kawamura:
It is probably only about the thing that OK comes out and things on the way are probably erased, but only the final one is about 3.5 TB.

G:
it's amazing.

Matsui:
In terms of rendering grains, the only part that is in deficit is grain, about 300 million.

G:
I wrote you 347.947 million 7116.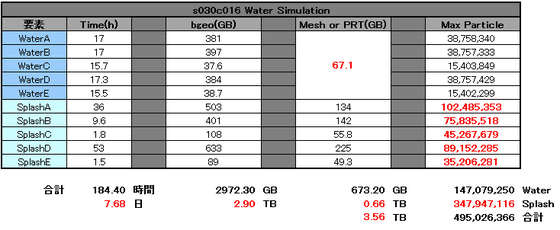 Funabashi:
It takes about 8 days to simulate it once (when you do it with a single machine), so if you say Mr. Kawamura NO, I will show you the next fastest after 8 days.

Matsui:
This is that element, it is from the bird's-eye view so that it is easier to understand than the actual camera. This is all together and it is a completed effect.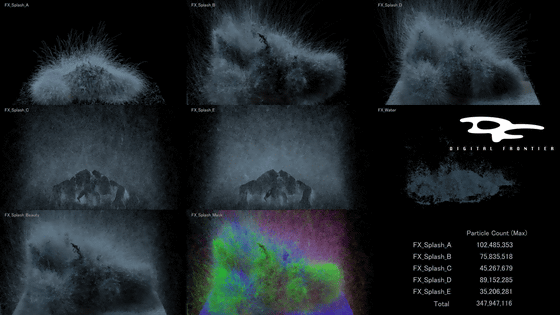 G:
Indeed, I feel like that "Bashachan" with this.

Matsui:
This is a simulation of everything separately, and finally it is combined into one effect.

G:
Certainly when I watched that scene, because it stopped it's cartoons, the river is "Oh, come out soon'm scene" from the looks I thought, coming out with Dooon, "not so big!" it looks like. I thought that it was really de flashy scene.

Matsui:
The Dotonbori River is not deep enough to drain so much water.

G:
It was a momentum to destroy Dotonbori if I was expecting that the first scene would be about that scene, but it is amazing that this is a flashy show.

Matsui:
This is a combination of all.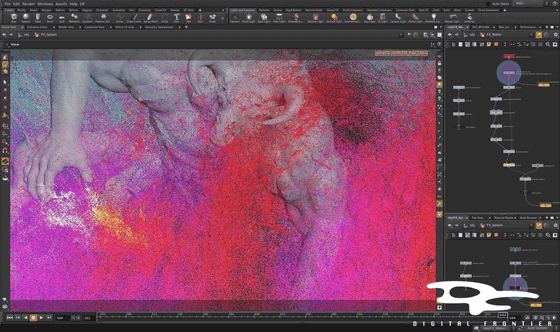 G:
Oh. Was this director directing "I want to show like this?" This is what "Dovaan!"

Kawamura:
How was it? "Battle ShipI wanted to do something like that.

G:
I see.

Matsui:
I was watching it licking scatteredly.

G:
The request for the effect is very high every time.

Matsui:
But we still wanted to aim for a higher level, so it was fun.

G:
How was your impression when you said "Do it like a battle ship", was it surprised like "Eh?" Or was it "will it be somehow"?

Matsui:
It was when I tried somehow, but I simply wanted to "do it" was the best.

G:
It is worthwhile if you say that you have a challenge.

Matsui:
If it's a Japanese movie, it's costly to produce a very flashy production with water, so I can not do it quite easily. I also enjoyed it very much personally.



G:
After watching this, I was told that "I can do a movie separately with just the scenes fighting GANTZ Robo, there is a force of a movie grade."

Funabashi:
Actually there was more volume.

Kawamura:
I cried and cried.

G:
That's regrettable!

Matsui:
Actually I wanted to do more, but water costs the most, so we cry in relation to the budget.

G:
Still it is amazing. Even when I saw it in the theater, the power of that scene was abnormal, and to be honest it did not seem to do that way of appearance. Because it was a feeling like "Was there such a scene?" In order to support that kind of thing, we need only this thing.

Funabashi:
In terms of water, Robo will come walking. At first, I stepped on a houseboat to destroy it.

G:
As a director, was this one okay or was it returned at least once?

Kawamura:
I feel I was out about 5 times.

G:
5 times! Is it?

Matsui:
It was checked about it.

G:
What was wrong at the beginning ...?

Kawamura:
The shape of the water tends to be quite simple. So it makes more complicated.

G:
That is why I felt like this kind of complicated and strange "Wow".

Kawamura:
After that, because the light hits, "Take the best look at the most visible timing of this timing".

G:
Indeed, it is such an instruction.

Matsui:
Because the spotlight is coming from above.

G:
Then it will be "Wow" at the front, so I see. I understand that it certainly has to be complicated.

Matsui:
I'm pretty exaggerated though.

G:
But this is exaggerated and correct. That's more than what you are seeking on a video basis, that's what you are saying. When I saw that, I felt awesome by the sound. Knowing the whole picture like this, the effect is tremendous ... Thank you very much for talking about various things today.

· Continued
I have heard thoroughly how to make "GANTZ: O" on digital frontier 8 · Composite edition - GIGAZINE