I have heard thoroughly how to make "GANTZ: O" for digital frontier Part 3 · Motion Capture Edition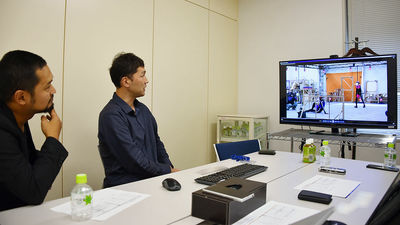 movies"GANTZ: O"We got to talk to the total of eight sections by interviewing the Digital Frontier who produced the book. "Part 1 · Character edition"Part 2 · Background"Followed by"Part 3 · Motion Capture". Mr. Hiroki Koshida of the motion capture room showed me the picture that actually shot the state of motion capture.

The actual motion capture situation is shown on YouTube for Digital Frontier's GANTZ: O making article.

CGMAKING_GANTZ: O_02 - YouTube


Mr. Hiroki Koshida, Head of Motion Capture Room, CG Production Department (hereinafter, Koshida):
Since I think that it is easier to understand how you captured the scenery, how to capture before explaining with various words, first, I will show you the picture.

Production manager Toshi Funahashi (hereinafter Funabashi):
My company probably is one of the largest in AsiaMotion Capture StudioI have it in Odaiba people.

Director Yasushi Kawamura (Kawamura):
Oh, the video began but it's just a bit halfway (laugh)

Funabashi:
Which scene is this?

Koshida:
This is ...... It is a sharp edge.



Funabashi:
Even Mr. Okubo's toddler movie came out, he is a man whose hands are like sickles.

The figure of netting can be confirmed even around 34 seconds of this trailer.

"GANTZ: O" main notice - YouTube


GIGAZINE (hereinafter, G):
Oh ~.

Funabashi:
Next is Yamasaki.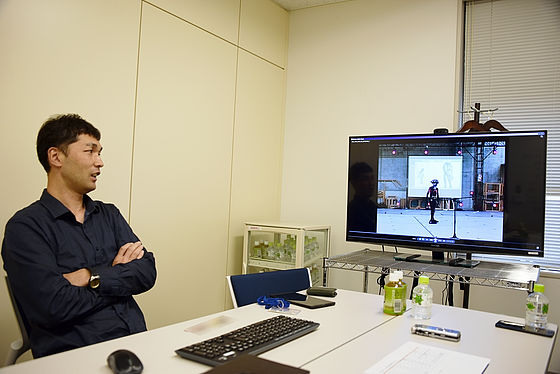 Koshida:
I was planning to play it in order as I started from the beginning, but maybe it has started from a hard to understand point. Excuse me.

Kawamura:
I guess this is fine with this one?

G:
It's okay.

Koshida:
Although I did not do so much in the shooting itself this time, as a distinctive thing, I performed a performance capture to shoot up to five people at the same time with a head mounted camera. The direction of the action coordinator is the guru in Japan, but it is said that such a performance is also helped ....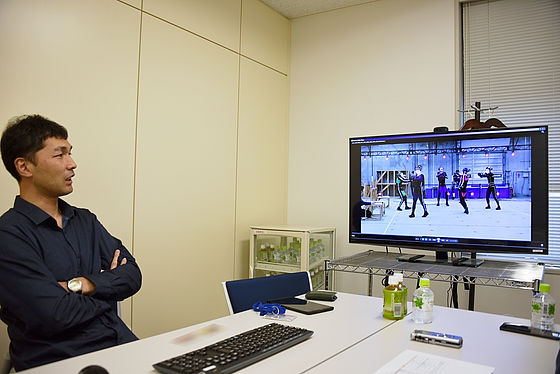 Kawamura:
It is a famous person in the industry.

Koshida:
So I will shoot while checking the rough CG in real time.

Kawamura:
This ... ... In the main part it was cut, it is the scene where Kato and walking are eating.

Funabashi:
It is not actually.

G:
Is it flowing over there in real time also at the time of capture?

Koshida:
That's right.

G:
It is amazing.

Koshida:
Next, it is Genano.

G:
This is the first scene.

Koshida:
Since Geno comes on a bike, in order to reproduce it, I make a structure that actually shakes.

Kawamura:
Mr. Koshida's choice is good!

Funabashi:
Next time Muroya is being held by Tengu.

G:
There was a place, I feel a bit of despair ... ....

Koshida:
I am asked to participate also in the child role. There is also Nurarihyon 's motion capture, but this is considerably edited later.

Kawamura:
After all, the sharpness of movement and so on were just bleak.

Koshida:
When taking a picture, there is no other choice but to take this.

G:
It is what you shoot so much, it's amazing!

Kawamura:
It is a fight between Nurarihyon and Shimaki, I thought that this kind of movement was good. Because it is a really tiring move.

Koshida:
That's why I took it with a long turn.

Kawamura:
It's mean I guess (laugh)

G:
When does this take a cut? It's like that.

Koshida:
And this is tooth black. Yamasaki roleSayami KatsuyaI asked him to do it.

Kawamura:
Actually tooth black is about 190 cm tall.

Koshida:
I am doing a very good performance even when I am Yamasaki, but this tooth black is overwhelming and my memory is overwritten (laugh). This is a straw fight.

Funabashi:
Just the scenes around here are"GANTZ: O_VR" doing at ShinjukuBut you can experience, so please do come and join us.

Koshida:
Here I put large characters in real time display on the back screen.

Kawamura:
That was good. Because you can see it there.

G:
it's amazing.

Koshida:
When the character height difference and the actor's height difference are different, sometimes it is sometimes called "?" From the end. For example, the scene where the two face each other. This is actually a scene that points big around the amount of Kato standing on the right, with a big enemy character standing on the left. Actually, however, the actor is not so big, so it will be as if pointing to the crotch.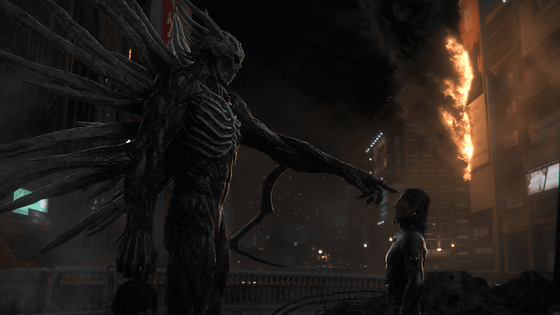 Funabashi:
By the way, the actor of the enemy character role has a bag, but it is a substitute for the head.

G:
Indeed, it is very big.

Funabashi:
During the shooting period, the play was ten days and the action was five days.

Koshida:
From here it is material shoots of Nurarihyon.

Kawamura:
Nurarihyon is a place in the air.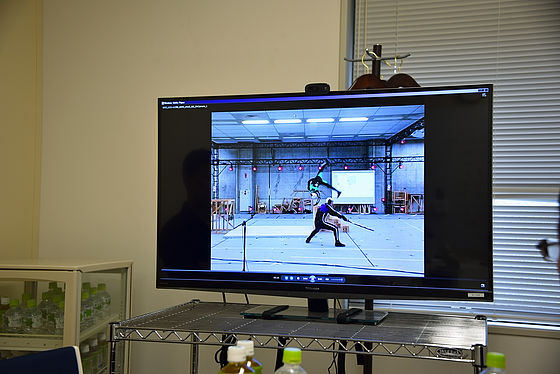 G:
it's amazing.

Kawamura:
I need a lot of money as to how to shoot.

G:
It was moving so fast.

Koshida:
The actor is setting up Z gun. I got ordered and made a metallic stuff and it has quite a heavy weight. The back CG is designed to be seen at the desired angle with the wireless controller.

G:
I see.

Koshida:
This time, a professional photographer asked us two people to hold up the face up all the time. This is because large-scale Hollywood works put in cameras as many as the number of performers, but because it is a costly shooting method, it was not possible indeed.

Funabashi:
For one shooting, the fixed point camera is on the front and side, and the cameraman is two, so we are shooting with a total of four camera angles.

Kawamura:
Even this alone you can create 4 different materials, so I will edit it and decide the tempo of the play.

Koshida:
In addition to that, there are also the number of images of the head mounted camera.

G:
A great number of pictures will be created only by the material ...

Funabashi:
Because the cameraman is a professional, it picks up on the street as it is.

G:
Every scene exists.

Koshida:
In the scene where Reika is transferred first in the opening part, the two actors are playing at a short distance. In such a scene, it is hard to be careful not to hit the arm of the head mount, but our head mount is somehow established because the arm is quite short.

G:
The head is facing the head mount and the light is on.

Koshida:
During the shooting period, the actor says "I am fine even if it is illuminated", but when I asked it again later, it was a story that it was tired. Some people find their head hurting as they see the strong light.

Funabashi:
All of this head mount relation is handmade.

G:
It is amazing.

Koshida:
I thought about buying a commercially available head mount, but I did not like permission from my boss, I myself did not like that product so much, so I made all the system parts handmade. The camera part uses GoPro, but the original specification allows wireless control only from mobile terminals such as smartphones. But since the shooting is not done then we have created a tool that can wirelessly control multiple GoPro with one PC. In addition, I finally finished the tool to record automatically in sync with the motion capture system, I feel like I finally finished shooting.

Kawamura:
I think that there is the greatest thing there.

G:
Even at the editorial department, GoPro has used it all since the beginning, and there is familiarity, but what you are creating and using such tools ... ....

Kawamura:
I was amazed at the time when I later learned that the head mount itself was also made with 3D printers later.

G:
Handmade or full custom made ...... awesome ... ....

Funabashi:
And in the studioT160There are 100 cameras called.

Koshida:
I will pay about 8 million yen per one.

Kawamura:
It's not much to come out ... ....

Funabashi:
There is no place in Japan that owns such a number.

Koshida:
Even at Hollywood studios, there are not so many places with this size system.

Funabashi:
I also do motion capture work, so I'd like to ask "I want to take a movie, so I want to use the system".

G:
Are you popular?

Koshida:
I got the evaluation of "precision of innocence".

Funabashi:
Also, I think that there is nothing else to do "10 m × 15 m range shooting" which makes use of the number of cameras of this number alone.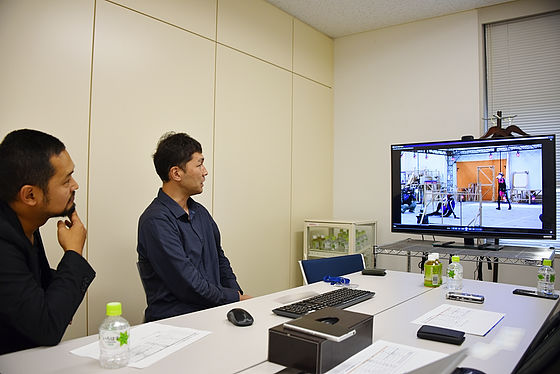 Koshida:
Although I have never done it, the theoretical value can afford up to 20 people at the same time with plenty of room.

G:
I am making it with specs that it may be slightly excessive.

Koshida:
Well (laugh)

Kawamura:
However, if it is not around this, motion accuracy will not result in "motion of certain quality". When was "Apple Seed", how many cameras was it?

Koshida:
It is 12 units.

Kawamura:
At that time it was a feeling that "I go out of the area once I ran." I have seen the data at that time, but I think that if you look at the current data it is totally different thing.

Koshida:
The shooting range at that time was an elliptical area that fits inside the 7 m × 4.5 m rectangle, which was quite narrow.

G:
I see.

Kawamura:
Without the current performance, I can not mass-produce images like "GANTZ: O".

Koshida:
The wide photographing area reduces the proportion of photographs taken while cutting the cuts, improving the efficiency of postprocessing.

Kawamura:
Because it shoots that part with a single shot, there is also the advantage that the play will become more and more natural. If it is cut-by-cut, the play will expire.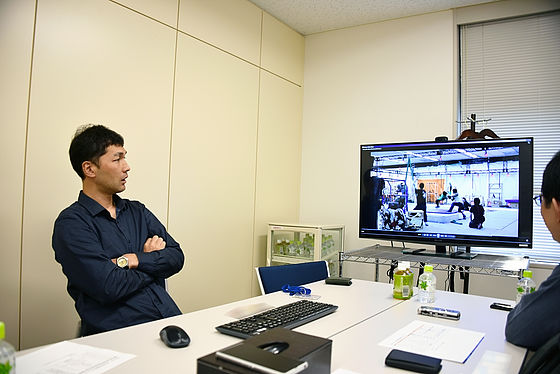 G:
In addition to that, there must be some works made with motion capture, but once I thought what was different about "GANTZ: O", the answer was "different from the fundamentals" ....

Kawamura:
It is not good if the hardware is not good.

G:
It is overwhelming ... Compared to the initial stage, are you upgrading the capture system, or is it like expansion?

Koshida:
I upgraded it 3 times so far.

G:
It is said that it reached this level in the 4th generation.

Koshida:
That's right. Even in the system of one generation ago, it was innocent in the country.

G:
It is terrible.

Koshida:
It is truly appreciated. This is the prop used in the motion capture, it was ordered by the contractor and made it.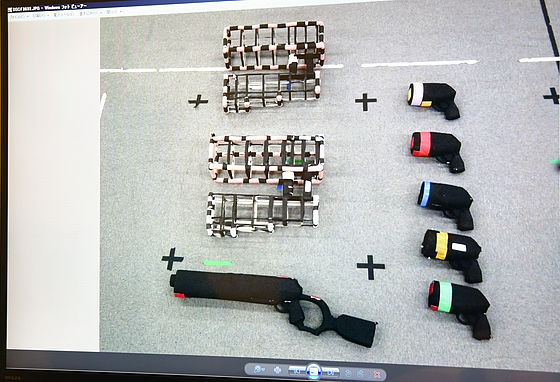 G:
It is a guy who said that all metal is considerably heavy.

Koshida:
But it was a good weight.

Kawamura:
If it is really heavy it will not be possible to play, but if it is light, it looks light even on a play, so in that respect it was just 'fine weight'.

G:
It was "real weight".

Koshida:
By the way, Z gun is made of metal, but black weapons such as X guns are made of urethane so it is very light and can be used even in action.

G:
There are various things. In this way I realize that it was "technology victory" when I showed it.

Koshida:
I think that the technique "performance capture" is big. Besides taking the body and face data at the same time, you can also take the eye line data.

G:
If you can take like eye tracking.

Koshida:
Well, thanks to that, the body and face data synchronized. Until now I had taken images separately, so there was an image that would inevitably be disappointing.

G:
Indeed, data synchronization.

Kawamura:
I can not do that.

Koshida:
In general, you can not do it unless you call overseas engineers.

G:
Looking at the system and looking at the images produced from it, you will want to say "everyone should pay out the money". "If you give out money, things will get better!"

Kawamura:
It really is.

G:
Finally, is there something we'd like to tell you about as we did for quality improvement?

Koshida:
Since it is a project that was focusing on motion capture, it is exhausted to this anyway. When I was taking the picture of the body and face separately so far, there are times when I get the impression that people from overseas "can see me wrong" ... ....

G:
I see.

Koshida:
Thanks to the fact that it told me straight, I was shocked and I was able to put in power.

G:
So I could clear it this time.

Koshida:
I agree.

G:
This time, we have accumulated various things so far, there seems to be no gap yet, but have you heard anything about "Is it necessary to clear this next?"

Koshida:
There are various genres in head mounted cameras, there is also a system called multi camera, but one thing to think about that direction is totally different capture system. Sequential scanner-like things are beginning to appear in the world, so accuracy has not overtaken yet, but I think that there is only one thing to hand out such things.

G:
Is there more accuracy in the future?

Koshida:
Yes, regarding the head mount, the workflow currently being used is considerably higher than when I was shooting "GANTZ: O".

G:
Every day it gets steadily rising. Did you ever have ordered something from the director to motion capture?

Kawamura:
To be able to take face and body at the same time was a long wish for me for a long time. Recording only the face did not understand anything in any way, it was difficult to produce, and I could not get rid of the discomfort by all means. Since the actor also takes a face play, I think that it was hard to be quite suitable for being told that "The facial expression is!" In a state that the body can not move so much.

Koshida:
You will be asked for dexterity.

Kawamura:
Perhaps it is a feeling that this is a wishful thing, so that everyone involved can do what they were doing while being doing moyamoya straight.

G:
I see. At last it seems that the piece I was asking for has ceased. Thank you very much.

· Continued
Next part 4 is 'Animation'. It is the process of waking up to animation.

It has heard thoroughly how to make "GANTZ: O" on digital frontier 4 · Animation edition - GIGAZINE