Pop songs "Daddy's Car" and "Mr Shadow" created by the world's first artificial intelligence are on YouTube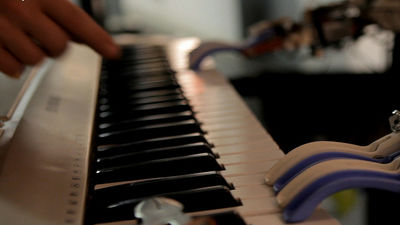 ByCafe Neu Romance

Sony Computer Science Laboratory (Sony CSL) has composed two pop songs using artificial intelligence (AI), and publishes the songs created on YouTube.

AI makes pop music in different music styles
http://www.flow-machines.com/ai-makes-pop-music/

Artificial Intelligence Has Written A Beatles-style Pop Hit - Electronic Beats
http://www.electronicbeats.net/feed/artificial-intelligence-has-written-a-beatles-style-pop-hit/

The software "Flow Machines" developed by Sony CSL can learn the style of music from a huge song database using AI. According to software developers, "AI learns the style of music from an enormous amount of music database, and uniquely combines style and technology of music, so that original composition is possible".

One of the songs that such Flow Machines composed was "Daddy's Car". Flow Machines is in charge of composition, composition of songs and lyrics are handled by French composer Benoa Carre. The music itself can be viewed from the following.

Daddy's Car: a song composed by Artificial Intelligence - in the style of the Beatles - YouTube


And another song composed by Flow Machines is "Mr Shadow". It is said that it is a song that is based on American songwriter Mr. Irving Berlin, Duke Ellington, George Gershwin, Mr. Cole Porter, and listening to the two songs AI compiled, the tune I am surprised that it is totally different.

Mr Shadow: a song composed by Artificial Intelligence - YouTube


The concrete flow of composing by AI is as follows. First of all, the database called "LSDB" contains "songs of different styles" and "songs made by different composers"Lead sheetRegister for about 13,000 songs. It seems that Jazz and pops were mainly registered.

Next, a human composer using Flow Machines (in the case of Daddy's Car, Benoa · Calle) selects the style of the song. Then the software automatically generates the lead sheet. In the case of Daddy's Car, Benoa · Care selected the style "Beatles" and in the case of Mr Shadow, he chose the style "American songwriter".

When the lead sheet is completed, the human composer arranges lyrics and songs and completes the songs.

In 2017, an album collecting songs composed by AI is scheduled to be released, and "Daddy's Car" will be included in this album.