A new five-roll type keyboard "Rolly Keyboard 2" review that can be rolled up and carried compactly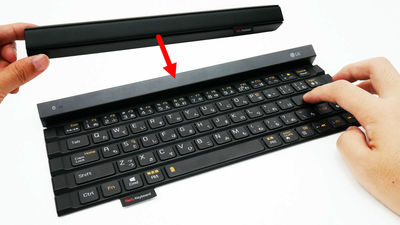 Although smartphones and tablets have much better portability than PCs, they think that it is not suitable for input work for a long time because it is necessary to use the keyboard on the display for character input It is done. It is a folding wireless keyboard with high portability that can be useful in such a case, but with a folding keyboard it is also troublesome storage space. Therefore, the mysterious wireless keyboard that LG can wrap around and roll it like a bar "Rolly Keyboard 2 (KBB-710)"Has been released. Not only that looking fun but also a 5 - stage keyboard that is comparable to notebook PC etc can be used, so I actually tried using it.

LG KBB-710 | Mobile Accessories | LG Electronics Japan
http://www.lg.com/jp/mobile-accessories/lg-KBB-710

◆ Photo review
The package of "Rolly Keyboard 2" looks something like this.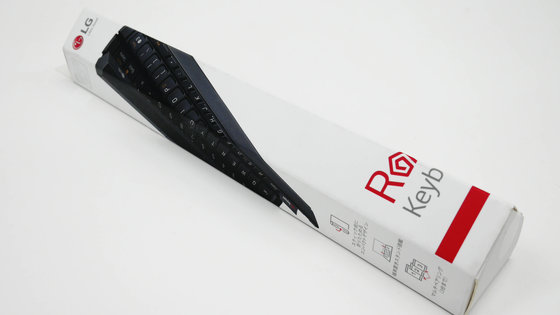 Inside the Rolly Keyboard 2 body ......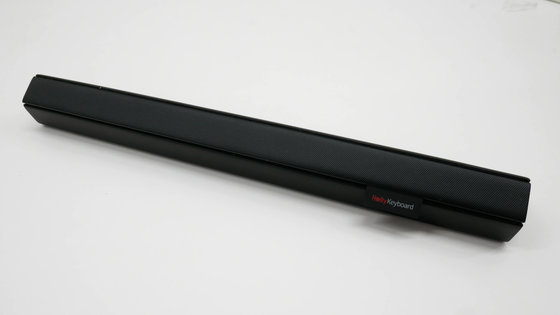 I have instructions. The instructions were written in Japanese and English.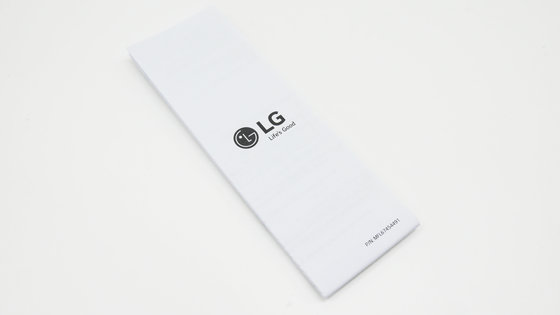 The most surprising thing to see Rolly Keyboard 2 is its shape.Previous modelI heard that it was a square prism, this time I am upgrading to pentagonal pillar.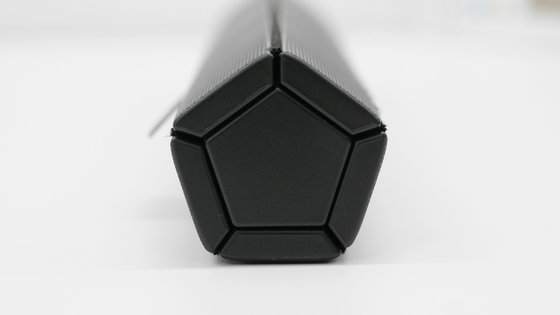 When the keyboard is rolled up, a rough, plastic material is supposed to come to the surface. This side seems to be very strong also for scratches and the like.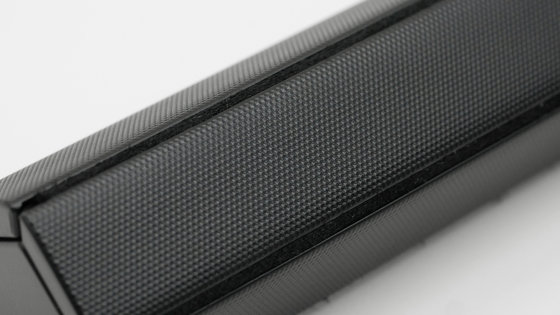 With a hand like this, the size is 274 mm in length × 31.7 mm in width × 30.7 mm in height.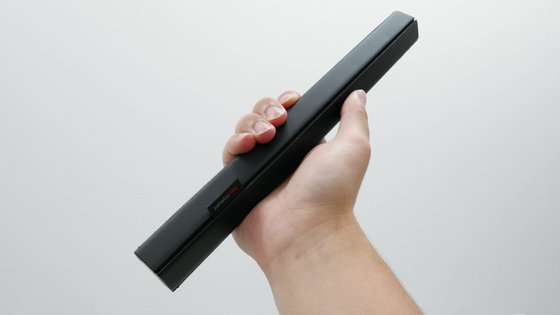 There is a tab written "Rolly Keyboard" in one of the five sides ... ...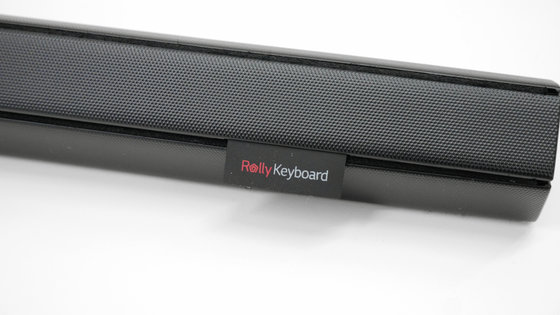 Pinch this and extend the keyboard.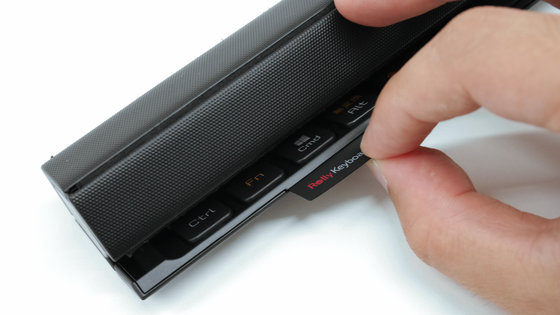 With the keyboard expanded like this, the expanded state looks like a normal keyboard unexpectedly.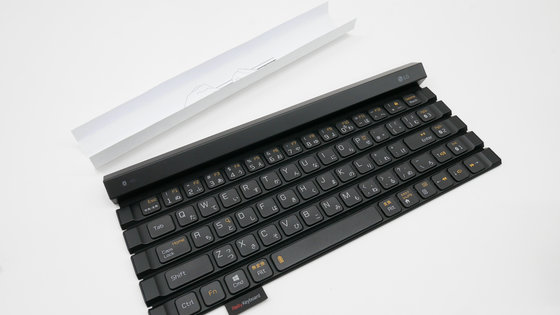 Actually opening and closing Rolly Keyboard 2 can be seen in the following movie.

Open and close the rolling keyboard "Rolly Keyboard 2" to wrap - YouTube


In addition, when Rolly Keyboard 2 was opened for the first time, paper was wrapped around the pillar part, which was written as "peel off the battery film before use".



So this is Rolly Keyboard 2. On the upper part of the keyboard is a compact pentagonal pillar that is more compact than the main body, so if you do not use it you can wrap around the keyboard around it and store it.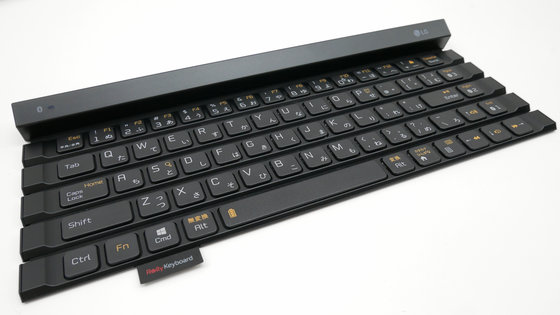 The key arrangement of Rolly Keyboard 2 looks like this. Although the function keys are integrated with the numeric keys, there are only five keyboards and the number of keys is comparable to that of the notebook PC. The key pitch of Rolly Keyboard 2 is 16 mm and wider, but the width of the letter key is about 10 mm. It is an impression that the gap between the key and the key is spread widely instead of the narrow width of the key.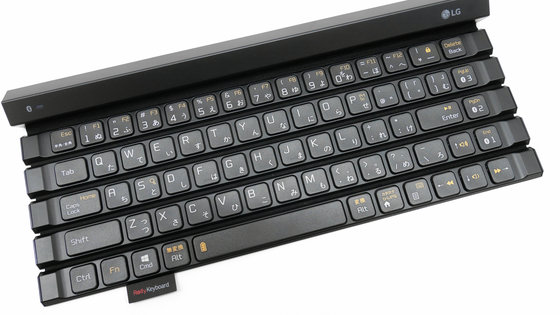 The keystrokes are not that deep, but there is a certain sense of keystroke.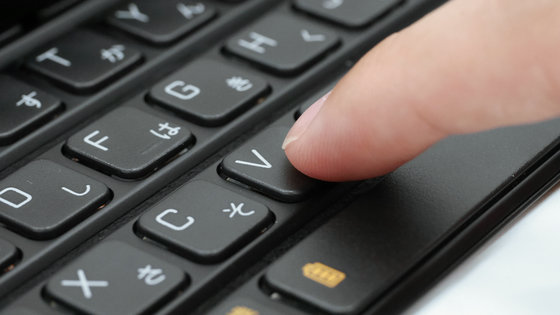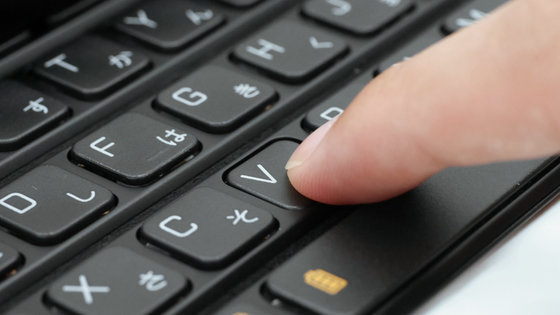 The edge of the keyboard is raised and a magnet is embedded here. Thanks to this magnet, five keyboards can be wrapped around the struts.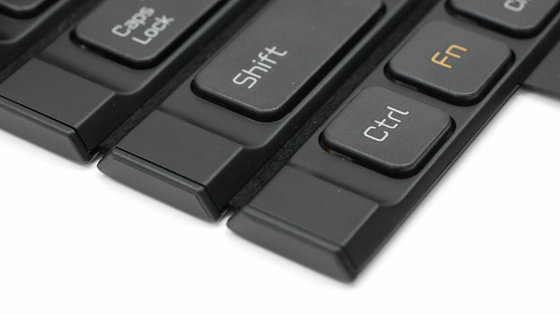 It is a textile material that connects the keyboard and support of the 5 sides, it seems to be strong for folding.



Even when it is closed, this fiber material comes out of the gap.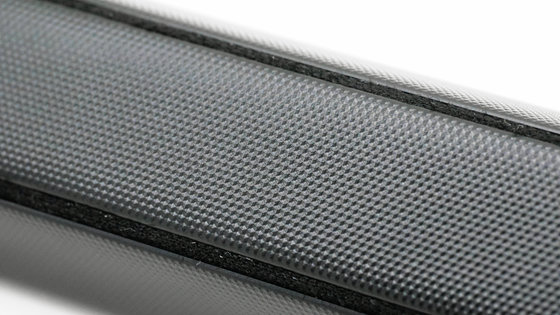 The most characteristic feature of Rolly Keyboard 2's key arrangement is "1" "2" "3" key arranged on the right side of the enter key. Rolly Keyboard 2 can be multi-paired with up to 3 devices, but this number key is used when pairing with a terminal such as smartphone, tablet, PC etc.



Bluetooth indicator at the left end of the support.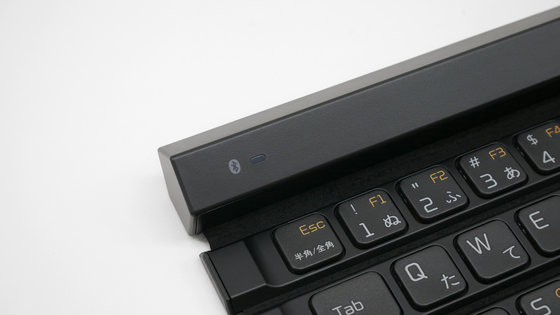 The logo on the right is LG.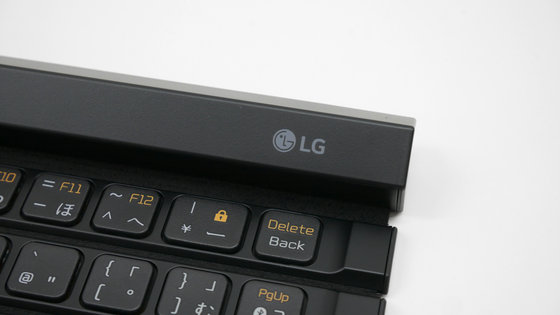 Looking from the side like this. The thickness of the keyboard part is about 5 mm.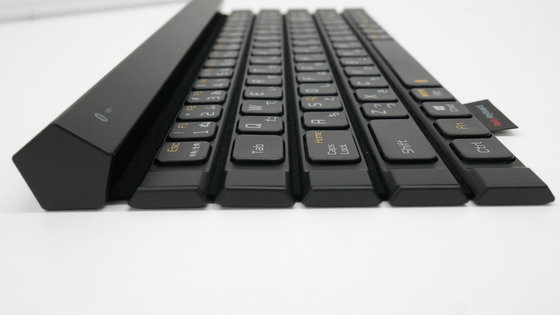 Looking from behind like this.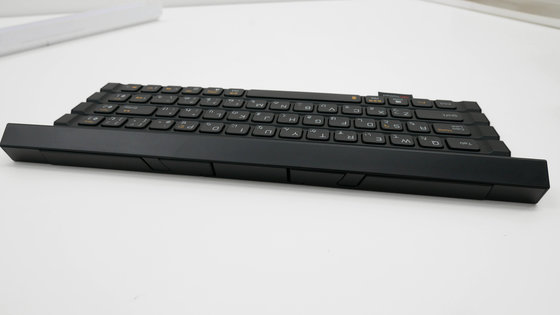 It looks slippery on the reverse side ... ...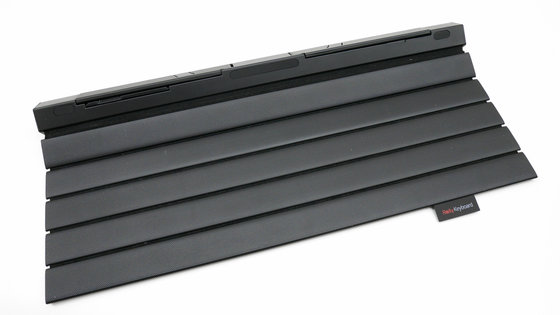 Because it has a slip on the pillar, you can use the keyboard securely than you can imagine. However, since the slip prevention is not so large, it seems necessary to prepare a flat desk when working with Rolly Keyboard 2. When trying to use Rolly Keyboard 2 in an unstable place such as a place where decorated or on a knee, it seems that the keyboard is unsteady and can not concentrate on work.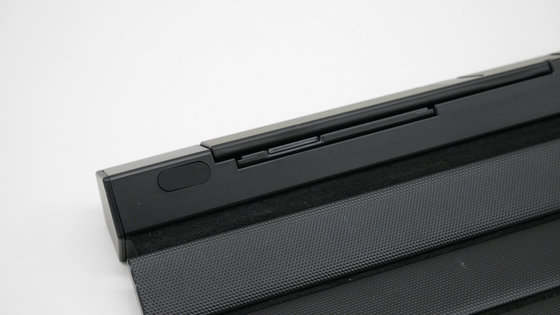 In addition, there is a slit beside the slip stopper at the bottom of the pillar, and putting your finger here ... ....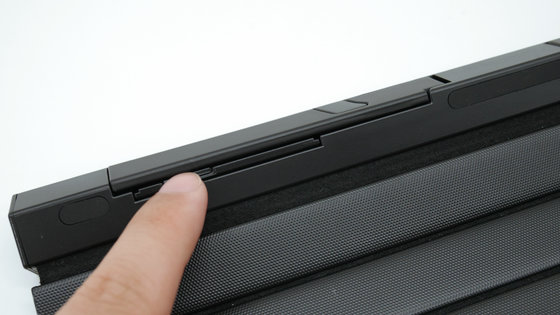 A stand that is stored in the pillar part of the main body appears.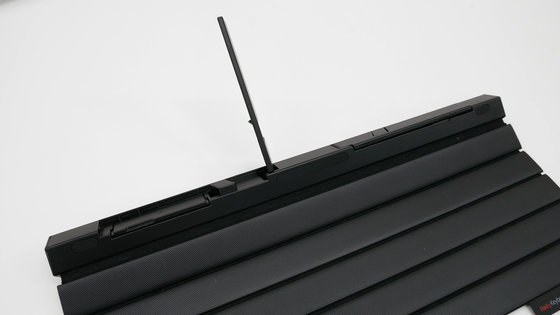 The stands are stored one by one on the left and right.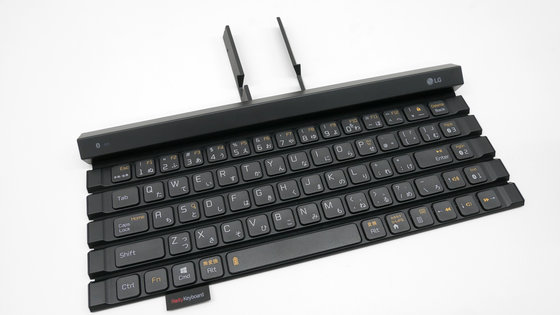 The gap of such feeling is vacant ... ....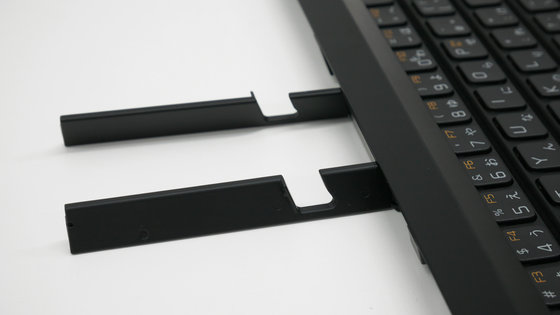 You can install smartphones and tablets here.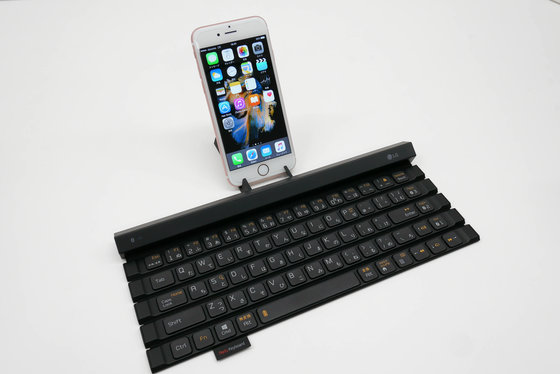 The angle when placed on the stand is about 135 degrees.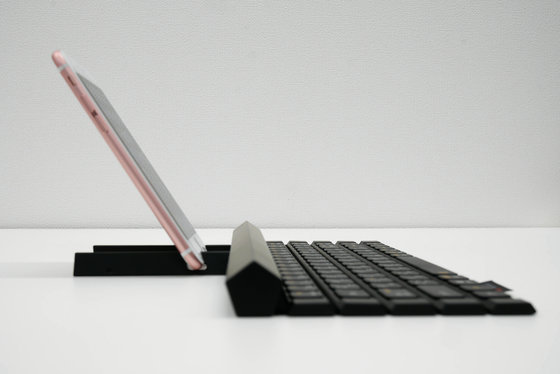 For this stand, from a smartphone with a screen size of 4 inches or more to a tablet of 10 inches or less.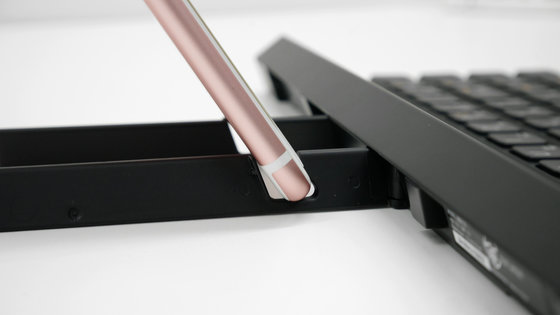 Furthermore, when looking at the space where the stand is normally stored in the state where the stand is deployed, I notice that there is a lid that can be removed.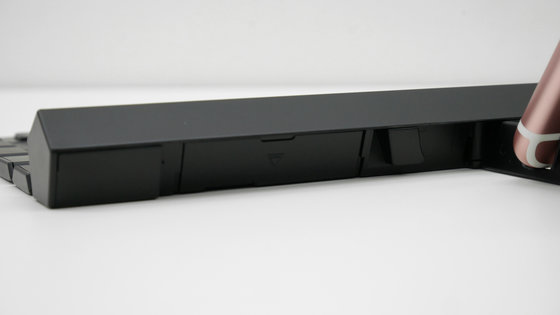 Sliding this downwards ...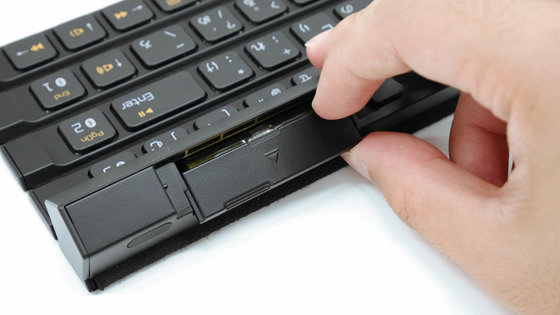 There were AAA batteries in it. In addition, the lid is fixed with the pillar part and the tape, so it is designed not to be lost.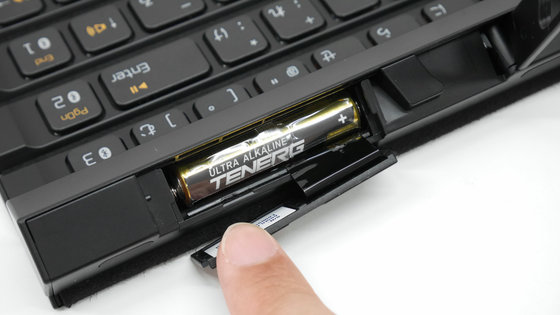 At the time of purchase, since the film remains attached to the supplied AAA battery, use it for peeling.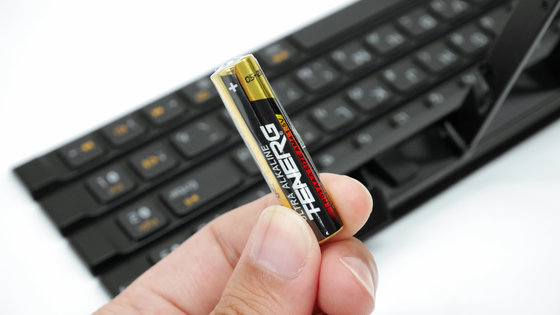 It is OK if you store the AAA batteries so that the plus pole faces toward the center of the pillar.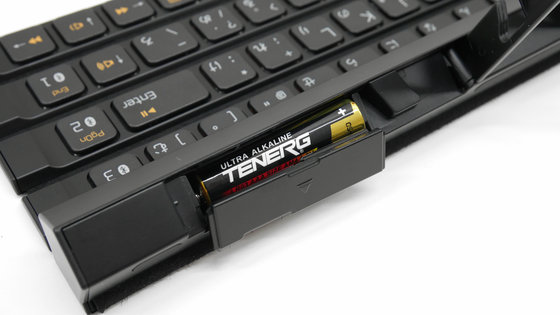 Also, since Rolly Keyboard 2 is stick shaped, it can be carried in your pocket. It is very thin so as not to think that it is a keyboard.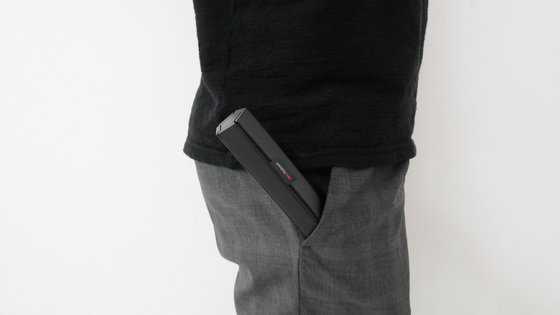 Even with a bag that's as big as a 7 inch tablet Nexus 7 ...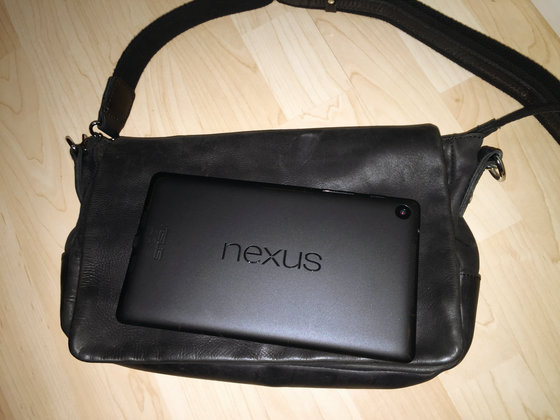 Rolly Keyboard 2 can be stored.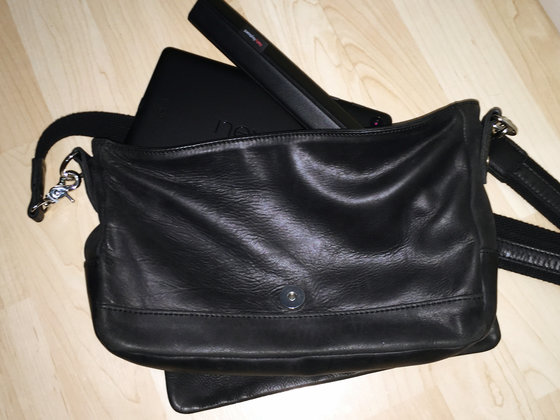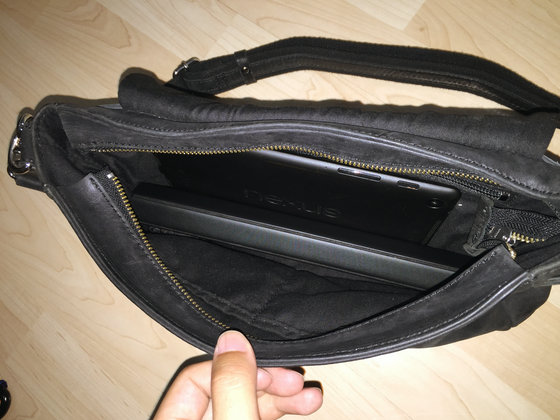 I compared it with the keyboard of the Let's Note CF-SX 3 used in the editing department. There is no big difference in size.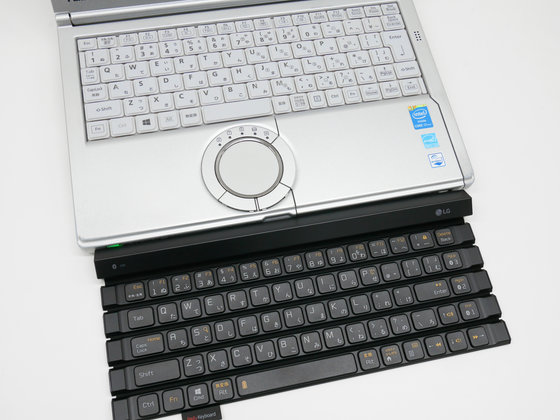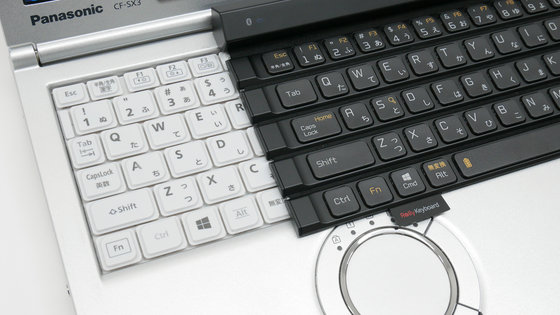 In addition, I reviewed in GIGAZINE in the pastWedge Mobile KeyboardCompare with.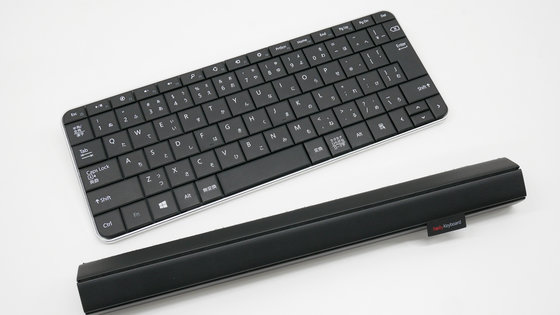 Rolly Keyboard 2 when storing the keyboard is overwhelmingly compact.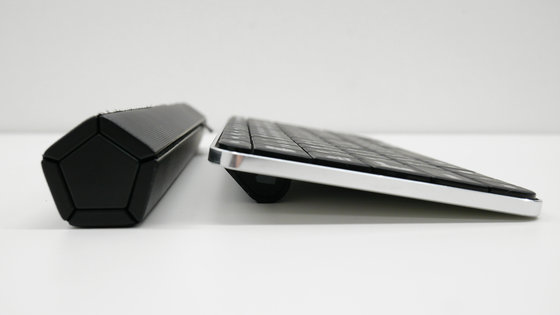 Same feeling of size as a keyboard.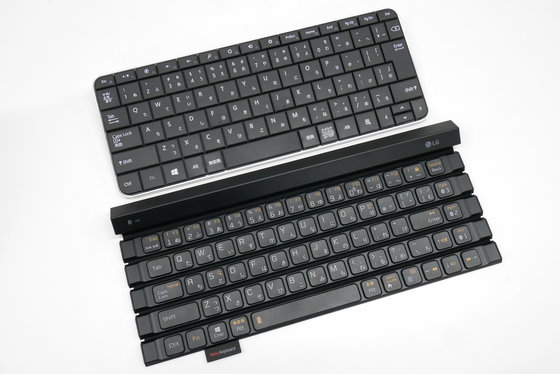 ◆ I actually used it
I will actually use Rolly Keyboard 2 when I've finished watching it around. Rolly Keyboard 2 does not have a power button, it turns automatically when rolling up to accommodate the keyboard, turns off automatically, and turns on automatically when you expand the keyboard, pairing the smartphone or tablet with Rolly Keyboard 2 To use it widen the keyboard and press and hold "1" key on the right end for more than 2 seconds.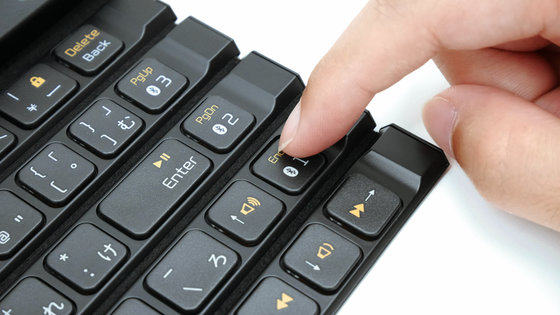 Then the Bluetooth indicator flashes blue, so prepare the device you want to pair.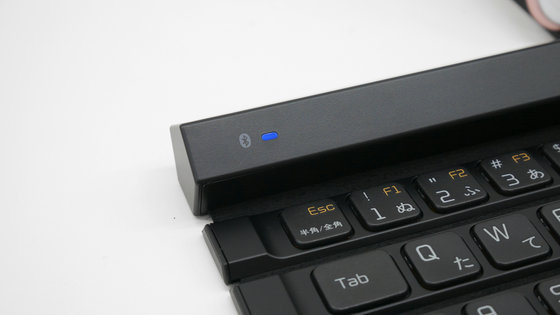 To pair an iOS device, tap "Settings" → "Bluetooth", turn on Bluetooth and tap "LG Rolly KBB 710" from "Other device".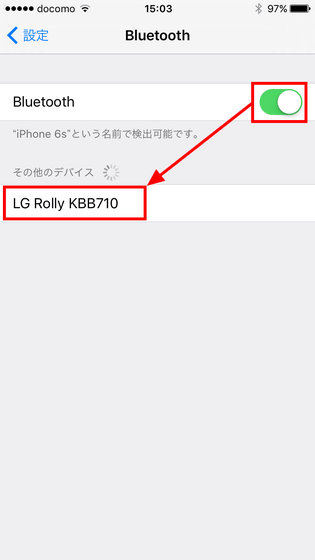 Pairing is completed if the Bluetooth indicator glows purple.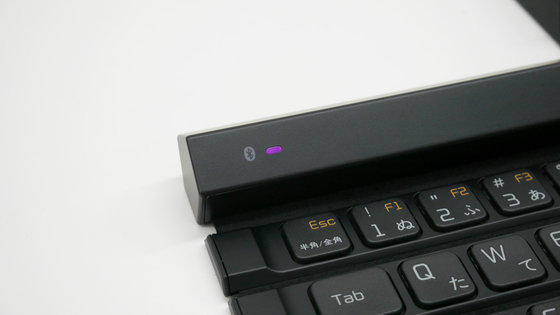 To use Rolly Keyboard 2 on an iOS terminal, you need to open "Japanese Roman character" on the keyboard. If this keyboard is not added, tap "Settings" → "General" → "keyboard" → "keyboard" and tap "Add new keyboard ...".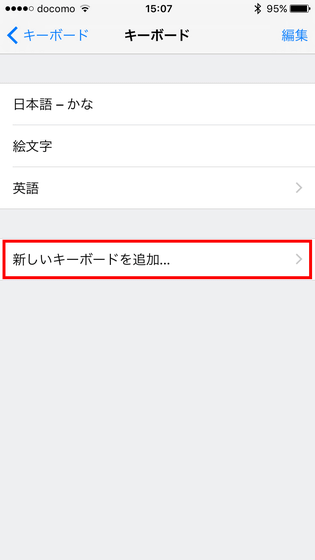 Tap "English (Japan)".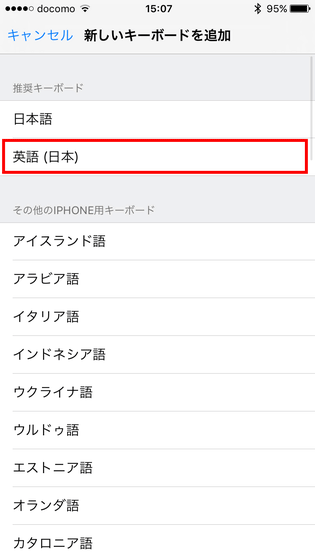 Tap "Romaji" → "done".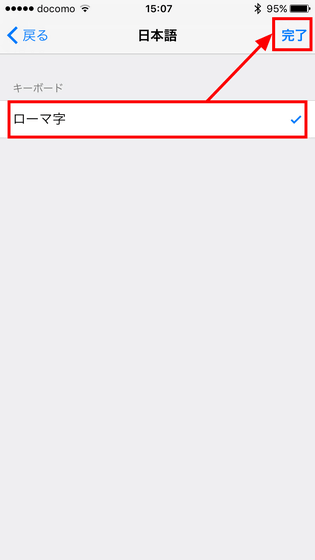 Then tap "Japanese Romaji" on the keyboard and enter characters with Rolly Keyboard 2 is OK.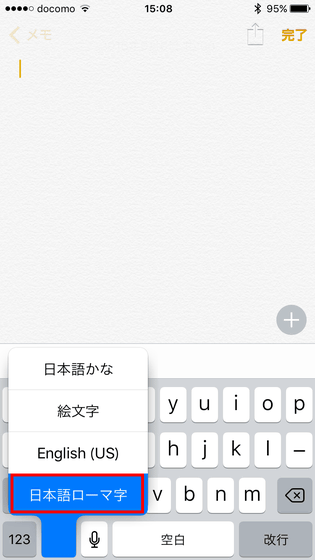 Just type in letters on Rolly Keyboard 2. You can see the actual input in the following movie.

Character input on iPhone 6s with Rolly Keyboard 2 - YouTube


If you want to pair-register a new device, press and hold one of the number keys "1" - "3" ... ...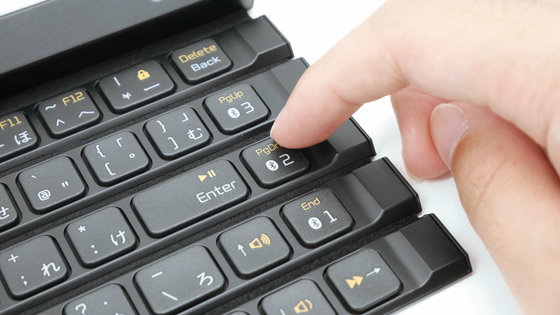 It is OK if pairing is set.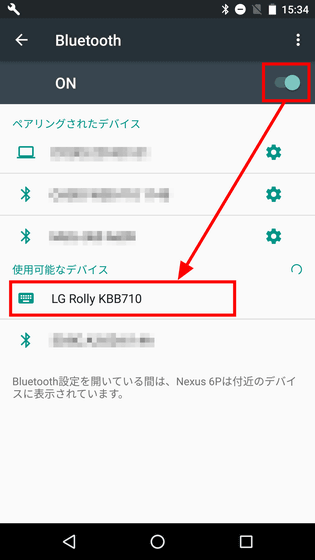 When using Rolly Keyboard 2 on an Android terminal, various commands can be used than using on iOS terminal. It is possible to select multiple characters at the same time while pressing the shift key, or predictively convert with the space key.

Character input on Nexus 6P with Rolly Keyboard 2 - YouTube


OS compatible with Rolly Keyboard 2 is Android 4.0 or higher, iOS 7.0 or higher, OS X 10.7 or higher, Windows 7 or higher. Since it can be used not only on smartphones and tablets but also on laptop PCs, it is compatible with Windows 7 used by GIGAZINE Editorial DepartmentLet's Note CF-SX 3I tried pairing with them.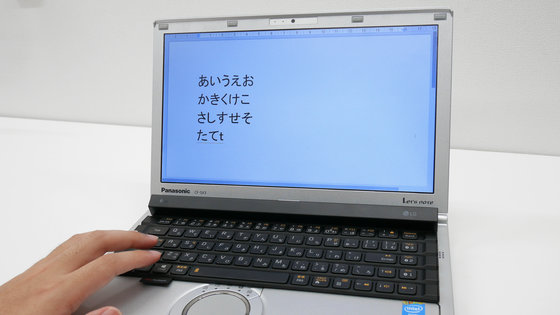 Although the previous model was highly evaluated by the feeling of use and design etc., on the Amazon item page, multiple usersPairing setting is troublesomeI was commenting. However, in the new Rolly Keyboard 2, it was pretty good that it was OK just by pushing a dedicated numeric key and paired with the device side.

Also, as an excellent point of Rolly Keyboard 2, once pairing is done, it is very simple and quick to use from the next time. I cut the Bluetooth of iPad mini once connected to Rolly Keyboard 2 once, confirmed that the two connections are broken, and restarted Rolly Keyboard 2 is the following movie. If you open Rolly Keyboard 2 you will see well that you can use it by haste.

Rolly Keyboard 2 will be available in haste if opened - YouTube


Actually using it for a while, GIGAZINE editing staff who is using a laptop computer everyday seems cramped with a narrow key width, but it was not such a big hindrance as to input work. As long as I continued to use for a few days and got accustomed to the key width, I seemed to be able to do input work without problems.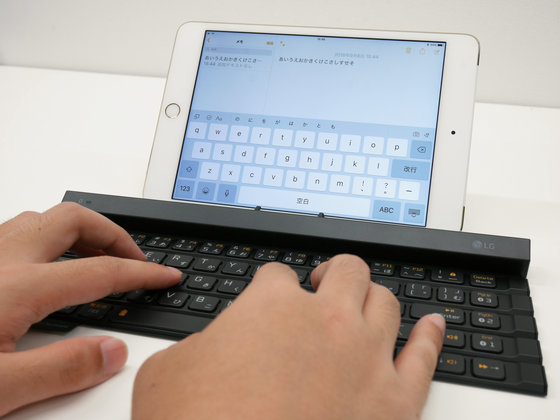 In addition, "LG KBB - 710" can be purchased at Amazon with 13,000 yen including tax.

Amazon | 【Domestic Genuine】 LG Bluetooth compatible new 5-stage roll type keyboard (iOS, Android, Windows compatible) Kana input compatible version KBB-710 | Mobile phone · Smartphone accessory Online mail order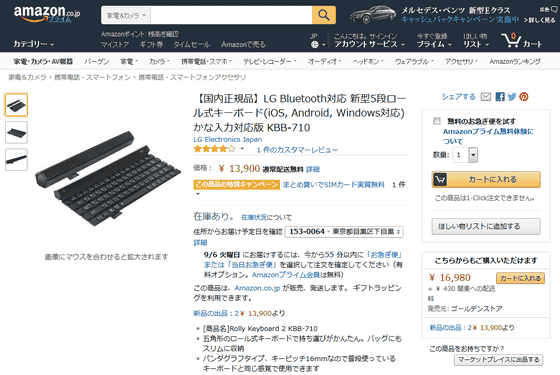 In addition, "Rolly Keyboard 2" can also be gotten at GIGAZINE New Year's Holiday gifts big release project.

GIGAZINE New year's holiday gift big release project "Please answer the questionnaire and bring them all!" - GIGAZINE