Ice has enjoyed the original summer sweet of "Haagen-Dazs Summer Terrace" which survives summer with a resort feeling of southern France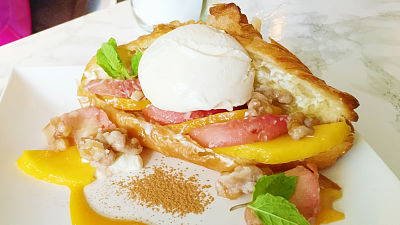 A summer-only shop offering original summer sweets using Haagen Dazs ice cream at the cafe "Sign daikanyama (Sign Daikanyama)" in Daikanyama, Tokyo from July 21, 2016Häagen-Dazs SUMMER TERRACE(Haagen-Dazs summer terrace) "Is open. It seemed to be a shop selling the summer with the resort feeling inside the store that imaged ice cream and southern France, so I decided to see what it feels like.

News Releases | Company Information | Haagen-Dazs Häagen-Dazs
http://www.haagen-dazs.co.jp/company/news/2016/07/-haagen-dazs-summer-terrace-sign-daikanyama721.html

That's why "Haagen-Dazs Summer Terrace" arrives at the signature Daikanyama opened. The open terrace facing the road is cozy with shade of trees.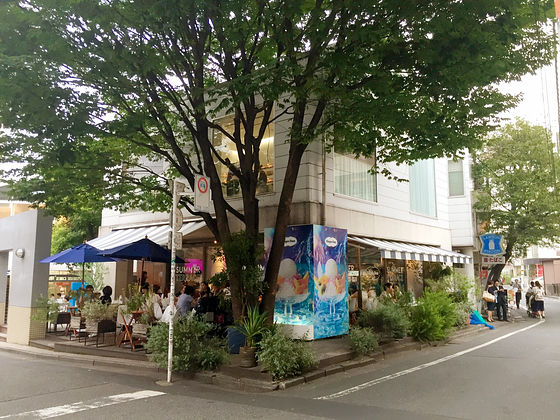 The location of the shop is "Daikanyama cho 19-4 Shibuya-ku, Tokyo, Daikanyama station building 1F". When you leave Daikanyama station on the Tokyu Toyoko Line, you can see it almost in front of you.


A panel like this is placed in front of the shop entrance. The Haagen-Dazs summer terrace means that it is limited until Friday, August 19th, and a special design is also given in the store during the period.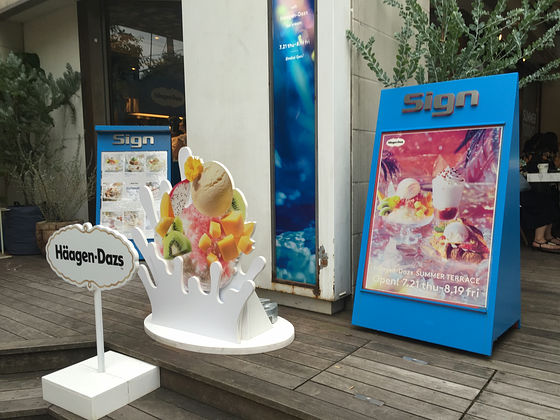 There is a panel with menus next to the entrance. Eight kinds of menus are offered at the shop, including a granite (ice confection), a new sensation sweet using croissants and ice cream, and a shake of using Haagen Dazs cup ice a half and a half.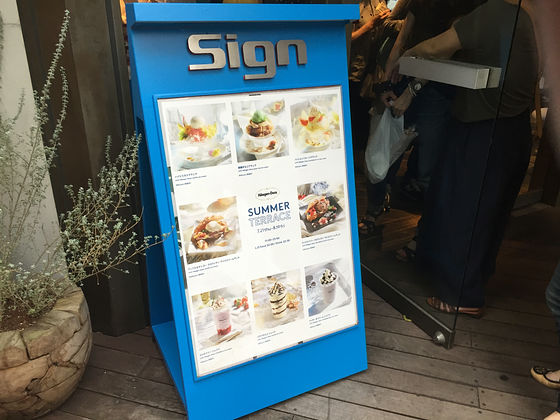 When entering the shop, the ceiling and wallpaper of the blue sky image floating a small cloud will jump into your eyes. It was an atmosphere that felt something like "white feeling" such as a large white table and somehow.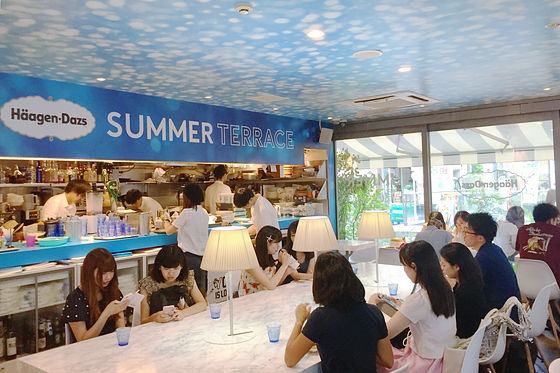 This brochure is placed on the table ... ...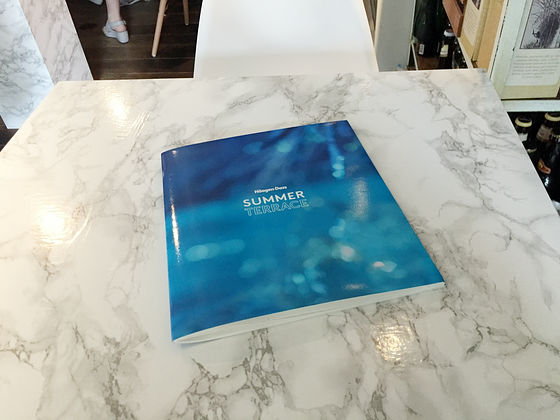 Some of the menus that were offered were listed. With a luxurious layout of 1 menu per page, it feels special from this place as well.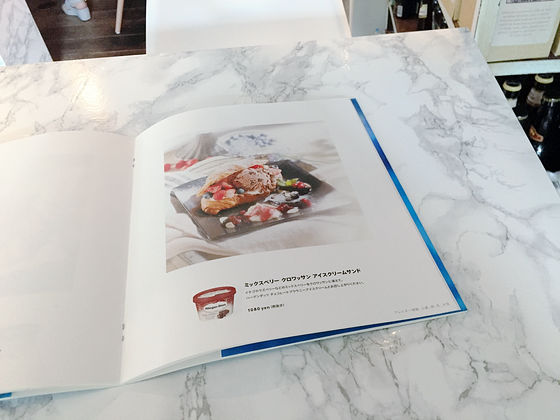 This time, I ordered "Apple & Mango Croissant Ice Cream Sand" (1080 yen without tax) and "Strawberry Sheikh" (480 yen without tax) which is also a recommended menu. By the way, the glass bottle behind the plate is what the cutlery is put in.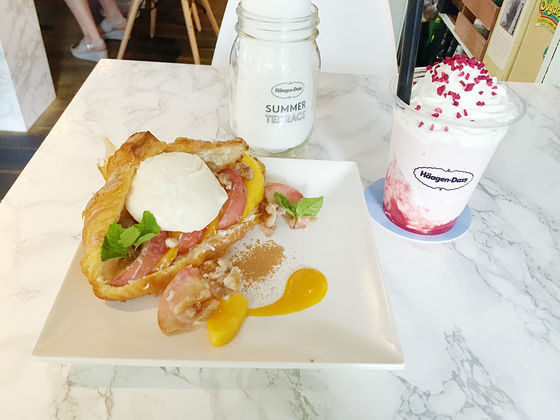 Apple & Mango Croissant Ice cream sand is a dish that sandwiched apples, cold mangoes and vanilla ice cream roasted in coconut oil in a large croissant. Mango yellow, apple red, mint green, etc. seem to be embossed with colorful appearance.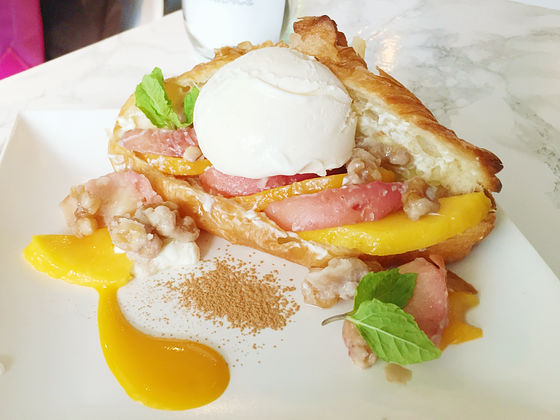 Fruits and ice cream sandwiched by croissants, and walnut and mint that were topped were noticed without wondering "Wow wow!



Ice cream is exactly the taste of Haagen Dazs' "that" vanilla ice cream. When you eat it with a crispy walnut texture, mint scent, the flavor of vanilla further increases.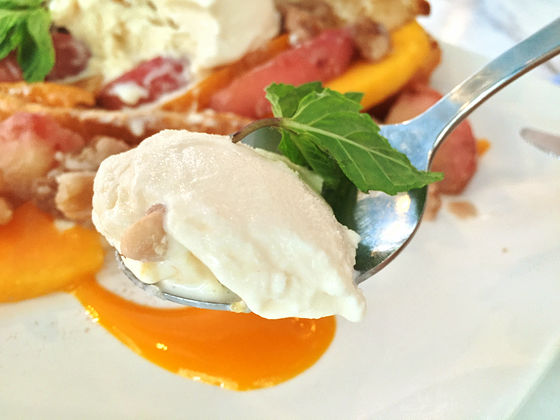 When mango and apple are cut in half and put on a spoon and blown with ice cream, sweetness of mango and a faint sour taste of apple and flavors of milk and milk feel mixed together, and it is mixed with mouth Feeling that the inside is filled with taste. While noticing the taste of fruits, I realize that the richness of ice cream that brings them together is important.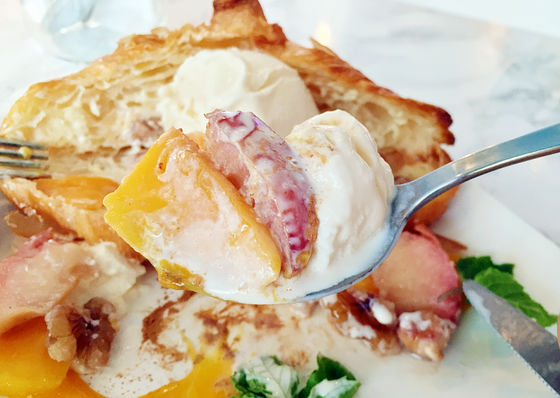 Cutting the croissants and eating a lot of them was, of course, a good thing.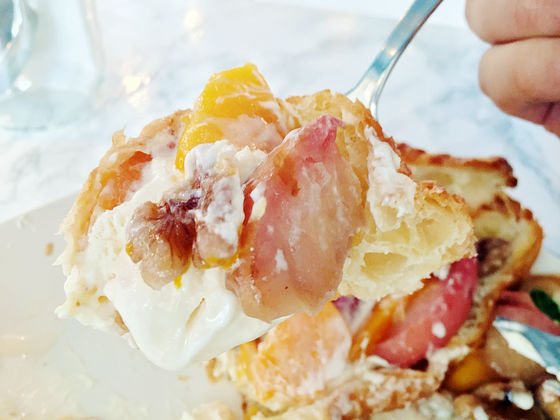 Strawberry shake is a strawberry ice cream shake with toppings of cream and accompanied by a flambooise. There is plenty of strawberry sauce at the bottom of the cup.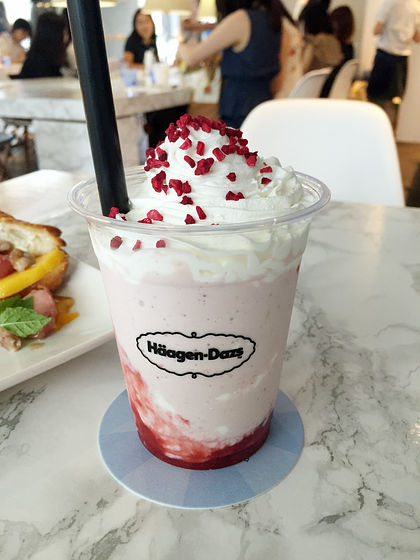 The acidity of Franboise gives an accent to the taste.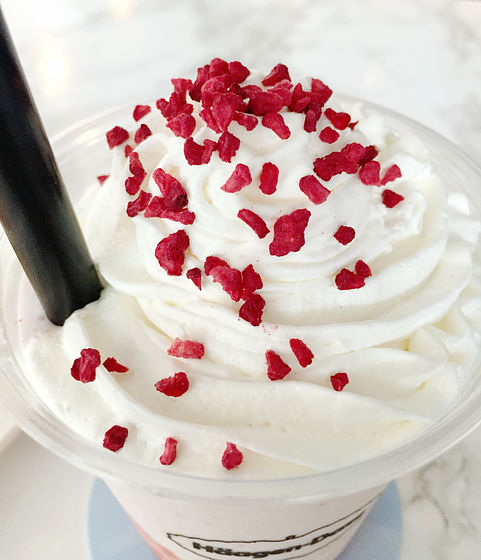 When sucking in with a thick straw at a stretch, this is also exceptional Shake 's strawberry feel based on "that" strawberry ice cream. And I was able to enjoy the sweet and sour taste of the strawberry sauce that jumps into "Durun".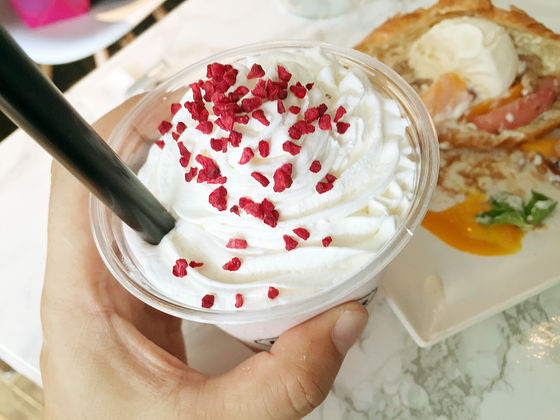 Haagen-Dazs summer terrace is open for a limited time until August 19, 2016 (Friday). Although I visited the interview during the daytime on weekdays, as the popularity was so much that I could have a queue even at such a timing, those who were interested are required checks.