The super-discounted smartphone "Freedom 251" of only 400 yen finally shipped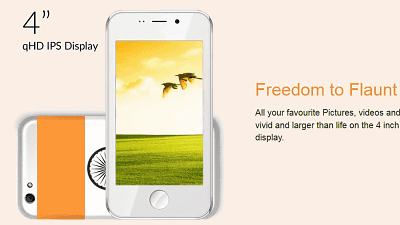 Indian companiesRinging BellsA smartphone with a price of just $ 4 (about 400 yen) announced "Freedom 251"Became a big topic because advertising photographs were far from the real thing and the fact that the actual terminal was diverted by Chinese manufacturers. However, it is announced that the shipment will be carried out on 30 June 2016 as originally planned, and 400 yen dual SIM smartphone equipped with 4 inch display, 8 megapixel camera, 1800 mAh battery, 1 GB RAM, Finally it will come to people's hands.

India's $ 4 smartphone will begin shipping next week
http://thenextweb.com/gadgets/2016/06/26/india-4-smartphone-shipping/

India's $ 4 smartphone to begin shipping this week; 70 million customers registered so far
http://www.neowin.net/news/indias-4-smartphone-to-begin-shipping-this-week-70-million-customers-registered-so-far

Freedom 251 was originally announced as a smart phone with a narrow bezel width, a refined design.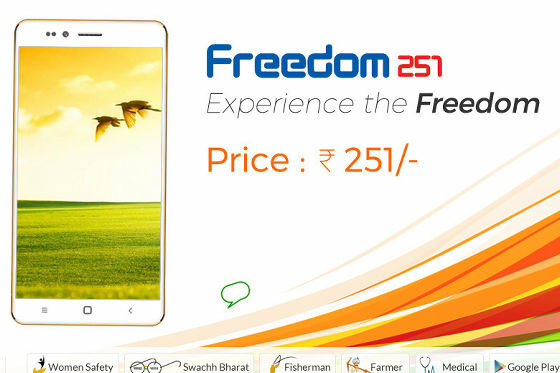 However, the tester version which was actually sent to the journalist was a design which is similar but not similar to the above image. In addition to the fact that the application closely resembles the design of the iOS application, the main body is unlikely to use the cheap smartphone "Ikon 4" of Chinese manufacturer Adcom, and it seems that Adcom suggested possibility to take some kind of legal measures .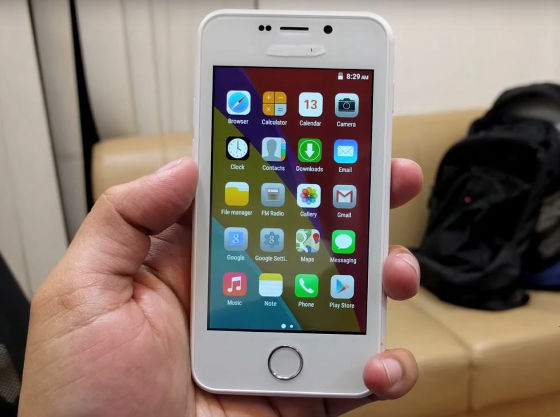 Freedom 251 when it was announced in February 2016 looks like the following.

Super-discounted 400-yen smartphone "Freedom 251" - GIGAZINE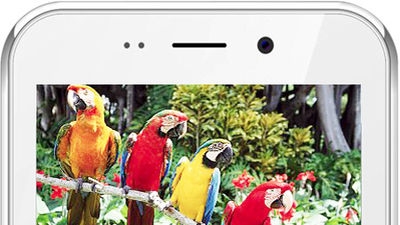 It turns out that the real machine is far from the advertisement picture and the flow until the design is changed can be read in detail from the following article.

Freedom 251, a super-discounted Indian smartphone with just 400 yen inflicted its copyright in Chinese smartphone - GIGAZINE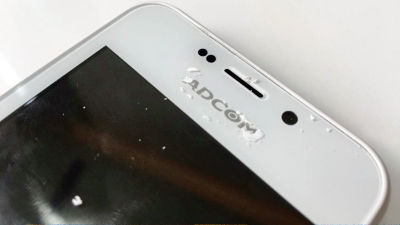 Although there was a trespass Freedom 251, manufacturer 's Ringing Bell announced that it will be shipping as planned on June 30, 2016. According to Mr. Mohit Goel, founder and CEO, there are 200,000 Freedom 251 for subscribers.

News of the siteThe Indian ExpressWhen looking at the image posted by, the design of the gallery icon etc. which was similar to the icon of the iOS photo app is corrected.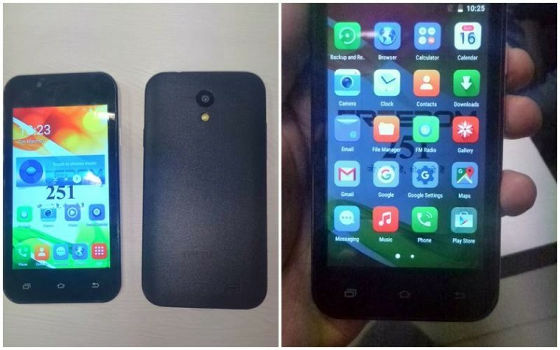 The final specification of Freedom 251 is as follows.

· 4 inch display
· 8 megapixel back camera, 3.2 megapixel front camera
· 3G connection
· 1.3 GHz quad core CPU
· 1 GB of RAM
· 8 GB internal storage (expandable to 32 GB)
· 1800 mAh battery
· Android 5.1 Lollipop
· Two colors of black and white expansion

Although Sanjeev Bhatia, founder of Adcom, said he had sold a large number of its own smartphone to Ringing Bell, he said that he was not told that it would be resoldI'm talking, There is still the possibility that legal measures will be taken in the future.