Google released Android new feature "Nearby" to present apps and websites to be installed on smartphones according to the place they are now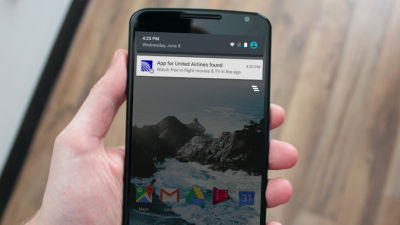 Google announced that on June 9, 2016 of the American time, Android's new feature "Nearby"Has been released. By using the location information of Bluetooth and GPS installed in the terminal, this function can automatically present applications and websites that users will find useful at the time they are at that time.

Official Android Blog: Introducing Nearby: A new way to discover the things around you
https://android.googleblog.com/2016/06/introducing-nearby-new-way-to-discover.html

Google Developers Blog: Surface new proximity-based experiences to users with Nearby
https://developers.googleblog.com/2016/06/surface-new-proximity-based-experiences.html

Nearby having a name "near here" in Japanese is a notification function that can deliver information according to the situation to the user. There are millions of apps distributed on the Play Store offering Android apps, but it is difficult to find what you need right away in real time immediately. For example, when you are picking an item at a store, you can read a barcode, search for an application that allows you to view a review of that product, and distribute apps that do audio guidance when you are watching a work at the museum. Even so, it is common for users not to notice that.

Nearby is a function that notifies apps or websites that might be useful to users to the screen of smartphones or tablets so that they will not miss such opportunities. In the blog of Google, the following situation is mentioned as a use case of Nearby.

· Present a dedicated photo upload application when visiting a store that can print photos at the store
· Exploring the historical monuments of the University of Notre Dame
· Download audio tours when visiting the museum "The Broad" in Los Angeles
· When passing through the immigration inspection at the airport, if the airport is the corresponding airport, download the application "Mobile Passport" which can be immigrated by smartphone and complete the customs procedure without queuing up in the queue
· Download United Air smartphone app that can use in-flight entertainment for free before boarding an airplane

For example, the screen notifying of the application of United Airlines looks like this. By tapping on the displayed notification, you can move to the screen where you can install the application.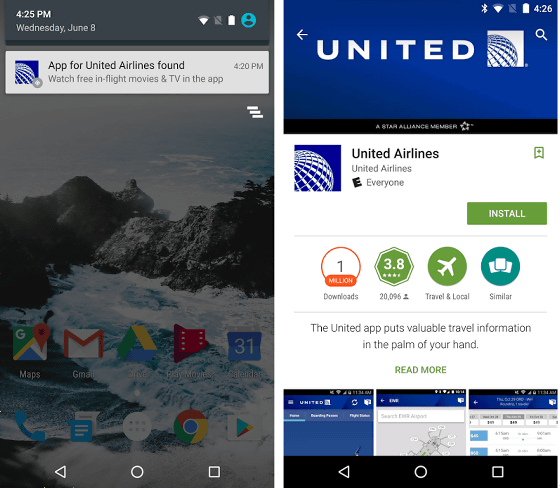 Also, if you have a Chromecast or Android Wear near your device, the following notifications are displayed on the screen, and you can also set up by just tapping.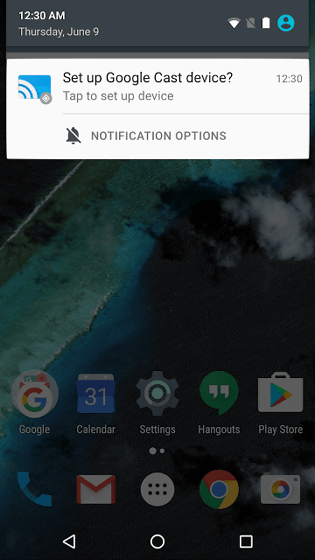 Nearby used BluetoothIBeaconYaPhysical WebIt receives a signal and a URL from the device of the device and displays the information on the screen, and the application "Google Play Developer Services"The offer will be started in the form included in the update. In addition, Nearby can be used as a terminal equipped with Android 4.4 KitKat or higher.