On-site examination of "Android Instant Apps" that can run applications without prior installation will be started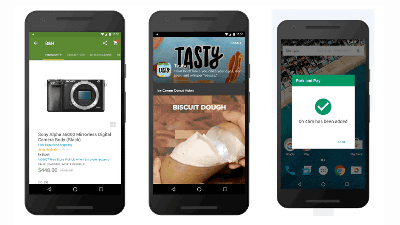 When using an application on a smartphone, you will definitely need to download and install the application from the Google Play store etc. ... You will need to install the app that you plan to use only once only There are also a few who are caught in the case of forgetting to uninstall it after use and continuing to occupy storage forever.

It seems likely to eliminate such annoyance, but you can use the function without installing the application "Android Instant Apps"is. With Google I / O in May 2016Had been announcedOn Android Instant Apps, the first field trial started on January 23, 2017 in the US time.

Android Instant Apps starts initial live testing | Android Developers Blog
https://android-developers.googleblog.com/2017/01/android-instant-apps-starts-initial.html

Android Instant Apps is a mechanism that enables you to use the functions of the application without installing just by tapping the link of the web page or touching NFC. The screen you have run is almost the same as the existing application, but you can start it in just seconds in spite of not installing it, and it will be able to provide a user experience that could only be realized with the application.

The behavior image of Android Instant Apps Google announces is like the following GIF animation.

With Android Instant Apps, you'll be able to run any app with one tap, no installation needed.# IO 16Pic.twitter.com/QQbJ6xlJCc

- Google (@ Google)May 18, 2016

On field trials that began on the 23rd, 'BuzzFeed', 'Wish', 'Periscope' and 'Viki' are offered as Instant Apps. By gathering feedback from users and making improvements, we will increase the corresponding applications in the future It is planned to expand user experience. Examples of actual use include applications that can use payment functions in smart parking areas, shop-only applications that can be used in retail stores, applications that provide useful information for watching at museums and sports facilities It is thought.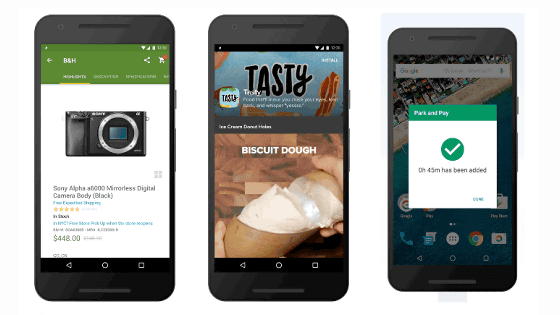 Developers do not need to develop new applications, it is possible to respond by simply updating existing applications. And by modularizing the functions, it becomes possible to download and execute the functions individually. The existing API and Android Studio can be used as it is, and the corresponding SDK will be released soon. At the moment we are planning to support Instant AppsPreparation guideIt is open to the public. At the time of writing the article is compatible with Android 4.4 KitKat and later, it is planned to respond to Jelly Bean later.

You can see how Instant Apps is running even in the YouTube movie released by CNET as of May 2016.

With Android Instant Apps, you can use a program without downloading it - YouTube