Revealed that Google gifts Chromecast for YouTube Red users for free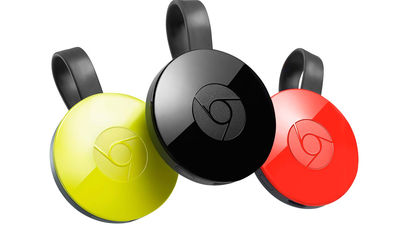 You can hide ads or view videos even when you are offline, YouTube's paid service is "YouTube Red"is. YouTube RedService has not started yet in JapanAlthough,Nikkei Business OnlineThe service start within 2016 is revealed by coverage of. It turned out that Google Chromecast was sent free for paying members of such YouTube Red.

Google offering a free Chromecast to (some) YouTube Red subscribers - Android Authority
http://www.androidauthority.com/free-chromecast-youtube-red-subscribers-695638/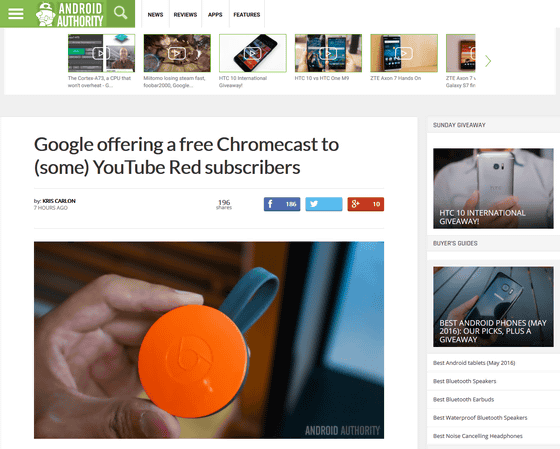 Google is committed to promoting YouTube Red for paid services on YouTube. Since the start of YouTube Red's service, Google has implemented a campaign that can use YouTube Red's service for three months at only 99 cents (about 110 yen), but the latest promotion will be more heavy content Having dealt with Google related newsAndroid AuthorityIt reports.

That heavy promotion is "to distribute Chromecast to YouTube Red members for free". Indeed, many paid members of YouTube Red, along with a message saying "Thank you for becoming the first participant of the party", a free small streaming device "ChromecastIt has become obvious that we have received.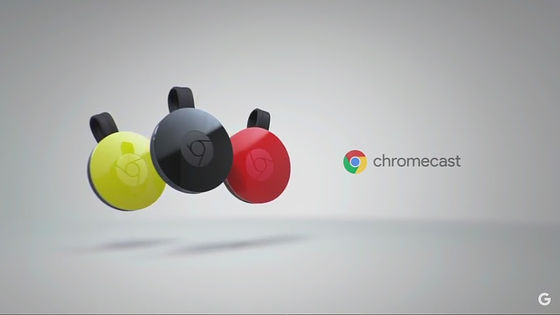 Please note that the e-mails sent to YouTube Red members are as follows.

Thanks for being a part of YouTube Red

Here's a gift we hope you'll love. Now through June 19, 2016, claim your very own Chromecast from YouTube Red. It's on us! No strings attached, just a little treat for being one of the first people to join the party.

With hero YouTube Red members love being able to watch ad-free videos on TV, So we thought we'd help you get started.

(Japanese translation)
Thank you for becoming a YouTube Red member

We have gifts that you will be pleased with. You can receive Chromecast from YouTube Red from now until June 19, 2016. With our treat! There are no special conditions, etc., which is just a gratitude for being the first participant of our service.

With Chromecast, you can enjoy content on a larger screen. Just plug Chromecast into your TV and play YouTube's music and movies on smartphones, tablets, PCs and more. I heard that YouTube Red members are enjoying watching ad-free movies on TV, so I thought that Chromecast would be useful.

The monthly charge for "YouTube Red" paid version YouTube is $ 9.99 (about 1100 yen). The major features of the service are "Advertisement non-display", "Offline playback of movies", "Background playback", and you can also view other original content on YouTube Red. In Japan you will find out what services YouTube Red is not servicing by reading the following article.

YouTube announces paid service "YouTube Red" without advertisement, can also use offline viewing and Google Play Music - GIGAZINE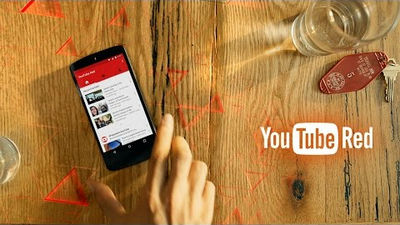 Android Authority that monthly fee is "too expensive" to be a YouTube Red member only for the purpose of "deleting ads". However, "It is not a bad method to become a member for the first three months at about 1 dollar (about 110 yen) and get Chromecast for free."