"Geo Orbital Wheel" to turn my bicycle into an electric bicycle capable of running about 48 km at maximum speed of 32 km at 1 minute


Electric wheel that enables long distance traveling of up to 30 miles (about 48 km) at the maximum speed of 20 mph (at speed of about 32 km) by simply replacing it with the front wheel of a regular bicycle is "Geo Orbital Wheel"is. Any standard bicycle can change wheels, no instruments are needed, and my bike will be transformed into an electric bicycle in just 60 seconds.

Geo Orbital Wheel | Make your bike electric in 60 seconds by Geo Orbital - Kickstarter
https://www.kickstarter.com/projects/1266381423/geoorbital-wheel-make-your-bike-electric-in-60-sec

Where you are wearing Geo Orbital Wheel on a bicycle or running, you can see the following movie to see it.


Men came out of the house with the wheel with various parts attached. This is Geo Orbital Wheel.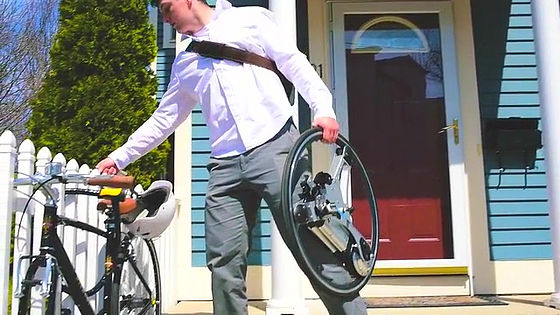 I will remove the front wheel of the bicycle which was in the garden and exchange it for Geo Orbital Wheel.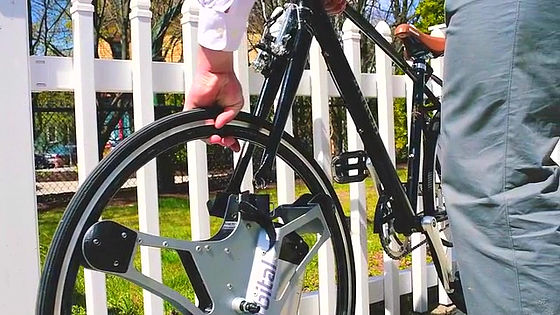 Just set the fork on the Geo Orbital Wheel and tighten the quick release lever to fix it.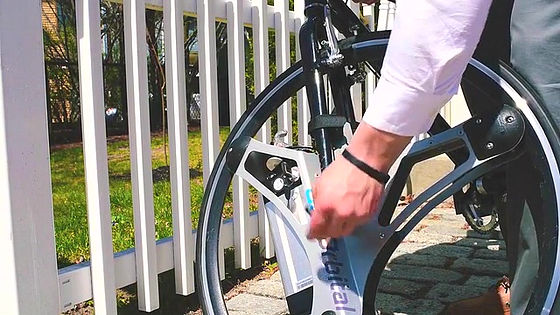 Just tighten the Velcro with how fork.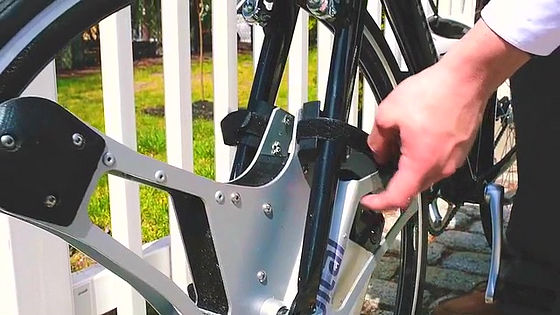 Finally, if you attach the switch to the handlebar, preparation is completed. The work so far is about 1 minute, and even beginners can change it if it is two minutes. Although the wearing of the brake part is not shown in the movie, it corresponds to the rim brake, and the disk brake is not supported.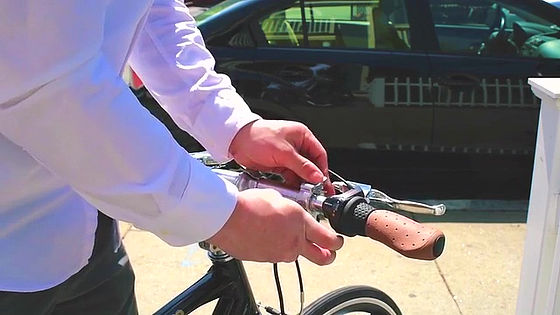 When you press the button, ...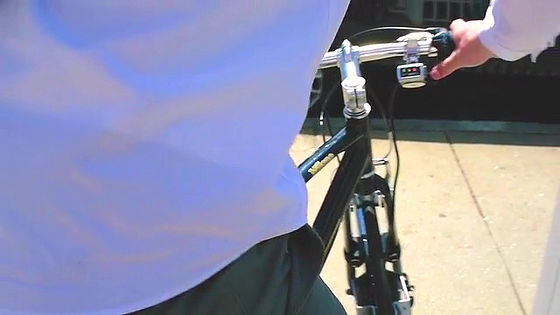 The bike went on arbitrarily.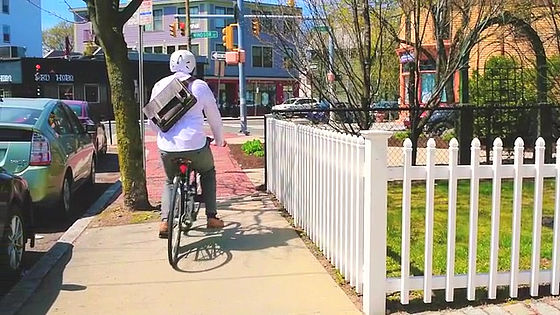 It does not rise on an uphill slide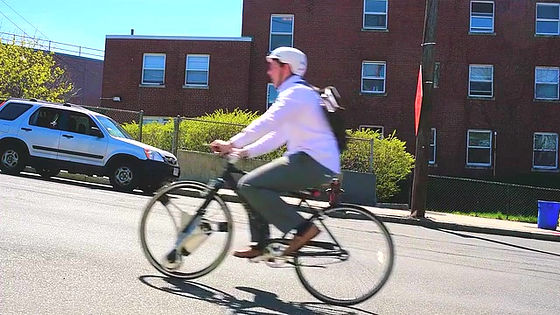 Equipped with a large capacity lithium-ion battery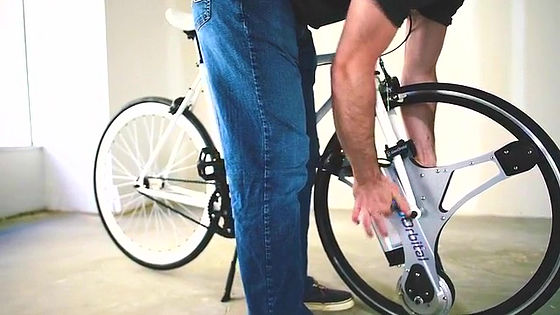 There is a keyhole on the right side, and if you lock it there is no fear of being stolen in the parking lot.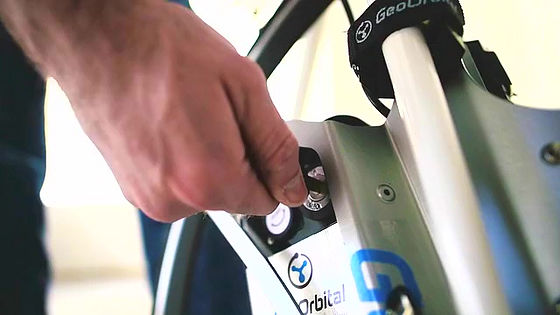 If you release the lock, you can also remove the battery.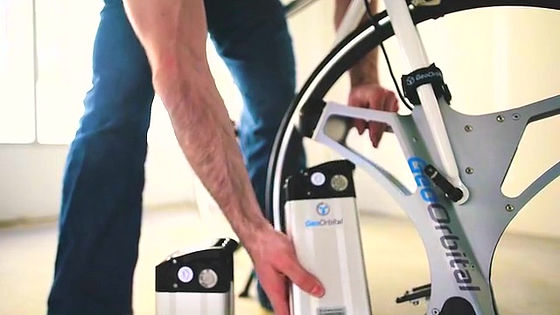 It can also be a mobile battery to charge smart phone · bicycle light · Bluetooth speaker etc. from the USB port.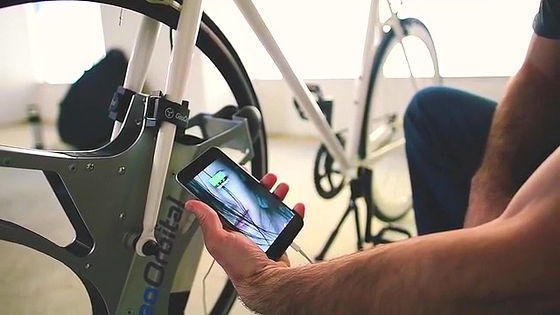 Since it is a tire that does not puncture, there is no problem even if a crap is stuck. It is also unnecessary to insert air.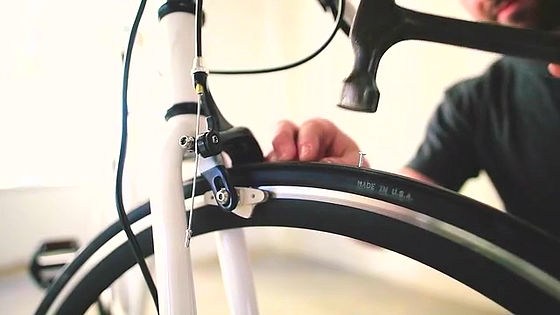 GeoOrbital Wheel is roughly divided into four parts: a brushless DC motor, a lithium ion battery, a unibody using aluminum in the aviation industry class with a built-in motor controller, and a non-punctured tire.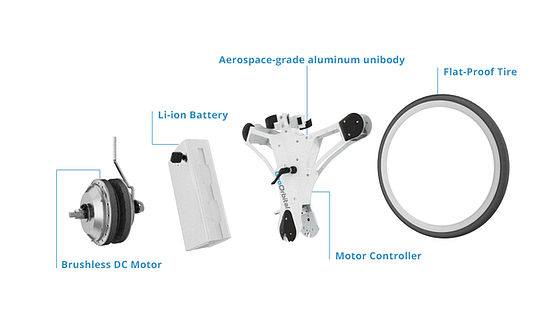 GeoOrbital Wheel has two sizes: "26 inch" and "700 C (28 in, 29 in, 700 C)". Specifications are as follows. In addition, although Geo Orbital Wheel can legally drive in the United States, in Japan's road traffic law, in order to run an electric bicycle without going through pedals on public roads, it is necessary to acquire a license plate and an appropriate license Please be careful as it will be.

motor:36V / 500W brushless DC
battery:36 V / 6 Ah (26 inch) / 36 V / 10 Ah (700 C)
charging time:3 hours (26 inches) / 4 hours (700 C)
Regenerative brake:Built-in
Maximum speed (no pedaling):20 mph per hour (about 32 km / h)
Travelable distance (without pedaling):Up to 12 miles (about 19 km)
Travelable distance (with pedaling):Up to 30 miles (about 48 km)
weight:Approximately 5 kg to 6.3 kg (26 inches) / approximately 9 kg (700 C)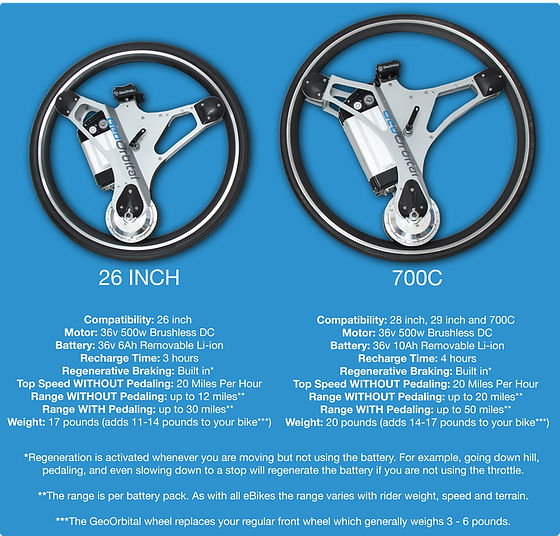 GeoOrbital Wheel is now looking for investment with Kickstarter for commercialization and has already gathered nearly ten times the target investment amount. You can get one Geo Orbital Wheel by investing in a contribution plan of $ 699 (about 76,000 yen). Separately, shipping to Japan requires $ 140 (approx. 15,000 yen). Product shipment is scheduled around November 2016, the deadline of investment is 5:54 am on June 16, 2016.

Geo Orbital Wheel | Make your bike electric in 60 seconds by Geo Orbital - Kickstarter
https://www.kickstarter.com/projects/1266381423/geoorbital-wheel-make-your-bike-electric-in-60-sec