"Amazon Video Direct" that you can sell movies, movies, movies on Amazon also started in Japan, countering YouTube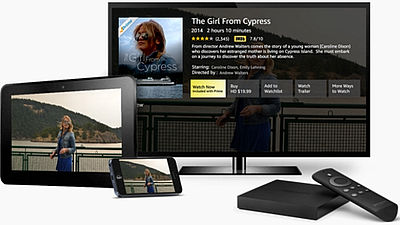 Amazon.com has launched "Amazon Video Direct", a service that individuals and companies can publish and sell and rent video works. Often these services start late in Japan after beginning overseas, but this time they are starting in Japan at the same time.

Amazon Video Direct
https://videodirect.amazon.com/home/landing




Amazon Announces Amazon Video Direct, Giving Video Providers a Self-Service Program to Reach Amazon Customers, Including Tens of Millions of Prime Members
http://phx.corporate-ir.net/phoenix.zhtml?c=176060&p=RssLanding&cat=news&id=2166929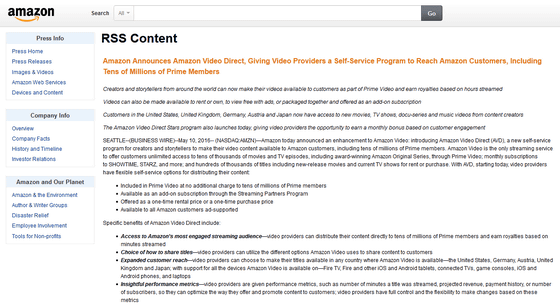 This Amazon Video Direct is a service provided as an opportunity for video creators to generate revenue, "prime member's stream time", "monthly membership fee for rental / purchase / additional membership service", "profit distribution from advertisement display number" , You can earn income according to each combination.

As a language of the site, English, German, Spanish are prepared in addition to Japanese, but the country where the registered video can be delivered now is the country where Amazon's prime video can be used Japan, the United States, the UK, Germany, Austria It is said that.

The terminals that can be viewed include PC, Fire TV, iOS, Android, game console, smart TV, and so on.

In addition, although YouTube is one of the rival on the content of the service, as a partner in Amazon, Conde Nast Entertainment, HowStuffWorks, Samuel Goldwyn Films, The Guardian, Mashable, Mattel, StyleHaul, Kin Community, Jash, Business Insider , Machinima, TYT Network, Baby Einstein, CJ Entertainment America, Xive TV, Synergetic Distribution, Kino Nation, Journeyman Pictures, Pro Guitar Lessons, and there are also views that the target is closer to video creators than YouTube There is.