Amazon is planning free video distribution service with advertisement for Fire TV users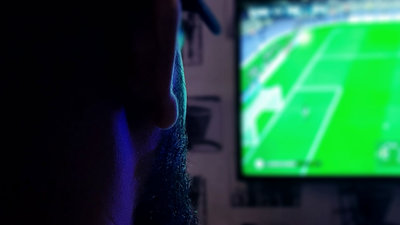 by obayda PH

For those who use the terminal "Fire TV" that Amazon will be able to use a number of video distribution services by connecting to the HDMI terminal of the TV, a new video distribution service named " Free Dive " It was reported that we are planning.

Amazon Plans New Video App, Latest Step Into TV Ad Market - The Information
https://www.theinformation.com/articles/amazon-plans-new-video-app-latest-step-into-tv-ad-market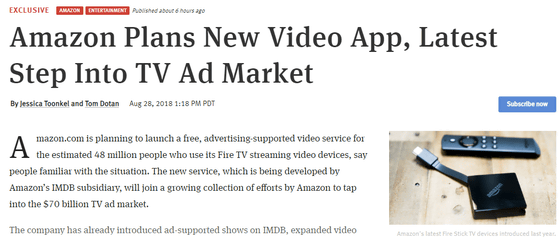 Amazon reportedly planning a free, ad-supported video service for Fire TV owners - The Verge
https://www.theverge.com/2018/8/28/17793620/amazon-fire-tv-ad-supported-video-service-free-dive-prime-members-roku-channel

Amazon is planning a video distribution service for users of the "Fire TV" series, which has about 48 million people worldwide.

Fire TV is a terminal that makes it possible to view content such as Netflix, Hulu, Abema TV, DAZN, dTV on ordinary televisions, not PCs. You can also see "Amazon Prime Video", a video distribution service provided by Amazon. However, in order to view these video distribution services, it is necessary to separately contract each other, and in the case of Amazon prime video, prime member fee was required separately from Fire TV purchase.

Meanwhile, a newly planned service called " Free Dive " can be watched for free. As an advertisement is inserted instead, it is similar to a television in which a CM is inserted between programs or YouTube where advertisements are inserted before content playback.

According to the news site · The Information, Amazon plays live broadcasts of NFL and starts live broadcast of Premier · League from 2019, focusing on sports distribution, newly positions the TV occupied It is said that it sees as "a pioneering place".