Amazon opened an animation specialty channel "Anime Strike" for 5 dollars a month (about 570 yen)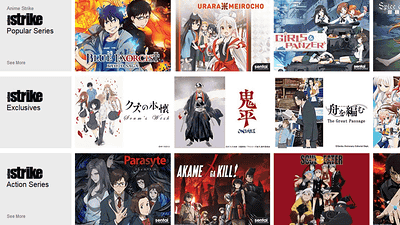 Anime specialty channel where the animation of over 1000 stories including Amazon titles being broadcasted in Japan is unlimitedAnime StrikeWe have opened. Amazon's prime members-only channel in the US, delivery titles include "Knit a boat"KOZU's real book"Blue Exorcist Kyoto Unclean King"paprika"Tokyo Godfather"Magical Girl Lyrical Nanoha StrikersIn addition to television, it is a line-up that includes exclusive distribution that can only be seen with Anime Strike.

Amazon.com: Amazon Video: Amazon Video
https://www.amazon.com/b?_encoding=UTF8&benefitId=saikindo&node=2858778011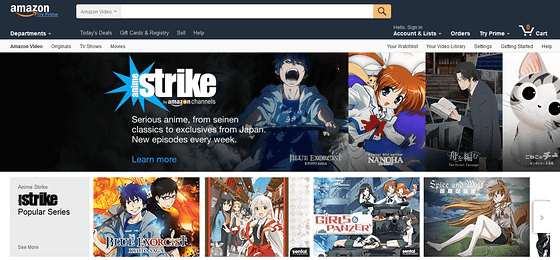 Amazon Launches Anime Strike Channel for $ 5 Per Month | Variety
http://variety.com/2017/digital/news/amazon-anime-channel-subscription-1201958402/

Distribution titles have already been published on Anime Strike's page, and "popular series" includes "Blue Exorcist Kyoto Unclean King"Urara Labyrinth"Girls und Panzer"the wolf and spices"Advance giant Season 1"Is it wrong to ask a dungeon to encounter?"The titles such as are listed. Although the "Urara Maze Book" is not an exclusive title, it is the simultaneous distribution of broadcasting with Japan, and "Japan's prime video" such as "Advance giants" "Dungeon encounter encounter is wrong" The title which is not delivered is also included.




The line-up of "exclusive distribution series" is "genuine of kudzu" "Onihei"" Weave a boat ""ViVid Strike!"Crayon Shin-chan Gaiden alien vs. Shinnosuke"Kitten's Qi Pon Pon the Great Adventure"All 6 titles. However, "Crayon Shinchan alien vs. Shinnosuke" is also distributed in Japan's prime video, but since "Kuz no honko", "Onihe", "Blue Exorcist" etc. will be delivered simultaneously with Japanese broadcasting , You will be able to watch the latest animation in the United States.




"Action series" includes "The parasitic beast weight rating"Akame scatters!"soul Eater"BTOOOM!All 29 titles including.




"AKIRA" "Paprika" "Steam Boy" "Conk Muscle Cleats" "Garden of Words"Vampire Hunter D"child chasing starThere are all nine titles such as.




In addition, distribution titles are only Japanese audio, English dubbed version, with English subtitles, content is updated weekly. "Anime Strike" can be registered only in the American prime member, it becomes a service that becomes a service with a monthly sum of 4.99 dollars (about 570 yen) after a free trial period of seven days. Although it is unknown about the schedule of providing services outside the United States, such as Japan at the time of article creation,According to Anime News Network, Amazon says that "we will release the program in different countries, although content is different."