"COCOLORS" New PV complete with nearly new cut only, the main volume will be released in the fall of 2016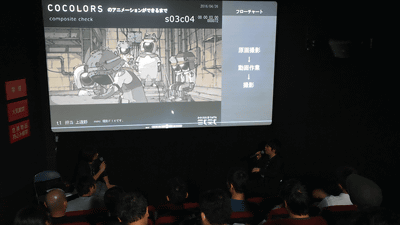 A start was announced in October 2014Original work of Kamikaze Movie "GASOLINE MASK"In the middle piece in "COCOLORS (cocalas)The latest PV ofMachi ★ Asobi vol.16It was published in.

Kamikaze Video 2 - COCOLORS
http://gasolinemask.com/nishiki/cocolors

Kamikaze videoIs an animation production company that is active in various places such as the opening image of "JoJo's Bizarre Adventure" series and the CM of the recent "Dragon Quest" series, etc. In Machi ★ Asobi is currently producing the middle piece "COCOLORSWe have decided to announce the latest state of "this time""COCOLORS" - continuing · interim reporting meeting -The progress report of the present situation was carried out entitled. Mr. Mizusaki Junpei, the representative director, and Toshihisa Yokoshima of COCOLORS.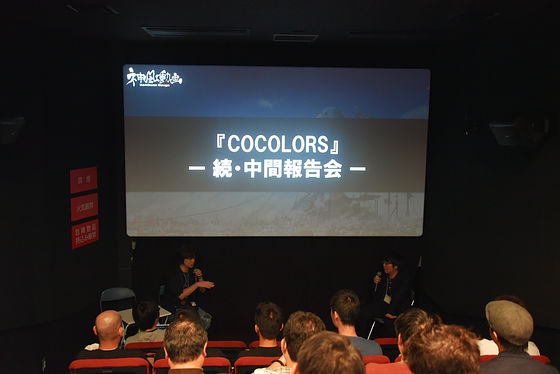 Because there are people who newly participated in the event, first of all, the demobil that gathered recent work has been thrown out as "What is Kamikaze movie?" This demo reel has also been released on YouTube.

Kamikaze Video Demo Rile Kamikaze Douga Animation Works 2016 - YouTube


In addition to this, the promotion image of "Dragon Quest Monsters Joker 3" is produced by Kamikaze Movie. Director Yokohama has also worked on the CM · promotion video production of the Dragon Quest series and the Final Fantasy series but he said that he was not involved in this video, "If you are not involved," Oh! It is comfortable as I never see the part called "It was a relaxed look." By the way, there is no paper container in this video,AnimaticsCreate a story with. I am in charge of 3DCG such as "Girls & Panzer Theater Version" and "Exposed Paradise - Expoled from Paradise-"GraphicaHe made a character's animation and added the returned data to 2D with a Kamikaze video to goal.

"Dragon Quest Monsters Joker 3" Promotion Video - YouTube


Also known for his recent work is "City Hunter XYZ Edition"Completion purchaser's privilege movie "Proposal of". There is a part made with motion capture's RotoScope, and it seems that Director Yokohama has been driven as a role to be captured.

"City Hunter" New animation "Ryo's Propos" Special video # City Hunter #Japanese Anime - YouTube


And I am also in charge of Ultra Jump CM. In the CM of the May issue, Tohosori Assistant is reading "Rozen Maiden" or "I will not sow" or eat snacks and tomato dumplings in Duo Town and fly honey. There is a certain trick in this CM, and if you look at the CM after the June issue you might be told that "Was it actually so?"

Ultra Jump May Issue TVCM (Jojo Lion) - YouTube


......, and finished talking about the Kamikaze movie, to the main subject "COCOLORS". In the first place, "COCOLORS" is made as a middle piece in the project "GASOLINE MASK" project of a tandem brain style which is one long feature by combining multiple works sharing the world view.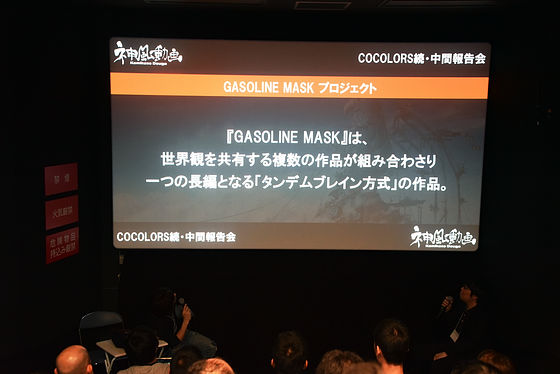 The movie released in October 2015 is kore.

GASOLINE MASK Project 2nd "COCOLORS" Tiza Movie - YouTube


The content has been updated greatly from here, and it is 1 to 40 seconds to 1 minute 45 seconds of the toeser movieThe scene where the mask is removed and the smoke is discharged from the push and the insideAlthough it was overlapped, most of the paintings were shown for the first time with this gore ★ Asobi PV screened by nearly new cuts. PV will be released on YouTube during May.

And commentary on the making of the video was also made.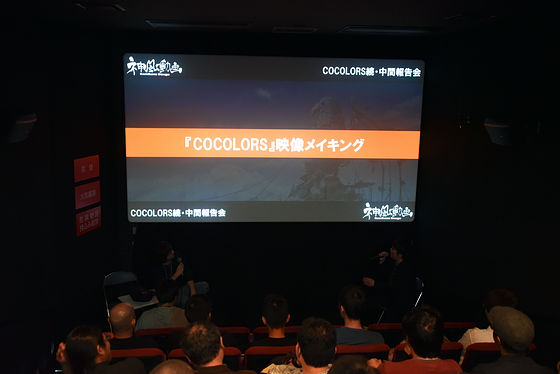 This is the flow of original photography → movie work → photography, where I see the picture how much the picture changes. By making a direction about the movement of the character, the thing which was tapping the table strongly at the original stage was changing to move the hand to the table without force.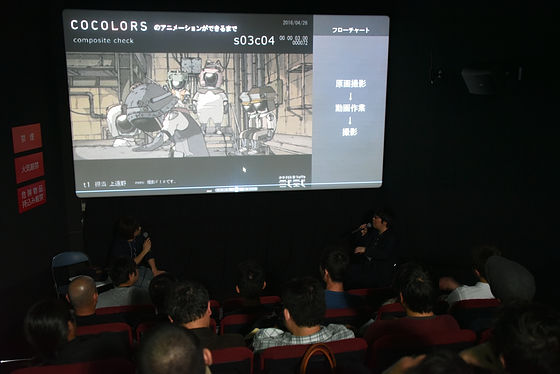 This is working with LightWave. Pasting a piece of art in 3D space, production is done while imagining what kind of background it will be. A huge object visible in the back is not mere decoration, it was made to move around. It is still unknown how to get involved in the story.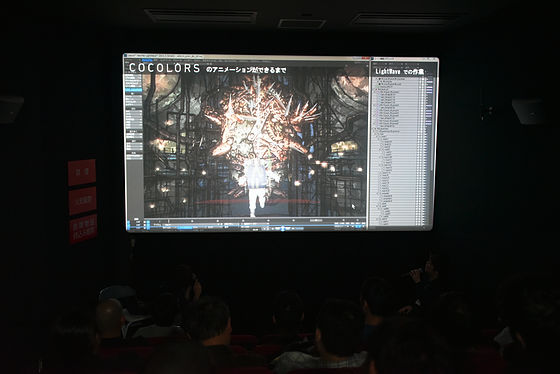 And in the end also a serious announcement.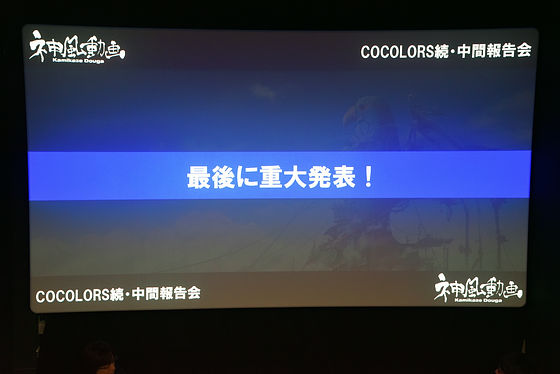 Finally, at the next gore ★ Asobi vol.17, the completed main part will be screened ... it may be .... Mizizaki says, "I will delay in time, so please spread the information with SNS, please hit the ass by all means" There is also a message not to mention anything.



However, as this project is made on its own, as it is said to be "Kamikaze Gibara Film", when Yokoshima was beaten shoulder and was being thrilled to be told "It is not long time ago" . Therefore, it was said that for screening, there may be cases where you may be asked to cooperate with the voice of Gaya, for example.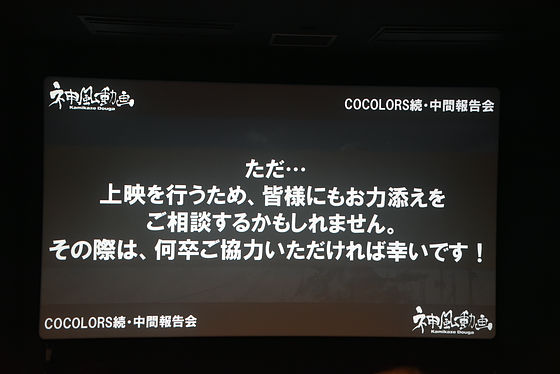 The meeting is a company training of Kamikaze video "The compromise is death"I ended up with.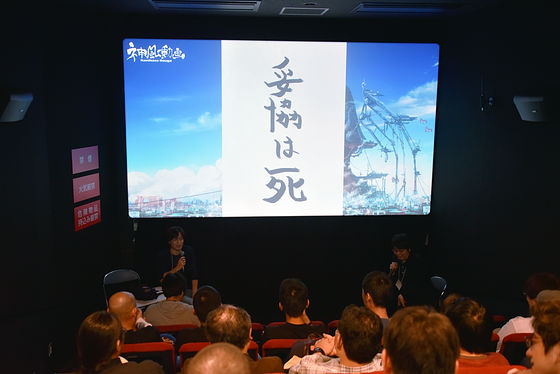 People who would like to see the latest original works of Kamikaze movies, look forward to the Machi ★ Asobi vol.17 to be held in October.