Original work of Kamikaze Movie "Cocorors" CG and Printmaking Combined Miraculously, World's Fastest Screening Talk Show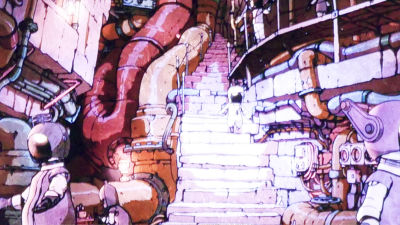 It is held twice a year in Tokushima PrefectureMachi ★ Asobi vol.14", Tiza PV of the original work of Kamikaze animation was released at the world's fastest, and a talk show accompanying it was held. Tiza PV had a very high degree of completion, and it was supposed to be nodding contents without thinking "this is Kamikaze movie."

Participation in gore ★ Assobi vol.14!
http://www.kamikazedouga.co.jp/contents/

The world's fastest screening of the second teaser PV of the original project of Kamikaze Movie "GASOLINE MASK Project" was held at the stage of Machi ★ Asobi vol.14.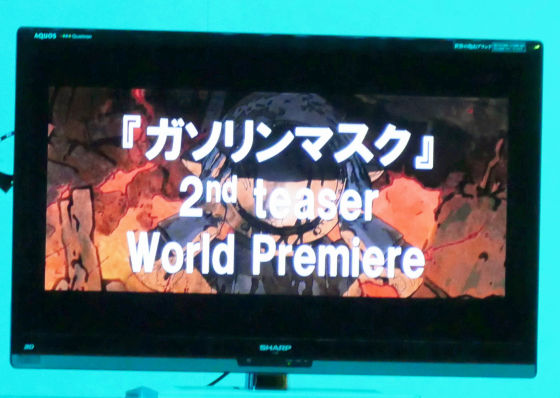 The three speakers were Mr. Takuya Miyashita, Director Toshihisa Yokohama, and Mr. Junpei Mizaki of Kamikaze Movie representative. Director Yokohama is the second teaser of the GASOLINE MASK project.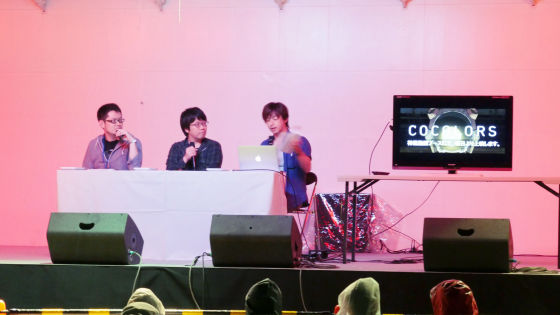 In the first place, Kamikaze movies are planning and producing animation and CG, working on the opening of music PV and works, TV commercials etc, and also producing original animation. In addition to animation "JoJo's Bizarre Adventure 1st, 2nd, 3rd Opening" and "TVCM and Terraformers 'TVCM and Ending", the main work offers images to artists' concerts such as Mr. Children and EXILE I am doing it.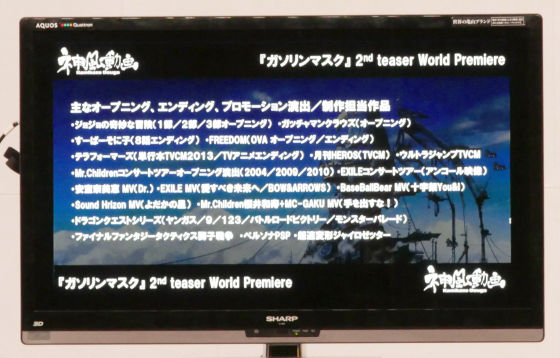 The Kamikaze movie whose work involved got a high reputation from various places, in the last "Machi ★ Asobi vol.13", "I made a little longer work not just short films" was announced as "GASOLINE MASK project "was. The state of the previous announcement can be confirmed from the following article.

JoJo OP original image Kamikaze video original work "GASOLINE MASK" started - GIGAZINE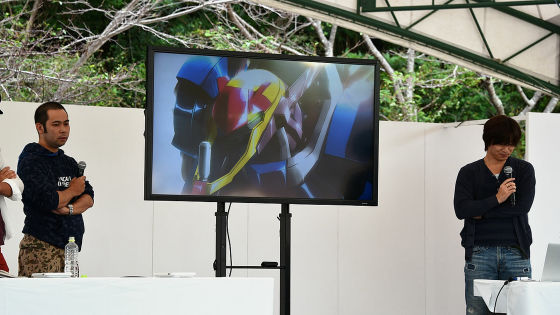 That's why the work "COCOLORS" was released as the second teaser PV of "GASOLINE MASK Project" this time. According to director Yokojima, COCOLORS is characterized by a unique world view with printmaking motifs, he said he is using an enormous amount of mask material.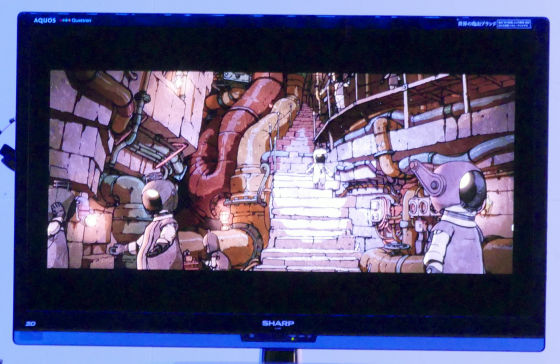 COCOLORS combines digital CG, which Kamikaze video is good at, and what is very far away, analog prints.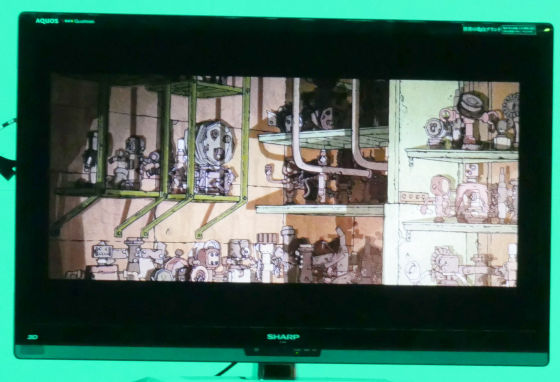 It is also one of the elements that constitutes a mysterious world view that all characters are wearing a mask. Although the planning content that the characters' face does not appear is not likely to pass through as a general production company, Mr. Mizaki has revealed an episode that she gave me a go-ahead.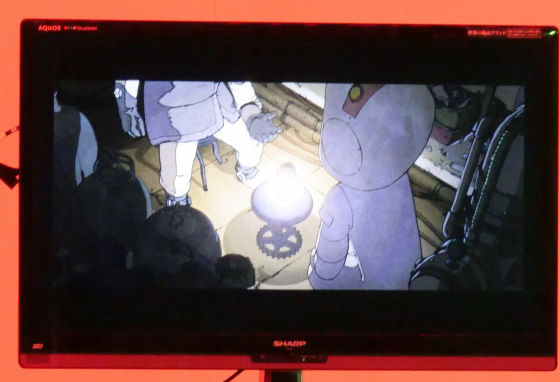 According to Mr. Mizusaki, when I see the finished work, I feel about a home run class once in 4 years, when it is "Number Five Augo's PV" and "JoJo's Bizarre Adventure OP" He said that. However, when I saw the teaser PV of "COCOLORS", I heard that adrenaline felt awkward from the whole body.



After seeing PV of "COCOLORS", three people talk. It turned out to be a story about "Amanatz" of Kamikaze movie directed by Yokojima, which turned out to be a topic abroad so that the work would be requested to translate it into Italian. Also, from director Yokojima, after understanding the strong Kamikaze movie in the movie, let's draft amanuts on condition that he wanted to challenge the work with a daring story and made works of 10 minutes or more It was revealed that I had it.



"Amanatz" by Yokoshima director is released on YouTube for free and can be confirmed from the following.

Director Yoshima Toshihisa's work "Amanatsu" / Production: Kamikaze Video - YouTube


In the story of COCOLORS which was released this time, Mizusaki pointed out that the drawing of the following image was slightly misaligned. Although it was bleeding out in the public place, it was probably due to a shift in time remapping, which caused it to shift.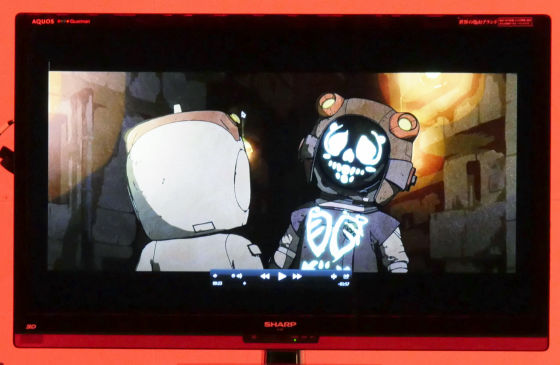 After the talk, watch COCOLORS 's making movie. Originally we planned screening of COCOLORS 'PV and making movie with projector, but due to the rain, it was quickly screening on the display and I could not hear much of the sound.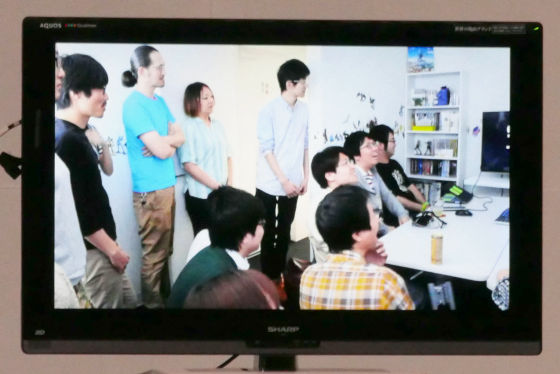 Because I can not hear the voice, three people talking while looking back at the production site. The atmosphere that we were in a hurry while it is a tough scene is also transmitted here.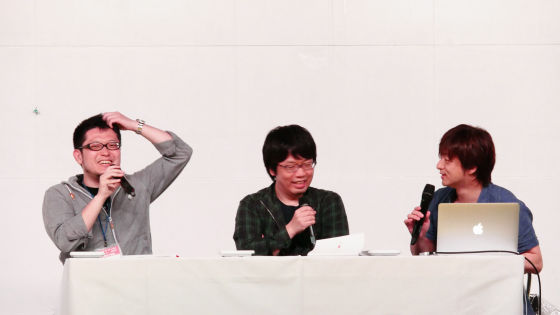 Especially eye-catching items in the making movie are objects like machinery parts got caught in pieces. This is made by asking Mr. Koji Kamada who is a modeling artist with a couple, and when I informed the setting, I was told only "I want you to come see me because I will contact you as it is completed" He seems to have never meet. However, the finished product was brilliantly expressing the COCOLORS peculiar world view that modern machines and the like are being used differently. It is a place I'd like to look forward to in what scene of the completed work of COCOLORS.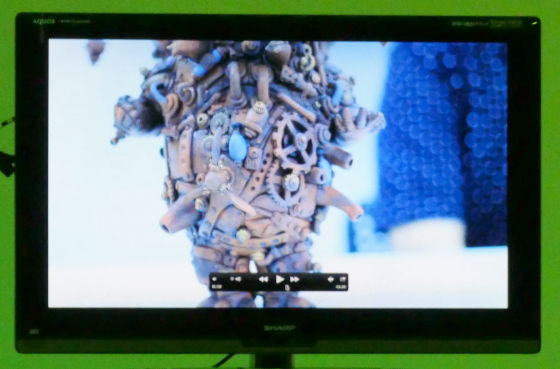 Between talks there was a scene of looking back on the works so far, a character making to pick up the texture that the author seems to like and paste it up was talked using various examples.

Finally I watched the teaser of COCOLORS again and the event ended. As the rain started, the customers who rushed to see the work of the GASOLINE MASK project seemed quite satisfied.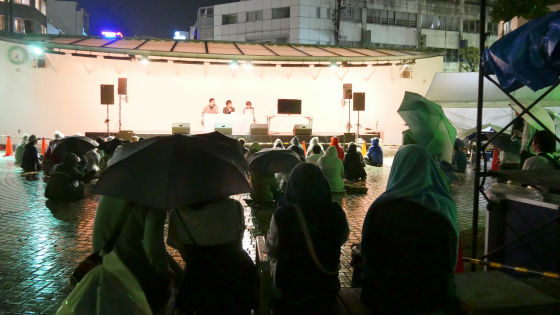 The new movie of the GASOLINE MASK project including "COCOLORS" screened will be produced at a rapid pitch so that it can be released at next gore ★ Assobi.