CASIO's sturdy smart watch "WSD-F10" specialized for outdoor review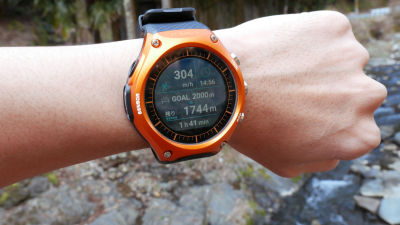 Although Smart Watch typified by Apple Watch makes a multi-function, it does not know what to use for what it's multifunctionality, as a matter of fact, saying that it is a watch and because of the ruggedness of the battery it is a watch There is a tough and useless usability that you can not fully fulfill the role as. But CASIO's smart watch "WSD-F 10As expected, it is an information terminal equipped with a function of plus alpha after satisfying the performance as a watch with only a wristwatch maker.

Smart Outdoor Watch - CASIO
http://wsd.casio.com/jp/ja/

◆ opening & exterior check
"WSD - F 10" is in a gray box.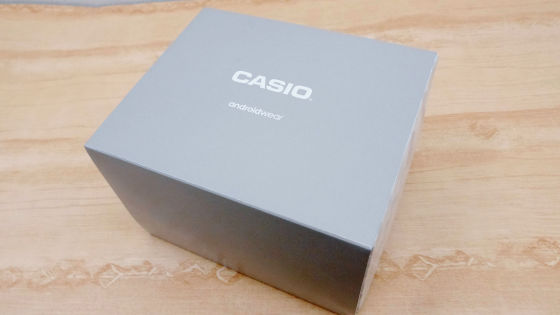 When opening the box, WSD - F 10 appears.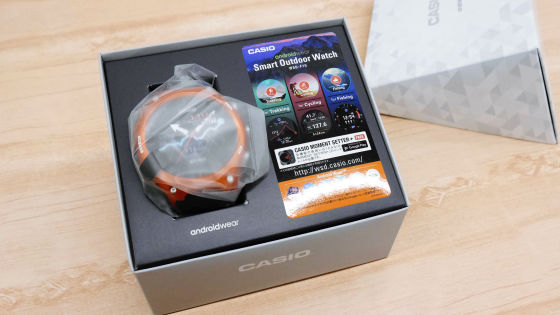 Some of them included WSD - F10 main unit, charging cable, AC adapter, instructions.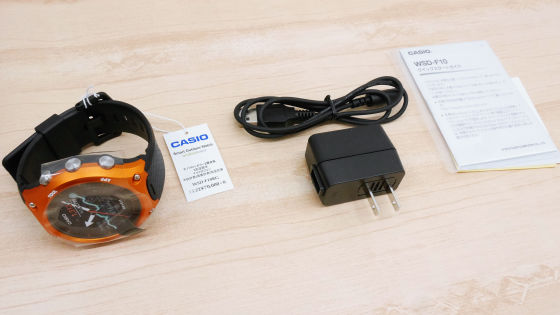 When I take it in my hand I feel stiffness feeling outstanding. There is only CASIO of G - SHOCK, and what seems to have high durability will come to pass as a fresh thing at this point. First of all, peel off the protective film.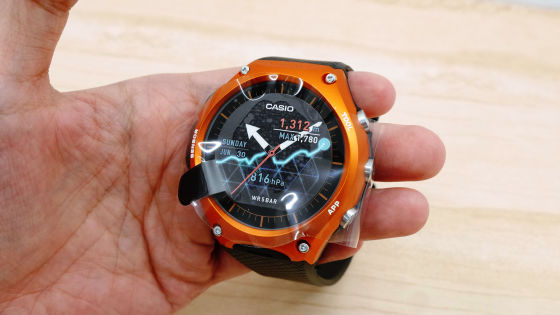 WSD - F 10 has four colors, green, orange, black and red. Orange is like this.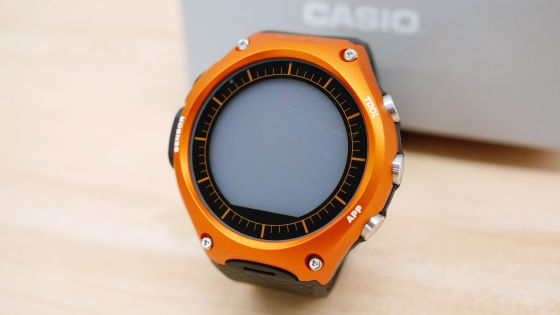 On the top of the screen is the "CASIO" logo. At first glance it looks like a metal frame, but it is made of resin.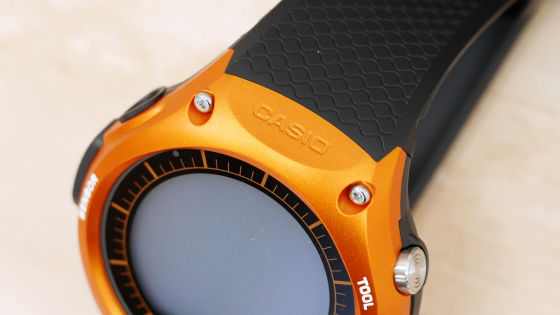 A rubber belt is a general type with a large number of holes for size adjustment opened.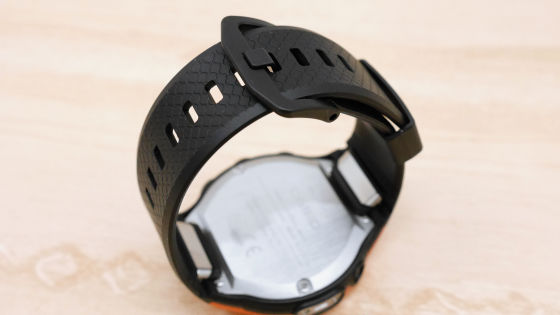 On the left side ......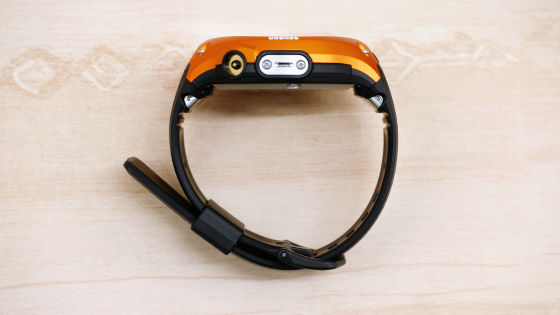 Equipped with charging terminal and pressure sensor. In addition to the pressure sensor, the WSD - F10 has an acceleration sensor and a gyrosensor, and it is also possible to measure the direction.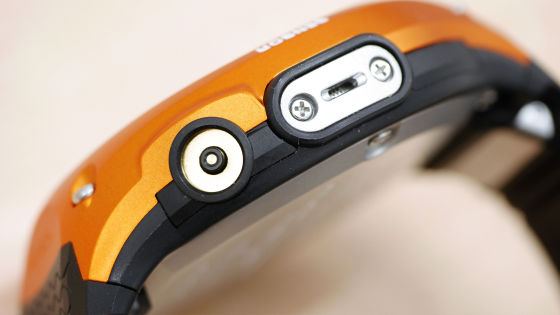 On the right side ......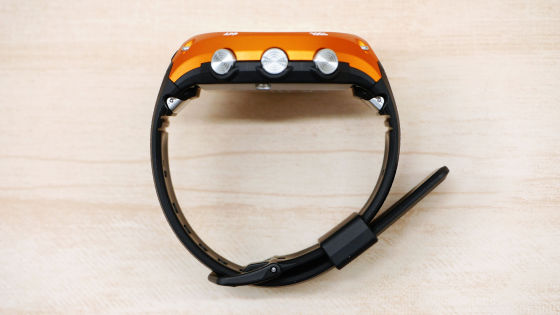 Three metal buttons.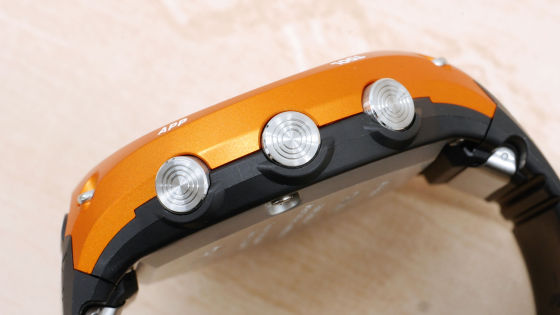 From the bottom (left in the photo), there are APP buttons that allow you to register applications with shortcuts, turn on / off the power, turn on the lights "power button", and "TOOL button" to call the special tool application. Since WSD - F 10 is a smart watch assuming trekking, cycling, and phishing, large buttons are arranged so that you can operate even with gloves.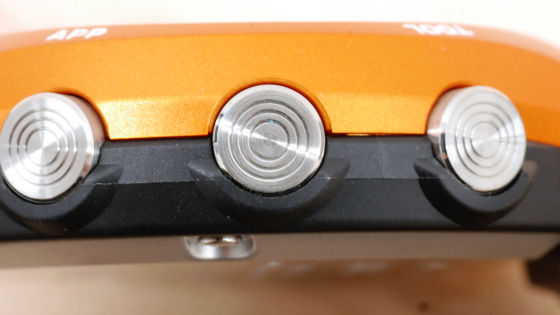 A microphone is installed at the bottom of the screen. It is possible to use the voice command "OK, Google" as well as WSD - F 10 of the Android Wear terminal. In addition, we realized 5 ATM water resistant while mounting the microphone, it has only the smart watch specializing in the outdoor field and it does not even make rain.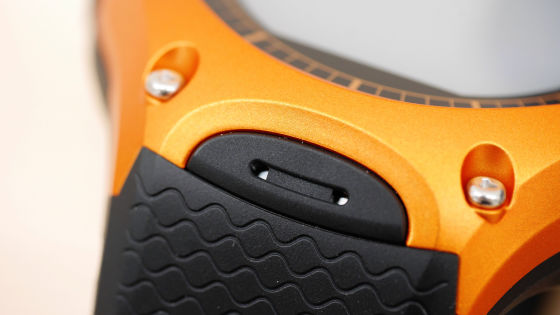 Special screw is like this shape.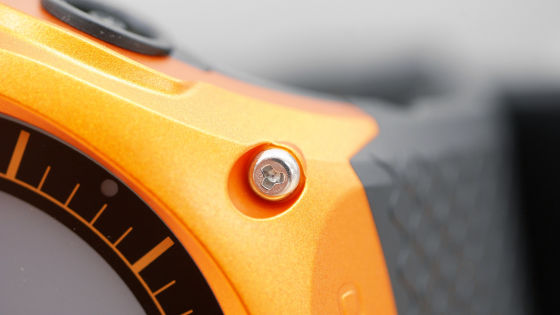 The back plate of stainless steel has been processed in hairline, there is not only a rigid feeling but also a high-class feeling.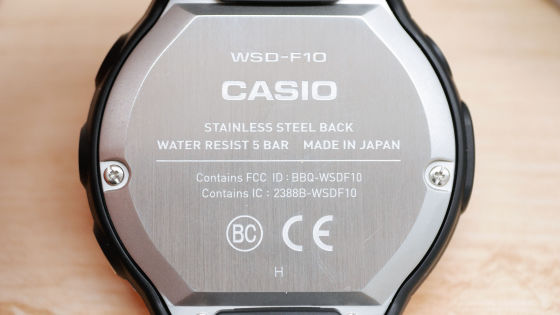 Charging is done with such a feeling using a dedicated charging cable. The charging terminal is magnet type and it is extremely easy to detach. Charging is easier than putting it on a dedicated stand or inserting a Micro-USB cable. Charging is easy, even if you send a cable, you can also charge the WSD-F10 while wearing it on your arm.



◆ Smart Watch function
Since WSD - F 10 is an Android Wear terminal, first install the Android Wear application on a smartphone to be linked. Android Wear appIOS versionAlthough it can be used, it is recommended that the Android version that can use the full function than the iOS version has limitations on the number of applications that can cooperate.

Android Wear - Terminal - Android application on Google Play
https://play.google.com/store/apps/details?id=com.google.android.wearable.app

On Google Play "Android Wear"And tap" Install ".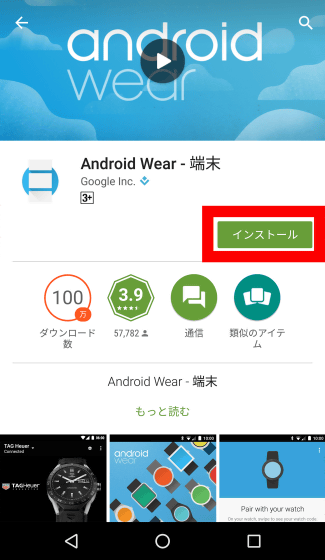 Tap "I agree".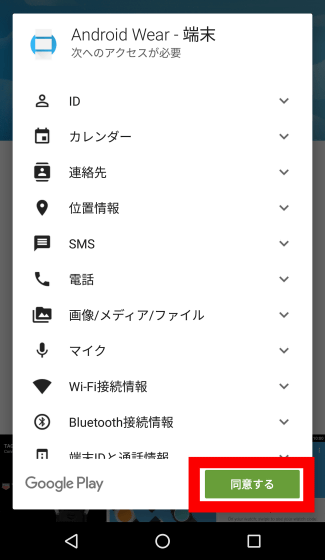 Tap "Open" to launch the application.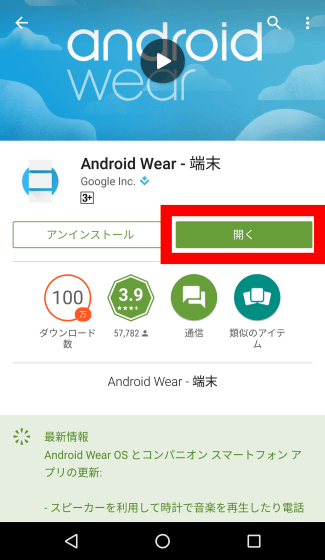 Turn on the power of the WSD - F 10, then tap the "→" icon.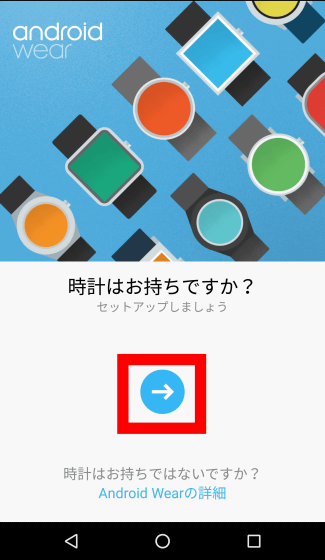 Tap "I agree".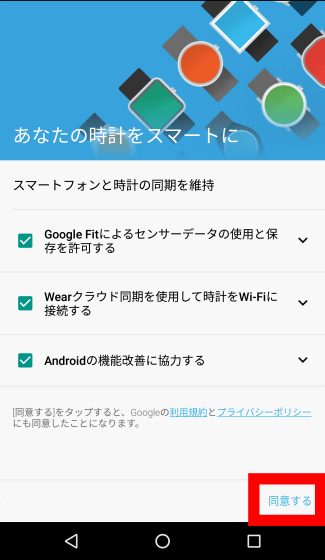 Tap "CASIO WSD - F10 (number)".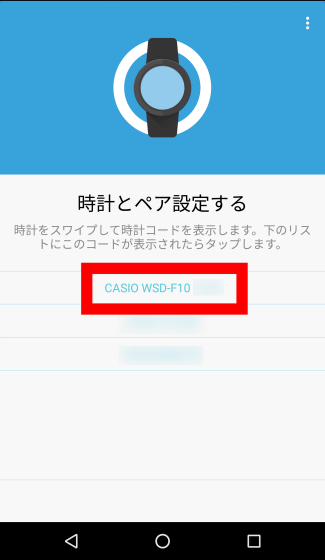 Pair the WSD-F10 and the smartphone.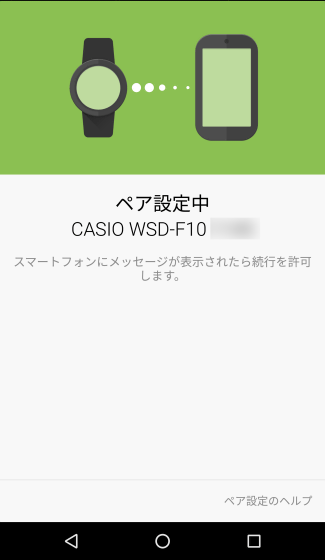 Tap "PAIR".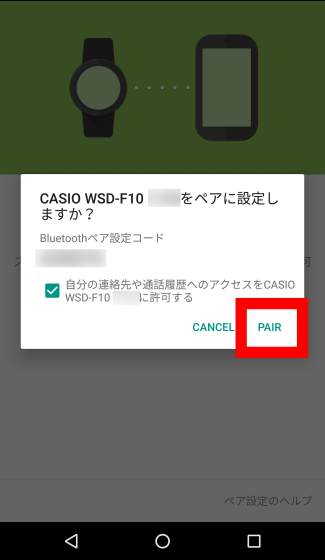 It is ok if you can wait for a while and pair them.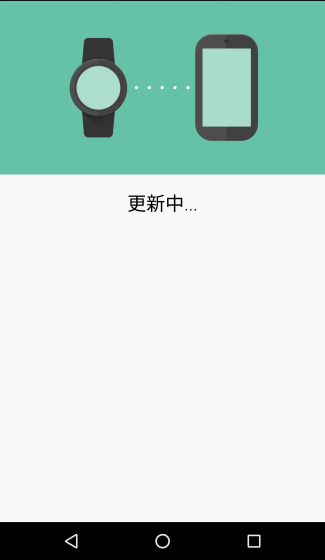 The tutorial animation begins first.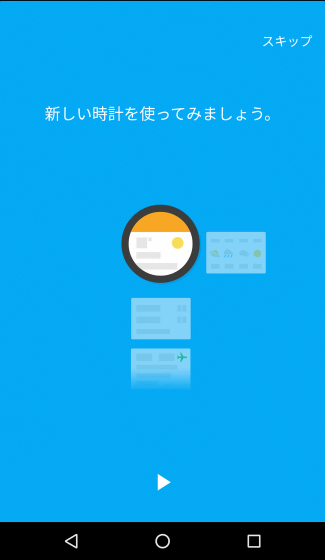 When the tutorial is over, tap "Enable notification."



Please turn ON "Notify access" Android Wear "OK.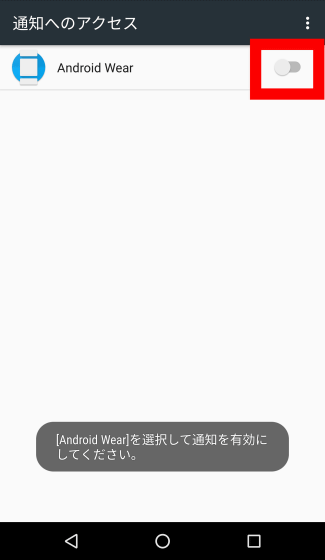 You can see how you can comfortably operate WSD-F10 by watching the following movie.

Operation of CASIO's outdoor smart watch "WSD-F10" will be like this - YouTube


· Power saving mode
Once the power screen is pressed ......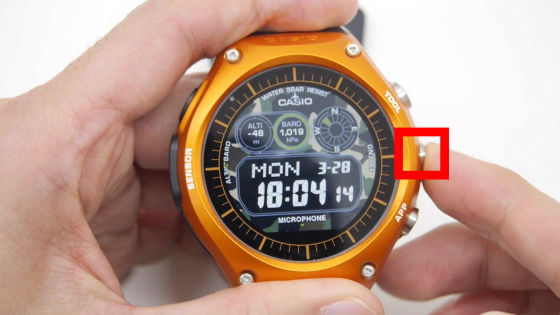 The liquid crystal will be monochrome display. With no application operation, it is possible to reduce the battery power consumption by monochrome display.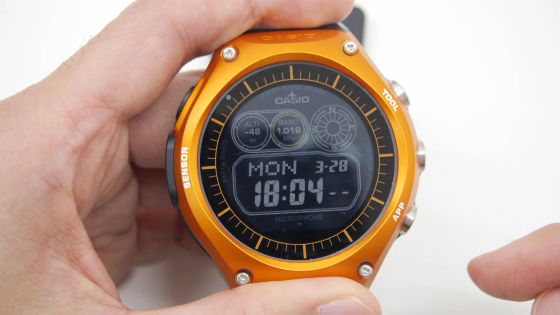 · Change watch face
Touch operation is of course possible as well as the display of WSD - F 10. Press and hold the screen ......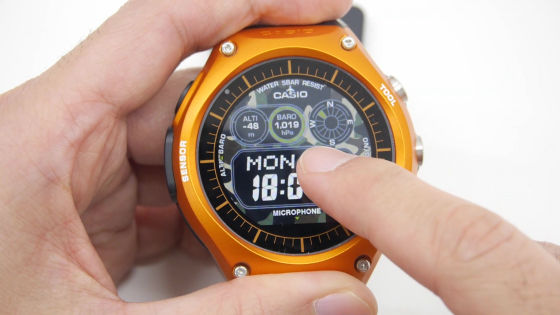 You can change the watch face (clock design).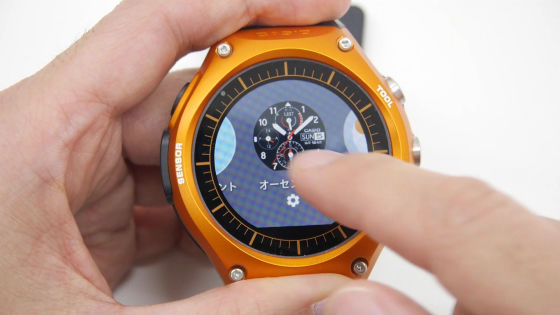 This is the default "Authentic" design. It is possible to display information such as remaining battery level and atmospheric pressure on various meters like chronograph.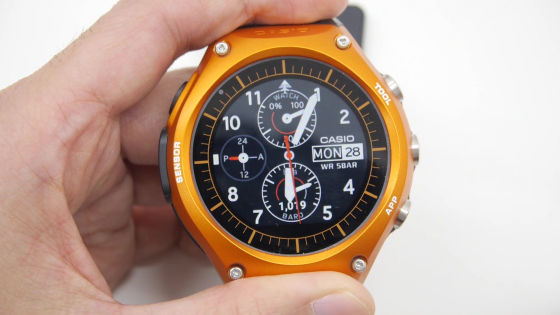 In the monochrome design that eliminates color elements, brightness is dropped but visibility is extremely good. Even outdoors on a sunny day, you can recognize the time.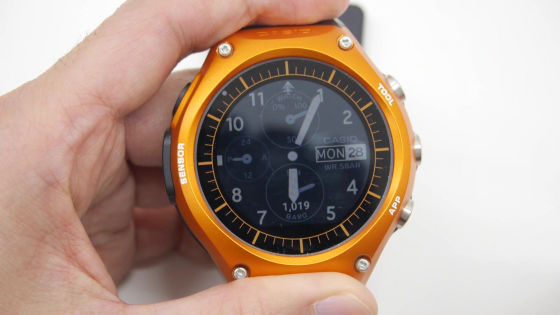 · Application operation
Press and hold the power button on the time display screen (home screen) or swipe the screen to the left ... ...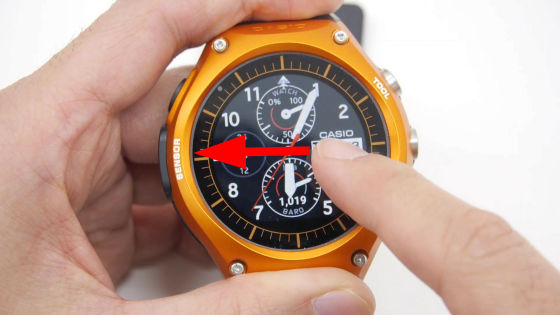 An application screen will appear. By swiping in the horizontal direction you can also switch between "application", "contact" and "mode" menus.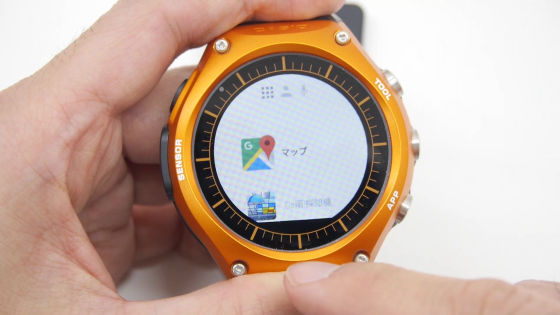 Applications can be selected by scrolling up and down in the menu.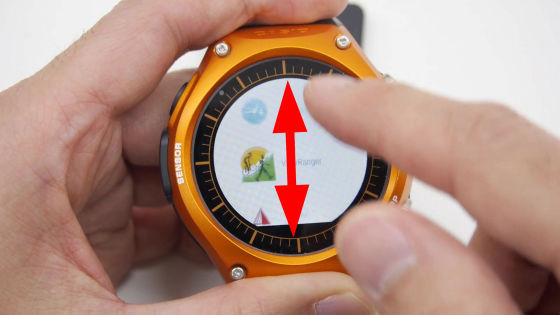 With the application "Activity" ......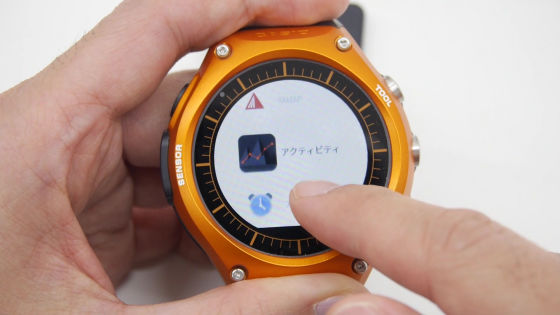 Information that can be displayed can be changed depending on the type of outdoor. "Trekking" or ...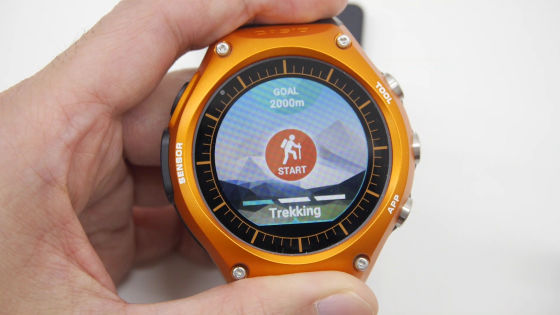 "Fishing"



"Cycling" three modes are prepared.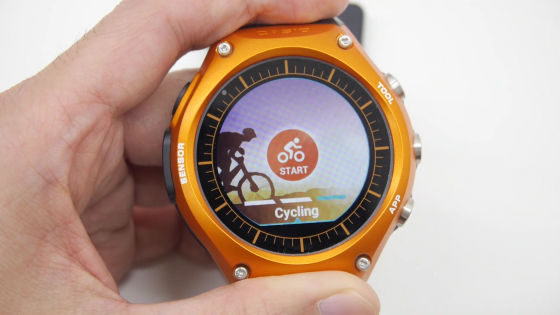 For example, in Cycling mode, you can display "Vehicle speed" "Time" "Mileage" "Running time".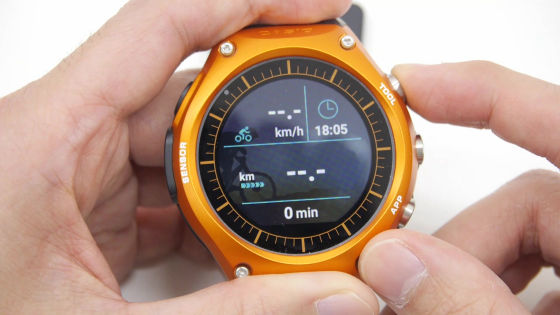 · Tool application
When you press the "TOOL" button on the home screen, the "tool application" which displays various useful information in the outdoor will start up.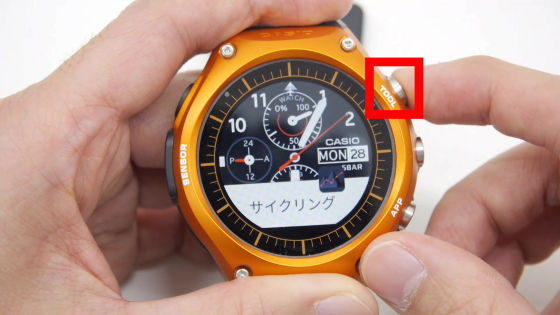 "Orientation"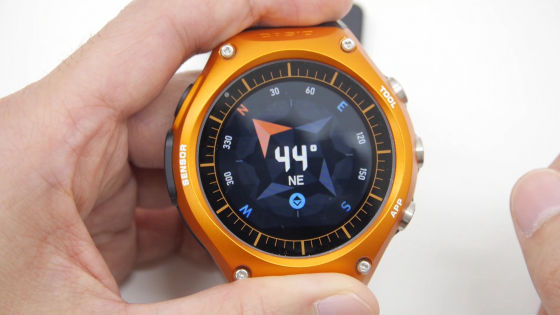 "elevation". However, it is below zero meters above sea level for some reason.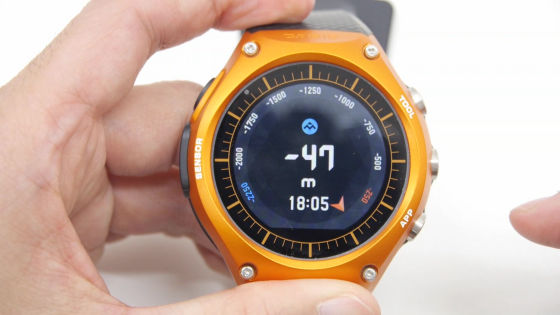 "Atmospheric pressure"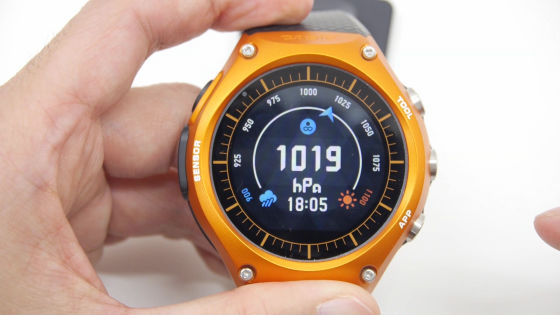 "Tide Graph" displaying tides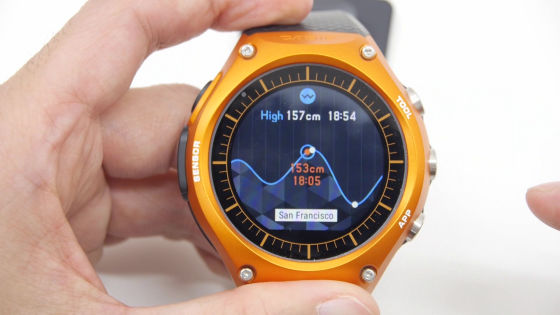 Time of "Sunrise, sunset"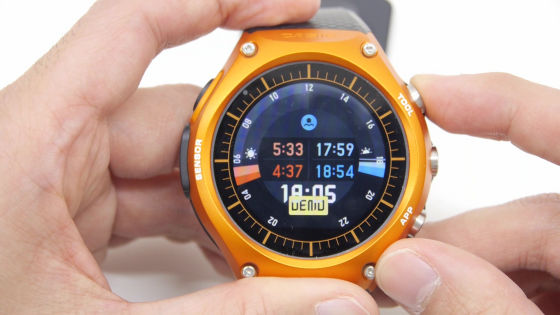 When you press and hold TOOL button on various information screen ... ....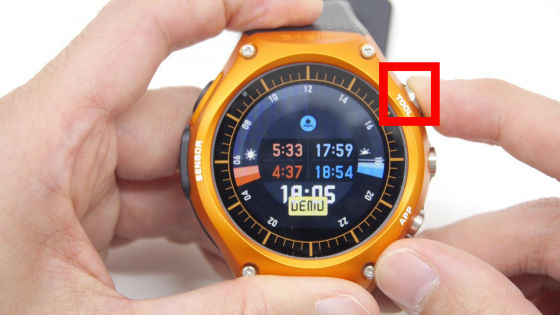 You can change to simple monochrome display.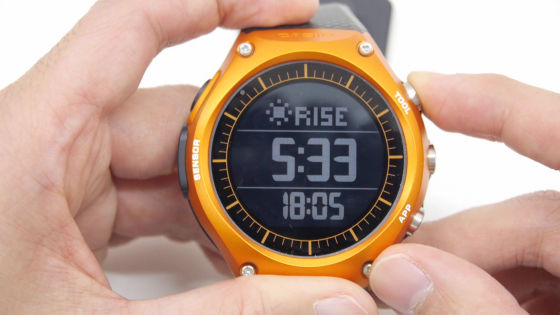 You can switch display contents by pressing the TOOL button or swiping the screen. It is useful because you can understand at a glance only necessary information even during the activity.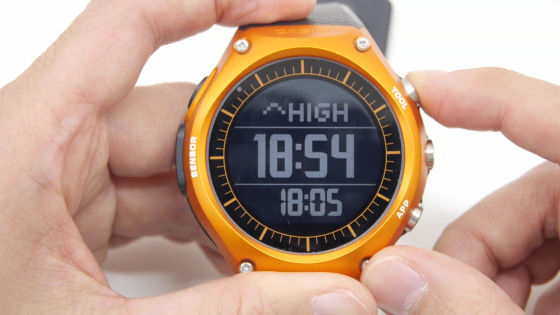 Press and hold the TOOL button ......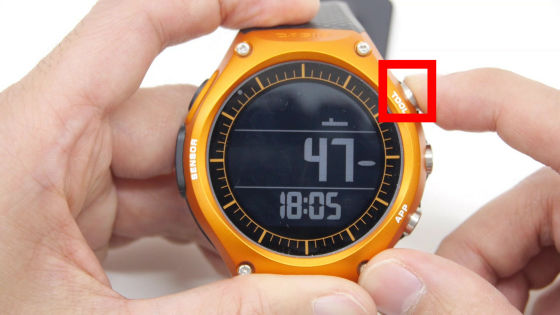 You can return to color display.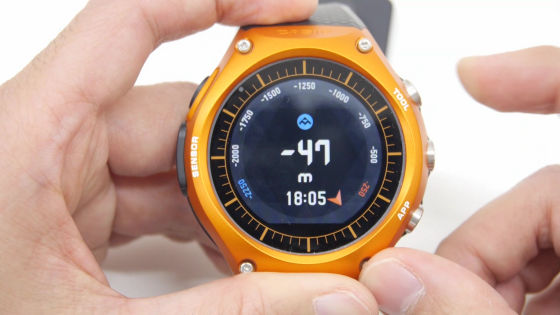 · Smartphone search
If you can not find a smartphone at hand, you can issue an alarm from the smartphone using the "Smartphone Search" application and search for it.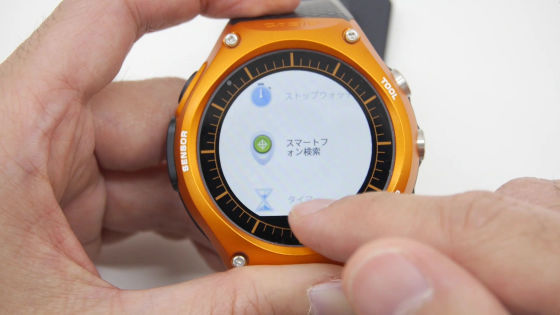 Tap "×" to cancel alarm search. If I wait for a while in searching ......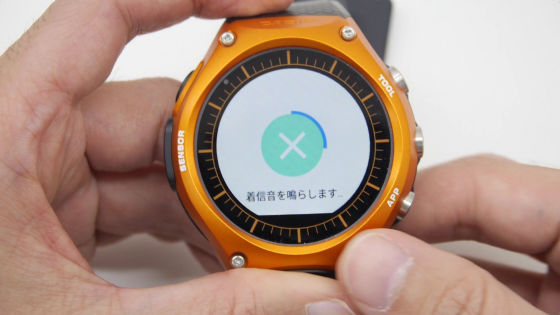 Loud sounds can be heard from the smartphone and the location can be specified. To stop the alarm sound, tap "×" OK.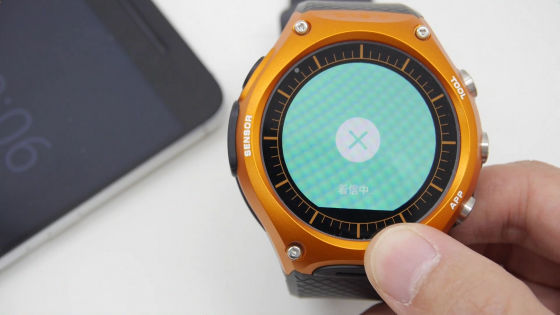 ·Configuration
In "Setting" ......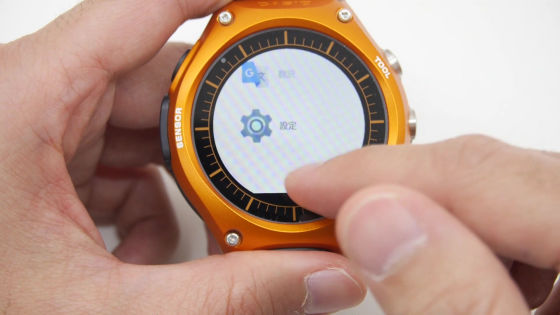 You can change the display brightness with "Adjust brightness".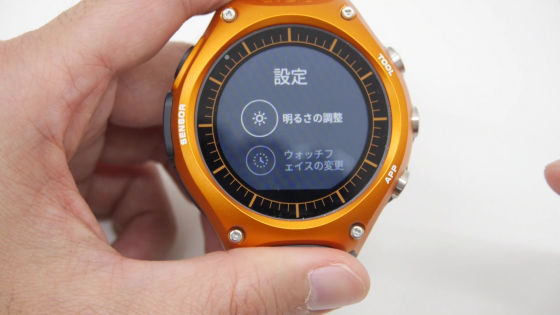 Brightness can be adjusted in 5 stages.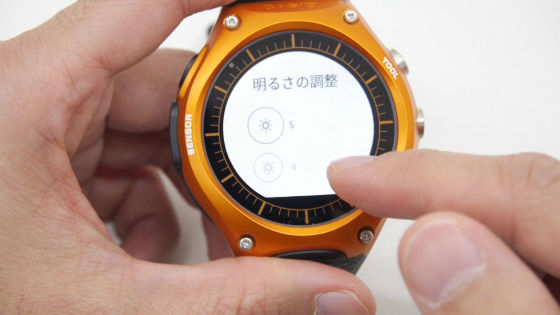 Tap 'Always on screen display' ... ...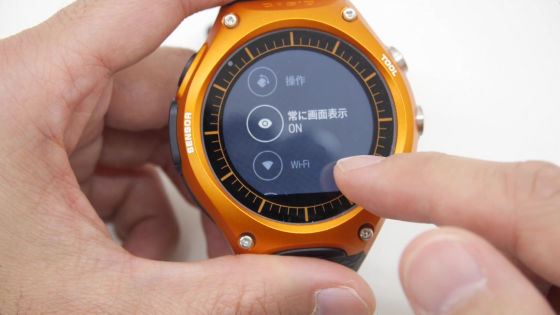 If you change the display to "Always on screen display" ...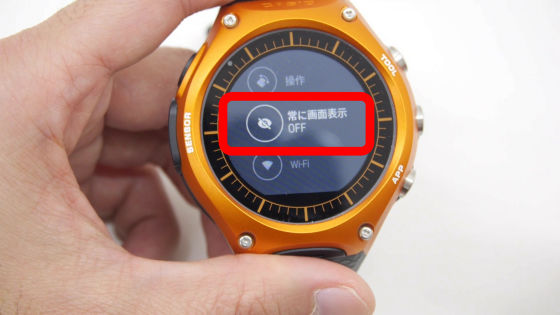 When entering sleep from the home screen ......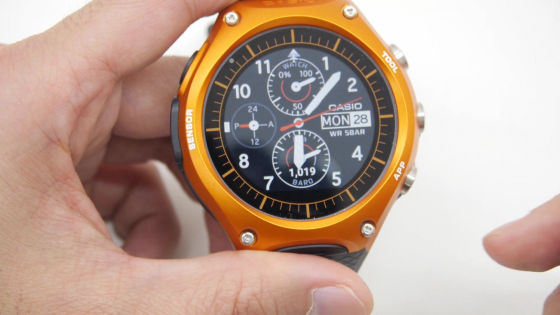 You can reduce power consumption with a simpler monochrome screen. WSD-F10 realizes long-term driving by selectively using the two-layer structure of color liquid crystal and low power consumption monochrome liquid crystal.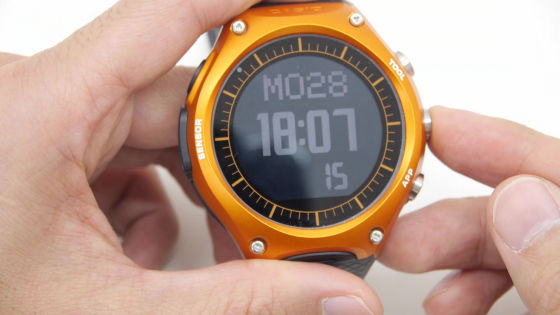 · Time piece
WSD - F 10 has a "time piece" mode that releases cooperation with smartphones and realizes battery driving for a maximum of one month. Tap "Time piece" application ... ...



Tap the "checkmark" icon ......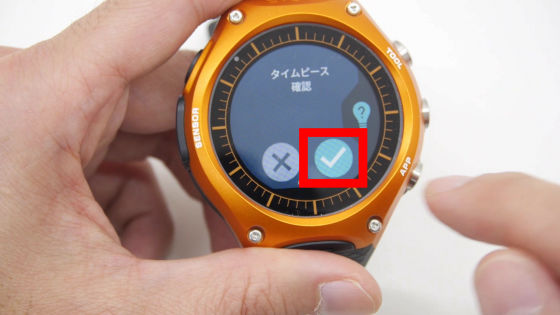 Shutdown begins ... ...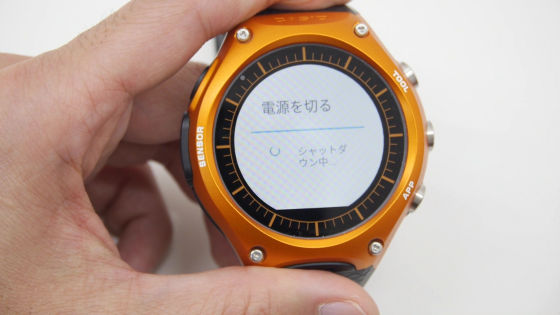 It became a simple monochrome screen. In the time piece mode it is possible to use the WSD - F 10 as a digital clock. In the time piece mode it does not play a role as a smart watch, so it is unthinkable to use it regularly, but by switching to the time piece mode on scenes where the battery is about to run out, it will be used as a digital watch until it can be charged If you use it is much ant.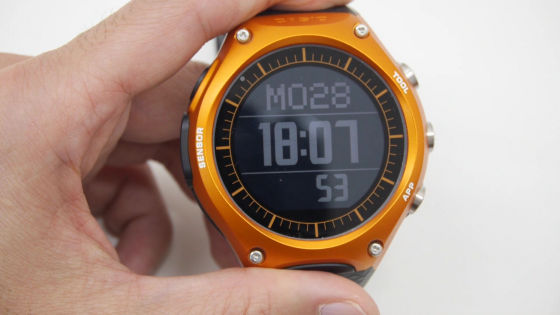 ◆ I tried outdoors
WSD - F 10 is a smart watch for outdoor faction, so I brought it to the mountain and tried it.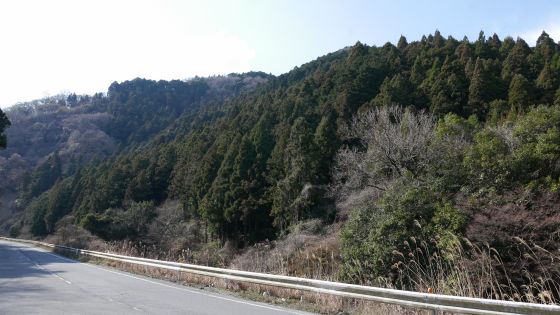 The display of WSD - F 10 was very easy to see, there was almost no need to purposely move to the shade and check the display.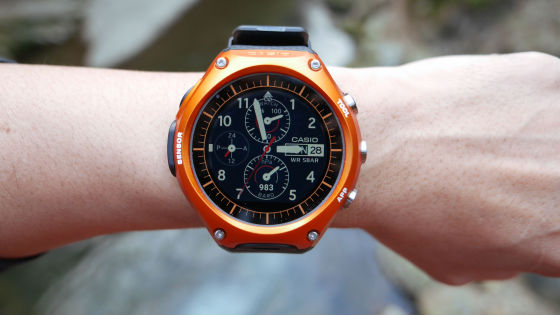 A tool application that can utilize the sensor of WSD - F 10 instead of the function of smartphone is more convenient than I imagined. It is unlikely that you will lose sight of the direction even on the mountain road of cloudy skies.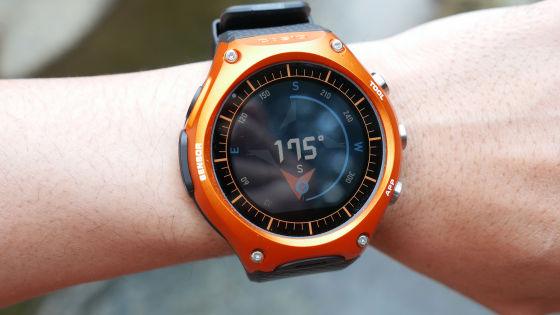 Considering that it was "-47 meters" start, the altitude is about 300 meters.



The atmospheric pressure is low even when considering the altitude of 300 meters. It is the weather that it is going to rain.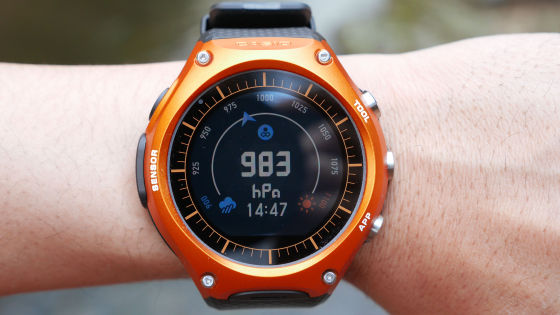 The sunset display is convenient for trekking schedule management.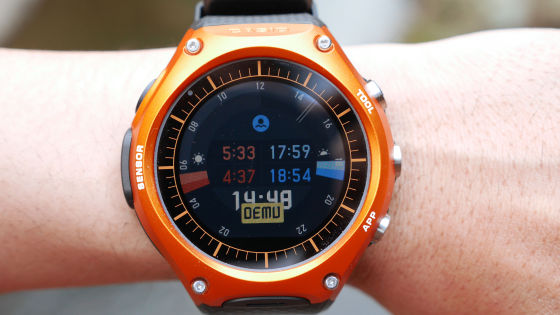 The display of Google map is also this street. However, careful attention is required in the state that there is no radio wave of the smartphone, the online premise application can not be used naturally.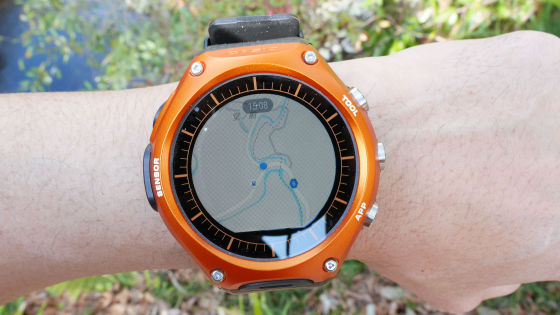 ◆ Summary
The WSD - F 10 is a smartphone for active faction designed to be used in outdoor such as trekking, cycling, fishing, etc. The concept is very clear. For designs and usability as well "Watch" enough to have the ability to have the ability to keep making clocks unique to CASIO feeling. I do not know what to do while saying "It can do anything" which is not easy to use as a clock originally made by an emerging manufacturer, it is a perfect completion with a multifunction Smart Watch.

In addition, smartness that puts emphasis on designability is thrown away, rather than grueling instead of dullness and waterproofness etc. The virtue of practicality pretty much can be likable. As a result of actually using it, even if you do not use the time piece mode, you have plenty of time to spare batteries and the ease of charging the battery is also outstanding, so there was little anxiety about batteries nominated by smart watches.

WSD - F 10 seems to be a very reliable presence for users with clear purpose such as trekking, cycling and phishing.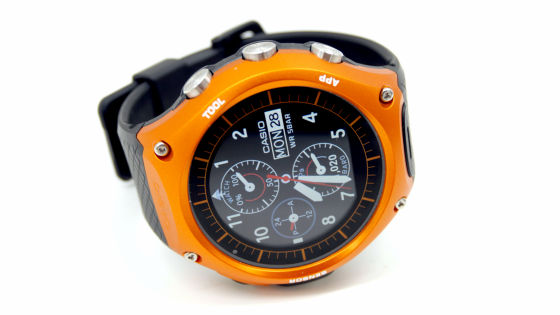 WSD - F 10 is on sale at the official CASIO online shop e - casio at 75,600 yen (tax included - 2100 points).

【E-casio online shopping】 WSD-F10RG: Smart Outdoor Watch
http://www.e-casio.co.jp/shop/g/gWSD-F10RG/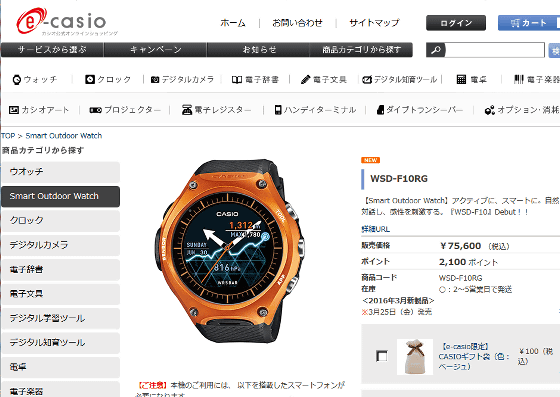 Also,Available at around 68,000 yen on AmazonIt has become.