In the latest iOS 9.3, the iPad became documented and unusable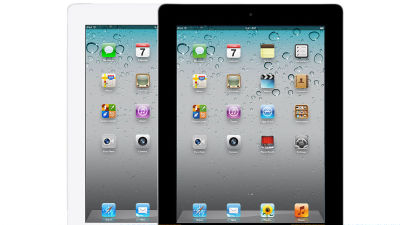 By installing the latest iOS on older iPads, it becomes impossible to operate (so-called "PaperweightMany reports have been reported in the Apple Support Communities report.

Apple's latest iOS 9.3 update 'bricks' some older iPads, making them unusable
http://appleinsider.com/articles/16/03/22/some-users-difficulty-installing-ios-93-on-older-ipad-models

IOS 9.3 was released on March 21, 2016, but users trying to install using the old iPad trying to use the latest iOS version, the activation work does not progress at all and it can not be stopped It became clear that the troubles of becoming becoming it became sequential.

Apple Support Communities is reporting that it is going to freeze in the process of activating work mainly to install iOS 9.3 on "iPad 2" one after another.

IPad 2 iOS 9.3 can not activate | Apple Support Communities
https://discussions.apple.com/message/29949122#29949122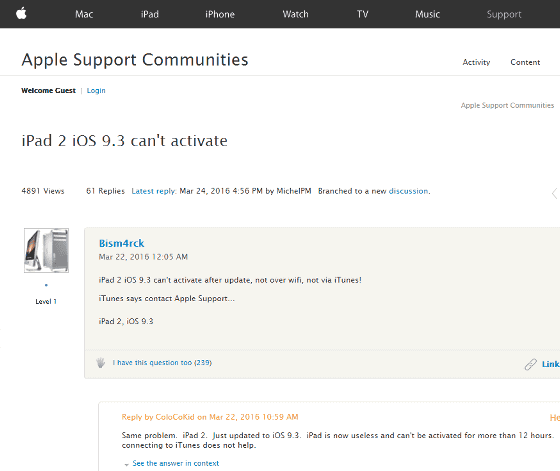 Even on Twitter, there was a sorrowful voice that I wrote it on iOS 9.3 one after another. Apple Support is desperate to support through DM.

@StarzologyWe are eager to see that iPad up and running. DM the model and issue specifics and we'll get started.https://t.co/2tmhARSBC3

- Apple Support (@ Apple Support)March 23, 2016
There are many "iPad 2" for older-type iPad that fall into an unusable state while updating to iOS 9.3. It seemed that it was caused by overloading Apple's activation server because it stumble in the middle of the activation work, but according to a user, the state did not change even if waiting for 24 hours , It is pointed out that it may be a trouble between fundamental software and hardware.

Some users said that they succeeded in updating to iOS 9.3 via iTunes via iTunes but also reported that they did not succeed in installing in the same procedure. Although Apple has not announced any comments on problems that occur when updating to iOS 9.3 on older iPads, older iPad users will refrain from updating to iOS 9.3 until the cause is determined and formal correspondence announced Even when updating, it seems to be better to secure after backing up.

◆ 2016/03/26 postscript
Apple has revealed that sometimes it may not be able to normally activate after iOS 9.3 is installed on iPhone 5s or earlier or some devices before iPad Air and how to deal with it.

Can not activate iPhone, iPad, or iPod touch after installing iOS 9.3 - Apple Support
https://support.apple.com/ja-jp/HT206203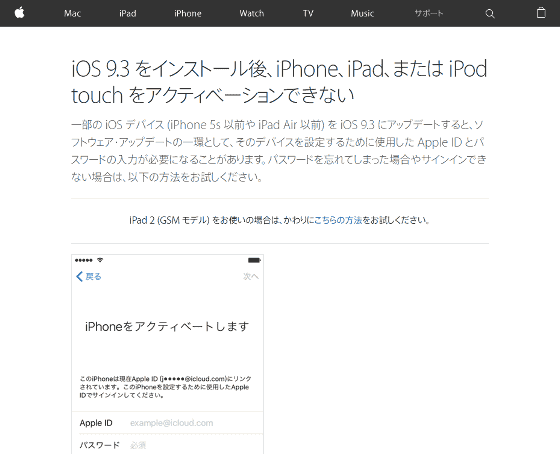 The Apple ID hint displayed on the "Activate iPhone" screen may be different from the Apple ID you are currently using. To enter correct Apple ID information please try the following method.

1. Sign in to iCloud.com from your computer. If you have forgotten your Apple ID here, please refer here if you need to reset your Apple ID password.
2. Open "Settings" and scroll to the "My device" section.
3. Make sure the device in question is listed in the "My devices" section. If it does not appear, please check all other accounts that you have.

If the above problem does not solve the problem, try the following method in iTunes on your computer.

1. Connect iPhone, iPad, or iPod touch to your computer.
2. Start iTunes and make sure iTunes is the latest version.
3. Select the device. The device activation screen appears on iTunes.
4. Enter the Apple ID and password and click "Continue".

Or sign on iCloud.com and unlock activation lock.

1. Turn off the device or take it offline.
2. Sign in to iCloud.com with your Apple ID and password.
3. Open "Find iPhone".
4. Select All Devices and then select the device in question.
5. Click "Remove from account." If you still see the map on the device details screen, select "All devices" again, click the delete icon next to the device in question, then click "Delete".
6. Once the device configuration is completed successfully sign in to iCloud again and check "Search for iPhone".

If this does not solve the problem please contact Apple Support.