Boom that is faster than Concorde and achieves supersonic speed at a low price on a business class level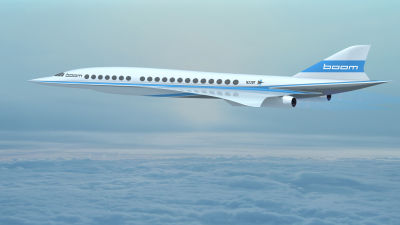 ConcordeAfter the retirement, the age of absence of civilian passenger aircraft flying at high speed exceeding sound speed continues,Plan to revive ConcordeThere are some voices aspiring for supersonic airliners, such as appearing. Meanwhile, a supersonic passenger plane aiming for overwhelming low price of business class at speed exceeding Concorde "BoomThe plan is ongoing.

Flying Boom
http://boom.aero/

The time it takes for a business person to fly around the world is a big problem, and if you can move faster, there is a situation that 'time is money' because not only business but also time to private is increased. However, since Concorde's failure with numerous environmental problems with a higher charge setting than the first class, passenger aircraft capable of flying at ultra-high speed has become difficult environment to birth easily.

Meanwhile, in order to realize a daily life like a dream for business people like "I leave New York in the morning and have a meeting in London in the afternoon, return to the house in New York and sleep in my bed" Development of a supersonic passenger plane "Boom" in the United States has begun.




Boom's key concept is "faster than Concorde, cheaper than Concord." A general passenger plane was Mach 0.85, that Concorde was Mach 2.0, but Boom is scheduled to fly at Mach 2.2. Furthermore, it is aimed at a low price flight of about the business class of a general aircraft.




If Boom is realized, between New York and London it can move in 3.4 hours, save 3.6 hours more than before, and the price is as low as 5000 dollars (about 560,000 yen).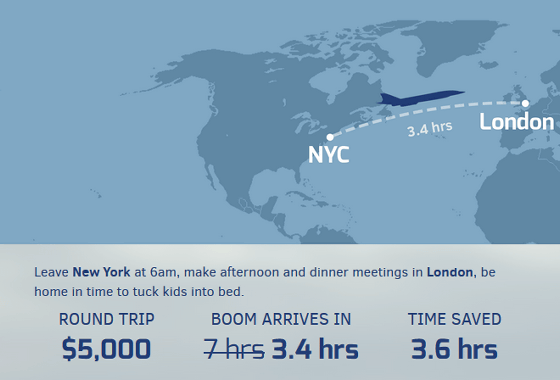 In the case of San Francisco - Tokyo flights, the flight time is 4.7 hours, so a day trip is likely to be possible.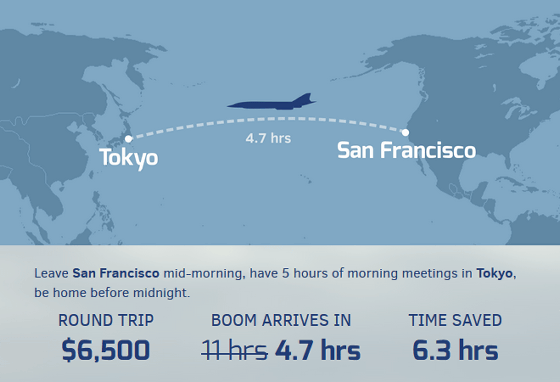 Boom is a small machine with about 40 seats, and it is planned to have this shape.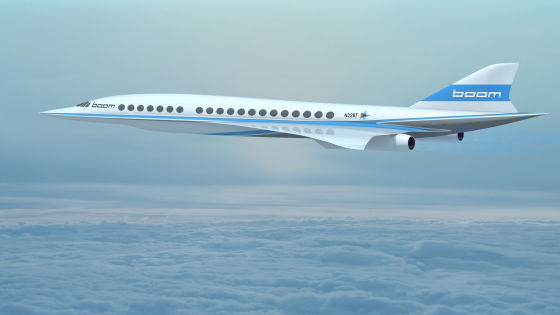 The Boom project focuses on automation of Amazon marketing, with Blake Scholl representative who sold startup Kima Labs to groupup as a leader,Adam A 700Joe Wilding, chief engineer for development, HelloCar andFee FightersMr. Josh Krall who served as CTO and Mr. Kenrick Waithe of former NASA, and is based in Denver, USA.



In the following page, Mr. Scholl (bscholl) of Boom answers various questions about Boom.

Boom (YC W16) - Supersonic Passenger Airplanes | Hacker News
https://news.ycombinator.com/item?id=11329286

As to why Mach 2.2 is, Mr. Scholl, at the present momentFederal Aviation Administration (FAA)Saying that it is up to Mach 2.2 to get the approval of it, and it is considering further speeding up depending on the deregulation of FAA. Also, it is said that details on the investors and scale of the Boom project can not be answered yet, and Concorde was botheredSonic BoomWith regard to the problem of noise (shock wave noise), Boom development aircraft will achieve the same level of quietness as a general passenger aircraft. Also, although it can not be declared accurately about the timing, we are clarifying the prospect that the flight restrictions in the supersonic region will be relaxed in the near future.

The Boom project initially focused on flights on major routes such as New York - London, San Francisco - Shanghai and others, with development initially focused on planning a test flight at Centennial Airport in California in the second half of 2017 It is that.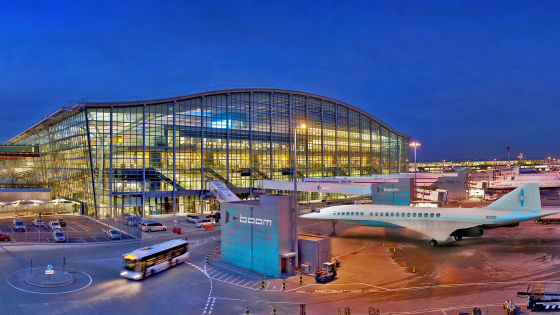 in Ride, Posted by darkhorse_log