360-degree camera "Gear 360" that can take VR video with two front and rear lenses like eyebrows appeared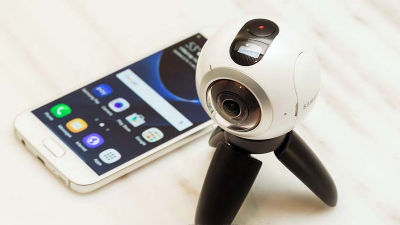 Samsung will open on 22 February 2016 local time in Barcelona, ​​SpainMobile World Congress(MWC 2016), the company's first 360 degree camera "Gear 360We announced.

Samsung Gear 360 - The Official Samsung Galaxy Site
http://www.samsung.com/global/galaxy/gear-360/

Samsung Reimagines the Way Moments are Captured and Shared with Gear 360 | PRESS RELEASE | Samsung Mobile Press
https://www.samsungmobilepress.com/2016/02/22/Samsung-Reimagines-the-Way-Moments-are-Captured-and-Shared-with-Gear-360

Gear 360 is a ball type camera with a diameter of about 6.5 cm and is a camera that can shoot 360 degrees of surroundings with two 15 million pixel sensors mounted with a fisheye lens with a viewing angle of 195 degrees. This is the angle seen right obliquely from the back of the main unit, and on the right side of the main unit you can see a replacement battery and a cover that will fit the microSD card slot.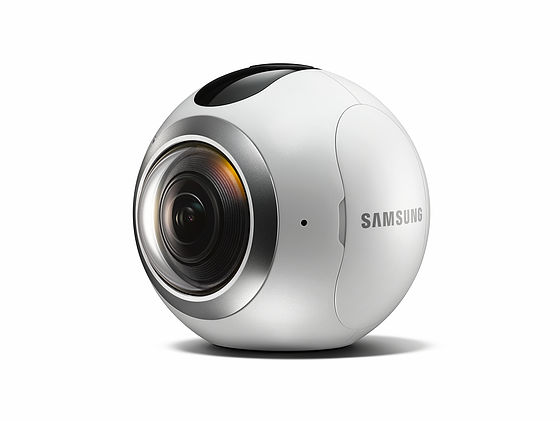 The 360 ​​degree picture taken with Gear 360 looks like this. You can see images with realistic feeling while changing viewpoint freely.

Samsung Gear 360: Speed ​​Flying in 360 ° - YouTube


On the left side of Gear 360, there are two buttons for Bluetooth and menu operation.



You can also see that the NFC mark is printed next to the cover on the right side. As this camera has dust and drip resistance, it is possible to shoot even in some bad condition.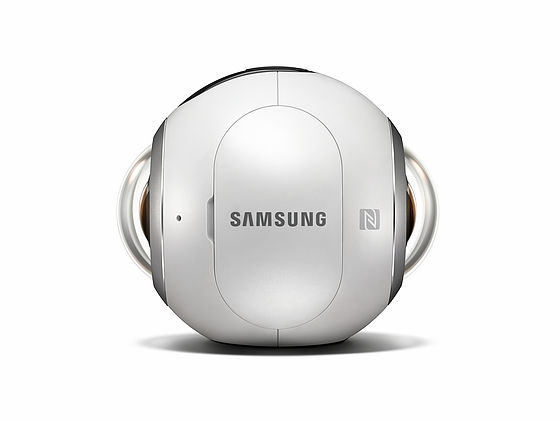 Looking from the back side like this. Camera sensors are 15 million pixels in the front and back, f value is 2.0. You can shoot movies of up to 3840 × 1920 pixels · 30 fps and still images of 7776 × 3888 pixels. As the diameter is about 6.5 cm, the image of the size is about the smallest size of the baseball ball made of rubber (softball).



Gear 360,Also announced new smart phone "Galaxy S7 / S7 edge"It is said that it combines images and images shot by two cameras into one 360 ​​degree file by combining it with the camera. In addition to posting 360 degrees of video and images on YouTube and Facebook, you can also enjoy VR experiences with Samsung's VR headset "GearVR". In addition, it is possible to combine video and image with PC dedicated software.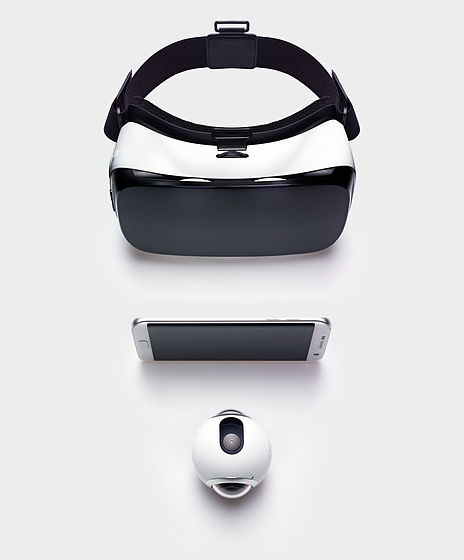 The bottom of the main body is equipped with a general tripod screw hole. If you mount it on a small tripod, you can shoot the situation of the room, and you can also use like an action camera by diverting a commercially available mount.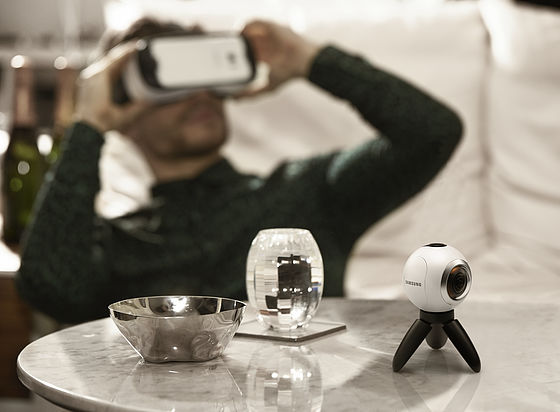 The main specs of Gear 360 are as follows.

Number of pixels:15 million pixels × 2
Movie image quality:Maximum 3840 × 1920 30 fps (dual camera) · 2560 × 1440 30 fps (single camera)
Still image quality:Maximum 7776 × 3888 (dual camera) · 3072 × 1728 (single camera)
F value:F 2.0
Recording media:MicroSD (maximum 128 GB)
size:66.7 × 56.2 × 60 mm
weight:153 g

The state that the reporter of The Verge obtained the real machine at the MWC venue has also been released.

Samsung's Gear 360 camera looks like an eyeball and shoots 360-degree video | The Verge
http://www.theverge.com/2016/2/21/11081450/samsung-gear-360-camera-video-specs-mwc-2016

Gear 360 set on the mini tripod.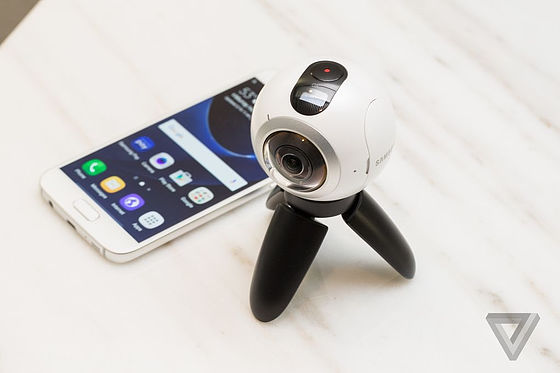 Equipped with a shutter button and a small display display on the top of the main unit.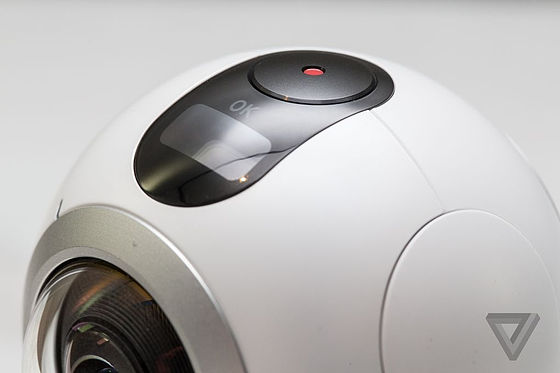 It is possible to display shooting mode, connection status, remaining battery level and shooting time on the display. Moreover, it seems that you can display the menu screen etc. of shooting setting.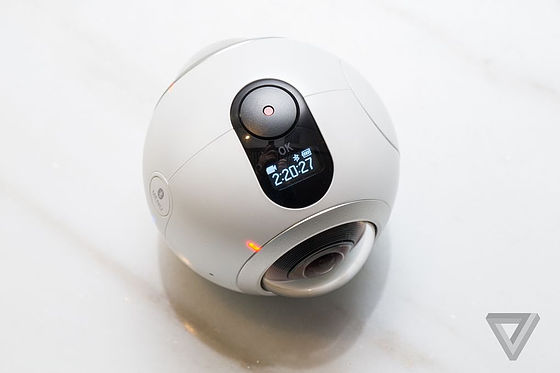 Open the cover on the side of the main unit, you can access the slot of the battery and microSD card. The battery capacity is 1350 mAh in capacity, but the possible shooting time is not announced.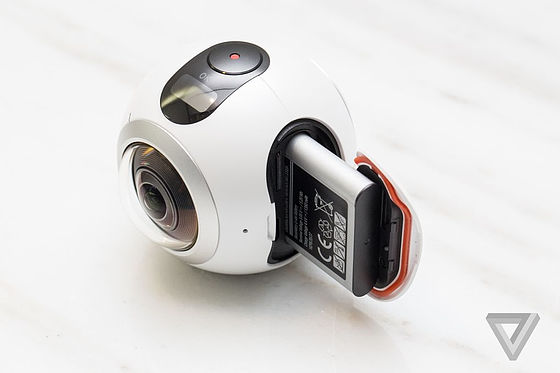 Although Gear 360 is expected to be released in the second quarter of 2016, the price etc is unknown at the time of article creation. In addition, you can see sample images taken with the following Gear 360.

Samsung Gear 360: Freestyle Soccer in 360º - YouTube


Samsung Gear 360: Ballet in 360 ° - YouTube