A modular controller "Palette" that enables photosho and irritation to be operated with the knobs and faders of the physical controller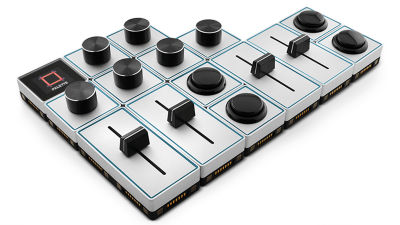 Controllers that can perform Photoshop and Illustrator operations provided by Adobe with buttons, faders (sliders), dials, etc. separate from the mouse and keyboard are called "Palette"is. By assigning software functions to each controller, Palette enables hardware control and can perform more intuitive operation.

Palette Gear: Hands-on Control of your Favorite Software
http://palettegear.com/index

Software such as "Photoshop" and "Illustrator", which are high-performance editing software capable of coping with professional jobs with plenty of work, is also a fact that it has complexity due to its high functionality. Functions that I usually use will be limited to a certain extent, but it is still hard for people who actually use software to realize that it is hard to do complex functions quickly with keyboard shortcuts or mice. Of such functions, it is "Palette" that you can assign commonly used items to physical controllers.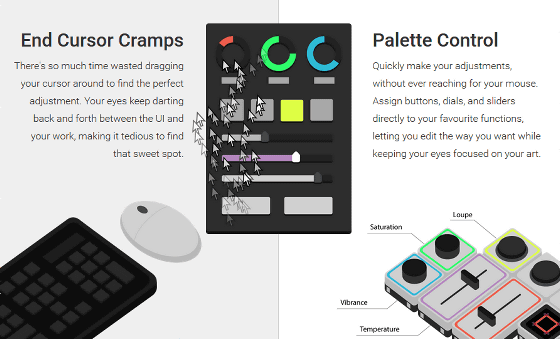 The whole picture of Palette looks like this. It is a modular type combining each unit, and it is possible to freely change the combination as necessary.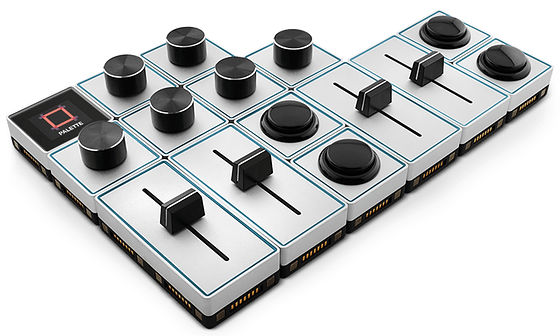 Let's look at each part individually. This unit called "Core" serves as the main unit responsible for the operation of the Palette and connects to the PC or Mac with a USB cable. It is possible to display information by mounting color liquid crystal on the surface.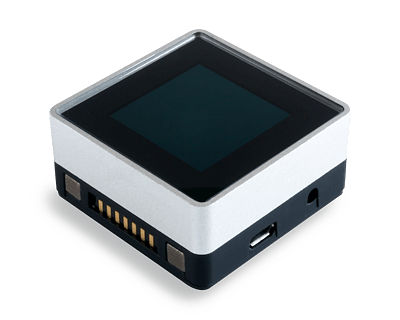 "Button" is a push type switch, it is possible to allocate each function and turn it on / off. Electrodes are arranged in the side part of each unit, and it is possible to use it by coupling with one after another by using a magnet.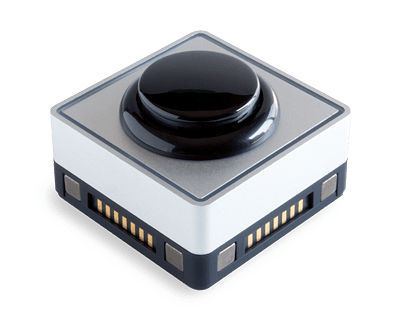 "Dial" is equipped with a rotary knob to control numerical values.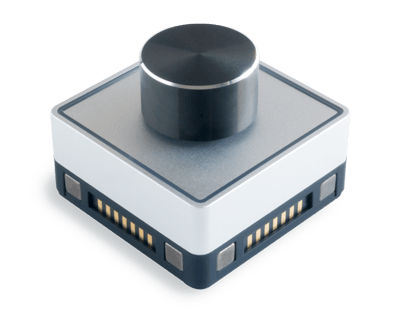 "Slider" can also control numerical values, but what is different from Dial is where you can see the state of the parameter at the position of the fader.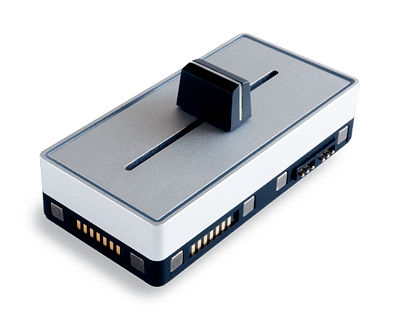 On the Palette site,TestedThe movie that the reporter actually uses Palette in combination is posted.

Show and Tell: Palette Modular Controller - YouTube


It is the real thing of the Palette in my hand, the actual size is this much.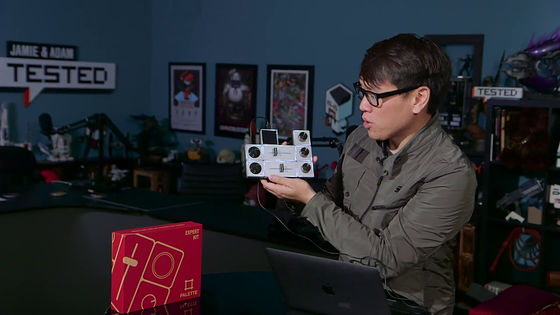 A USB cable is connected to the Core unit and it is connected to the PC. On the surface color display, the Photoshop icon is displayed.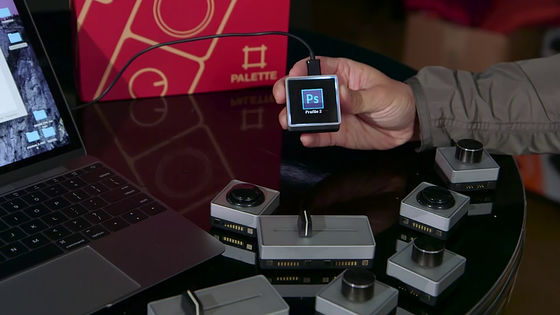 Because the magnet is built in, it is possible to connect with Kachanchan. In addition, the unit is recognized only by concatenation, and the function is turned on.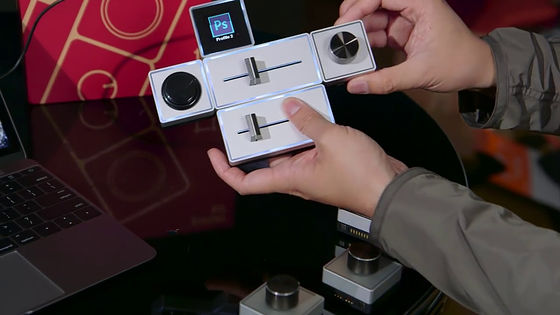 When units are connected, the connection status on the PC screen is displayed in real time.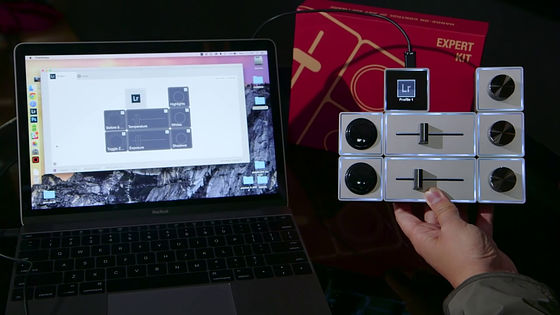 And if you assign a function to each unit using a PC, your own special controller will be completed very easily.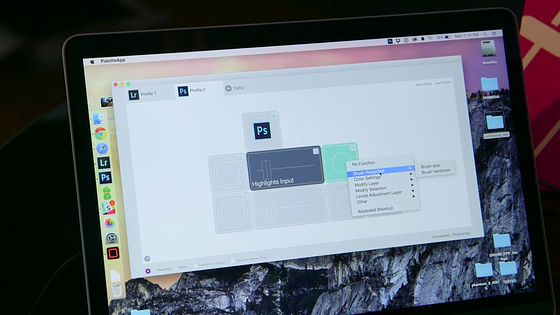 In addition to the color display of the Core unit, each unit has a built-in color LED, so color coding is possible. It seems to be useful for improving visibility.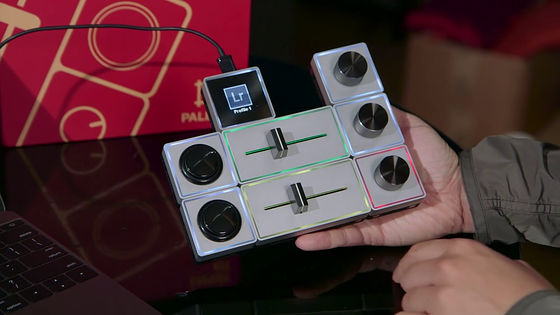 It seems that you actually operate. It responds smoothly to the movement of faders and knobs, and it seems that it is finished in appearance that makes us feel considerable usability. It is becoming a device that seems to provide a new operation feeling to people accustomed to keyboard shortcuts such as design scenes that fight on time.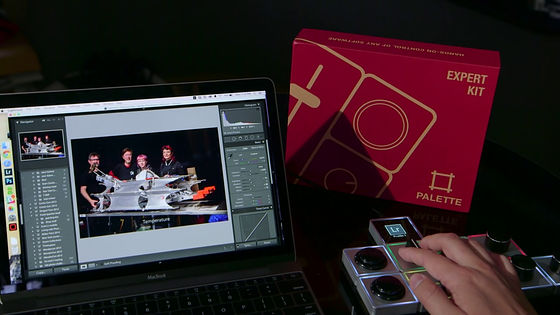 The actual product has already been sold in Palette and it is possible to purchase it by online shop etc.

Pre-order Palette Kits - Celery
https://shop.trycelery.com/page/palettekits

The most basic "Aluminum Starter Kit" is a kit with one Core, two Buttons, one Dial and one Slider, and the price is $ 199 (about 23,000 yen). The "Aluminum Expert Kit" which added 1 Slider and 2 Dial to this is 299 dollars (about 35,000 yen).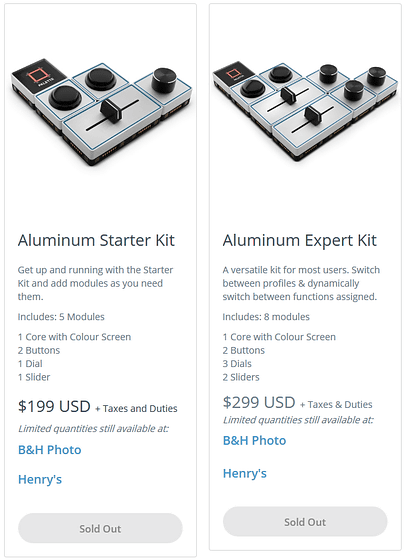 The highest grade Professional Kit is a kit suitable for calling Core × 1, Button × 4, Dial × 6, Slider × 4 just like professional specification, two models are prepared by material. The Limited Edition Wood Professional Kit using handmade cherry wood on the main unit is 899 dollars (about 100,000 yen) and the price is also professional specification. The standard Aluminum Professional Kit was $ 499 (approx. 58,000 yen), which was a little handy price.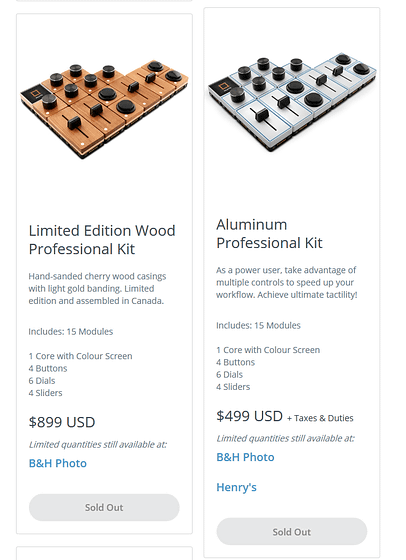 In addition, units other than Core are sold separately for Slider for $ 49 (about 5700 yen), Button for $ 29 (about 3400 yen), Dial for $ 49 (about 5700 yen).



At the time of writing the article, all of Palette's online shops were out of stock,B & H Photo VideoYaHenry'sOrders are accepted in online shops such as.