I ate at "Soup Stock Tokyo" (Soup Stock Tokyo) "Warm vegetable and cheese brown stew" which is heated hotly with rugged vegetables & beef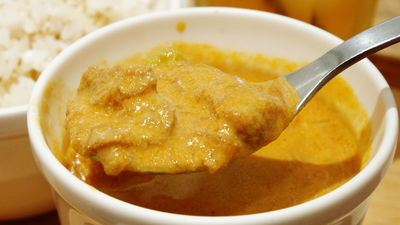 We have created menus with extraordinary commitment, and we receive feedback even after sale and taste adjustments are done many times.Soup shop specializing in the concept of eating soup "Soup Stock Tokyo(Soup stock TOKYO) ", which is perfect for the cold seasonWarm vegetables and cheese brown stew"Has appeared. As stews enjoying the sweetness of vegetables and rich cheese are said to be able to enjoy exquisite combinations of greatly cut vegetables and softly boiled beef rose meat in the winter only as much as we can eat, so we actually eat it with soup stock TOKYO It was.

Fun in winter "Warm vegetable and cheese brown stew" | Soup Stock Tokyo Specialty store of eating soup
http://www.soup-stock-tokyo.com/campaign/sp_brownstew2015.php

That's why I came to Soup Stock Tokyo. At the shop front posters of "Warm vegetables and cheese brown stew" were stuck with Dodon.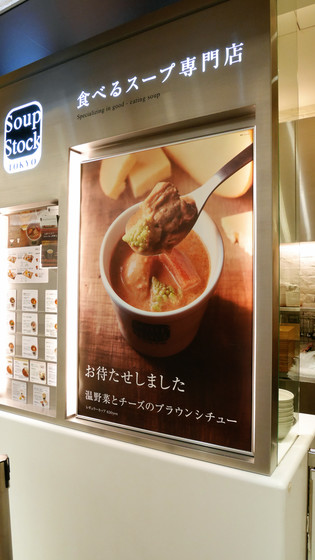 Order immediately. We ordered "seasonal soup set (R size Brown stew white sesame rice or set of special bread + soft drinks)" with rice or bread and soft drink set.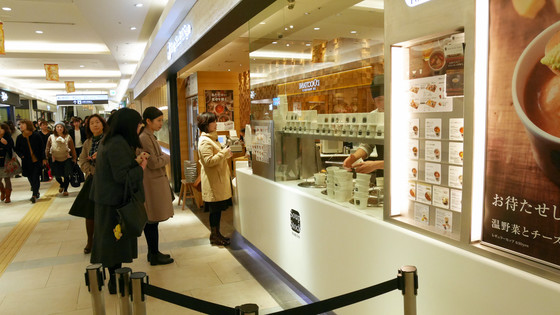 This is the seasonal soup set. This time I ordered a large sweet rice porridge (free of rice).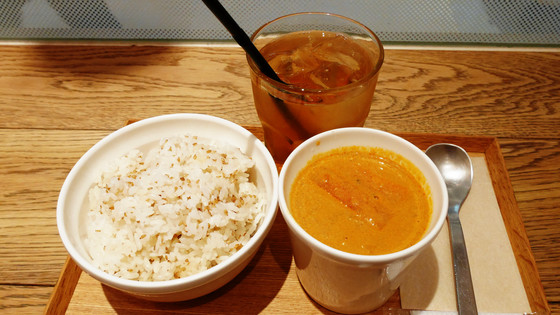 "Warm vegetables and cheese brown stew" is using this onions and plenty of cheese and milk until it gets candy, so it looks like this color.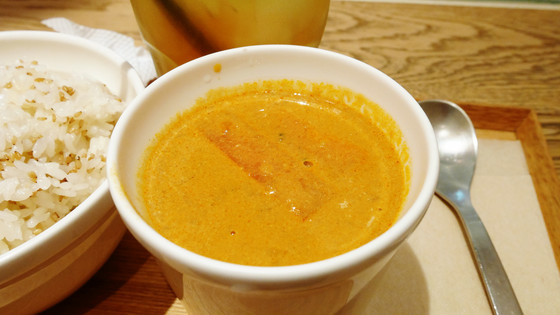 That's why Pakuri is at once. The sweetness of the vegetables expands in the mouth at the moment that it is contained in the mouth, but the richness of the cheese is firmly felt in it, and it is tasted exquisitely with a satisfactory feeling while tasting gentle and gentle. I can hardly feel like a dairy product, but it is certainly a strange taste that you can see that soup contains plenty of milk and cheese. On the whole it is a gentle taste that makes use of the material flavor.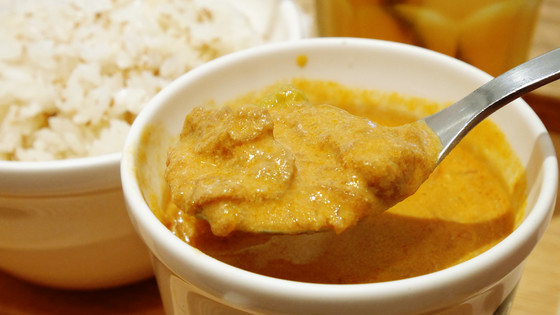 Various ingredients contained in it, this is beef rose meat that varies in size. There are many bowls of beef bowls smaller or smaller than that, but they are quite plenty. It seems that the fat content has almost melted, but it is easily simmered in the mouth because it is cooked thoroughly.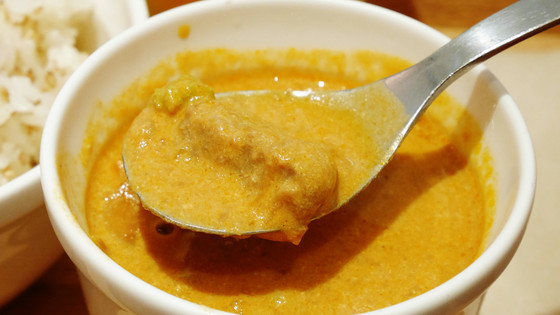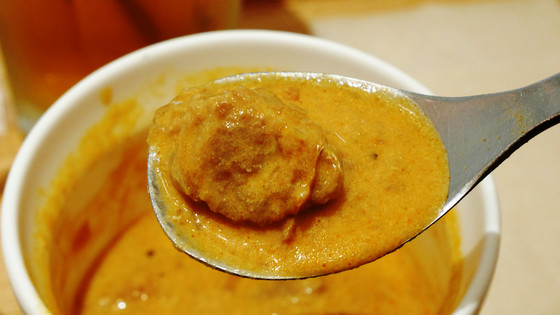 This is a carrot that was cut to a large extent. The carrot is not too hard, yet the exquisite fire street that you can enjoy a good texture.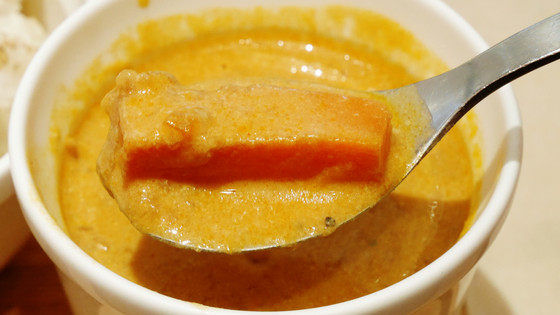 Big potatoes that can fit in the spoon, you can taste the texture firmly.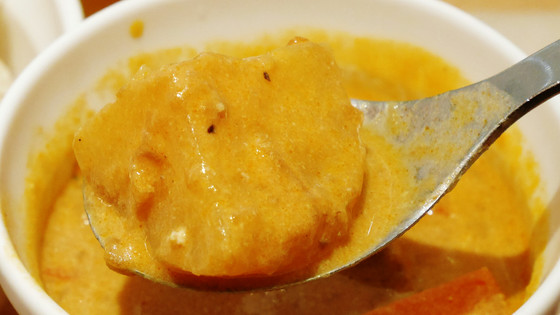 And this small grittyRomanesco cauliflower. Since all the other ingredients are large, I feel only cauliflower smallly.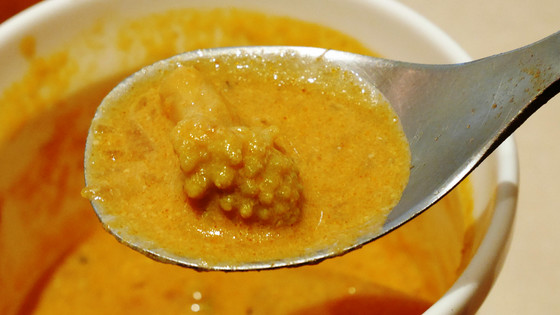 The stew is a little drool and it feels like you can taste the vegetables blended plenty.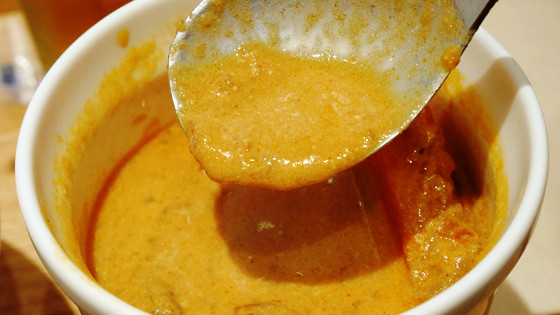 The set of white chumice rice is a mixture of rice and white sesame, although there is no seasoning in particular, the sesame flavor is very good and the food advances. The compatibility with the stew is not possible and it is impossible.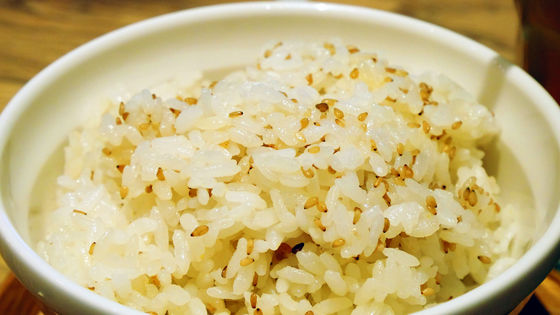 "Warm vegetable and cheese brown stew" is on sale for a limited time from November 30 (Monday) 20th December 25 (Friday). Regular cup 630 yen including tax, regular cup and white egg boiled rice or special bread, soft drink set "Seasonal soup set" is 1000 yen including tax.