I tried all five kinds of "Halloween Rascal Donuts" which eats pakuri rascal featuring facial expressions of grief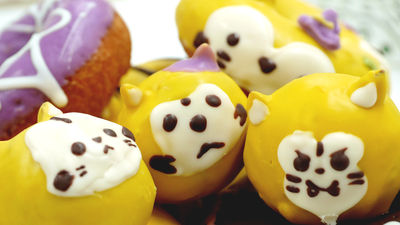 Appeared in the spring of 2015World Class Master Theater 40th Anniversary Collaboration DonutFollowing,Raccoon RaccoonWhenFlorestaHalloween limited donut collaboration "Halloween Rascal Donuts"Is sold for a limited time from October 1 (Thu) 2015 to Saturday 31st (Sat) of 2015. There are 5 kinds of donuts in all, and it is said that they are transforming into witches and vampire-like appearances in Halloween, so I tried all kinds to win cute Rascal deliciously.

Rascal collaboration second round! Notice for Halloween Rascal Donut Release | Donut's Floresta | Nature Donut
http://www.nature-doughnuts.jp/news/2015093001.htm

"Halloween Rascal Donuts" seems to sell 2 to 5 kinds by daily at a store in Floresta.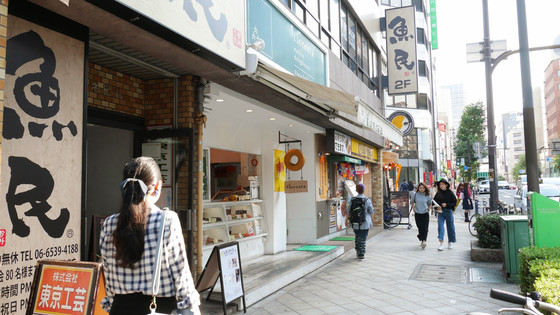 Actually tried several stores, but every store randomly sells a couple of Halloween Rascal donuts, and it was necessary to go around three stores to collect all five types.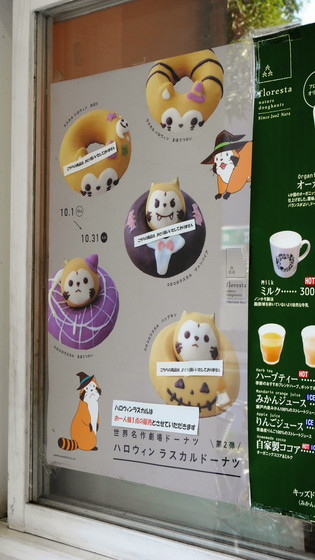 Halloween donuts seem to be popular, as are stores that are said to be "one point of sale per person".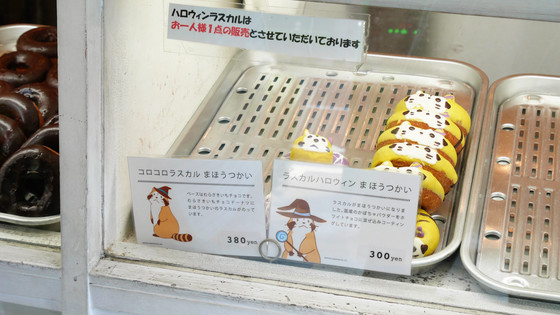 Halloween Rascal donuts obtained by winning around the corner. From the upper left corner "CoroCoro Rascal Magazine", "CoroCoro Rascal Pumpkin", "CoroCoro Rascal Vampire", the lower row is "Rascal Halloween Ghosts" and the right is "Rascal Halloween Magazine".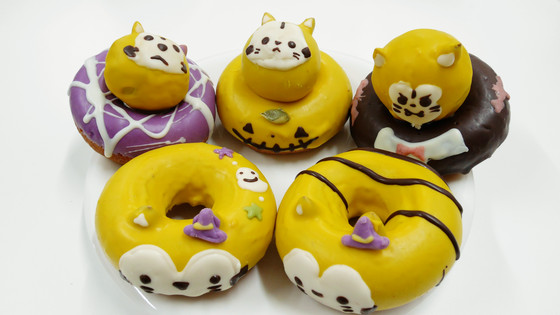 This is "CoroCoro Rascal Wild Wild". The expression of sad Rascal is distinctive, but can you use magic like this?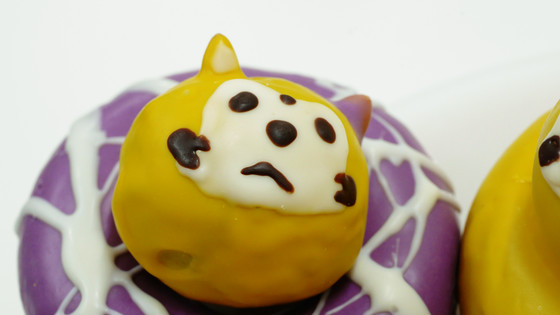 The head of Rascal is put on the hole of the donut. The purple chocolate used purple potatoes.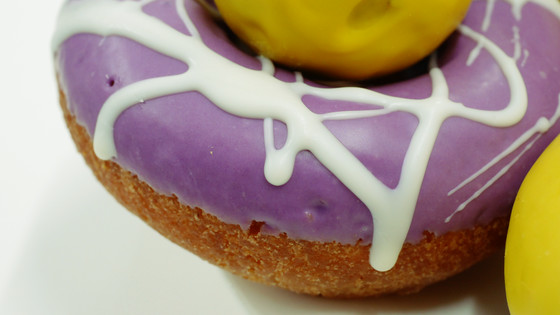 This is "Korokoro Rascal Pumpkin." It is coated with whole body yellow pumpkin chocolate, and it looks like Rascal is whole fat.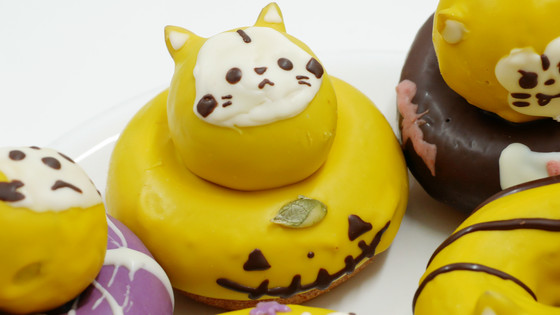 Rascal here is a dignified look.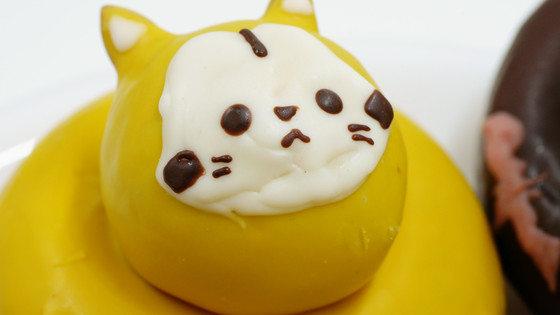 The lower donut was Jack O Lantern.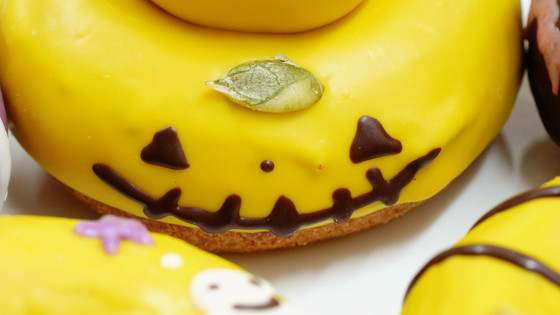 The third "Korokoro Rascal Vampire" is the lower donut is coated with chocolate ... ...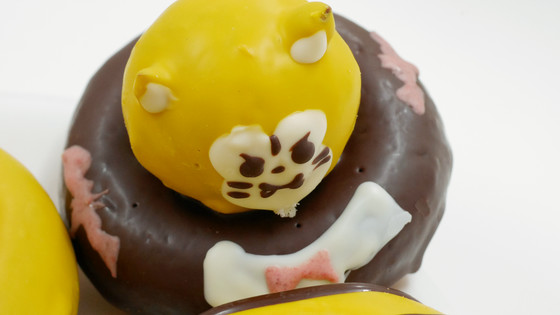 The head of Rascal put on the donut is the one of the vampire specification which the kiba grew.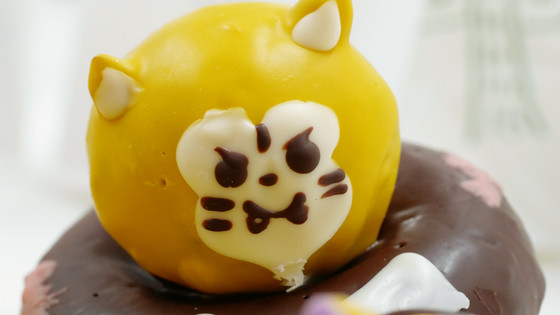 The head of Rascal of the corocoro is not lying This is "Rascal Halloween Ghost".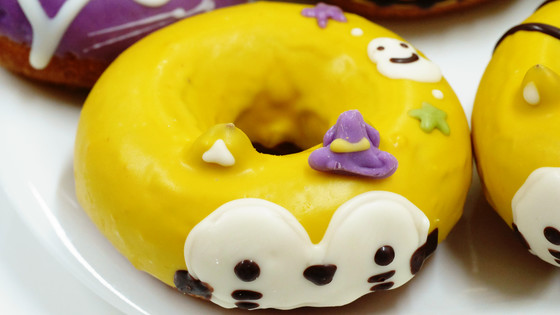 A cute face is cute, and a right wing is covered with a magical hat.



Characteristic ghosts that I got on a donut.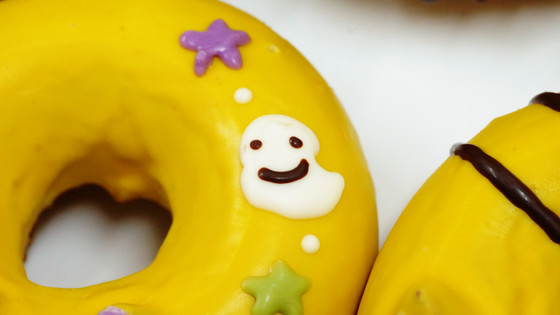 And the last one is "Rascal Halloween Magic." Happy look is similar to "Rascal Halloween ghost" ... ...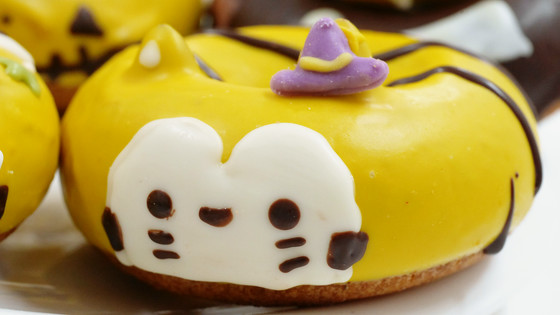 It's "Rascal Halloween Ghosts" that ghosts are slightly over, and "Rascal Halloween Magokoro" contains lines with black chocolate.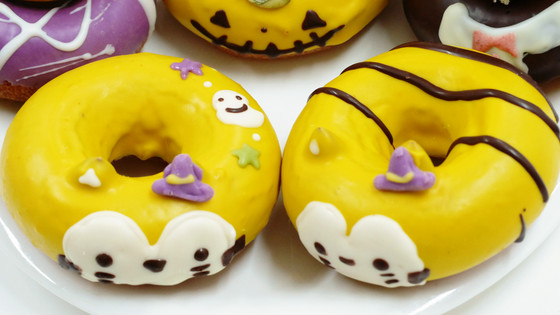 Rascals of various facial expressions gathered together. I will get it all from now.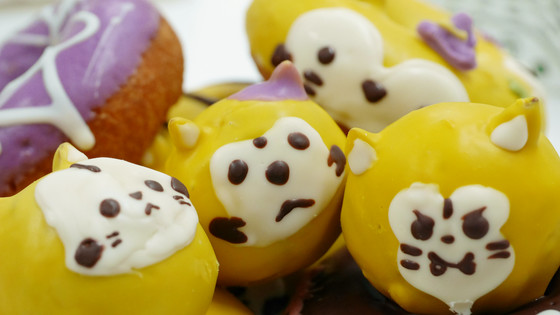 When you put the donut on the palm of your hand, it is about this size.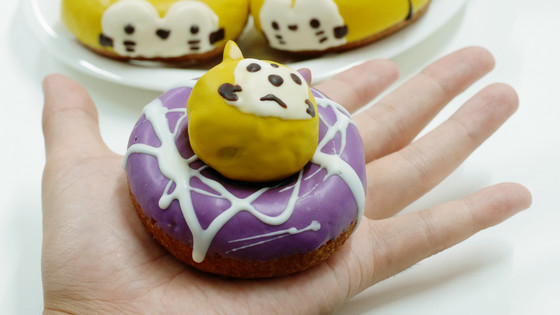 So, let's eat Rascal's head first. I'm staring at this with expressions like sadness or sorrow, but it is okay for Pakuri.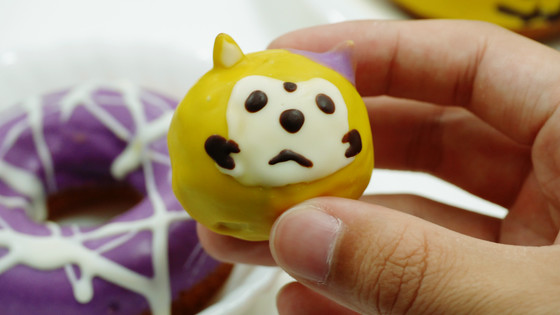 Rascal's head is coated with yellow pumpkin chocolate, but the flavor of pumpkin is weak. Donuts are made of wheat · soy milk · red egg · butter and so on which are not containing any additives, and it has a rustic taste which makes you feel the flavor of soymilk or wheat with a moderate sweetness. The donut is tightly clogged against the appearance and eating and responding adequately, as the sweetness is plus well with chocolate coating, so when I eat one whole I want something to drink together. In addition, almonds are contained in the ears of Rascal's head, and it is also good as an accent of texture and flavor.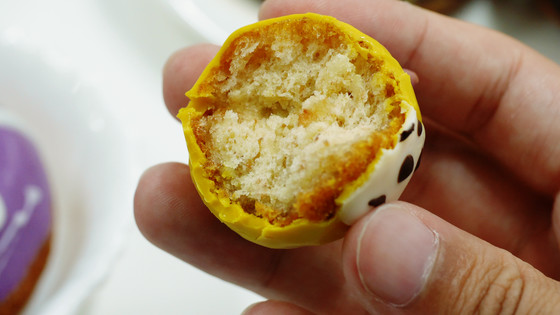 The donut which became the foundation is coated with the chocolate of the sweet potato, it is more flavorful than the head, the gentle sweetness is outstanding compatibility with the donut. Furthermore, all the donuts used are the same.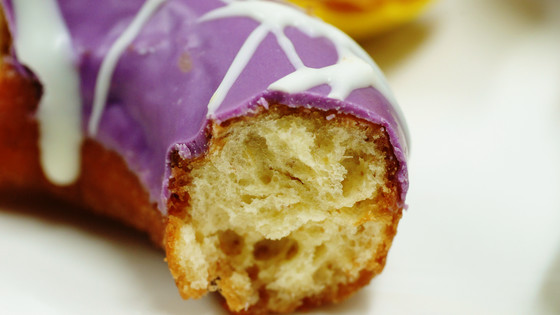 Next time I will try "Korokoro Rascal Pumpkin".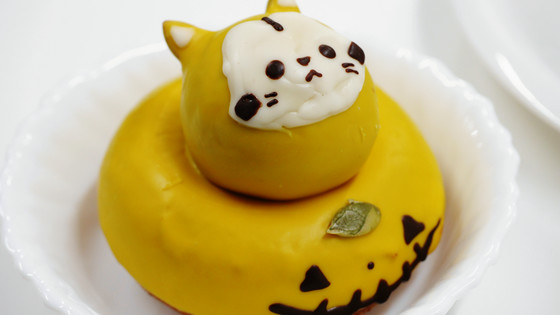 The head of Rascal has something stuck or stuck to the lower donut, but since it is too big to eat together, it is good to eat it even if you forcibly remove it.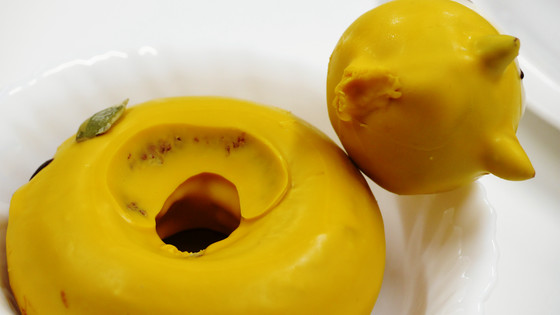 The back side of the donut which is the foundation is not chocolate coated.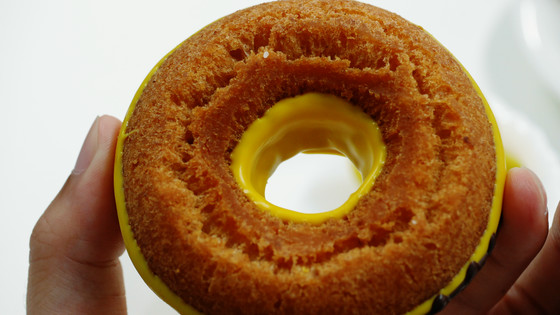 I broke the donut by hand and the coating cracked crackly.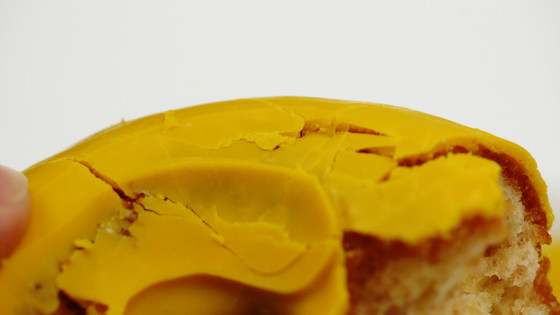 The donuts of the foundation of "Korokoro Rascal Pumpkin" are all pumpkin chocolate coatings, so you can feel the taste better than the head. The sweetness of the donuts purchased this time is modest, but if you say it says pumpkin coating the most.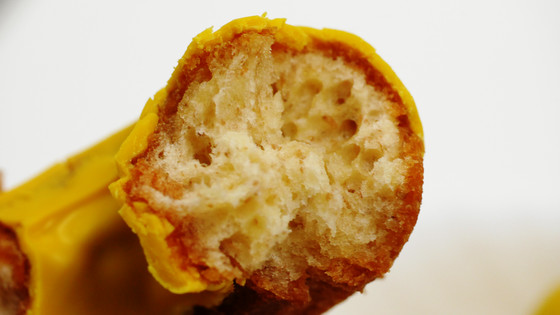 Because the pumpkin flavor of Rascal 's head weakens perhaps because it expresses his face with white chocolate.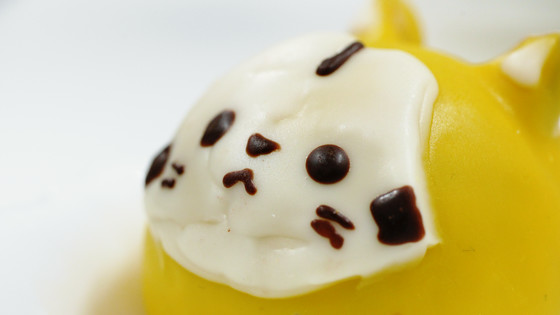 The base part of "Korokoro Rascal Vampire" is coated with chocolate, and the bitter flavor tastes the same as other donuts. Wherever you purchase multiple types of Halloween donuts you definitely want to add it to the lineup. Other donuts are not too sweet, but this chocolate coating is especially sweet and moderate, and the hands will stop stopping for the adult flavor with a good chocolate scent and bitterness.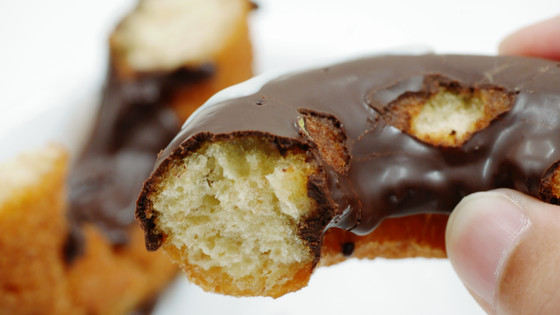 "Rascal Halloween Ghosts" and "Rascal Halloween Magokoi" are coated with the same pumpkin chocolate as "CoroCoro Rascal Pumpkin".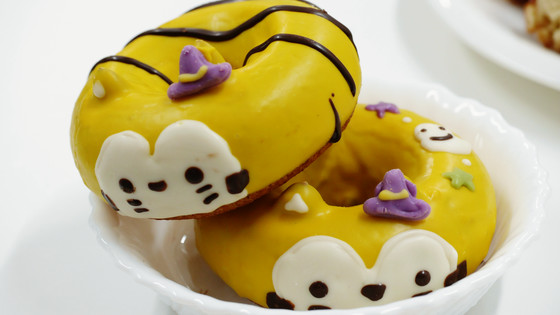 Three of "Korokoro Rascal Wolf", "Korokoro Rascal Pumpkin" and "Korokoro Rascal Vampire" are 380 yen including tax, two of "Rascal Halloween Ghosts" and "Rascal Halloween Magokoi" are 300 yen including tax on October 1st It is limited time sale from Thursday) to 31st (Saturday).

Since there are only 23 shops nationwide, if you want to see cute RascalFrom hereIt would be nice to check the store.