The strong protests of Google and Amazon will bear fruit on the verge of drone's flight altitude being severely restricted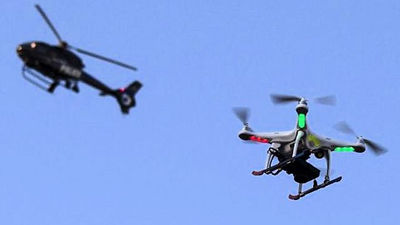 In 2015, in the United States "bills that require drone to fly over 350 feet (about 107 meters) above the private property" passed through both the Senate and the House of Representatives of California State Council. In response to this decision, technology companies actively engaged in drone development such as Google, Amazon, GoPro, etc. expressly expressed their intention to oppose and kept lobbying, but at last the IT company's opinion It was decided that the regulatory bill will be abolished.

California Drone Bill, Opposed by Amazon, Google, Others, Is Vetoed | Re / code
http://recode.net/2015/09/09/amazon-google-emerge-victorious-in-california-drone-bill-battle/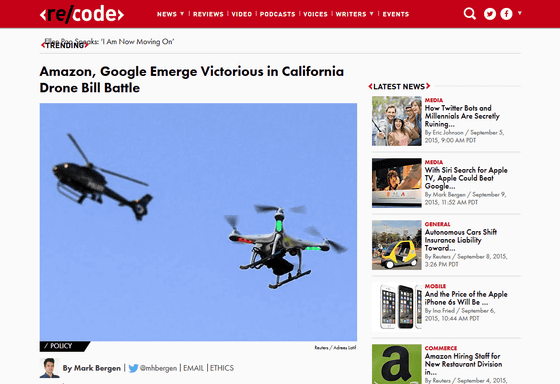 In September 2015, three laws were passed by the Senate California State Assembly in the United States to restrict Drone's flight. The bill passed was "a prohibition on the grounds of a prison or detention center that a person other than the staff of the same facility would skip drones without permission" and "K-12I will forbid the drones below the prescribed altitude within the school grounds within the school premises (from kindergarten to high school), and forbidden to take pictures of the site inside the school opening hours and extracurricular activities during the extracurricular activities " Three bills of a bill that "obligates Drone to fly at an altitude of 350 feet (about 107 meters)" above the private property "over the bill.

"The law prohibits besides employees of the facility on the premises of a prison or detention center from blowing drones without permission" is proposed because many incidents occurred in the United States to bring drugs, tobacco, etc. into prisons It is seen.

An incident occurred to deliver cigarettes across a prison fence with multi-copter, four were arrested - GIGAZINE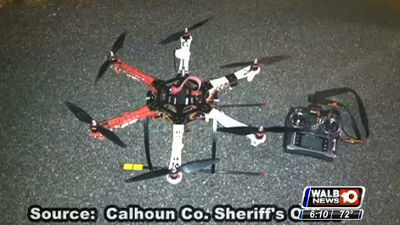 Among these three particular problems, Senate Bill No. 142, "In the sky above private property, we obligate Drone to fly at an altitude of 350 feet or more (about 107 meters)". Advance drone-related laws and regulations in the USUnited States Federal Aviation Administration(FAA) limits the flight altitude on model aircraft such as drone to a maximum of 400 feet (about 122 meters), but as long as issue 142 is enforced as a formal state law, California It will only be able to fly drone at a very limited altitude from 350 feet to 400 feet.

The three bills passed by the Senate were all waiting for approval by Governor Jerry Brown of California.

California bills aim to place curbs on drone operations | PCWorld
http://www.pcworld.com/article/2980346/california-bills-aim-to-place-curbs-on-drone-operations.html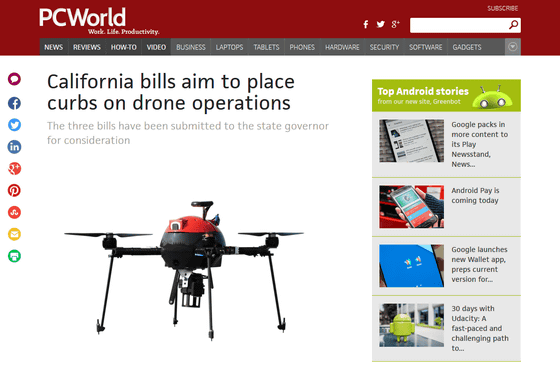 On the other hand, California-based Google and delivery service using drone "Amazon Prime AirAmazon and others planning to continue lobbying to oppose the bill. Also, the unmanned vehicle promotion organizationAssociation for Unmanned Vehicle Systems InternationalHad prepared a site (already closed) on behalf of California residents to express their will to regulate.

Brown governor denied No. 142 whether these activities were successful. Brown governor denied the reason for No. 142. "Drone technology necessarily causes new controversies and it is necessary to carefully examine its merits.This bill is derived from good intentions, but drone enthusiasts It will be a source of troublesome litigation and litigation for both FAA-certified commercial users. "

American industry group opposed to No. 142Consumer Electronics AssociationGerry Shapiro Representative Director and CEO President and CEO of the CEA ("CEA") told Brown's judgment that "The use of a safe and reliable drone will change our business, making it possible to use drones is a matter of search, rescue, It will also help to support disaster relief and crop production, and help create a safe work environment for infrastructure maintenance, "he says.

According to the National Council of Legislators, in the United States, 156 different drone-related bills are being considered in 46 different states in 2015.
in Note, Posted by logu_ii